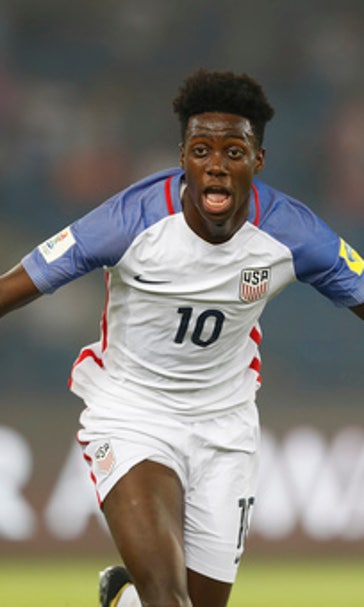 Weah's hat trick leads US over Paraguay 5-0, to U17 QFs
October 16, 2017

Six days after the U.S. failed to qualify for next year's World Cup, the Americans' Under-17 team reached the quarterfinals of its FIFA tournament for the first time since 2005.
Tim Weah, a son of former world player of the year George Weah, scored three goals in a 5-0 rout of Paraguay on Monday at the Under-17 World Cup in India. Andrew Carleton and Josh Sargent also scored in New Delhi for the Americans, who play England or Japan on Saturday in Goa.
Sitting next to Weah at a post-match news conference, U.S. coach John Hackworth was asked whether this win would compensate for the senior national team's loss last week at Trinidad and Tobago, which eliminated the Americans from the big World Cup in Russia next year.
''I don't think anything is going to take away that, and it's a different level,'' Hackworth said. ''I would say that we talked about it internally when that happened as a team, and I told these guys that the responsibility was falling on them now to give hope to our country and to all the good work that I think we're doing with the national team programs.
''It's easy when you have a bad result for everyone to think so negative and no more so than when you miss a World Cup,'' Hackworth added. ''But hopefully with this performance tonight we've shown our country and the world that we're a footballing nation and we have some potential world-class players like the person sitting next to me.''
Weah's hat trick was the first for the U.S. at a FIFA men's tournament since Freddy Adu against Poland at the 2007 U-20s, and the first for the American U-17s since Adu versus South Korea in 2003.
Weah's father is from Liberia and was FIFA Player of the Year in 1995. Tim Weah grew up in New York and Florida, and he joined Paris Saint-Germain's youth system three years ago. He signed a pro contract last summer with PSG, where his father played from 1992-95, and hopes to make his first-team debut this season.
''I know with hard work and dedication anything is possible,'' Tim Weah said. ''Learning from the great players that we have there, such as Neymar, (Kylian) Mbappe and (Edison) Cavani, I feel that as I train with them and as I develop with the second team, I feel that it's going to come. So hopefully the coach, Unai Emery, is satisfied with what I'm doing so far, so hopefully I'm starting at the end of the season.''
Weah put the U.S. ahead in the 19th minute with a left-footed shot from the center of the penalty area after Carleton pushed the ball up field to Ayo Akinola, who one-timed a cross.
Weah doubled the lead with a 22-yard curling right-footed shot in the 53rd.
''I just cut back and my striker instinct told me to hit it,'' Weah said. ''It ended up being a beautiful strike. ... I don't score a lot of beautiful goals. Most of my goals are just tap-ins.''
Carleton made it 3-0 off a pass from Sargent in the 63rd. Sargent scored from a Carleton pass in the 75th, and Carleton fed Weah for the final goal in the 77th.
American midfielder Chris Durkin got his second yellow card of the tournament and is suspended for the quarterfinal.
---
---