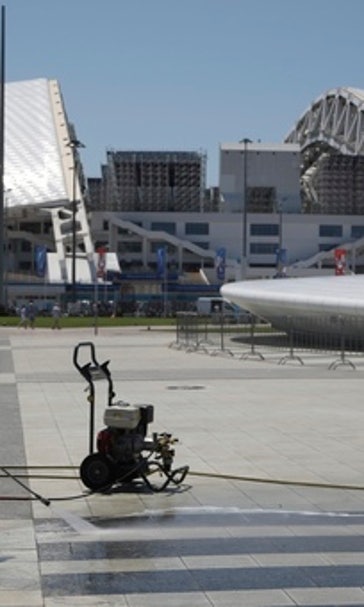 The Latest: Official urges love between fans, Russian women
June 14, 2018
MOSCOW (AP) The Latest on the opening day of the World Cup (all times local):
---
11:20 p.m.
The second day of World Cup action will bring one of the most anticipated games of the opening round: Spain against Portugal in a match of two teams trying to bring the focus back to soccer.
Spain is in chaos after firing its coach two days before Friday's match. Portugal has been fending off distractions since star Cristiano Ronaldo hinted at an upcoming announcement about his future.
The Group B match in Sochi is at Fisht Olympic Stadium, the first World Cup game to be played at the venue.
The Spanish soccer federation fired coach Julen Lopetegui because he accepted a job to coach Real Madrid after the tournament. Fernando Hierro, a former Spain player who had been acting as the team's sports director in Russia, will lead the country in his first major coaching job.
Friday's other two games are Egypt versus Uruguay in Group A, and Morocco against Iran in Group B.
Egypt is making its first World Cup appearance in 28 years and its success will depend on the health of Liverpool star Mohamed Salah, who was injured in the Champions League final but is expected to play.
The game between Morocco and Iran will likely decide third place in Group B.
---
11:05 p.m.
A Russian who displayed the rainbow flag during President Vladimir Putin's speech at the opening game of the World Cup says he wanted to make LGBT fans more visible.
Alexander Agapov, who is president of the Russian LGBT Sports Federation, says ''I believe you should practice what you preach and if I'm telling LGBT football fans to be visible, then I should do it myself.''
Agapov adds that while security staff had no problem with the flag, he did receive abuse from a spectator outside Moscow's Luzhniki Stadium, who said ''I don't want that kind of world.''
Russian officials had said the rainbow flag - a symbol of the gay rights movement - would be allowed at World Cup venues. Russian law bans so-called ''propaganda'' of homosexuality to children, which is often used by authorities to ban any public discussion or symbols of gay identity in a public place where children could be present.
---
9:30 p.m.
Pope Francis is sending his ''cordial greetings'' to all those following the World Cup in Russia.
In a tweet Thursday, he said: ''I hope this sports event may be a positive opportunity for encounter and fellowship.''
Francis is a big soccer fan of San Lorenzo, a first-division club in his homeland of Argentina.
---
9:20 p.m.
Julen Lopetegui says being fired as Spain coach two days before its opening match at the World Cup was ''possibly since the death of my mother the saddest day of my life.''
Lopetegui made the remarks at his presentation as Real Madrid coach on Thursday in the Spanish capital.
Lopetegui was fired by Spanish football federation president Luis Rubiales on Wednesday - a day after Madrid made the unexpected announcement that Lopetegui had agreed to leave the national team for European champion Madrid after the World Cup in Russia.
Rubiales said Madrid and Lopetegui kept him in the dark until five minutes before the club made the deal public.
Lopetegui says he will watch Spain's opener against Portugal on Friday and ''cheer just like any other Spaniard.''
---
9:05 p.m.
Sepp Blatter hopes to attend the Portugal-Morocco game, and fulfill an invitation from Vladimir Putin to attend the World Cup.
Blatter's spokesman Thomas Renggli says the former FIFA president plans to be in Moscow around June 20.
At Luzhniki Stadium that day, the fixture for Cristiano Ronaldo and Portugal is a ''possible game to watch,'' Renggli tells The Associated Press.
The 82-year-old Blatter has previously said his lawyers advised against travel from Switzerland since American and Swiss federal prosecutors unsealed investigations linked to FIFA in May 2015.
His final trip abroad as FIFA leader was to Russia in July 2015, for the World Cup qualifying program draw in St. Petersburg where he shared a stage with President Putin.
---
8:57 p.m.
Spain can't wait to get the ball rolling and put its coaching woes in the past.
Nothing would be better than a win against European champion Portugal in its World Cup opener to start moving forward after some of the most chaotic days in the national team's history.
Spain will have new coach Fernando Hierro on the bench Friday after Julen Lopetegui was fired Wednesday for accepting the Real Madrid coaching job without advising the soccer federation in advance.
Spain captain Sergio Ramos says ''we need to turn the page as soon as possible. The World Cup starts tomorrow and we have a great game to play against the European champions. Hopefully we will start on the right foot.''
- AP Sports Writer Tales Azzoni reported from Sochi.
---
8 p.m.
Denis Cheryshev scored twice as Russia swept aside Saudi Arabia to open its home World Cup with a 5-0 win on Thursday.
After a lavish opening ceremony and with President Vladimir Putin watching on, Yuri Gazinsky put Russia ahead with a header off Alexander Golovin's cross in the 12th minute.
Substitute Cheryshev chipped the ball over two Saudi defenders in the 43rd and then fired it high to goalkeeper Abdullah Al Muaiouf's right.
Artyom Dzyuba made an instant impact off the bench to make it 3-0 in the 71st with a header off Golovin's cross. In stoppage time, Cheryshev chipped the ball in for Russia's fourth goal in stoppage time and Golovin scored from a free kick.
It was Russia's first World Cup win since 2002 and ended a seven-game winless run in all matches.
---
7:35 p.m.
Russia is leading Saudi Arabia 3-0 in its World Cup opener in Group A.
Subsitute Artyom Dzyuba has made an instant impact in Moscow by scoring after a minute on the field, heading in Aleksandr Golovin's cross in the 71st minute.
---
7:19 p.m.
Russian President Vladimir Putin is welcoming the ''friendly global family'' of football fans to celebrate the World Cup, hitting a unifying note to start the tournament.
With geopolitical tensions running high between Russia and the West, Putin sought to dispel his country's reputation as isolated and repressive. He hailed his ''hospitable and friendly country'' and urging visiting fans to meet new friends and people who share the same values.
As the Russian national team met Saudi Arabia in the opening match in Moscow's Luzhniki Stadium, he said ''unity defies differences in language, ideology or faith.''
Critics fear Putin will use the tournament to legimitize Russian authorities' crackdown on opposition and some minorities.
Cheers of ''Ro-si-ya, Ro-si-ya!'' or ''Russia, Russia!'' roared through the stadium as he spoke. FIFA president Gianni Infantino addressed the crowd in Russian and said ''football will conquer the entire world'' during the cup.
It's the first time Russia is hosting the World Cup.
---
6:55 p.m.
A British LGBT activist who was detained near Red Square in Moscow for protesting against Russia's abuse of homosexual people has been released from jail.
Peter Tatchell stood outside the Kremlin on Thursday holding a banner critical of Russian President Vladimir Putin, saying ''Putin fails to act against Chechnya torture of gay people.''
Several minutes later, Tatchell was approached by several policemen who told him his protest was not authorized. He was led away and taken to a police car.
About two hours later on Twitter, Tatchell said he'd been released and was to appear in court on June 26. The Interfax news agency said he was charged under a statute that carries a penalty of up to 20,000 rubles ($330).
Dozens of gay men have spoken about being tortured in secret prison facilities overseen by the allies of Chechen leader Ramzan Kadyrov. Kadyrov denied the accusations and has claimed there are no gays in Chechnya.
---
6:48 p.m.
Russia has taken a 2-0 lead against Saudi Arabia at half time in the opening game of the World Cup in Group A.
Yuri Gazinsky headed in the opener for the hosts after 11 minutes. Substitute Denis Cheryshev dinked the ball over Saudi defenders and fired the ball into the net in the 43rd.
---
6:42 p.m.
British pop star Robbie Williams has stuck his middle finger at the camera while performing on the field before the opening game of the World Cup. The gesture was produced while Williams was singing ''Rock DJ'' at the Luzhniki Stadium in Moscow. Russia is playing Saudi Arabia in the opening game of the tournament. The game is being shown live to an expected global television audience of hundreds of millions, including on Fox in the United States.
---
6:30 p.m.
Morocco coach Herve Renard expects Spain's abrupt decision to fire his counterpart Julen Lopetegui to have little bearing on the Spanish players.
Morocco faces Spain in its third Group B game at the World Cup, by which time Renard expects the 2010 World Cup winners to be fully hitting their stride.
Spain's preparations were rocked when Lopetegui was fired Wednesday, causing uproar by agreeing to coach Real Madrid next season.
Renard thinks it will be quickly forgotten by the likes of Spain veterans Andres Iniesta and Sergio Ramos.
He says ''It's something which can disrupt their players for a few hours, but because they are players of the very highest level you need a lot more than that to unsettle them.''
---
6:27 p.m.
Russia has taken the lead 11 minutes into the opening game of its home World Cup against Saudi Arabia.
Yuri Gazinsky headed in the opener for the hosts at the Luzhniki Stadium on Friday in Group A. The play developed from a Russian corner kick.
---
6 p.m.
The opening match of the World Cup has kicked off in Russia.
The host country was facing Saudi Arabia in the Group A match at the Luzhniki Stadium in Moscow.
The other two teams in Group A, Egypt and Uruguay, will play on Friday, along with the four teams in Group B - Portugal, Spain, Morocco and Iran.
---
5:50 p.m.
In just 48 hours, Mexico midfielder Erick Gutierrez received two of the biggest pieces of news in his life.
On Monday, he welcomed his first child, and on Wednesday he was chosen at the last minute to play in his first World Cup.
The 22-year-old Gutierrez was an emergency replacement for Diego Reyes, who was ruled out after failing to recover in time from a thigh injury.
While Gutierrez wasn't part of the original squad, he traveled with the team.
Gutierrez says ''I want to enjoy my time here and I know I have to be patient. It's sad what happened to Diego, and I know because it happened to me before a tournament. Now I just have to give them my best.''
---
5:40 p.m.
As Russia and Saudi Arabia prepared to meet in the opening match of the World Cup, President Vladimir Putin has told Saudi Arabia's crown prince that he has to cheer for the home team.
''You know that we have very warm feelings for you, but I think you will understand that I cannot wish success to your team,'' Putin told Crown Prince Mohammad bin Salman Al Saud at a Thursday meeting.
The Saudi took the comment in stride, saying ''No matter the outcome of today's match, we will still be satisfied because we achieve success in different spheres due to our joint work.''
---
5:25 p.m.
Saudi Arabia will start with veterans Osama Hawsawi and Taiseer Al-Jassim for the World Cup opening game against Saudi Arabia.
Osama Hawsawi, the captain, will start alongside Omar Hawsawi in defense, with midfielder Al-Jassim playing with Abdullah Otayf and Salman Al Faraj in the center of midfield.
The Saudis ran out to warm up to cheers from their traveling fans, which included a number of female supporters.
Saudi Arabia: Abdullah Al Muaiouf, Osama Hawsawi, Omar Hawsawi, Mohammed Alburayk, Salman Al Faraj, Yahia Al-Shehri, Mohammed Al-Sahlawi, Yasir Al-Shahrani, Abdullah Otayf, Taiseer Al-Jassim, Salem Al Dawsari.
---
5:20 p.m.
A British LGBT activist has been detained near the Red Square in Moscow for protesting against Russia's abuse of homosexual people.
Peter Tatchell stood outside the Kremlin on Thursday holding a banner critical of Russian President Vladimir Putin, saying ''Putin fails to act against Chechnya torture of gay people.''
Several minutes later, Tatchell was approached by several policemen who told him his protest was not authorized. He was led away and taken to a police car.
Dozens of gay men have spoken about being tortured in secret prison facilities overseen by the allies of Chechen leader Ramzan Kadyrov. Kadyrov denied the accusations and has claimed there are no gays in Chechnya.
---
5:09 p.m.
Both teams have come out to warm up at Moscow's showcase Luzhniki Stadium as kickoff nears in the first match of the 2018 World Cup.
Players and coaches from Saudi Arabia and the host Russian side have gone out to loosen up and wave to fans in the 81,000-seat stadium.
The stadium is gradually filling up with an eclectic crowd including not only Russians and Saudis but many fans from various South American countries. Fans cheered as the sides were announced and came out of the tunnel.
---
4:55 p.m.
The 38-year-old defender Sergei Ignashevich will start for Russia in the opening game of the World Cup against Saudi Arabia.
Ignashevich, who came out of international retirement for the World Cup, is likely to be part of a four-man backline after injuries forced coach Stanislav Cherchesov to switch recently from his preferred system of three center backs.
The Brazil-born Mario Fernandes starts at right-back, while Fyodor Smolov is set to be the lone striker.
Russia lineup:
Igor Akinfeev, Mario Fernandes, Ilya Kutepov, Sergei Ignashevich, Yuri Gazinsky, Alan Dzagoev, Fyodor Smolov, Roman Zobnin, Alexander Golovin, Yuri Zhirkov, Alexander Samedov.
---
4:43 p.m.
Egypt goalkeeper Essam el-Hadary says he would be ''the happiest person in the world'' if he plays in his team's opening World Cup game against Uruguay on Friday.
The 45-year-old hopes to become the oldest player to compete at a World Cup. Colombia goalkeeper Faryd Mondragon was 43 when he set the record at the last World Cup in Brazil.
Egypt coach Hector Cuper refused to confirm at his team's pre-match news conference in Yekaterinburg on Thursday if he is going to use El-Hadary, saying he has 23 players available for the game. But the veteran was sitting next to him as the team's captain.
Russia may be his last stop in an illustrious career spanning three decades and that took him to clubs in Switzerland, Sudan and Saudi Arabia, where he plays for Al-Taawoun.
---
4 p.m.
The Spanish team has arrived in Sochi for its World Cup opener trying to leave behind the ordeal of its shocking coaching change.
New coach Fernando Hierro led the players out of the bus after their arrival at a hotel in the coastal city on the eve of their Group B match against European champion Portugal.
Hierro replaced Julen Lopetegui, who was fired Wednesday after accepting a job with Real Madrid without telling the Spanish soccer federation in advance.
Hierro and captain Sergio Ramos are due to face a news conference at Fisht Stadium later Thursday.
---
3:32 p.m.
Egypt coach Hector Cuper says he is ''very optimistic'' that Mohamed Salah will play in his team's World Cup opener against Uruguay.
Cuper announced the development during a news conference in advance of Friday's matchup.
Cuper said officials would continue to monitor Salah during their training session Thursday. But he said he was expecting his star striker to be on the field.
Salah had been questionable since suffering a left shoulder injury during a collision with Real Madrid's Sergio Ramos during the Champions League final last month in Kiev, Ukraine.
Salah almost single-handedly led Egypt to its spot in the 32-team World Cup field. He scored five goals in six games in the first round of the qualifiers, including a late penalty that earned the seven-time African champions their first World Cup berth since 1990.
Salah will celebrate his 26th birthday Friday.
-- AP Sports Writer Kyle Hightower reported from Yekaterinburg, Russia.
---
3 p.m.
Russia's rival neighbor Georgia is denouncing the Kremlin's decision to showcase the leaders of two breakaway regions at the opening of the World Cup.
Russian President Vladimir Putin is set to host the leaders of Abkhazia and South Ossetia at Thursday's opening match in Moscow.
The Georgian president's foreign relations secretary, Tengiz Pkhaladze, told The Associated Press that ''Russia is trying to use a sports forum to legitimize its unlawful actions.'' He urged the international community not to allow Russia to whitewash its actions.
Russia gained control of Abkhazia and South Ossetia from Georgia after a short war in 2008. Russia recognizes both regions as independent nations but supports them financially and militarily, despite international condemnation.
Others expected at Thursday's match include a senior North Korean official, the Saudi crown prince and some Latin American presidents.
---
2:11 p.m.
The French football federation says it has set up houses for its supporters who traveled to Russia to back Les Bleus.
Dubbed the ''Casas Bleues,'' for blue houses, they will be set up in the cities where France plays its group games, in Kazan, Yekaterinburg and Moscow.
The French federation says performances will be organized ahead and after the matches for the fans, who will also be provided with transportation to the stadiums.
---
1:17 p.m.
Russian women and visiting World Cup fans: be fruitful and multiply.
After a Russian lawmaker caused a backlash on social media by advising Russian women against getting involved with foreign soccer fans, her colleague is urging love and procreation during the championship.
The state news agency Tass is quoting parliament member Mikhail Degtyaryov as saying on Thursday that ''the more love stories we have connected to the world championship, the more people from different countries fall in love, the more children are born, the better.''
Degtyaryov is the head of a parliamentary committee overseeing sports. He said Russia is welcoming ''fans from all countries, skin colors, all religions, all genders and all (sexual) orientations.''
Degtyaryov spoke after his colleague Tamara Pletnyova suggested that Russian women may end up rearing the fans' children alone.
---
12:56 p.m.
Some workers in Moscow will mark the start of the World Cup with a day off in a push to ease the Russian capital's notorious traffic jams.
Mayor Sergei Sobyanin appealed last week to companies to give their staff time off ''so they don't end up in jams and there aren't transport problems.'' Those going to work are urged to use public transport.
While it's been far from universally accepted, some bosses have agreed to let their staff work from home or take the day off altogether.
Widespread road closures are expected ahead of the Russia-Saudi Arabia kickoff at 6 p.m., the height of what would normally be rush hour.
Russian authorities are reluctant to have the World Cup start against a backdrop of clogged roads, and they're also keen to clear the way for the various visiting dignitaries, mostly from ex-Soviet and Latin American countries.
---
---