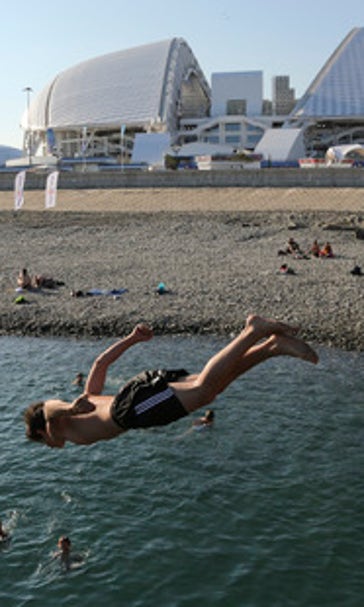 Mustaches, silly songs defuse tensions at Russia's World Cup
June 13, 2018
MOSCOW (AP) How bad is Russia's national soccer team? Even the ruthless leader of Chechnya couldn't coach it to victory - or so goes a satirical song buzzing around Russian social networks ahead of the World Cup.
The Chechen strongman shot back - with a goofy patriotic rap.
Instead of moping about sanctions, political repression and doping suspicions, Russians are turning to parody as they ready to host the world's most-watched sporting event.
The self-deprecating mockery is helping defuse domestic tensions around Russia's World Cup, which kicks off Thursday in Moscow with much at stake for President Vladimir Putin and his proud nation.
Video clips circulating online caricature the players on Russia's bottom-ranked team as aging, narcissistic and injury-prone.
The favored target is mustachioed Russian coach Stanislav Cherchesov. TV star and comedian Ivan Urgant is appealing to Russians to post images of themselves wearing mustaches as a show of support, and his tongue-in-cheek hashtag "Mustaches of Hope" became a quick hit.
Popular singer Semyon Slepakov has a more radical idea: Replace the coach with Chechen President Ramzan Kadyrov.
"Ramzan, Ramzan, Ramzan, tough like parmesan," sings Slepakov in a video released this week.
He imagines what would happen if Putin ordered Kadyrov to take over the team. Channeling Kadyrov, the singer threatens the players: ''Don't forget, you only have one life.''
Yet even this imagined Kadyrov - whose security forces stifle dissent and enforce strict Islamic rules in Chechnya, and whose rule is stained by reports of torture and killings - is overwhelmed by the coaching task.
''For the first time in my life, I give up,'' sings Slepakov's Kadyrov, pledging to go back to Chechnya where problems are easier to solve.
The real Kadryov took the clip in stride - though bristled at being compared to cheese.
On Russian social network VKontakte, he responded with a rap-like verse ending ''brother, I tell you, I support my Russia all the way!''
The real coach said he hasn't heard the song and doesn't have time anyway. ''I'm concentrating on work,'' he told reporters. Criticism ''is a natural occurrence in today's world. You have to take it the right way.''
Players acknowledge the barbs can hurt. Forward Artyom Dzyuba said the team resents criticism heaped on it by Russian media.
The parodies reflect a deep-seated hope among many Russians that the World Cup is a success - and a fear that something could go wrong.
Russia is on the defensive on many fronts as the tournament begins. The national team is on a losing streak so bad that few expect it to even make it past the first round, and pressure is massive for a victory in the opening match against Saudi Arabia - the Cup's second-lowest-ranked team at No. 67, just ahead of Russia at 70.
Sales of tickets to foreigners are lagging amid sanctions and tensions between Russia and the West over Syria, Ukraine and alleged Russian meddling abroad.
Security is exceptionally tight across the 11 cities hosting matches and beyond, amid concerns of hooliganism or extremist attacks. Opposition figures are facing extra pressure not to target Putin while the world is watching.
Still, the excitement is building. Red Square hosted a mass gala concert Wednesday showcasing Placido Domingo and stars of Russia's rich classical music scene, and Robbie Williams is headlining the opener Thursday to get the party going.
''We feel that it's going to be a great tournament. We hope that,'' said Venezuelan fan Daniel Vielma as he arrived Wednesday in Moscow's main international airport. ''We've been to different World Cups and we have really high expectation of Russia.''
As Russia opened its doors to throngs of foreigners, about 100 Peruvian fans gathered at a bar near the Kremlin to celebrate, waving flags and chanting loudly.
''It's a party, as you can see over there,'' said Oscar Arauzo of Lima, pointing at his fellow fans. ''We are definitely ready for tomorrow for the kickoff.''
---
Associated Press writers James Ellingworth and Dmytro Vlasov in Moscow contributed to this report.
---
AP World Cup coverage: www.apnews.com/tag/WorldCup
---
---