English Premier League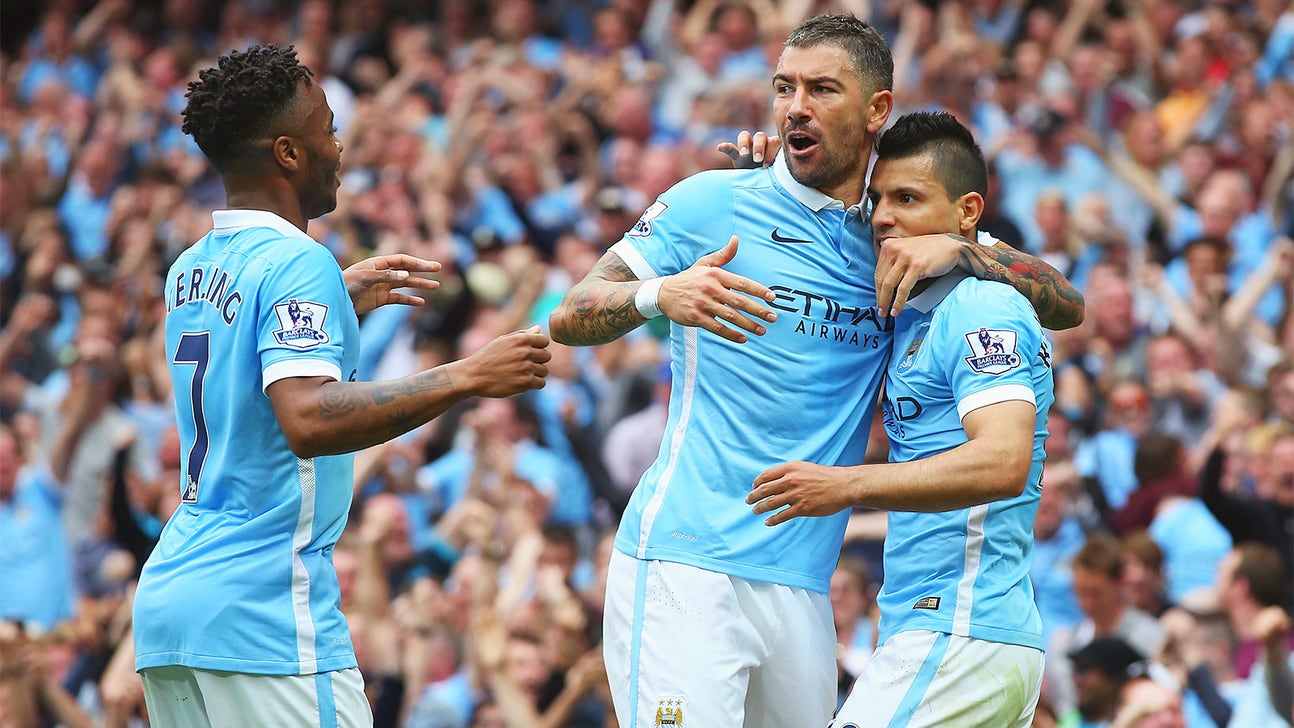 English Premier League
Manchester City send out title warning with comfy win over Chelsea
Published
Aug. 16, 2015 12:45 p.m. ET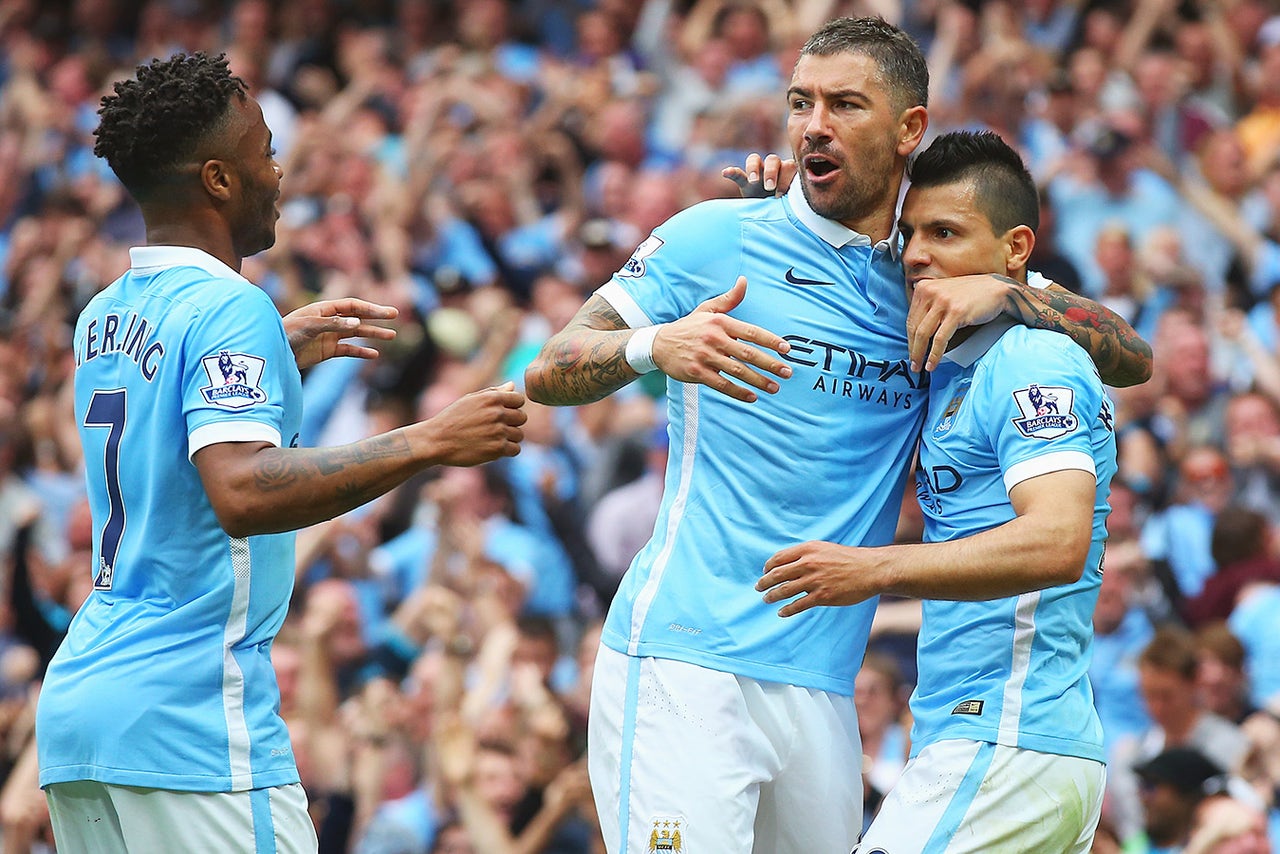 August is only halfway gone and already the champion finds itself five points off the top of the Premier League table as Manchester City defeated Chelsea 3-0 at the Etihad Stadium on Sunday afternoon. 
There are 36 games to go and the situation is by no means terminal for Chelsea, but what is more troubling than the gap is the fact that it looks so out of sorts. Manchester City won thanks to a super strike from Sergio Aguero, a header from Vincent Kompany and a ferocious drive from Fernandinho, the final esult an accurate reflection of the gulf between the sides.
Jose Mourinho had been unbeaten in 12 previous games against UEFA Champions League qualified sides since his return to Chelsea. When that record went, it was shattered.
Branislav Ivanovic, protected by Ramires, didn't have quite such a difficult time against Raheem Sterling as he had had against Jefferson Montero last week, but the way the winger got away with him before being chopped down early in the second half showed how vulnerable he is to pace – and he was outmuscled by Kompany for the second goal. Cesc Fabregas, meanwhile, gave another sluggish display and looked as weary as he had for much of the spring.
John Terry was substituted at halftime for Kurt Zouma, the first time Mourinho had ever taken off his captain in a league game. Mourinho was desperate for pace to combat the threat of Aguero, Sterling and Navas, or perhaps this was something else: This is the problem with Mourinho and his endless machinating -- you never quite know what's real and what's merely a gesture. Mourinho offered some insight of his decision to substitute Terry after  match.
"I know that Zouma is the fastest defender we have in the squad. In that moment Manchester City were going to play counter attacking," Mourinho told Sky Sports. "I knew they were going to play long balls to Sergio Aguero. Zouma is a different player to John Terry and Gary Cahill. It was proven completely right because Zouma was completely in control."
Despite the substitution, Mourinho insists he has 'trust' in his captain. "He is a player who has my total trust, there is no doubt about it," Mourinho added. "With me he was never substituted but with other managers he was not even playing. People said his Chelsea career was over. If somebody has the free mind and the right to have these kinds of decisions as a manager, I am the one because I am they because I am the one who gave him the chance to be what he is; a fantastic player and fantastic captain.
Was this the sacrifice of a major figure "pour encourager les autres," or perhaps even to persuade the club's owner Roman Abramovich that he really needs John Stones from Everton? Whatever the reason, it only added to the sense of unease, even if Chelsea looked livelier after the break.
But the greatest emblem of the ructions at Stamford Bridge this week was the presence behind Mourinho of a new medical team, Chris Hughes and Steven Hughes replacing the team doctor Eva Carneiro and head physio Jon Fearn, after they were sidelined following Mourinho's bizarre attack on them for being too quick to go to the aid of an apparently stricken Eden Hazard last Saturday.
When the two Hugheses made their first appearance, shortly before halftime, to treat Gary Cahill after he took an inadvertent fist in the face from his goalkeeper Asmir Begovic, they were greeted with raucous ironic cheers form the City fans, and chants of "You're getting sacked in the morning" and "Eva! Eva!"
Mourinho may have been unhappy about Chelsea's decision to sell Petr Cech to Arsenal, but he cannot complain about the replacement. Asmir Begovic can't have expected to be so involved to early in his Chelsea career, but he was probably the key figure in the opening quarter of Sunday's game. 17 minutes in, Aguero, heading shaking in disbelief, was moved to congratulating him, slapping the Bosnia international's hand after he'd made a third excellent stop to prevent him putting the home side ahead.
But the Argentine, who had started on the bench against West Bromwich Albion on Monday having started preseason late following the Copa America, could not be resisted forever. Just after the half hour, David Silva worked a ball in to Aguero just outside the box, he exchanged passes with Yaya Toure, then turned away from Gary Cahill amid a clutch of three other Chelsea outfielders and slid a shot in off the inside of the post.
Chelsea's frustrations were embodied in Diego Costa, who was clearly furious at Fernandinho after being caught by a stray elbow. The City midfielder was shown a yellow card for the offense -- and perhaps a touch fortunate not to get red -- but Costa seemed intent on exacting further retribution in the tunnel, only for Eliaquim Mangala and Kompany to escort their man away as Ivanovic and Fabregas did their best to calm the striker down.
For much of the second half Costa rolled about looking for free-kicks, which is perhaps the most frustrating aspect of all. With 20 minutes to go, he used his strength to set up a chance for Eden Hazard; only a smart save from Joe Hart prevented an equalizer. 
It would have been a mercy Chelsea didn't deserve and it seemed to lead to a stiffening of the sinews, as though Kompany suddenly decided that the game needed settling there and then. His header came nine minutes later and Fernandinho then added gloss. For all Chelsea's woes, this was a mightily impressive display from City. 
"We have to demonstrate this same determination throughout the year," the City captain told Sky Sports after the win. "It's wrong to say that we didn't play well at points last year, but now, our home form is going to be so important, and to do this in the first home game, in front of 55,000 fans sends out the right signal. 
Kompany added: "I think we played like this against Chelsea last year, but the difference this time is that we managed to score and not make the same mistakes. "All in all, it was a comfortable day, but mainly because we did everything right in preparation for this game."
Information from FOXSoccer.com's newswire services were used in this report.
---
---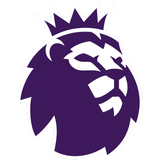 Get more from English Premier League
Follow your favorites to get information about games, news and more
---