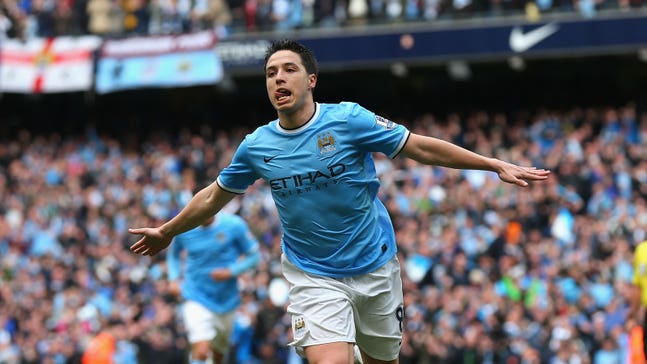 Manchester City midfielder Nasri targets successive title triumphs
Published
May. 12, 2014 6:27 a.m. ET

Manchester City midfielder Samir Nasri believes his side can win successive titles if they add yet more quality to their lucrative squad.
City clinched a second Premier League crown in three years with victory on the final day of the season, confirming a league and Capital One Cup double in Manuel Pellegrini's first year as manager.
Nasri, who won the title with City in 2012 after signing from Arsenal, has enjoyed another superb season, scoring 11 goals in 46 appearances.
And he said: "If we keep the same squad and add one or two good players then I don't see why we can't repeat this kind of thing.
"We scored 102 goals in the league and over 150 in all competitions. It is attractive, offensive football and I think the manager and the players deserve this trophy.
"The title this year has a different taste to what happened two years ago - I played a part then but not like this time.
"I did great because I had a great manager behind me who trusts me and I tried to give it back to him on the pitch.
"I have been here three years and won four trophies. Every year since I've come we have finished first or second, so over those three years we have been in the best team in England - no doubt about it.
"But it is important that next year we confirm that."
France international Nasri, 26, is set to miss out on Didier Deschamps' World Cup squad however, after falling out of favor with the French manager.
"Sadly it's not going to happen but that's fine - I respect the choices he's made," Nasri said.
"I had one bad game in Ukraine like most of my team-mates. Everything else, it's just pretences, false excuses.
"I did everything on the pitch and afterwards, if that is not good enough, then it is not enough."
---