Juventus made a change to unleash their forwards, and it could win them the Champs League
BY Aaron West • February 21, 2017
Juventus have been known for their distinctive 3-5-2 formation since Antonio Conte successfully introduced it in 2011. They've won five Serie A titles in a row using the system, but now, in need of a spark, Massimiliano Allegri has changed up the way Juve play, and it's been a resounding success so far. They've won their last eight matches in a row using the formation, and with their new hyper-offensive lineup, there's a real feeling that it can bring them success in Champions League.

The Bianconeri are no strangers to Champions League success. Not even recently. After all, they were in the final just two years ago, but that was a very different Juventus team.

Juventus lost 16 players since reaching that final, most notably shedding the entire midfield that started in the loss against Barcelona. Andrea Pirlo, Arturo Vidal and Paul Pogba are all gone, and without them, Juventus (understandably) took a step back in their ability to play with the best in Europe. They are three world class players, all with skills unmatched by most every other in the midfield and for a while, it looked like The Old Lady wouldn't be able to replace them. Like they wouldn't be Champions League contenders again.

Instead of trying to replace them, though, Allegri decided to simply shake up the entire system. They wouldn't have to replace the trio with three other players if they played a whole new system, one that isn't so midfield dependent.

Lined up in a skewed 4-2-3-1, Allegri's new system puts all three of his first-choice strikers -- Gonzalo Higuain, Paulo Dybala, and Mario Mandzukic -- on the pitch at the same time, while also finding space for the team's paciest and most dynamic wide threat in Juan Cuadrado. With the dynamism and versatility of Miralem Pjanic and Sami Khedira supporting the quartet from midfield, and their flexible, athletic, and technical back four, Juventus are winning, playing with a new energy and excitement, and their game has become more attractive to boot.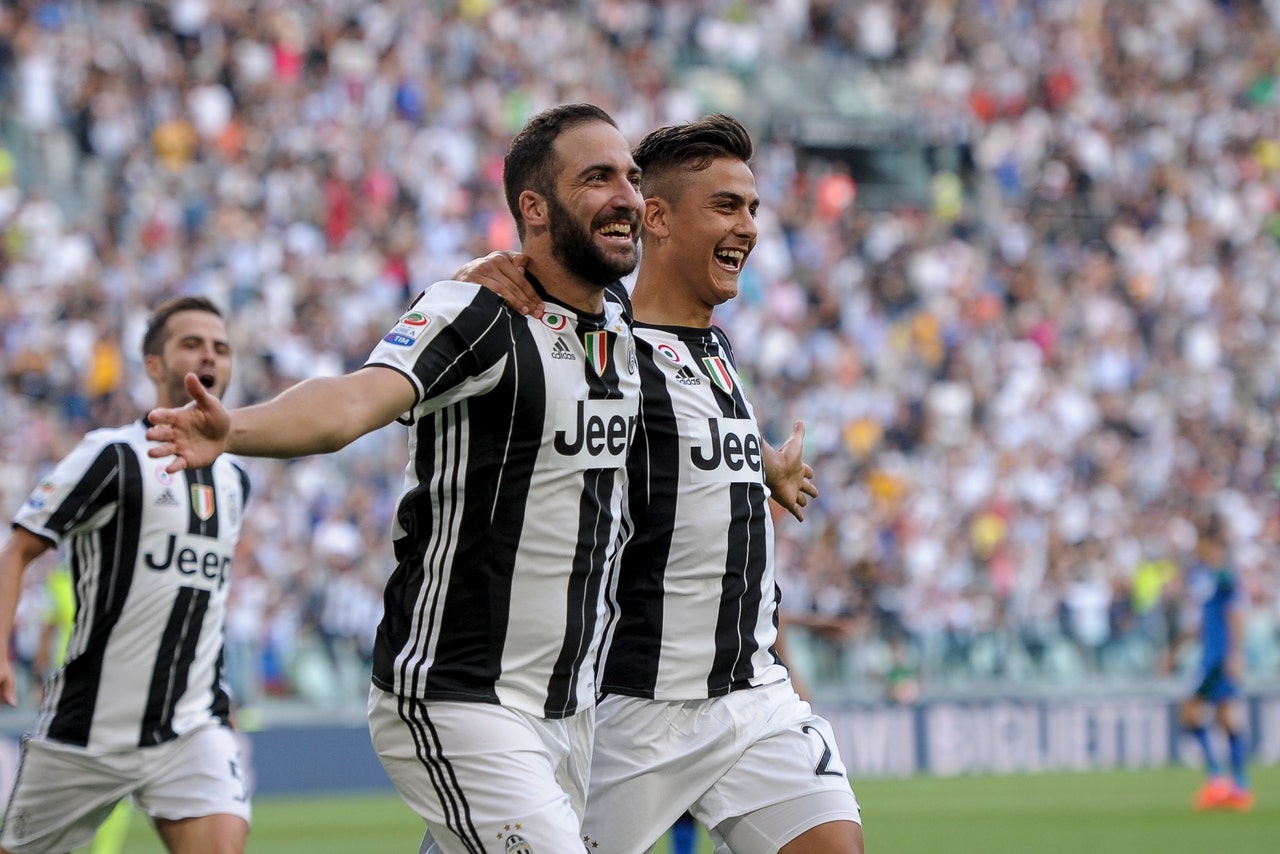 Now with a number of technical, versatile, but primarily attack-minded players on the pitch at once, Juventus have converted from a pragmatic defense-first team, to a more positive and attractive attacking unit; one that seeks to play on the front foot, covers more ground as a group, and poses a much greater threat going forward.

One of the biggest keys to Juventus' formation change has been on the wings, where Juve have employed two wildly different players to great success. Out on the right, Cuadrado has thrived in the new system; his natural dynamism, creativity on the ball and pace on the break perfectly complementing Mario Mandzukic's physicality and industry on the left. The big Croatian has been moved from his role as a target striker to a "target winger" role out wide, and he's taken to his new duties with an unsurprising professionalism and enthusiasm.

Mandzukic's shift to the left wing has given Juventus a whole new element on both sides of the ball. With a tireless engine, his willingness to track back to cover for left back Alex Sandro gives the team extra stability in defense, while his aerial ability provides a secondary outlet to Gonzalo Higuain for Juventus when teams attempt to press them high up the field. Regularly drifting in from wide, his runs open up space for Sandro to maintain the width, while he often finds himself on the end of crosses, menacing defenders with knockdowns and attempts on goal.

Maybe the most important factor of  Allegri's new system has been how perfectly it's suited Gonzalo Higuain and Paulo Dybala. With the formation switch, Higuain's scored more goals than any other forward in Europe's top five leagues in 2017, and Dybala's free role behind Higuain has seen him become the true creative leader of this team. The two Argentines have been Juventus' best players in 2017, and they're forming more and more of an understanding with each game they play together.

With a number of new players and brand new system, we're looking at much different Juventus. They're still very much a team in transition, and they still haven't been tested on the European stage yet, but there's a new excitement and hope that the change will spark a real run at continental glory.

With the new formation, Juve don't just look like they're going to run away with Serie A, they look like real, legitimate Champions League contenders. Their biggest challenge yet comes against a Porto side that have only conceded 14 goals on the season, and without their best defender, Leonardo Bonucci. All the signs for success are there though, and Juventus increasingly look built for the task.

That midfield of old may be gone, but so is that old system. They have a new set-up, and one that means all eyes up top.


---
---