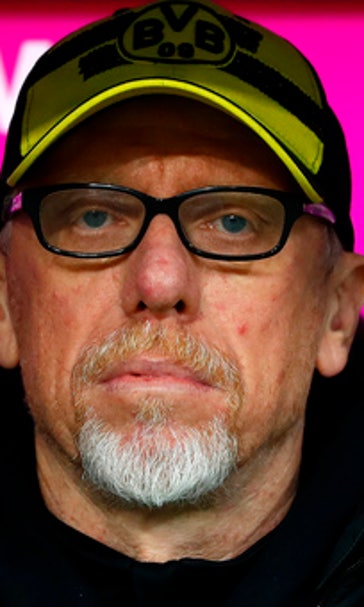 Futures uncertain at Borussia Dortmund ahead of crunch games
April 19, 2018
BERLIN (AP) After another difficult season for Borussia Dortmund, Peter Stoeger has yet to show he can revitalize a club still missing the charisma of Juergen Klopp.
Despite stabilizing the team after taking over as coach from the fired Peter Bosz in December, Stoeger has come in for criticism for some lifeless performances. Last weekend's Ruhr derby defeat to Schalke in Gelsenkirchen increased the pressure ahead of another potentially decisive clash on Saturday when Bayer Leverkusen visits.
Third-place Leverkusen leads Dortmund on goal difference with four rounds of the Bundesliga remaining, and another loss would leave Stoeger's side vulnerable to being overtaken in the last qualification place for the Champions League.
Stoeger's contract is up at the end of the season. The Austrian's tenure will be judged on reaching Europe's top competition, but even finishing among the league's top four may not be enough to convince Dortmund's management to keep him.
''We have these four games left. It's about the Champions League and focusing on that - not on individuals,'' Stoeger said this week.
''The club has time to react. I'm not making any pressure, not making any stress. If we get to the Champions League everything is fine, regardless of how it carries on.''
Stoeger was criticized for his demeanor during Sunday's defeat in Gelsenkirchen, where he suffered in comparison to Schalke's Domenico Tedesco. Tedesco was animated on the sideline, urging his team on, and he joined fans to celebrate the derby win. Stoeger, in contrast, showed little passion as he watched glumly with his hands in his pockets.
Many fans still fondly remember the passion of Juergen Klopp on the sideline as Dortmund won back-to-back titles in 2011 and 2012.
It's been two months since Dortmund won back-to-back games. Though Stoeger has lost only two of his 15 league games in charge, the manner of those defeats has raised questions about his handling of the team.
Dortmund's meek showing in Munich, where the side was routed 6-0 by Bayern, and the 2-0 loss to Schalke showed there is still much work to be done before the team can think of challenging for the title again.
But Stoeger defended his side's will to win in Gelsenkirchen.
''I didn't have the feeling we were just hanging out or not doing everything we could to turn the game around. I saw a game that wasn't optimal for our guys, but the mentality was OK,'' Stoeger said.
Dortmund will have to complete the season without Michy Batshuayi, who injured his left ankle in injury time on Sunday. The Belgian striker scored seven goals in 10 league appearances since his winter loan move from Chelsea.
''Alexander Isak is an option for up front,'' Stoeger said of the 18-year-old Swede. ''Perhaps also one of our fast wingers like Marco Reus. We have enough options to play in this area.''
While Dortmund has been floundering, Leverkusen appears to have found its best form at the right time in impressive wins over Leipzig and Eintracht Frankfurt. The side played well despite losing to Bayern 6-2 in Tuesday's German Cup semifinal.
''It's a team with a lot of speed and a lot of technical ability going in offense,'' Stoeger said. ''But it's also a team that we can overcome.''
Kicker magazine reported Dortmund would make a call on Stoeger's future after the Leverkusen game at the earliest. The following fixtures are at Werder Bremen, then Mainz at home, and ending at Hoffenheim.
Nice coach Lucien Favre, whom Dortmund tried to sign last summer, is an option again, or the club could ask Stoeger to stay for another season so that Hoffenheim's Julian Nagelsmann could take over in 2019, Kicker reported.
In the meantime, Stoeger's future is uncertain.
---
---