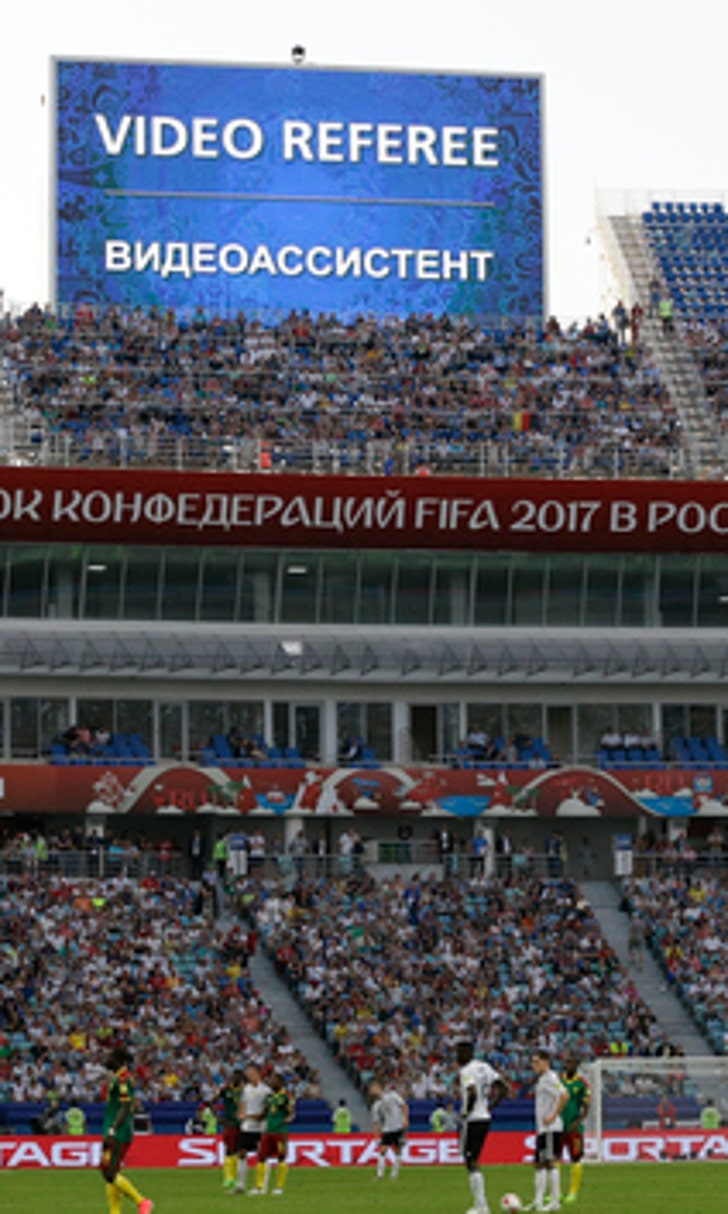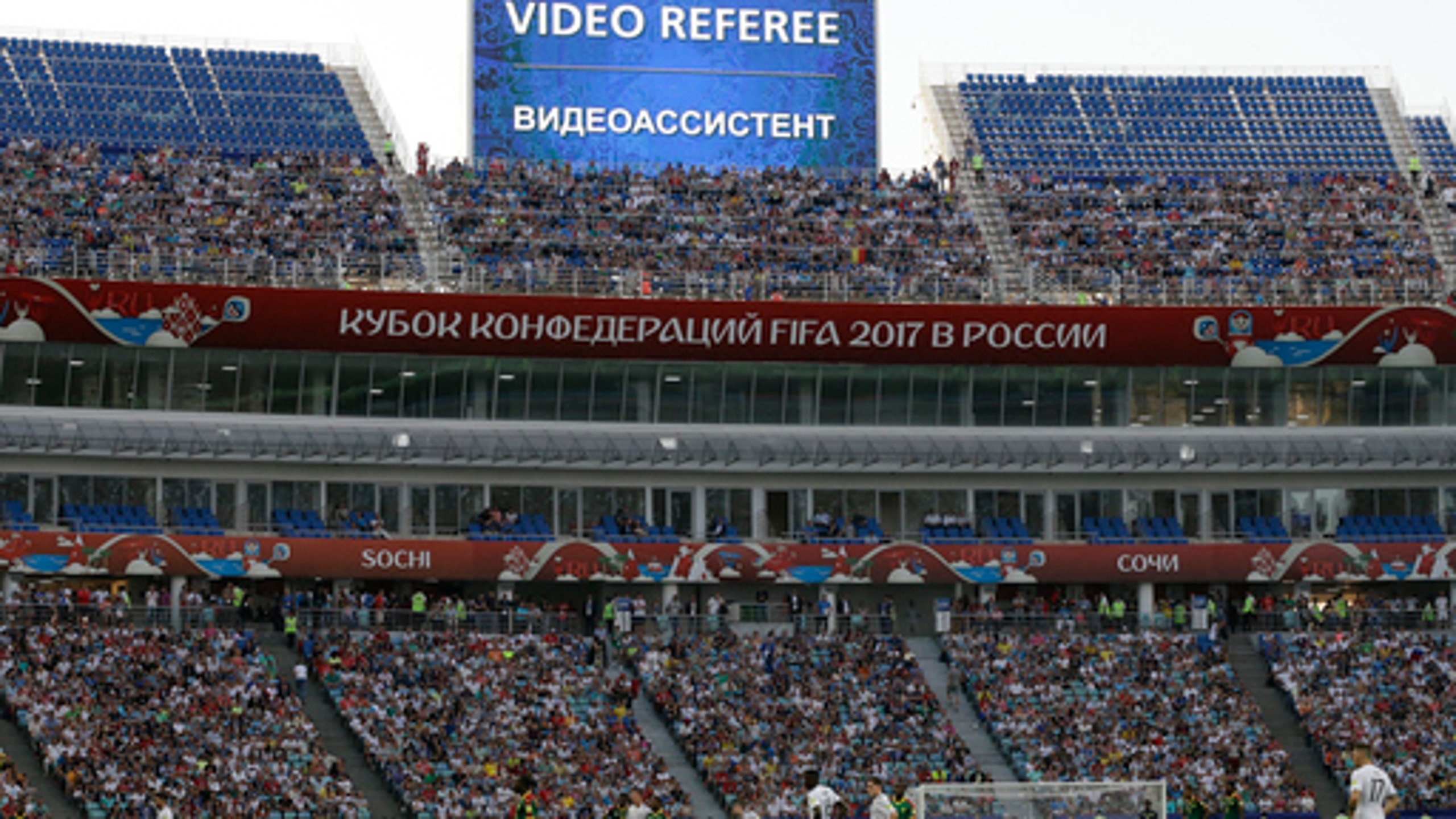 Column: Don't give up on video replays but act on criticism
March 2, 2018
LONDON (AP) If at first you don't succeed ... just give up.
The attitude of the technophobes, who consider any hiccup with video replays as terminal, is to dig their heels in.
The perfection demanded by some just wasn't going to happen instantly with a video assistant referee system that will never eradicate human error. Don't blame the technology when games are held up and confusion lingers. Blame the users.
And don't just blame the referees. The officials who set the parameters for the implementation of VARs are equally culpable.
The picture of utter chaos being painted by some coaches, players and pundits is exaggerated.
The critics may succeed - for now - in keeping VARs out of competitions like the Champions League, but not from all soccer.
VARs will be at the World Cup in Russia. The next step for FIFA President Gianni Infantino is persuading the guardians of the laws of the game of VARs value before they are rubber-stamped for Russia by the FIFA Council.
But the International Football Association Board vote on Saturday should provide the impetus for FIFA to act with more of an open mind to tackle valid complaints about glitches.
Pausing the game, even for a minute, as a referee consults the VAR, is not embarrassing, as Tottenham manager Mauricio Pochettino argued after confusing episodes during an FA Cup game against Rochdale on Wednesday.
But there are simple solutions to make VARs less disruptive and it starts - as so often at FIFA - with better communication.
Too often it is unclear if a referee has consulted the VAR, and unexplained delays can be irritating in a fast-paced game. That's never a good route to building confidence in a new system in a sport as resistant to change as football.
At a minimum, VARs should trigger messages on giant screens while in communication with the referee. Make it clear what is being reviewed from the list of options. That would also prevent referees being overzealous and deferring to VAR beyond the specified game-changing scenarios: Goals, penalties, red cards and cases of mistaken identity.
Players are already forming television gestures with their hands to apply pressure on referees. They should be booked, according to the laws, just as if they were waving imaginary cards. It won't be long before a player is sent off for seeking an assurance that video replays of an incident are being checked. Teams have every right to know how, and why, VAR is being used, although adopting a system that allows a manager/coach to challenge a decision has been resisted.
Then there's the more daring option: FIFA should be bold and emulate rugby to provide an audio link to referees that can be heard by fans.
IFAB technical director David Elleray, a former Premier League referee, complains that when he was recorded for a documentary it was edited to give "the impression that Arsenal had behaved appallingly .'' But that happened almost 30 years ago. A live feed - activated when the referee speaks to the VAR - should be available to provide clear context that can't be distorted.
It would stop the guessing game about how decisions are reached, which often leads to referees being subject to unwarranted abuse.
Better training for the referees is also a necessity.
Only officials with vast experience in competitive matches using VARs should be on the field at the World Cup. That won't be the case, as it stands, with many adapting on the job.
There's still time to fix it before kickoff in Russia in June. There are two options. FIFA could take the unpopular decision to dilute the geographic spread of officials by only taking those from domestic leagues with VARs. The alternative is securing loan moves for referees on the World Cup list to gain familiarity in the Bundesliga, Serie A and Major League Soccer where VARs are used in all games.
Instead, FIFA is planning a partial solution. The replay command center in Moscow will only be populated with experienced VARs. The problem with this solution is that referees on the field may be less comfortable with consulting the VARs or to check the pitch-side monitor if the video assistant is a senior match official.
Mistakes might still happen. Decisions by referees and their video assistants will always be subjective.
But accept it: Soccer's revolution will be televised. Technology has been embraced later than most sports and VARs are not going away.
VAR isn't in the last chance saloon. Happy hour is just some way off.
---
Rob Harris is at www.twitter.com/RobHarris and www.facebook.com/RobHarrisReports
---
---