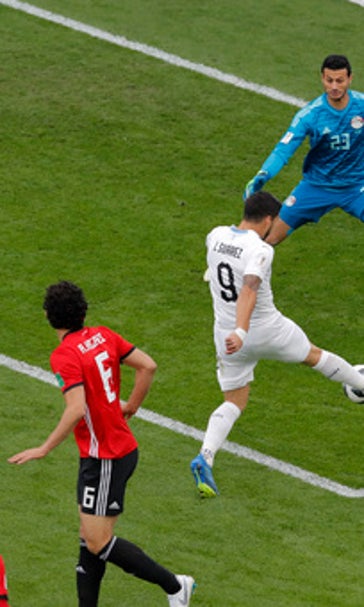 Coach defends Luis Suarez after he doesn't score for Uruguay
June 15, 2018
YEKATERINBURG, Russia (AP) Uruguay striker Luis Suarez arrived at the World Cup intent to put disastrous previous tournaments behind him.
After one game, he's got some work to do to make a positive mark.
Suarez was vilified in South Africa in 2010 for preventing a goal with his hand. Four years later, he was condemned for biting an opponent in Brazil. So Suarez arrived in Russia aiming to play a controversy-free World Cup that showcased his attacking prowess.
Although Suarez behaved in a 1-0 victory over Egypt in Yekaterinburg on Friday, the 31-year-old Barcelona player has yet to flip from villain to hero.
Suarez, one of the top strikers in the world, needs to score.
Booed by thousands of Egyptian fans from the start of the match, Suarez replied with a visible effort, only to lose the ball in promising situations. Suarez, who has a record 51 international goals for Uruguay, repeatedly showed his frustration in the first half.
After the break, the things turned for the worse.
As Uruguay was pressing for a leading goal, his attacking partner Edinson Cavani set him up twice. But Egypt goalkeeper Mohamed El Shennawy stopped Suarez on both occasions.
Uruguay coach Oscar Tabarez defended Suarez after Friday's game.
''I've seen (Lionel) Messi and Pele and Maradona and other great players not to playing to their full potential in matches. This is not a sin,'' Tabarez said. ''Even playing not as well as he normally plays, he had three goal scoring opportunities and the Egyptian goalkeeper stopped two of them. A lot of credit goes to him for that. This doesn't bother me at all. I'm not worried.''
Tabarez often publicly supports Suarez, who he has known since Suarez played for Uruguay's youth teams.
On Thursday, he said Suarez ''without any doubt'' has matured.
Suarez will have at least two more Group A games, to prove him right.
----
More AP World Cup coverage: www.apnews.com/tag/WorldCup
---
---