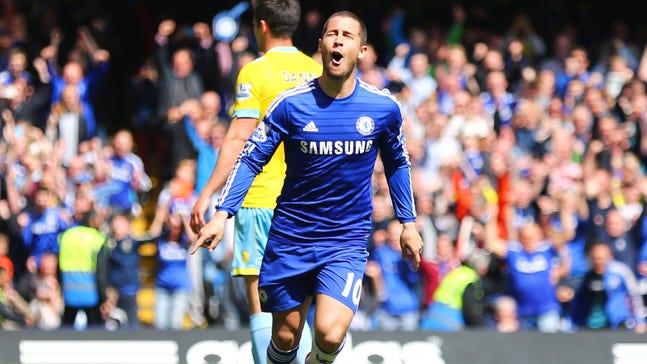 Chelsea secure first Premier League title in five years, down Palace
Published
May. 3, 2015 10:18 a.m. EDT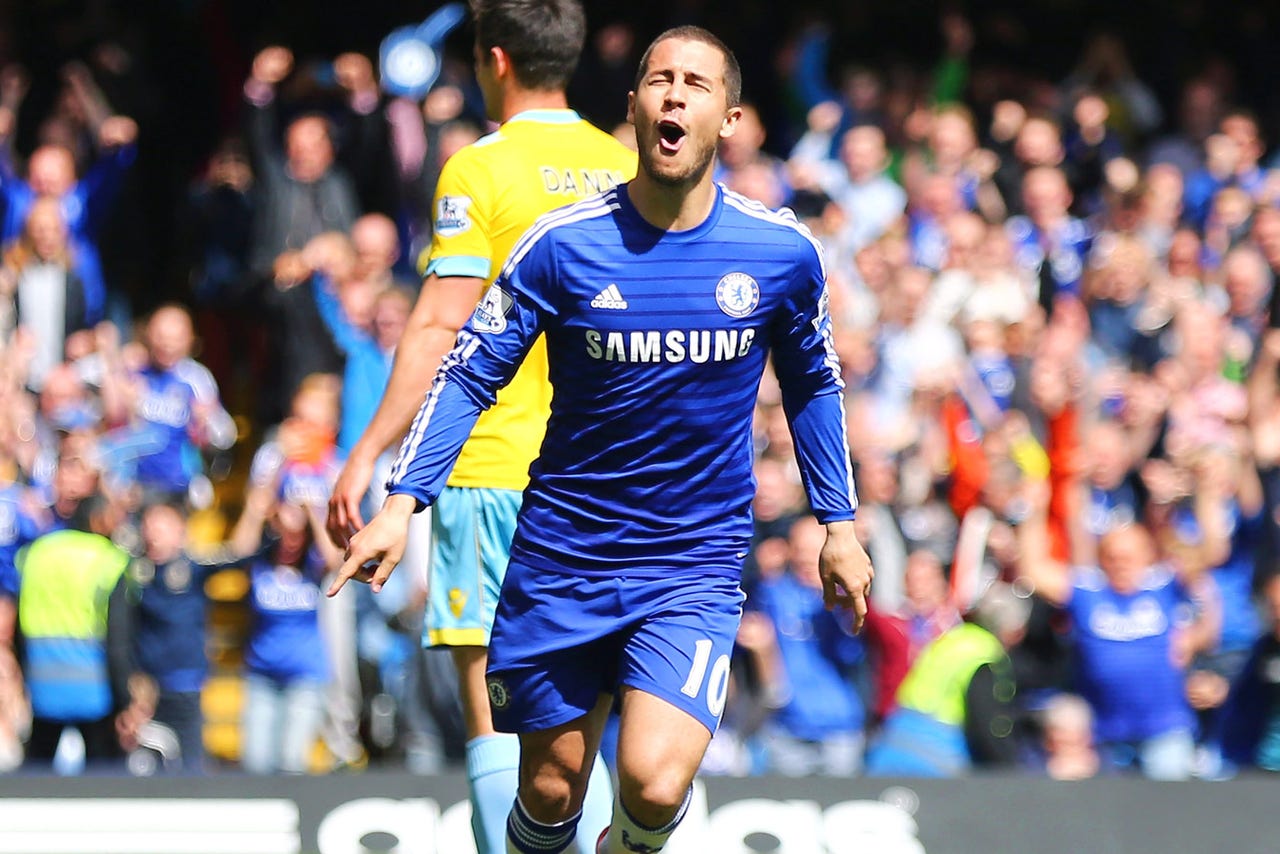 Characteristically, Chelsea won the league title not with some grand flourish but with a 1-0 victory over Crystal Palace that was entirely efficient and rarely in doubt, but lacking much in the way of flair or finesse. Part of the problem -- at least in as far as others see it -- is that its remorselessness has been deployed against such inconsistent opposition: in other circumstances, its unconquerable will might have been celebrated: as it is, it has just meant a pedestrian procession to victory.
At the end, as blue and silver streamers floated from the stands, We Are the Champions blared out and Roman Abramovich clapped in his oddly uncoordinated way, John Terry sank to his knees, clutching his head -- an indication of how emotional this has been for him, coming back after being widely written off two years ago. Mourinho was more restrained, but this ended the longest drought of his managerial career.
"When you work so hard and you are champions you feel that you got what you deserve," Mourinho said. "That's a good feeling. I still enjoy feeling tired after a difficult game. I could choose another club in another country where could be champion easy, but I chose the hardest league in Europe."
This has been a particularly draining week for Mourinho. After the win over Leicester City he took a private plane to be with his father as he had surgery. "He's getting better," Mourinho said. He left Stamford Bridge for another hospital, off to visit Ramires who was named in the starting line-up but fell ill before kick-off and had to be replaced by Juan Cuadrado. The Brazlian media reported he had kidney stones.
Chelsea has been, by far, the best side in the Premier League this season. Had the two halves of the season been reversed and it had finished as it played in September and October, it might even have been remembered as a great champion, building the foundations before cutting loose. As it is, it is simply a worthy champion, respected for its remorselessness rather than loved for its virtuosity. 
The anti-climactic end, the fact we have known for weeks that Chelsea would win, should not deflect from what an achievement this is. The game has changed, of course, and the agglomeration of resources at a handful of superclubs makes it easier for the biggest sides to be successful, but Mouirnho's achievements remain remarkable. This was his eighth league title in 12 years in four countries, and his third in England (in only four seasons and a month) -- only seven men have won more. He's also the first man ever to win league in each of two stints at the club. 
"In my country," Mourinho said, "we say don't go back to a club where you were happy before because it's a risk." It's a risk that, in this case, has paid off. "The first title was difficult because it was the first for Chelsea in the Premier League.
The second one our team was so strong and we had many great players in the best years of careers. This one is different. Chelsea is different, the players are different. My team is one where so many are winning the Premier League for the first time, which is something they have to learn how to do."
The game itself had a strangely somnolent air, both teams going through the motions -- apart, that is, from the ever-belligerent Jordon Mutch who bullocked about midfield annoying people as he always does. Palace had an appeal for a penalty turned down after John Terry blocked a Jason Puncheon shot with his hand, and Julian Speroni created a chance for Nemanja Matic by punching a free-kick backwards, but apart from that, the game had drifted when, three minutes before half-time, Eden Hazard ran onto a Willian flick. The PFA Player of the Year darted between Adrian Mariappa and James McArthur, went down and the referee Kevin Friend gave a penalty. 
Hazard's initial effort was poor and was saved by Speroni, but the ball looped back for him to head in and give Chelsea a lead it never looked like surrendering. Even that felt appropriate: Hazard has been by far Chelsea's most productive attacking player this season. Often in this more "strategic" phase of the season, it has been his spark that has turned games. It is the combination of solidity and Hazard that has permitted Chelsea's run of just six points dropped in the league since defeat at Tottenham on New Year's Day. 
Whether Roman Abramovich dreamed of sealing the league with Nemanja Matic, Kurt Zouma, Mikel John Obi and Filipe Luis together in midfield is debatable, but the approach has worked. Abramovich hugged Mourinho after the final whistle and, for now, the criticism of certain pundits is readily dismissed. "The dogs bark as the caravan passes by," Mourinhos said, before repeating his favorite jibe about punditry being an easy job.
Unspectacular but relentless, this was a very Chelsea performance to consecrate its glory, a very Mourinho carnival.
---