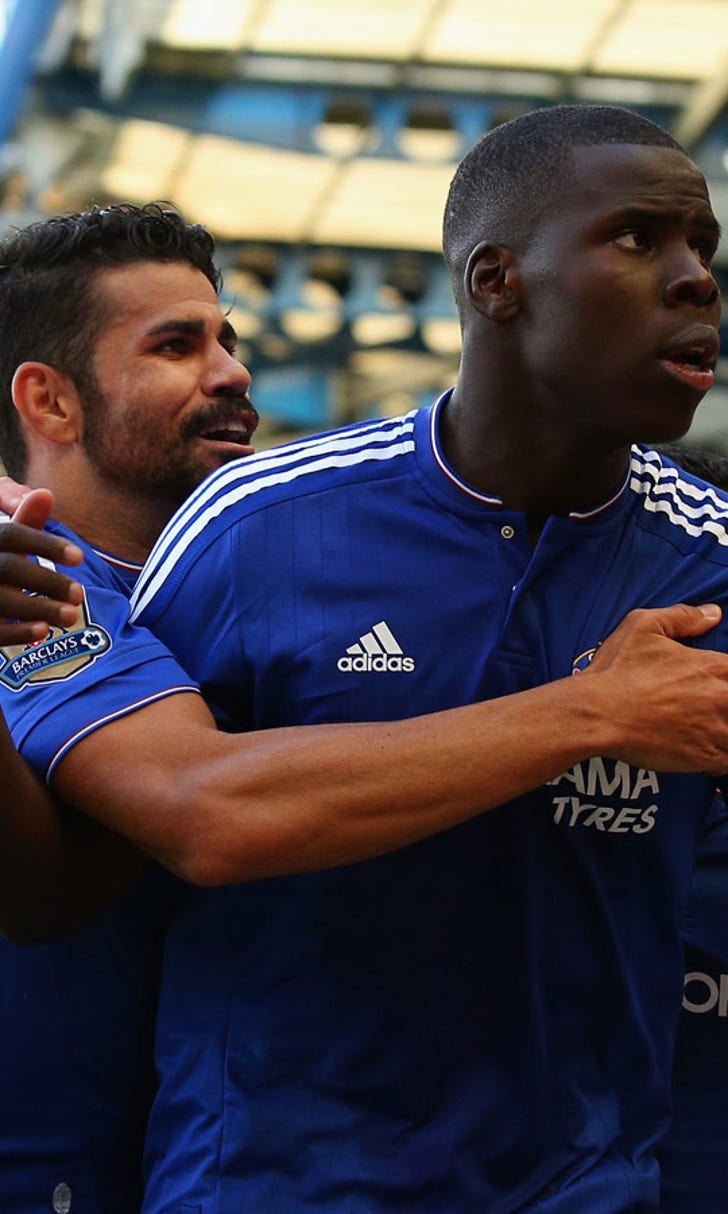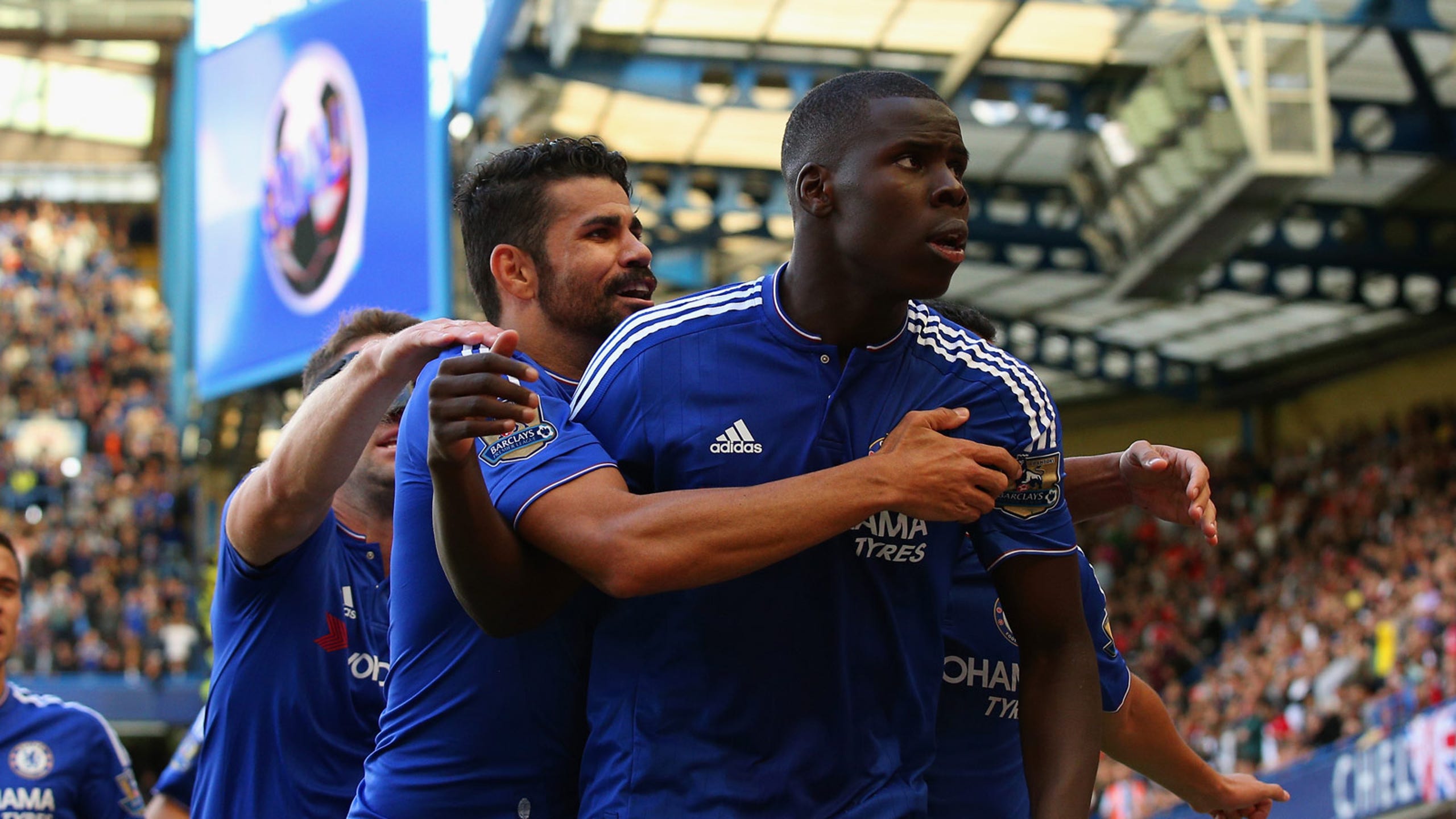 Chelsea edge nine-man Arsenal in fiery derby encounter
BY Jonathan Wilson • September 19, 2015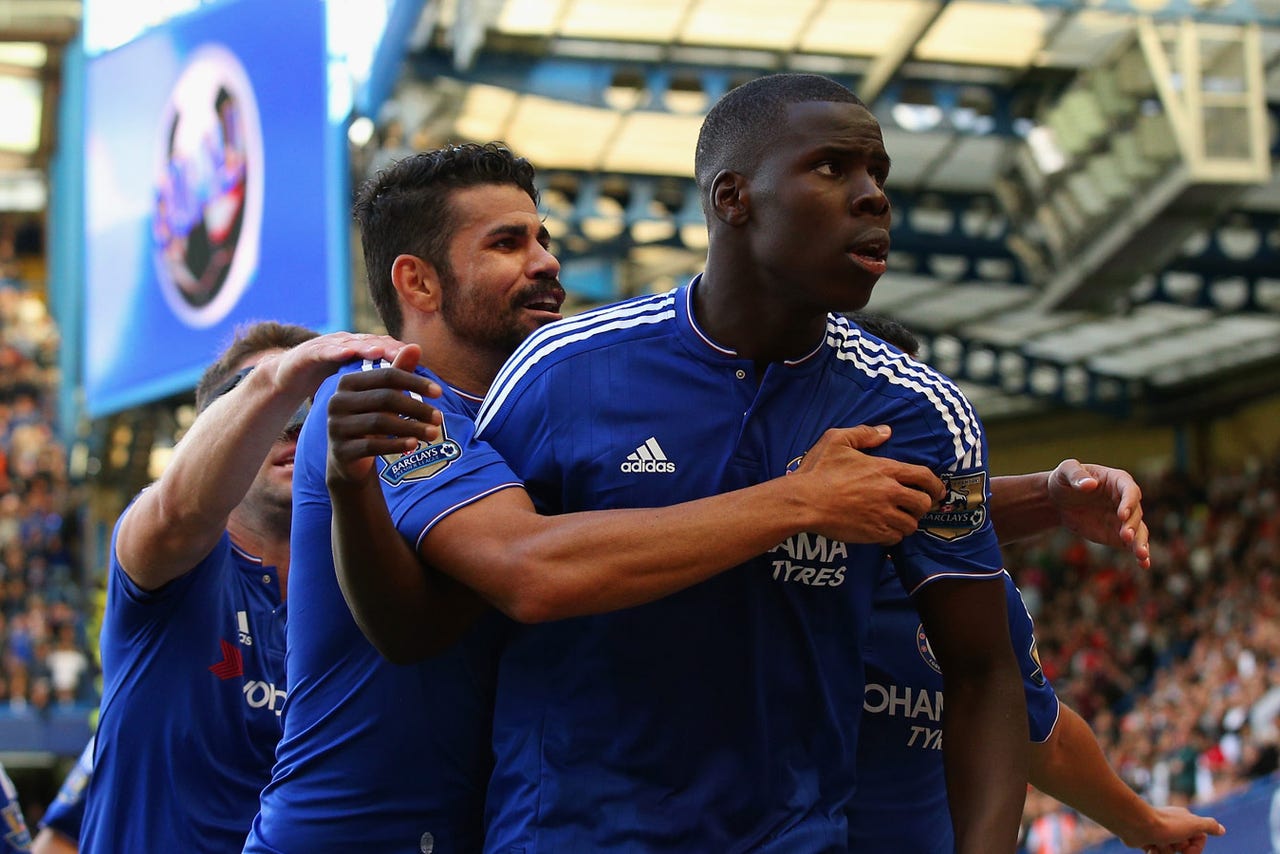 LONDON --  
Chelsea's Kurt Zouma and a Calum Chambers' own-goal earned Jose Mourinho's side a 2-0 win over nine-man Arsenal.
It was a victory for Chelsea, but a defeat for football. The game turned - and was disgraced - by an incident two minutes before halftime as Gabriel was sent off for flicking out at Diego Costa about three yards in front of the referee Mike Dean.
Gabriel only had himself to blame for his stupidity, but his fault was to be naive in the face of targeted cynicism. Diego Costa and his provocations have become a blight on the game. Santi Cazorla was also sent off 12 minutes from time as Arsenal finished the game with nine.
With 11 men, Arsenal had defended relatively well; with 10 it had no chance, and conceded eight minutes after half-time as Kurt Zouma glanced in a free-kick from the much-improved Cesc Fabregas, his first Premier League goal.
Fabregas wasn't the only Chelsea player to produce his best performance of the season so far. Nemanja Matic and Eden Hazard both looked livelier, adding weight perhaps to the theory that Chelsea's sluggish form so far this season was the result of a lighter than usual preseason as it looks to avoid the sort of fatigue that afflicted it in the final months of the last campaign. Whatever positives there were, though, were overshadowed by Costa.
As early as the second minute, the Spain international had dived in an attempt to get Francis Coquelin booked, and wagged an imaginary card to encourage Dean to show a yellow.
He then shoved Laurent Koscielny in the face and then swiping an arm at the Arsenal defender. Costa mystifyingly went down, then got up in a fury, chest-barging Koscielny, who was knocked to the ground. Gabriel raced over and squared up to Costa for which both were booked, before dimly carrying on the antagonism in the center-circle as play was about to restart.
Arsenal could have few complaints about the red shown to Gabriel, but Costa's crimes were far worse and probably added up to four yellows and a red before half-time. This isn't a one off: this is just how he plays.
"He can do what he wants he stays on and everybody else who responds to him has to be sent off," said a clearly furious Wenger. "It's unacceptable what he does. He hits him in the face before the foul. He gets always away with it. It's honestly surprising. I don't understand Mike Dean's decision at all. Why does Diego Costa stay on the pitch? That Gabriel is sent off I accept: he is not to act at all. He will do the same next week and the week after and get away with it. He uses well the naivety of Mike Dean today."
Repugnant as Costa's behavior was, he is remarkably good at being an irritant: almost unbelievably, he hasn't been sent off since Dec. 2012. And he remains popular, with Chelsea fans chanting his name, weirdly proud of a man who sullies their club and the sport.
Ultimately, he won them the game and, perhaps, when you've suffered your worst-ever start to a Premier League season, that outweighs all else. As he came off having been substituted nine minutes from time, Mourinho shook his hand warmly.
"I played against Arsenal 12, 15, 18 times [it's 15] and only once he didn't moan," said an unrepentant Mourinho, deflecting by alluding to two penalties he claimed his side should have had. "And on that day we lost the game, we lost the Cup [the Community Shield in August], it was not good for us. We behaved in a fantastic way, no excuses, not crying, not moaning. I played my first derby on 20-something of September 2000, Benfica against Porto and I told my players before the game to win derbies you need emotional control. I played derbies in Portugal, Spain, Italy and England and it's something I repeat before every derby. It's a basic thing of the game.
"If you want to speak about Diego Costa with me, I say he did what he had to do. This is why you have full stadiums, you sell to televisions around the world for millions and millions. The game has to be played like that. Fantastic Diego. Man of the match."
The ill-feeling and bad faith, the - let's call it what it is - cheating, made a mockery of the grudging prematch handshake between the managers. It was initiated by Mourinho, who waited at the end of the tunnel so Wenger couldn't avoid him as he left the dressing-room to take his place in the bench, but when one of his players behaves as Costa did, it's a pathetically empty gesture.
Zouma was included in place of John Terry, presumably omitted because of fears about his lack of pace against Walcott and Sanchez.
More surprisingly, Branislav Ivanovic, having been left out of Wednesday's UEFA Champions League victory over Maccabi Tel Aviv, was recalled as captain to make his 61st consecutive Premier League start.
Given the way Ivanovic has struggle for pace, particularly on the turn this season, there had been a thought that Alexis Sanchez might destroy him, but the Chilean has been out of sorts this season and was involved only intermittently.
Arsenal brought back all six players who had been rested for the 2-1 defeat away to Dinamo Zagreb in the Champions League on Wednesday, and pursued a policy similar to that that had won the Community Shield in August, packing men behind the ball, retaining two banks of four when out of possession and looking to exploit the pace of Walcott on the counter.
Mourinho, in typically pointed style, spoke then of Arsenal abandoning its philosophy and perhaps there was an element of that. Chelsea had most of the ball in the first half, but aside from a couple of speculative long-range efforts, it only created two clear chances. To that extent the plan was working although Theo Walcott offered little outlet at center-forward and kept being caught offside.
The acrimony and Dean's haplessness carried over into the second half. Koscielny was fortunate to get away with a dangerous challenge on Fabregas and, although Oscar was booked for what appeared a retributive foul on the defender, he might also have seen red.
Still, there could be few doubts about the red shown to Cazorla. Already booked for a foul on Pedro in the first half, he collected his second yellow for a wild lunge on Fabregas.
The game, though, had long gone and Chelsea added a second in injury-time as Hazard's shot deflected in off Calum Chambers.
---
---