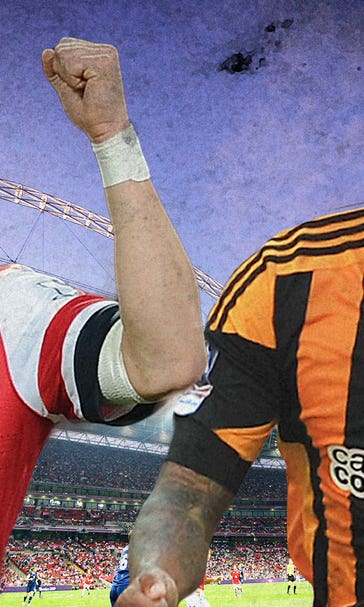 Anything but routine when Arsenal meets Hull for FA Cup glory
May 16, 2014

LONDON --
Arsenal will try to end nine years of pain at Wembley Stadium when they face Hull City for the FA Cup title (live now on FOX). It is a bigger ask than it should be for an Arsenal side that have shown no ability to win the clutch games this season as questions hover over this squad's mental toughness under pressure.
The last piece of silverware the Gunners won was this very trophy -- a goalless draw against Manchester United, ultimately decided at the spot in what was then an FA Cup first. Since then, they have had a remarkably barren period, punctuated by some astonishing disappointments. There was the League Cup final in 2011, when Arsenal literally managed to chuck the game away in the final minutes to Birmingham City. There have been the nail-biting season enders, where Arsenal needed results just to make the UEFA Champions League.
But this season may stand as the most painful of all. Arsenal were atop the Barclays Premier League for 120 days -- eight times as long as the eventual title-winners, Manchester City. Fans, encouraged by the blockbuster signing of Mesut Ozil, dared to believe that this finally might be their year. And then came the collapse. 5-1 to Liverpool, at Anfield, a game that left Arsenal's confidence in tatters. The 6-0 loss to Chelsea at Stamford Bridge that made a mockery of their title pretensions, and sent them tumbling into fourth, where they would remain.
Arsenal clearly have the talent to handle a Hull: after all, when the Gunners travelled to KC Stadium in April, they pasted the Tigers 3-0 (Overall, they've put five past them this season). But this is a team that seems woefully prepared to play in big games. Consider that in the FA Cup semifinals, Arsenal needed penalties to get past Wigan. Wigan are the current holders, and Uwe Rosler has his side on track for promotion through the playoffs -- but the fact is Arsenal were abject during the match, with the Gunners conceding a cheap penalty to allow the Latics the advantage, and needing a rearguard action late to catch up. At times, it looked as if Arsenal had no clue what they were doing -- and that has been a damaging pattern in must-win games for this team.
That lack of mental fitness seems to rear its head at inopportune times, and has led to Arsene Wenger confronting the sharpest criticism of his tenure with the club. In fact, there is the feeling that while Arsenal owner Stan Kroenke is perfectly happy to let Wenger to continue at the club ad infinitum, this game is a referendum for everyone else. And Wenger, a proud and thoughtful man who is also one of the most accessible coaches in the European game, has privately conceded he has been shocked at the depth of the anger and has seriously considered stepping aside after this season as a result.
"No matter what the result will be, this club -- and this is always most important -- can deal with the consequences of any game," Wenger was qouted earlier in the week. "What is important is that we come out of the game and have the feeling that we gave absolutely our best, our total energy to play at our best and then you always accept the consequences.
"No matter how much we talk about it, you can win and lose but you want to come out of the game feeling you have done the maximum to win and that is what we want to achieve."
A major question for Arsenal is who will start in the nets. Lukasz Fabianski has been Arsenal's cup keeper but Wojciech Szczesny has been the Gunners' number one all season long. Fabianski has been rock-solid and saved two penalties in the semifinal. Szczesny has been notably erratic under pressure. Fans were bemused when Szczesny was dropped for the final game -- preventing him from picking up the league's golden glove award for most clean sheets -- and nervous that he might, as a result, be fielded at Wembley.
Hull, despite some late -- and candidly, bizarre -- calls for Steve Bruce's managerial contributions to be recognized, have been on a slide. They haven't won a game in over a month (and that was over a League One side to get to this final) and dropped each of their last three games by two goals.
Hull, in fact, were lucky other teams were so much worse. Despite finishing on 37 points (they would eventually settle into 16th) they were rarely mentioned in the same conversation as Aston Villa, Sunderland or West Brom despite the fact that, well, Hull had 37 points. Thankfully, Norwich, Cardiff and Fulham had essentially locked up the relegation places long ago, so Hull could kind of coast along in the background, their grim late-season form largely overlooked.
"We've tried to keep it normal, but you can tell it's not normal," said Bruce leading up to FA Cup final on Saturday. "You can tell from watching the players train that it's not a normal week. For the first time in three or four weeks, there is a real spring in the step of the players. You can detect that and it will build as the week goes on, and so it should."
On paper, this should be a walkover for the Gunners, a stroll in along the well-tended grass of Wembley in the spring sunshine. But Arsenal's recent history is anything but easy or routine. 
---