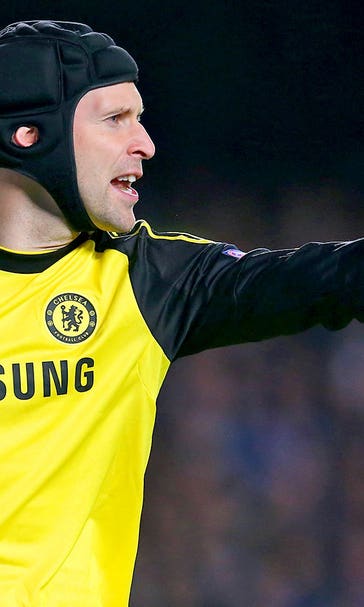 Agent of Chelsea star Petr Cech reveals interest from Monaco, PSG
BY foxsports • July 3, 2014
Petr Cech's agent claims that Paris Saint-Germain and Monaco have both contacted him about the Chelsea goalkeeper, but he insists that they have not been told that his future lies away from Stamford Bridge.
The 32-year-old Czech star has been Chelsea number one for a decade after joining from French side Rennes, and he has long been regarded as one of the best goalkeepers in the world.
However, Chelsea also have Thibaut Courtois and he is due to return to the club this summer having spent three years on loan at Atletico Madrid, where he played a starring role in their La Liga triumph last term.
Chelsea boss Jose Mourinho has indicated he wants Courtois back, which has left some doubt over Cech's position - and Belgian international boss Marc Wilmots was quoted suggesting that Cech would be sold.
Now speaking to leading Czech website Aktualne, his agent Viktor Kolar insists that they have not been informed by Chelsea that Cech is no longer required - but he admits other clubs have made contact.
"Nothing changes. He has two years left on his Chelsea contract and has an interest to continue there. Mourinho did not tell him that he would not count on him anymore," Kolar is quoted by Aktualne.
"We have not been given any signals that Petr would be made available [for transfer]. If that was the case, though, you have to realise that Petr is one of the world's top goalkeepers and has a certain salary. There are not many clubs who could afford to sign him.
"If he were to leave, we're discussing two or three clubs in the world. The situation has developed in a way, of course, but for now he is staying at Chelsea."
Kolar then revealed that he had been contacted by France's two premier clubs: "Paris Saint-Germain have shown interest and we have also communicated with Monaco."
He also admits he would make contact with other clubs, if Chelsea told him to find Cech a new club.
"I would get in touch with Zubizarreta (Barcelona) and people at Real Madrid. These are clubs we would consider if Chelsea wanted to get rid of Petr. We would also consider Bayern but they have Neuer there. Then there are leagues Petr would not go to. For instance, the Serie A, because clubs in that league have problems." 
But Kolar admits that Cech is more than happy with life in England.
"Petr isn't 20 any more. His family are satisfied living in London. Petr is satisfied at Chelsea and there is interest in his services even after his active football career, so that they would want him to continue in some position at the club." 
Cech is currently recovering from shoulder surgery, but Kolar says as it stands he will be heading back to Chelsea ready for pre-season.
"Petr is successfully continuing his recovery from his [shoulder] injury and everything is going according to the plan. He will be ready for the start of the pre-season preparation," he concluded.
---