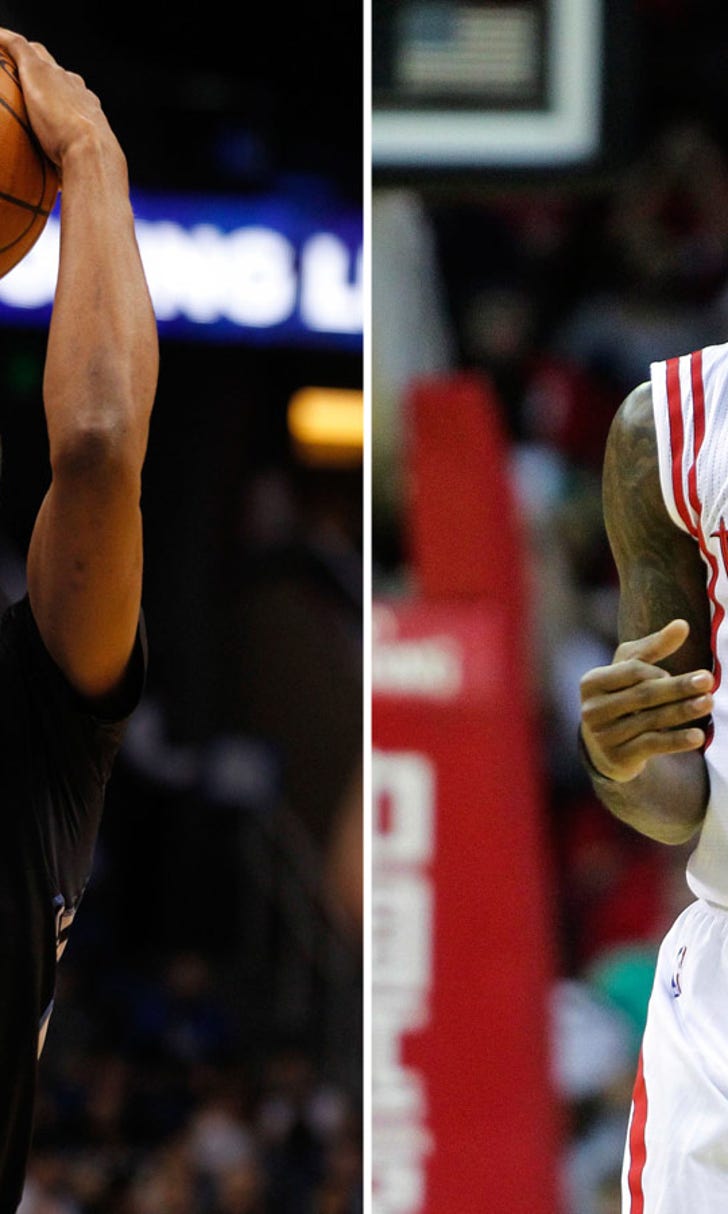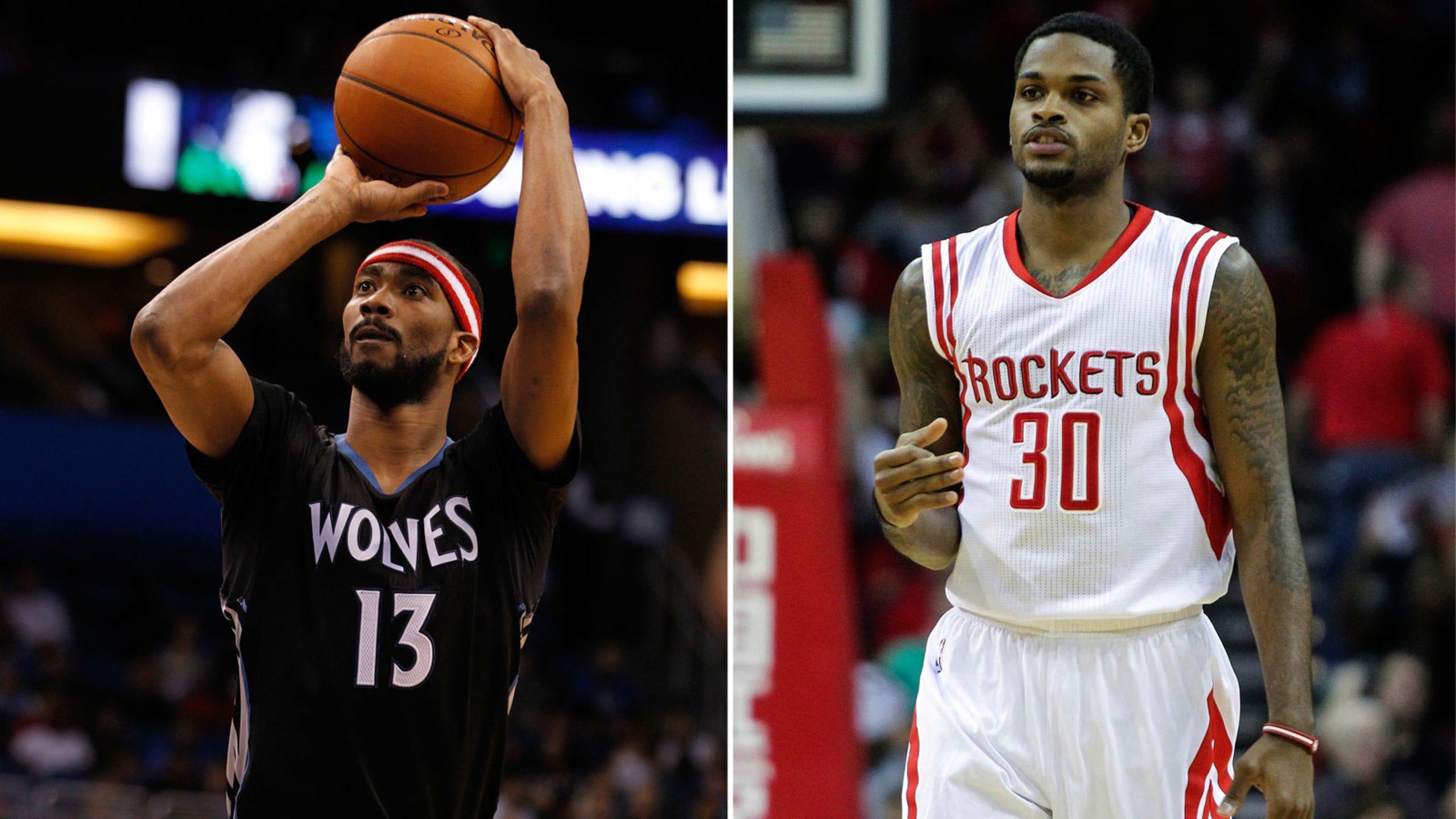 Wolves trade Corey Brewer to Rockets for Daniels, picks
BY foxsports • December 19, 2014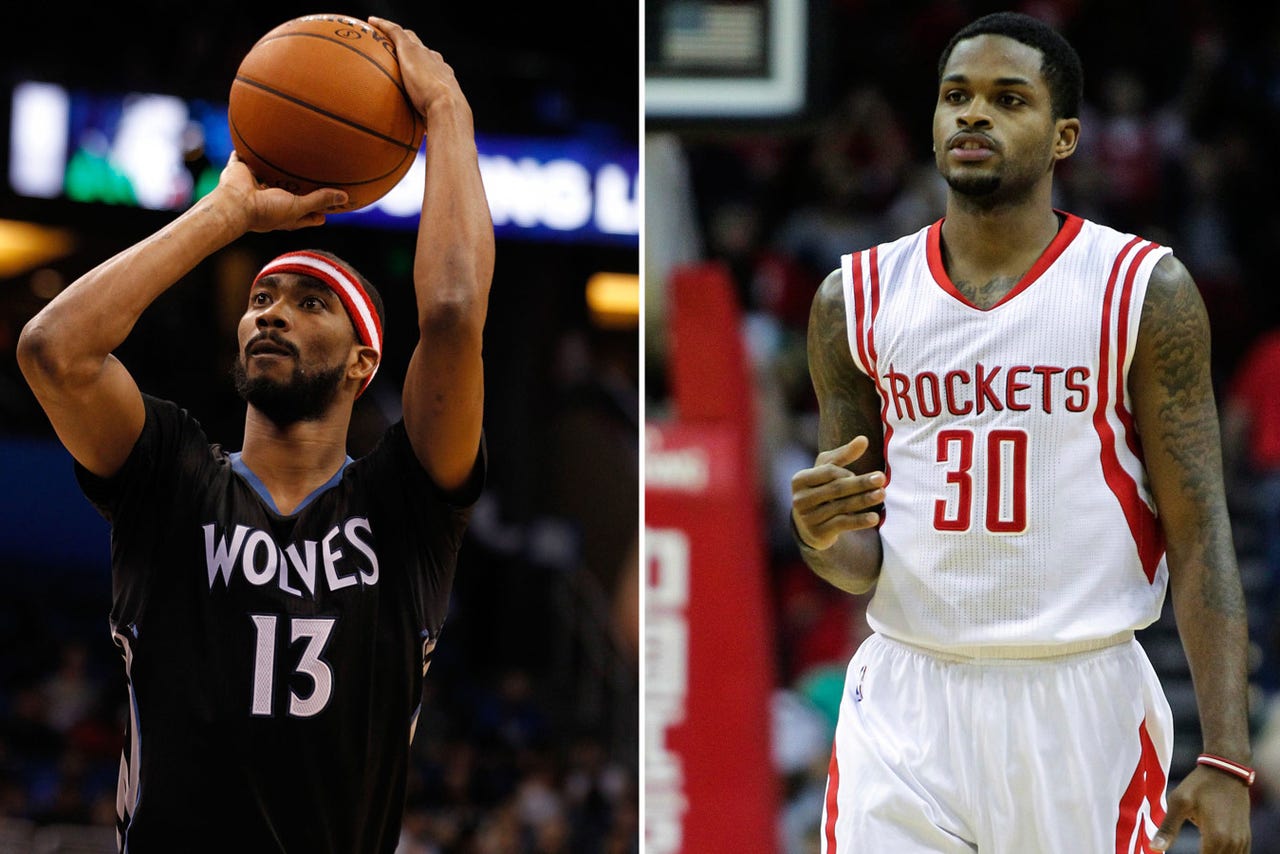 MINNEAPOLIS -- Two of the NBA's most efficacious personalities are on the move again.
The Timberwolves have traded good-natured small forward Corey Brewer and boisterous center Ronny Turiaf, the team announced Friday night during its game against Boston. As part of a three-way deal, Brewer was sent to Houston, Ronny Turiaf (with a Rockets second-round pick) is headed to Philadelphia, and the Sixers will send former Wolves guard Alexey Shved to Houston. The Timberwolves, meanwhile, receive second-year shooting guard Troy Daniels, a pair of second-round draft picks (Houston's protected 2016 selection and Sacramento's protected 2015 pick) and cash considerations from the Rockets.
Additionally, Houston is expected to release swing man Francisco Garcia to clear roster space for Brewer.
Minnesota coach and president of basketball operations Flip Saunders, it would seem, is making good on the notion his club is in full "rebuild" mode by shedding some veteran salary and positioning itself for future acquisitions to build around its young core.
"The situation we're in right now with our injuries prompted us to make the move," Minnesota general manager Milt Newton said. "We always wanted to get the best possible deal for all the teams involved. We felt like getting a player like Troy, a shooter that can help us space, and also the draft picks kind of help us build our team."
Newton added Brewer could've -- and likely would've -- opted out of his contract next year in hopes of joining a contender.
The Wolves traded Kevin Love and received No. 1 overall draft picks Andrew Wiggins and Anthony Bennett and power forward Thaddeus Young this past offseason, hoping to build a new identity around youthful, fast, athletic talent. Saunders' original plan was to deploy a "blended" roster with veterans like Brewer and Turiaf to help ease the young guys' transition, both via soaking up minutes and showing them the ropes in practice.
But the key components of the team's 2014-15 blueprint were negated when point guard Ricky Rubio, shooting guard Kevin Martin and center Nikola Pekovic all went down with significant injuries during the first month of the season. With Wiggins and fellow 19-year-old 2014 first-rounder Zach LaVine both forced into central roles, Saunders has ceded this season toward long-term construction.
"We're looking at a situation where we might be going into a rebuild, which changes the dynamics of everything," Saunders said earlier this month. "When you're doing a rebuild, it's not pleasant for anybody -- for fans, for (media), for coaches, for players. Sometimes, you're forced to do some things that maybe you don't plan on doing."
The Wolves, 5-19 and in last place in the Western Conference, won't tank. But if there's a move that helps them down the road, Saunders sees no sense in passing that up.
Trading Brewer and Turiaf could do that in a few ways. Exchanging Brewer for Daniels alone saves Minnesota about $7.8 million in salary. The two second-round picks can be used to acquire another young asset or in future trades, perhaps to move up in the draft.
Other than that, the Wolves get a second-year two-guard in Daniels who can shoot the lights out but doesn't have much of a professional track record other than that.
"He shoots the ball really, really well in catch-and-shoot," Newton said. "When Ricky gets back it really helps us with spacing, allows him to drive and kick. . . . We're really struggling shooting the ball from the perimeter, and (Daniels) really helps us do that."
Minnesota's 32.4 3-point percentage heading into Friday's game at Boston ranked 27th in the NBA.
Daniels spent much of last year in the D-League before joining Houston for its playoff push. His go-ahead 3-pointer with 11 seconds left in overtime helped the Rockets outlast Portland in Game 3 of their first-round playoff matchup.
This season, Daniels -- a Virginia Commonwealth product -- has appeared in 17 games, averaging 2.7 points on 31.9 percent shooting in just 6.4 minutes per game. The undrafted free agent is under contract through 2016, guaranteed $816,482 this season and $947,276 next season.
But that's considerably less money than the $9.6 million Brewer is owed between now and 2016. The move gives Houston some needed perimeter defense and leak-out ability behind Trevor Ariza, and reunites Brewer with former Wolves president Kevin McHale.
It was McHale who drafted Brewer seventh overall out of Florida in 2007. After three-plus years in the Twin Cities, he underwent a series of trades that sent him from New York to Dallas, where he won a championship in 2011, then to Denver. Last summer, Brewer re-signed with Minnesota as an unrestricted free agent hoping to team up with Love and end the Wolves' decade-long playoff drought.
But Love forced his way out of Minnesota and into Cleveland, leaving Brewer in another reset-button situation.
"It's tough for me. I'm not going to lie," said Brewer, who's even had to play the point at times with Rubio and backup Mo Williams both out. "When I came back here, I wasn't expecting this -- to rebuild again."
That won't be an issue in Houston. Led by James Harden and Dwight Howard, the fourth-place Rockets have their sights set on a deep postseason run and believe Brewer can help get them there -- either by playing his usual role or being included in another deal sometime before the deadline.
McHale and the Rockets know full well what Brewer is capable of. Last season, he scored a career-high 51 points against them in a meaningless home game at the Target Center.
Turiaf's situation is murkier. The 31-year-old big man from Martinique underwent season-ending hip surgery Tuesday and is set to become an unrestricted free agent after this season.
He missed 51 games last season with elbow and knee injuries.
While they only spent one full season here, both players will likely be missed around the Target Center locker room. Brewer has become known for his constant, ear-to-ear grin, while Turiaf, on a good day, is one of the most vibrant personalities in basketball, known for, among other quirks, razzing teammates and giving reporters a fist bump as he walks off the court after practice.
Houston will be the fourth team Brewer's played for in his eight-year career. Turiaf has played for seven different NBA teams, including five since the start of the 2010-11 season.
"It gives us a lot of flexibility," Newton said of the trade, "not only to add to our team, but also possibly package and move in the future. "Right now, we're a young team just trying to get as many assets as possible so we can help build this team from the ground up."
Follow Phil Ervin on Twitter
---