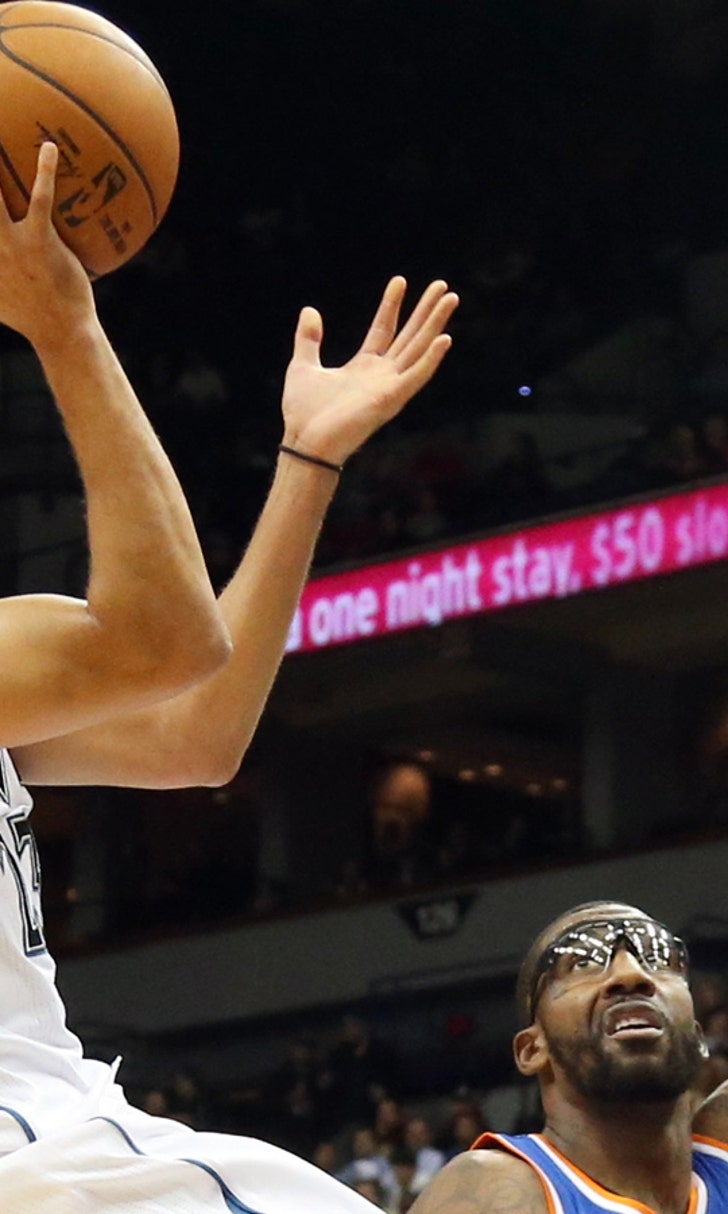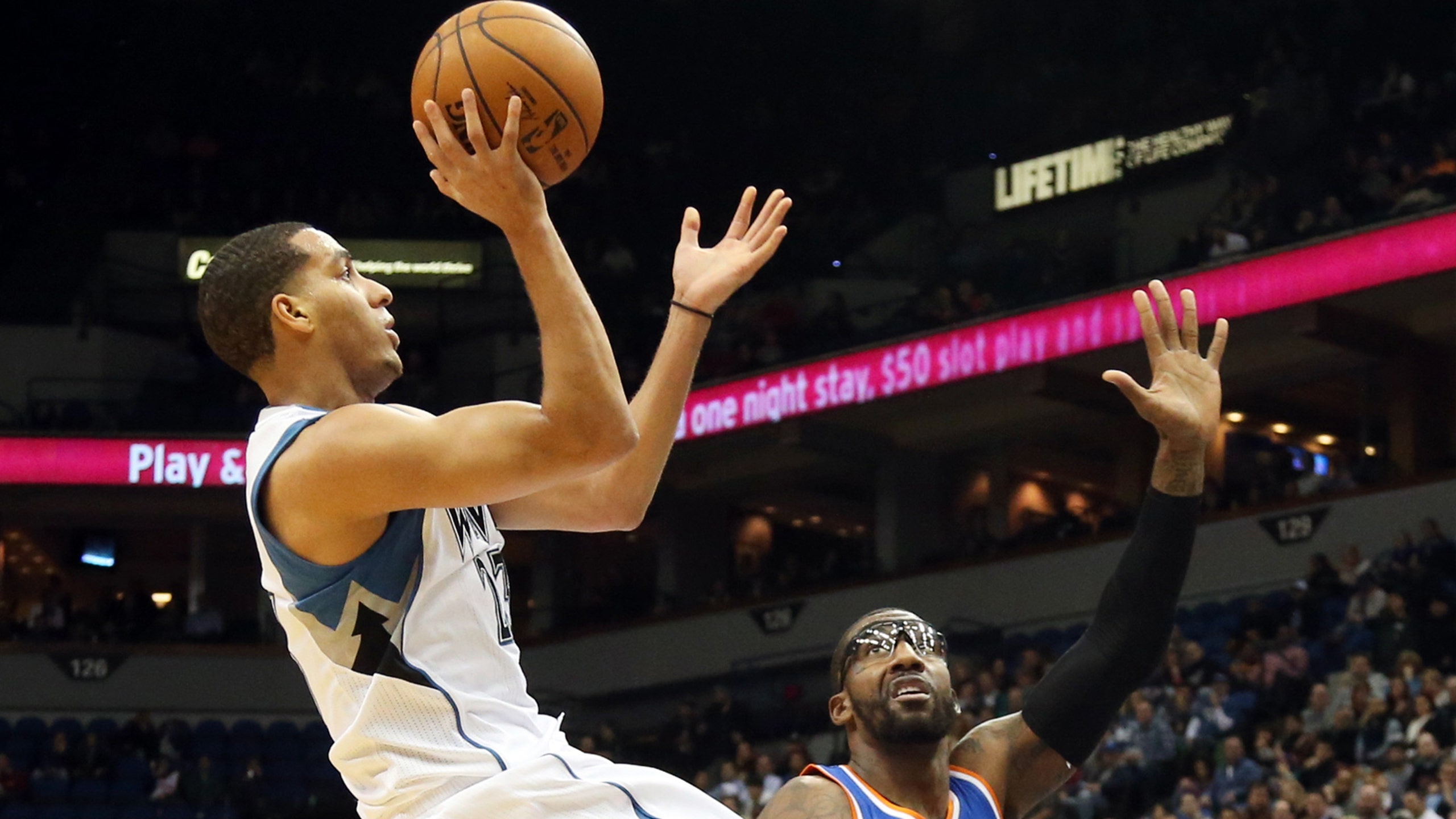 Wolves pull selves up by bootstraps, kick Knicks around
BY foxsports • November 19, 2014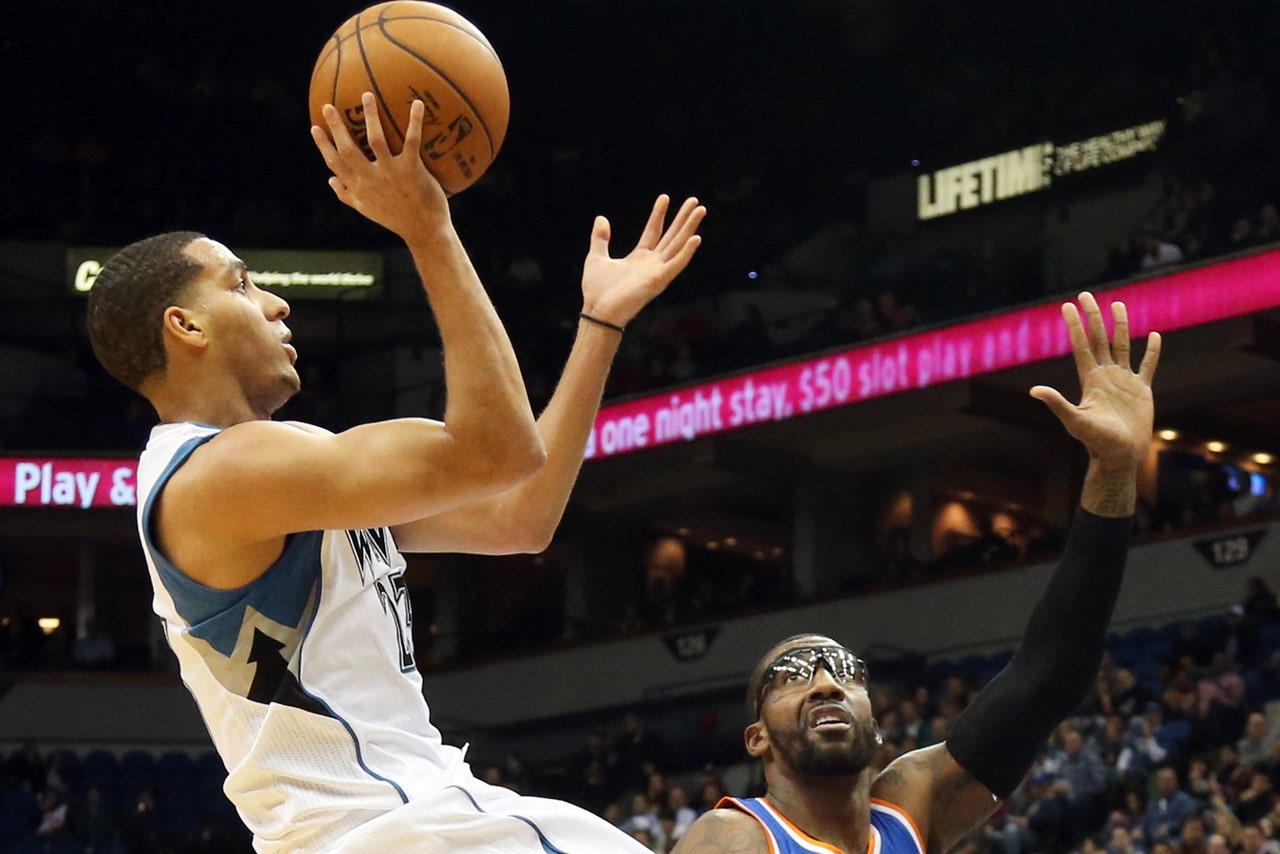 MINNEAPOLIS -- Ricky Rubio sat behind the bench with a walking boot on his left foot, at one point elevating it on the back of Nikola Pekovic's chair.
Pekovic himself sat glumly, a splint encasing his right hand and lower forearm. Thaddeus Young wasn't around at all, but 15,304 fans tried to be with him in a moment of silence for his recently deceased mother. At that point, Kevin Martin and Corey Brewer stood stoically, straining to collect themselves after a night of vomiting and an afternoon of IV fluids being pumped into their veins.
Yet whatever it was that afflicted the Minnesota Timberwolves on Wednesday night, they might welcome more of it.
Missing three starters and nearly losing another and their top reserve to illness, the Wolves snapped a five-game losing streak in convincing fashion with a 115-99 victory over the Knicks at the Target Center. New York had a handful of its own conundrums, chiefly a 3-9 (now 3-10) record and the fatigue of coming off the front end of a back-to-back.
But Minnesota (3-7) was severely depleted.
How bad? Coach and president of basketball operations Flip Saunders started Shabazz Muhammad, a 6-foot-6 swingman with no previous NBA starts to his credit, at power forward. Robbie Hummel, generously listed at 6-9, played some center. The Wolves' frontcourt rotation consisted of those two, Gorgui Dieng and Anthony Bennett -- all second-year players that would otherwise be coming off the bench.
Rubio is out indefinitely with a severely sprained ankle. Pekovic has a wrist sprain that will keep him out of at least the next three games. Young won't be back until Sunday at the earliest after his mother's funeral Friday in Memphis. Ronny Turiaf has played just two games thanks to a sore hip.
And, for one night at least, none of it prohibited a favorable result.
"We've had some guys dropping like flies that haven't been around," said Saunders, whose team wrapped up a 1-5, six-game road trip over the weekend. "We really weren't sure who was going to be able to go tonight."
Despite that, Minnesota outscored the hapless Knicks 37-26 in the second quarter to take a 64-51 lead into the break. It led by as many as 24 in the second half and never let New York, which lost Tuesday night at Milwaukee, creep within making the game interesting after that.
Even Saunders was a bit shocked. It'd been a sleepless night before as he pored over the active roster and struggled to come up with reasonable hope his team would score more than 80 points, he joked.
At 3:30 a.m., he received a text message from head athletic trainer Gregg Farnam saying shooting guard Kevin Martin was ill and might not make it to shootaround the next morning. Martin eventually made it in, but Brewer -- the Wolves' top option off the bench and a starting candidate if Martin wasn't able to play -- didn't.
Both wings believe they suffered food poisoning from eating the same, team-provided meal after practice Tuesday. Brewer said he was making frequent trips to the bathroom from 11 p.m. to 7 a.m., while Martin said he experienced an hour of similar symptoms overnight. Both received intravenous treatment Wednesday afternoon and were listed as available by game time.
"One of the worst nights of my life," Brewer said.
Martin, out of "respect for the caterers," declined to say what he and Brewer had consumed.
Less than 24 hours later, Martin scored a season-high 37 points and tied career highs with seven 3-pointers and 14 successful field goals. Brewer came off the bench to chip in 14 points on 5-of-8 shooting and a career-high-tying six steals.
"Maybe coach will want me to have an IV before every game now," said Martin, who added he never considered sitting out despite his sickness. "That ain't happening."
Assistant coach David Adelman missed Wednesday's game with an illness. Brewer said he thought Adelman might have had the same food the players did Tuesday night.
"I was hurting so bad," said Brewer, who had to run to the locker room and "deal with some issues" but returned shortly after. "Even when I got here, I didn't think I could run, but I just fought through it."
An undermanned frontcourt of Hummel, Muhammad, Bennett and Dieng helped Minnesota outrebound New York 35-33, and a defense that had given up 270 points combined in its past two games forced 23 turnovers and turned them into 28 points.
In his first career start, Muhammad had 17 points -- two of them on a top-plays-segment-worthy, one-handed alley-oop slam from Brewer in transition -- and eight rebounds. "I thought it was great for me to start and give us a boost right off the bat," said Muhammad, who scored 18 points off the bench Saturday at Dallas.
Rookie Andrew Wiggins added 12 points, and Dieng finished with eight points, seven boards, five steals and four assists.
For the first time since the Wolves signed him this offseason, veteran Mo Williams started at the point for Rubio instead of rookie Zach LaVine. The 31-year-old journeyman scored 14 points and handed out 13 assists, his most helpers since Nov. 12, 2012 when he played for Utah.
Perennial All-Star Carmelo Anthony scored a team-best 20 points for New York, and Amar'e Stoudemire came off the bench to score 19.
But it was the upstart, short-handed Timberwolves that got a scrappy, much-needed win to boost their psyche a bit on the first night of a four-game homestand.
"We don't have a big margin of error," Saunders said. "I thought it was important that we play well tonight, for our young players, because we wanted to come out and get some positive reinforcement."
Follow Phil Ervin on Twitter
---