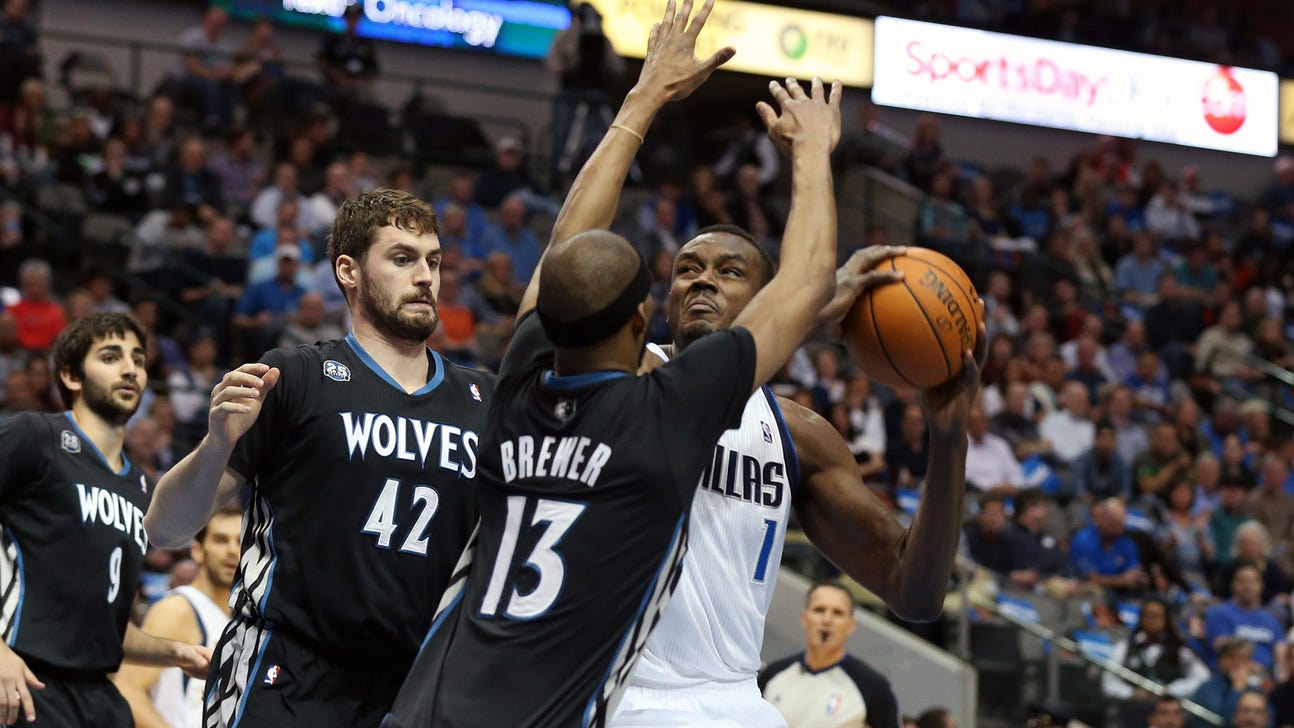 Wolves outlast Mavs, 123-122 in OT
Published
Mar. 19, 2014 11:14 p.m. ET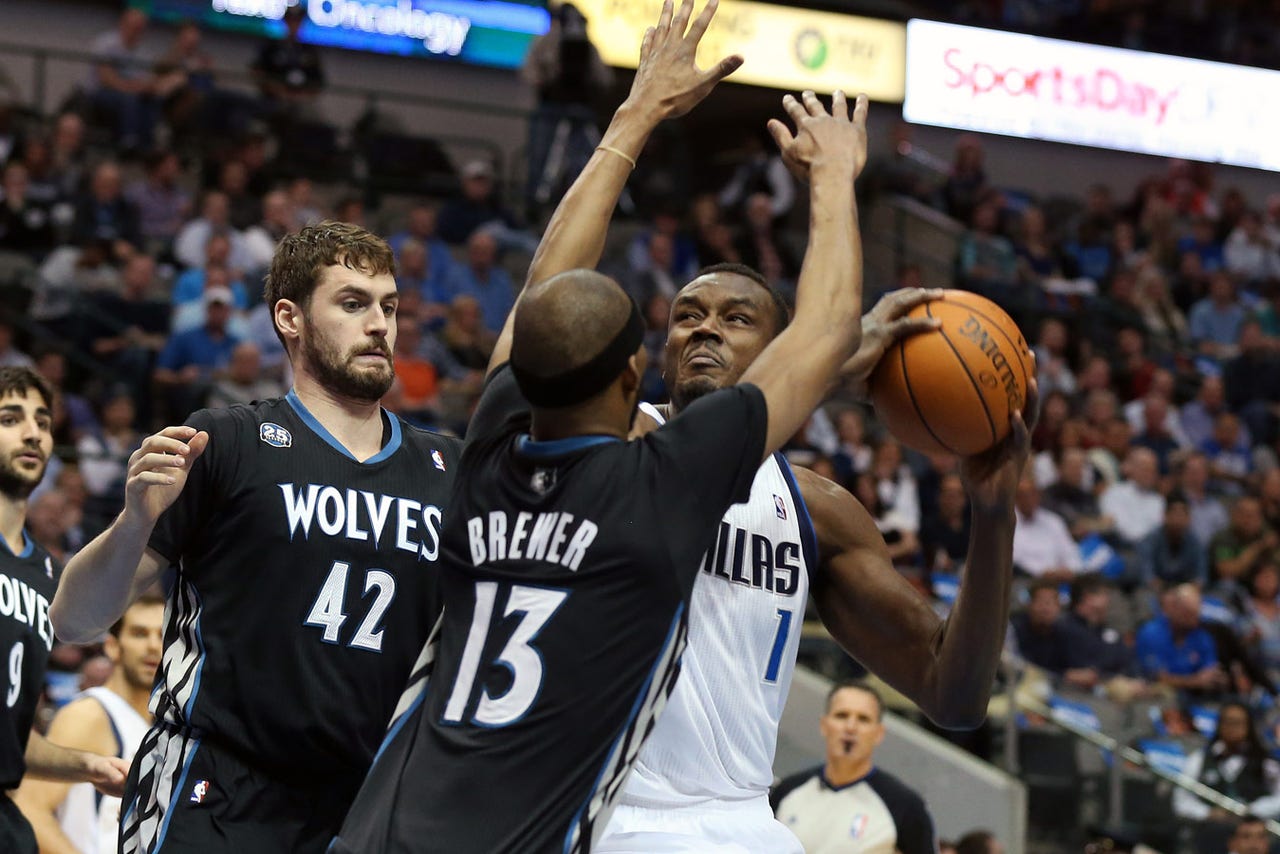 DALLAS -- Ricky Rubio hasn't given up on the idea of Minnesota making the playoffs.
The case is a little easier to make after the Timberwolves avoided what would have been a disastrous loss in Dallas.
Rubio had a triple-double, Kevin Love scored the last of his 35 points with the go-ahead basket late in overtime, and the Timberwolves hung on for a 123-122 victory over the Mavericks on Wednesday night after blowing several leads.
Minnesota broke a six-game stretch of alternating wins and losses with a second straight victory to move two games over .500 for the first time since Nov. 23.
The Timberwolves (34-32) are still 5 games behind Dallas and Memphis for the final playoff spot in the Western Conference with 16 games to go. But at least they didn't lose after squandering a 22-point lead in the first half and a 13-point edge with 7 minutes to go.
"It was a big game against a tough team who is fighting for the playoffs, too," said Rubio, who had 22 points, 15 assists and 10 rebounds for his third career triple-double. "We want to try to catch up to them."
Dirk Nowitzki scored 27 for Dallas and put the Mavericks ahead with a fadeaway over Love with 33 seconds left in overtime before Love scored on a jump hook with 17 seconds to go.
Nowitzki missed on another try over Love in the final seconds as the Mavericks saw a three-game winning streak end and missed a chance to move a season-high 15 games over .500.
"This is a tough one," said Nowitzki, who had his second straight tough shooting night at 11 of 27. "This feels like a playoff loss. It really does. I don't even know what to say."
Monta Ellis scored the last 12 Dallas points of regulation on a three-point play and three consecutive 3-pointers, the last one giving the Mavericks their first lead since early in the first quarter at 113-111. Rubio answered with a pair of free throws for the tie with 50 seconds left.
Nowitzki missed a 3-pointer to finish his 0-for-5 shooting in the fourth quarter, but Kevin Martin missed from just inside the arc and Robbie Hummel missed from just outside it for Minnesota. Dallas' Devin Harris was short on a mid-court heave at the buzzer in regulation.
"We knew they were going to go on a run," said Love, who was 11 of 20 from the field and 11 of 14 from the line. "We will take the win, whether it is in regulation or overtime."
Nowitzki hit his first shot of overtime from the baseline and added a 3-pointer for a 120-115 lead, but the Timberwolves went back in front by a point on a reverse layup from Rubio and four free throws from Love.
All five Minnesota starters were in double figures. Martin scored 19, Corey Brewer had 11 of his 13 points during Minnesota's fast start in the first quarter and Gorgui Dieng had 10 points and 11 rebounds.
Former Dallas guard J.J. Barea had 15 points.
Ellis finished with 22 points, including 15 in the fourth quarter and overtime. Shawn Marion had 16 points and 11 rebounds, and Sam Dalembert had 14 boards.
Early in the game, the Dallas defense didn't look anything like a unit that had held consecutive teams to less than 40-percent shooting. Minnesota was at 69 percent after Dieng hit a hook shot to give the Timberwolves their biggest lead at 50-28 early in the second quarter.
The Mavericks had six of their 16 turnovers in the first quarter, and several led to breakaway baskets for Brewer.
"They were aggressive. We were sloppy," Dallas coach Rick Carlisle said. "The first quarter was really the biggest factor in the game."
The Mavericks forced four straight misses to spark a 24-5 run that got them back in the game. Nowitzki opened the spurt with a jumper, and Jae Crowder finished it with a dunk after a steal by Jose Calderon to make it 55-52.
NOTES: Rubio had seven assists in the first quarter, one more than Dallas as a team. Minnesota had 12 for the quarter. ... Ellis was called for a technical after getting his fourth foul in the third quarter. Referee Monty McCutchen screamed at Ellis that he had been warned four times as Ellis walked to the Dallas bench.
---