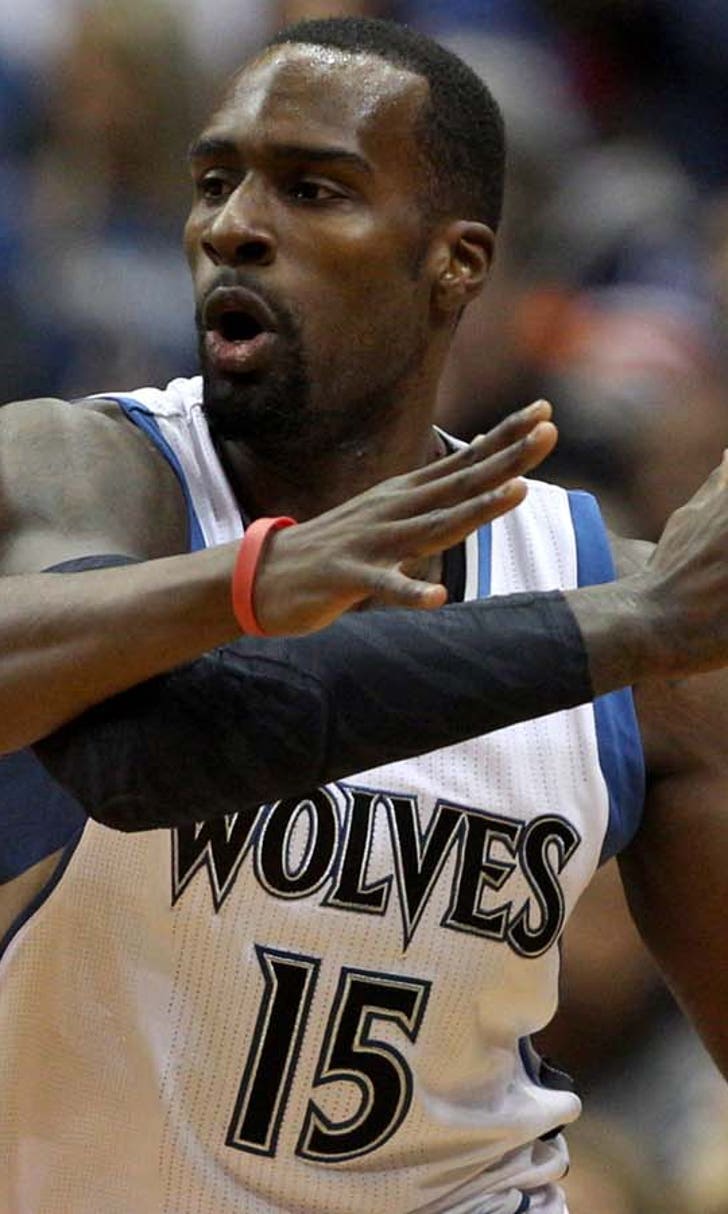 Wolves' Muhammad shedding labels, showing off potential
BY foxsports • November 21, 2014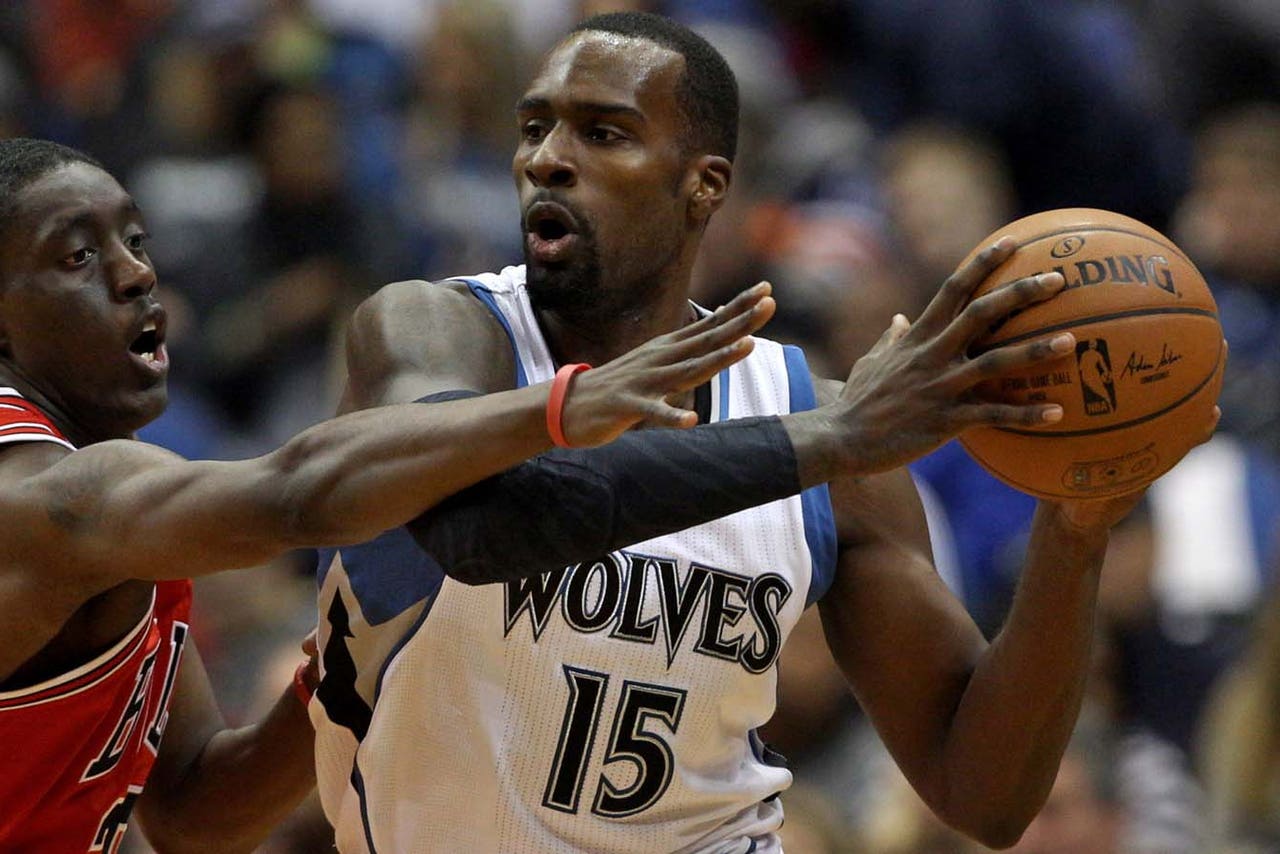 MINNEAPOLIS -- Shabazz Muhammad came to Minnesota bearing more labels than the soup aisle at the local grocery store.
"Selfish," one can reads. Inside, there's footage of him pouting after UCLA teammate Larry Drew Jr. hits a game-winning shot against Washington -- an opportunity Muhammad apparently thought was meant for him.
"Lazy" is inscribed on the next container. Its contents, consumed primarily by Twin Cities sports rubes, features Muhammad missing his first eight shots in a lackluster, second-round, NCAA tournament loss to the Gophers (who fired coach Tubby Smith after the season).
"Background." This product might be the ugliest. Muhammad's father, Ron Holmes, is currently in prison after pleading guilty in a Las Vegas mortgage fraud case. Dad also took out a loan based on his son's future potential NBA earnings, an NCAA rules violation, and reportedly falsified his age so Shabazz could have an advantage in AAU hoops throughout his youth.
"Behavior." When he was drafted 14th overall in 2013, the former top-ranked prep recruit said his troubled past was behind him. Then Muhammad got kicked out of the NBA's Rookie Transition Program for bringing a female guest into his room.
Even now, after gradually morphing into an energy sparkplug for the Timberwolves, Muhammad doesn't shy away from the labels.
But he has made a point of shedding them.
"I'm definitely trying to leave that behind me in high school and college," Muhammad said Thursday, a day after tallying 17 points and eight rebounds in his first NBA start. "It had a lot to do with stuff I couldn't control. That's something that I really took initiative of. I can control the stuff I'm doing now -- just having a positive attitude, listening to coach, doing the things he's saying.
"I think it's really turned around for me."
The man in charge agrees.
"I said last year, when we had him through the preseason, that he's probably one of the most misunderstood kids coming out of college," said president of basketball operations and head coach Flip Saunders, who dealt for Muhammad and Gorgui Dieng in last year's draft. "He had a lot of people questioning him. The one thing you can't question . . . is how hard he works."
Even former coach Rick Adelman, demanding and reluctant to devote playing time toward rookie development, took note of that as early as training camp Muhammad's rookie year. Teammates soon began calling him their "practice MVP" when Muhammad blew past most of them for rebounds and never switched off his motor.
Even though he appeared in just 37 games and averaged 7.8 minutes, Muhammad never relented, causing Adelman, Saunders, and those on the inside to scoff at the notion the 6-foot-6 swingman isn't willing to exert maximum effort.
"It's bull(expletive)," said trainer Frank Matrisciano, the man behind Muhammad's 2014 offseason workout regimen. "If he's lazy, we have to change the definition of lazy."
Five weeks of "chameleon training" in California with Matrisciano saw Muhammad shed 20 pounds -- he now weighs 245 -- and increase his stamina dramatically. His already-impressive vertical leap has increased, too.
"Last year, I was getting tired with three times up the court and couldn't jump as high," Muhammad said. "I'm kind of surprised as high as I'm really jumping and (with my) quickness on rebounds."
That, and his opportunity for increased minutes with four members of the Wolves' starting lineup missing, has allowed him to get into more of a flow. Muhammad played a career-high 32:08 in Wednesday's 115-99 victory over the Knicks, has appeared in all 10 of Minnesota's games and is averaging 14.4 minutes per contest.
Even last year, a chunkier, more fatigue-prone version of Muhammad performed valiantly when he received extended playing time. In games he played 12 minutes or more, the rookie averaged 8.2 points and 3.3 rebounds per game, highlighted by his notice-serving 20-point performance Feb. 25 at Phoenix.
"It's huge getting out there, getting into a rhythm and feeling out the court," said Muhammad, who now averages 8.7 points on 51.6 percent shooting, 2.8 rebounds and 14.4 minutes per game this season. "It just feels good to have a groove out there. Last year was kind of in spurts, and this year, I'm getting more time."
This summer, Muhammad predicted a breakout year for himself. If it continues, a new name will come with it.
"Explosive." That's the buzzword surrounding Muhammad already this season. See his one-handed, alley-oop slam from Corey Brewer in transition Wednesday as one of the most recent examples.
"Scrappy." Despite playing out of position at the power forward spot, Muhammad out-leapt and out-positioned the likes of Amar'e Stoudemire and Samuel Dalembert for eight rebounds Wednesday.
"Athletic." This is the No. 1 reason Saunders went after Muhammad in the draft. His 6-11 wingspan, lengthy stride and 37-inch vertical leap fit congruently with the physically-gifted, run-and-gun team Saunders is trying to build.
"Mild-mannered." Muhammad isn't short on confidence, but in the public eye, he's a chill, borderline-shy 21-year-old. He's put together backpacks full of school supplies for local children and sometimes stammers and skips words when speaking with the media.
The shelf is far from full. But Muhammad has begun stocking it with attractive options.
"Shabazz gets better after every game," veteran forward Corey Brewer said. "He's learning to play better. He's young. Every game he comes out, he's figuring it out."
Follow Phil Ervin on Twitter
---