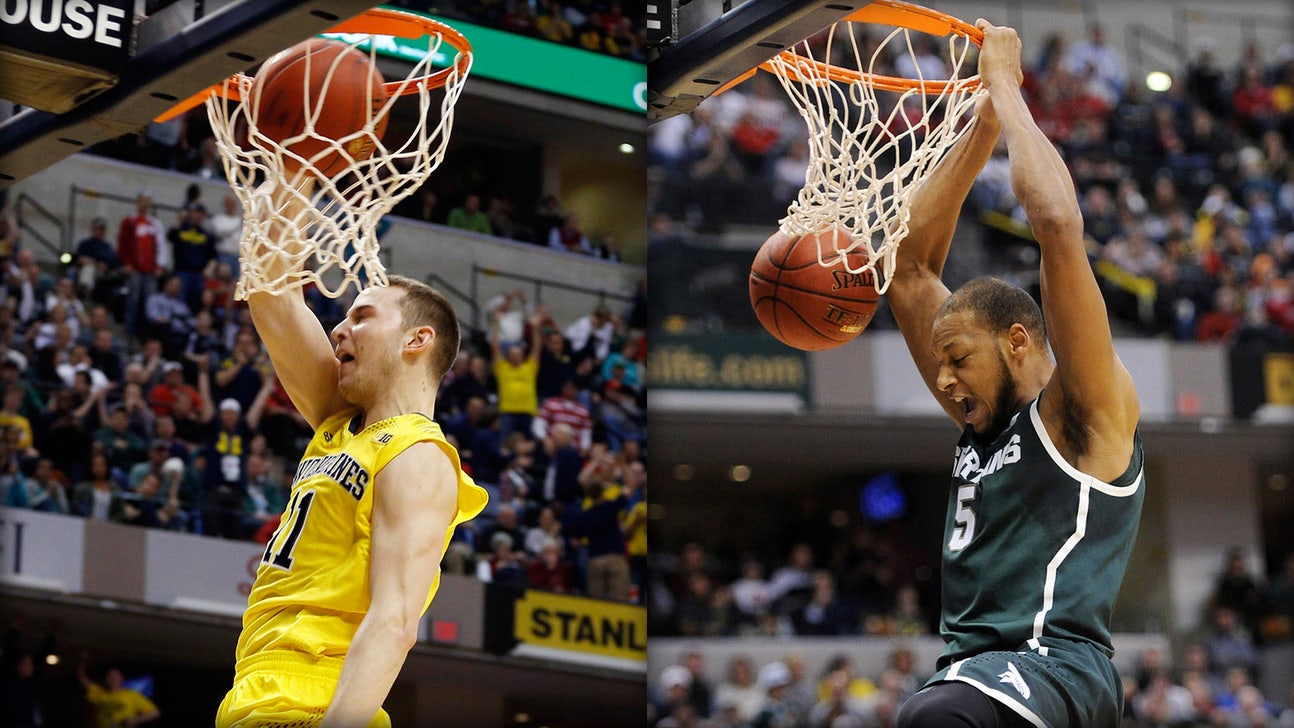 Wolverines, Spartans headed to the championship game
Published
Mar. 15, 2014 4:12 p.m. ET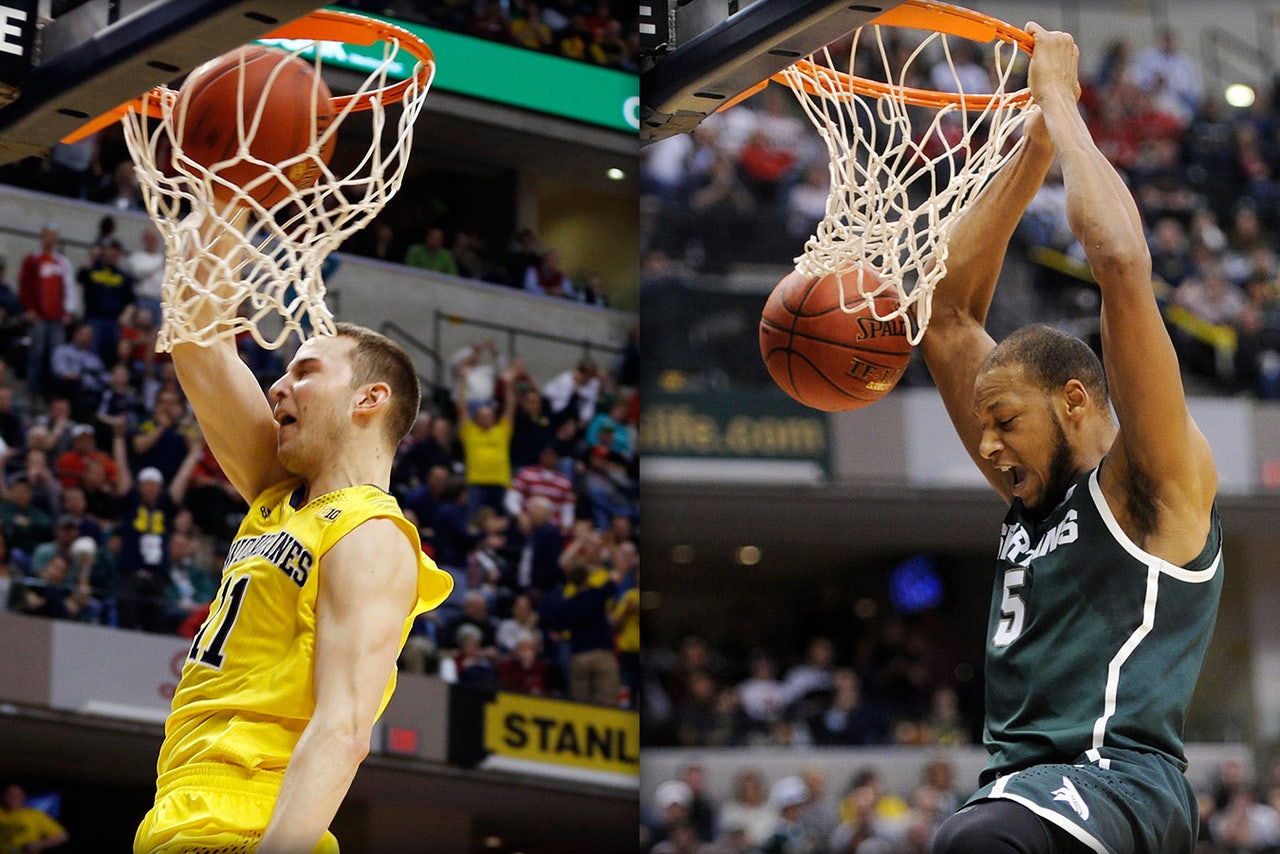 Michigan thought they were done with Michigan State.
Not quite.
To earn a No. 1 seed in the NCAA tournament, the Wolverines will have to knock off Tom Izzo and the Spartans for the third time this season, something no Big Ten team has managed since Wisconsin in 2004.
Both schools got off to blazing starts on Saturday in Indianapolis, then had to hold on down the stretch to earn a spot in the Big Ten championship game. Michigan started the day by beating fifth-seeded Ohio State 72-69, and Michigan State ended it with a 83-75 upset of second-seeded Wisconsin.
"I told my kids that it was important to get some games under our belts here, and we are going to get to play three," Izzo said. "Now, shazam, we get to play our rivals. It's Fourth of July and Christmas -- we get both."
It will be the first time the Spartans and Wolverines have played in the Big Ten tournament, and it will provide Michigan State a chance to make up for the regular-season sweep at the hands of Michigan.
"It's Michigan," Adreian Payne said. "They are a great team, but we are excited to get another chance to play them."
For Michigan, a victory would provide the first Big Ten double championship in school history and the first Big Ten tournament championship since the vacated title of 1998.
"Playing for another championship tomorrow!!!" tweeted Nik Stauskas.
Despite the two losses to Michigan, the Spartans will go into Sunday's matchup full of confidence. For the first time since the injury crisis that derailed an 18-1 start, Izzo has a full roster that is playing his style of basketball.
"We're getting closer to playing the way I'd like to see us play," he said. "We didn't play as well in the second half, but I understand the reasons for that. We ran and we defended well. 
The Spartans aren't completely healthy -- Keith Appling is still struggling to shoot the ball after his wrist injury and Payne doesn't have his full stamina after coming back from a sprained ankle -- but both have been able to make solid contributions in tournament wins over Northweastern and the Badgers.
Branden Dawson is also healthy after missing both Michigan games with a broken hand. He and Payne combined for 32 points and 11 rebounds in the win over Wisconsin, while Appling had 10 points and six assists.
The Badgers were favored to beat Michigan State and set up a head-to-head matchup for a No. 1 seed with Michigan, but the Spartans changed everything in the first 15 minutes of the semifinals. With almost everyone on the roster hitting jumpers, they took a 37-16 lead and never looked back. 
Wisconsin got as close as six thanks to five missed free throws in the final minute, but the Badgers ran out of time.
"I didn't like the way that we didn't have the same energy in the second half, because I really felt we just caught Wisconsin by coming out so quickly," Izzo said. "We had a lot of fouls, and that dampened the energy, but when you are playing in tournaments at this time of the year, you don't get to have bad halves."
Michigan got out to an even faster start, leading by 16 with almost eight minutes left in the first half, but they weren't as successful at putting Ohio State away. The Buckeyes were already within 41-37 at the half, and took a 68-65 lead on Sam Thompson's tip-in with 4:17 to play.
Ohio State, though, only scored one more point against a suddenly stingy Michigan defense. Aaron Craft's Big Ten career came to an ugly end as he missed jumpers and free throws. The defensive specialist was even beaten by Stauskas for a spectacular reverse layup that gave Michigan a 71-68 lead with 2:08 to play.
"That's a shot I work on all the time," said Stauskas, who led Michigan with 18 points. "It's just a little reverse layup with some spin on it, so I was pretty confident going in on that one."
When Spike Albrecht missed a free throw with six seconds left, Craft had one last chance to be a hero, but his game-tying 3-point attempt slipped out of his hands and fluttered a couple feet into Stauskas's grasp.
"I feel so fortunate right now," Beilein said. "We've had so many games down the stretch that have ended like this, and the ball keeps bouncing our way. 
"But you only get that kind of luck when you have the kind of players we have. They make the smart plays that keep us in the game, and that's how you are in position for things to go your way."
---