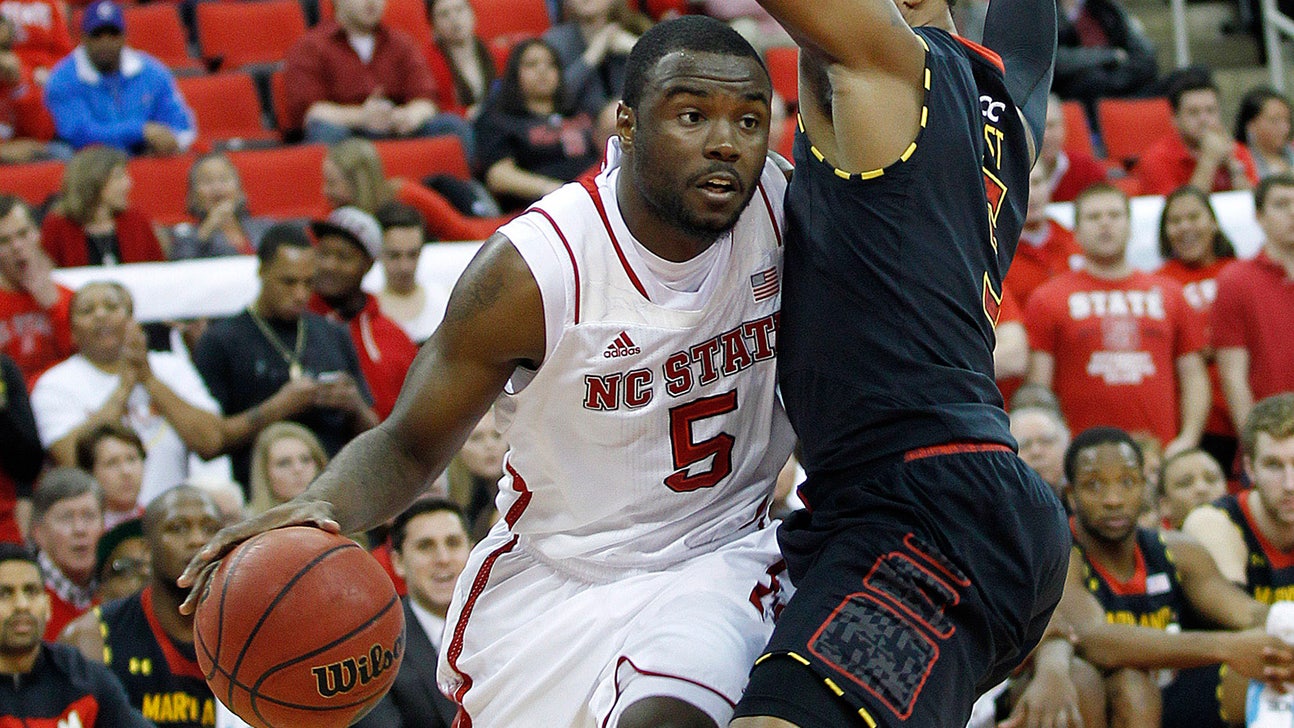 Wolfpack step up without Warren, still building
Published
Jan. 21, 2014 12:26 p.m. ET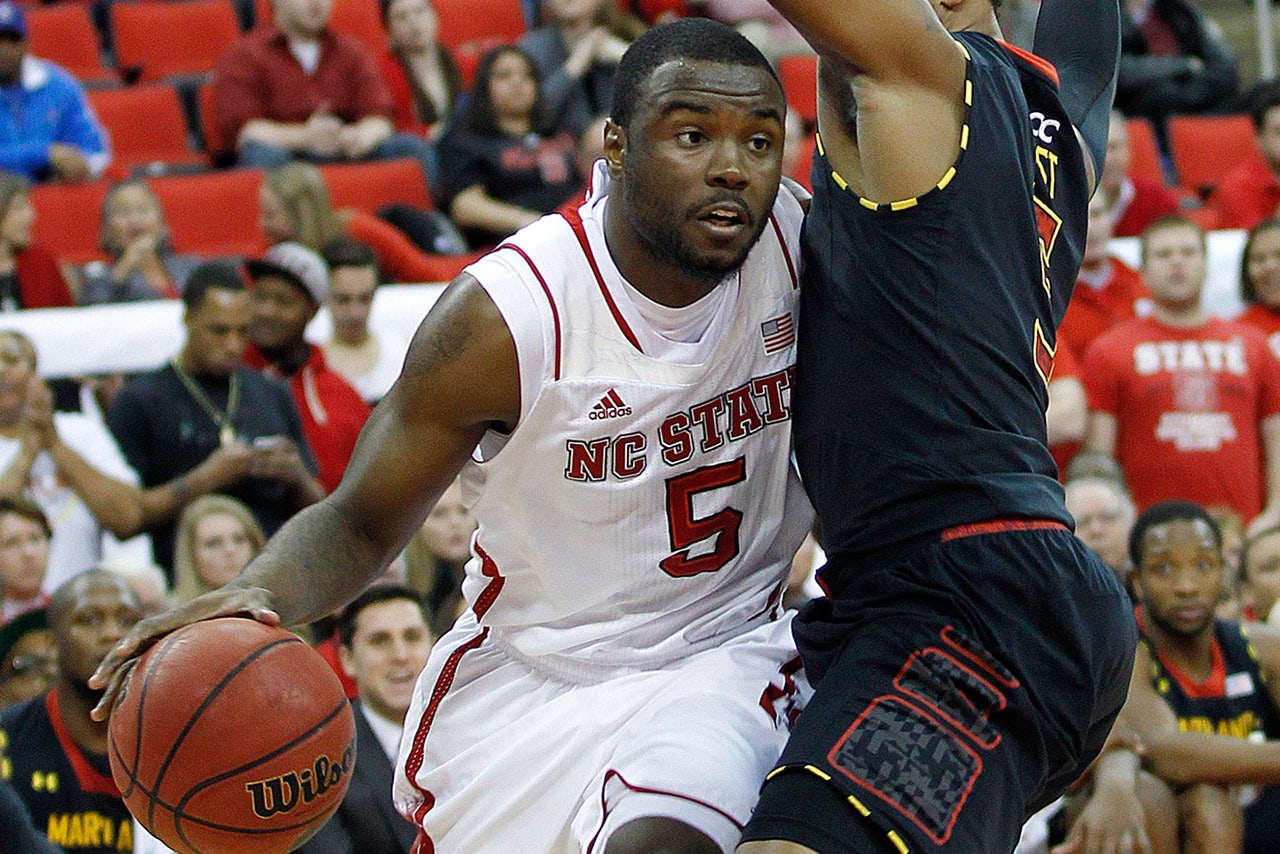 RALEIGH, N.C. -- Things already looked pretty dire for N.C. State headed into last night's home tilt against Maryland (11-8, 3-3 ACC), and that was before N.C. State found out that it would be without the leading scorer in the ACC, T.J. Warren (22.2), with a sprained ankle.
Maryland was a winnable home game for the Wolfpack, of course. But N.C. State had lost three straight games, including two by 30 or more points, in the span of a week. The offense had been bogging down as opposing defenses focused more and more attention on Warren, and no one else on the roster could step up to make them pay. But finally, against Maryland, in a 65-56 win, the Wolfpack broke through. 
They had no other choice.
"We needed a win bad. It was starting to get real, real bad around school," N.C. State junior JUCO transfer guard Desmond Lee, who had 14 points, said. "But we stayed positive about it. We got beat by 30 twice, so we just stayed positive about it and we were just going to come out and play. Then we got the late notice that T.J. wasn't going to play, so we were just like, '€˜Man.' But we came out and everybody stepped their game up."
Lee was one of them. He defended Maryland's Dez Wells, who scored just 10 points on 2-of-11 shooting, and his 14 points were a nice improvement from his 21 combined over the previous three games.
It wasn't pretty from the jump, though. In fact, at half, it looked about like many expected it would look: Maryland led by nine, and N.C. State's offense couldn't get anything going.
"Obviously with T.J. out, it was tough at times because he'll relieve the pressure off of you,N.C. State's junior transfer Ralston Turner said. "In the first half, we were getting good shots -- we just weren't making them. So I think in the second half, the difference was we just were making those shots."
At halftime, it had been a quick Maryland run that put N.C. State (12-7, 2-4 ACC) in that nine-point hole, and seemingly nothing was going right. But the team came out in the second half even more bound and determined to win the game. Where did that confidence come from, though, particularly after two 30-point defeats in a week's span?
"Just not hanging your head. Adversity's going to happen in the game of basketball and you have to be able to overcome that. I think that's what we did tonight," Turner said. "Some things didn't go well for us, and we kept fighting and kept fighting and in the second half, we finally had a breakthrough."
Turner was another one of those guys who stepped up. He's really N.C. State's only perimeter threat, but he hadn't been playing like it. He missed his first five 3-point attempts against the Terrapins, meaning he'd made just two of his last 18 attempts. However, in the second half, he got in that magic place known as the shooter's zone.
His head coach saw it.
"I thought Ralston kind of got in that zone. Shooters, you can start to tell," Mark Gottfried said. "But he got in that place, that zone where he felt like I'm making every shot. At that point, we wanted to go to him a lot."
Gottfried, who celebrated his 50th birthday with a win on Monday night, said he was a pretty good shooter himself. And his motto was miss them early, make them late. Easier said than done, of course.
But Turner's five 3-pointers in the second half and 19 points were more than double the number of 3s he'd made in the previous three games combined (two) and nearly the same amount of points he scored in that span (25). N.C. State as a team, though, shot 57 percent in the second half. No player shot less than 40 percent in that half, and the particularly impressive turnaround -- second only to Turner -- had to have been freshman point guard Cat Barber.
He's played pretty out of control in ACC play, and over the last three games, he'd scored a total of 19 points on 6-of-24 shooting with eight assists to seven turnovers. He finished with 13 points (nine in the second half) on 5-of-13 shooting, four assists and no turnovers.
"Cat did a great job. I thought he made some big baskets," Gottfried said. "He had some big defensive stops and helped us defensively. He settled in, stayed aggressive."
Individual numbers aside, the Wolfpack collectively made big play after big play on both ends of the floor, feeding off of the energy from their home crowd as Warren fist-pumped and grinned from the sidelines.
So often, teams -- particularly inexperienced ones, and this team is -- can get caught up feeling sorry for themselves. This team had every right to do that. Conference play has been a struggle, and the team was without their security blanket (Warren). Others had to do more. And rather than wallow in self-pity, they decided they'd do just that.
"Only thing that was said was 'Come together.' We didn't pout," Turner said of when the team got the news Warren wouldn't play. "We didn't get down on ourselves. We just said we're confident enough as a team, we can get this done."
This doesn't mean anything is fixed long-term for the Wolfpack. But Gottfried believes his team learned an important lesson.
"When you're kind of at the beginning, it's like building a house. We're laying a foundation right now and you've got these young guys, and they're going to get better as they get older. We all want it to happen right now. I do. I want to be great today, tomorrow," he said. "But they are young, and sometimes what happens at Duke, it happens, or what happened in the Virginia game."
"The most important thing for our guys is regardless of win or lose, is to keep competing all the time. You've got to compete, no matter what. No matter what happened yesterday, you've got to keep competing. I liked that about our team today more than anything ... We're going to take it one at a time and see if we can get a little bit better."
---