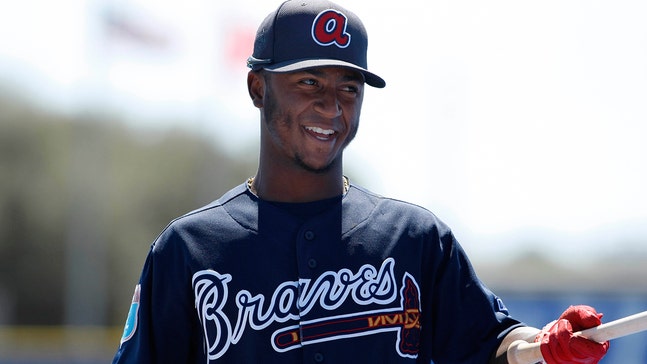 With Ozzie Albies heating up in Triple-A, when will he arrive in Atlanta?
Published
May. 18, 2016 8:22 p.m. ET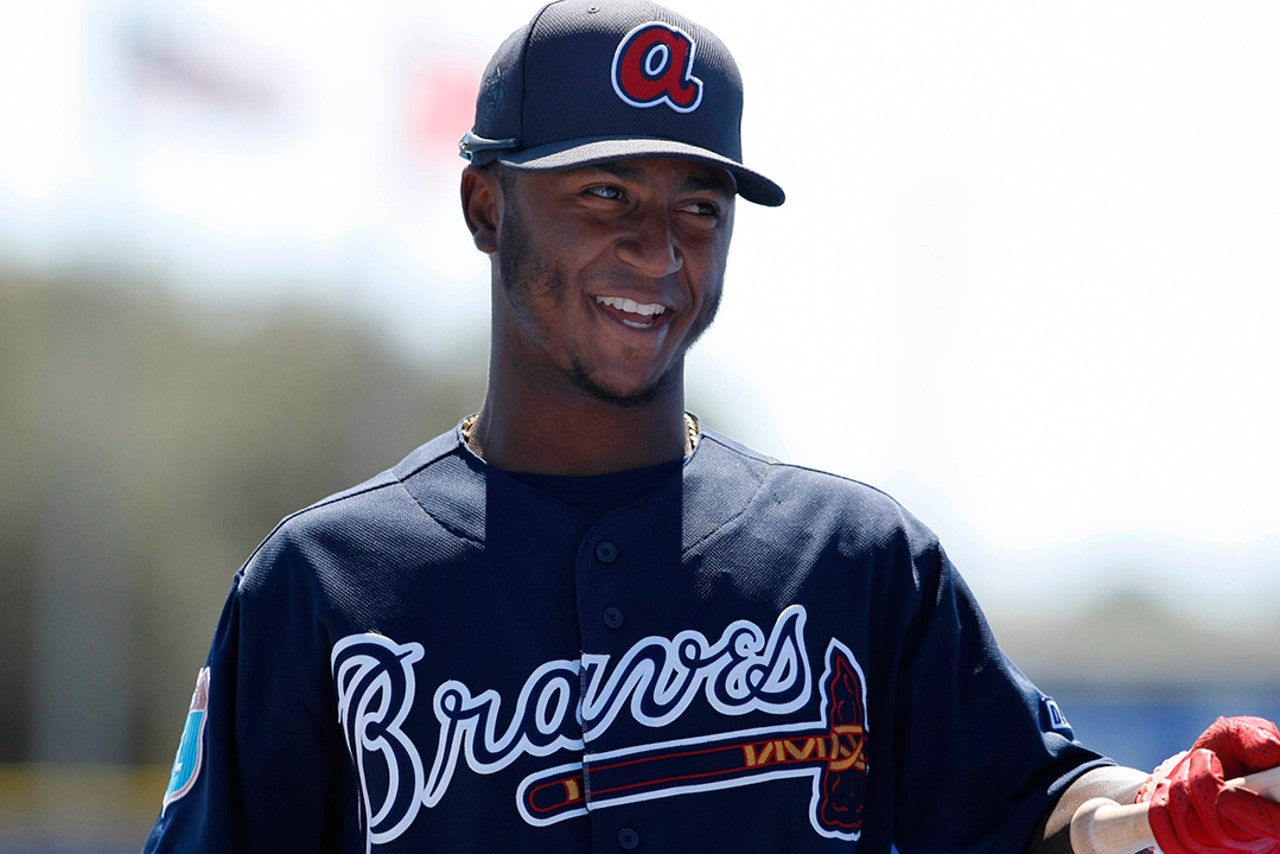 GWINNETT, Ga. -- The first pitch from Durham's Adam Wilk came in high, and Ozzie Albies -- the switch hitter in as a righty -- took a wide step out of the batter's box before settling back in.
The 19-year-old Gwinnett Braves leadoff man took Wilk's second offering, a sinking fastball that didn't sink, and planted it into the berm in Coolray Field on Wednesday morning.
The home run isn't the backbone of the game of the diminutive shortstop -- the Curacao native is generously listed at 5-foot-9 -- but it was an another reminder that the third-ranked prospect in the organization more than adjusted to his new surroundings.
"It's fun watching him," Gwinnett right-hander Tyrell Jenkins, another of the Braves' elite farm hands. "It's fun having him in the locker room, picking on him, him being so small, so young. Good guy to have around."
Promoted from Double-A Mississippi, where he spent just 22 games and hit .369 in 84 at-bats, Albies had four hits in his first 23 ABs. Since then, he's 15 of 41 (.365) over the last 11 games, including Wednesday's 1 for 4 in the G-Braves' 4-2 victory.
On the season he's hitting a collective .309/.371/.461 with 10 doubles, two triples, three home runs and 12 RBI with 14 walks and 27 strikeouts, and he's stolen three bases. The power is a surprise addition to his stat line given that Albies had one career home run coming into 2016.
"I'm just making adjustments," Albies said of his recent tear. "I'm staying with the same approach, everything, just making adjustments at the Triple-A level. (They are) throwing me more off-speed for strikes, at any time, no matter what the count is."
As strong as Albies had been these past nearly two weeks, Tuesday was among his worst days of the season in Mississippi or Gwinnett. He went 0-for-5 in a 5-3 loss to the Bulls, with his first three-strikeout game in a span of 83 games, only to go deep in his first at-bat a mere hours later in an early morning game.
"Even if I had an 0-for-5 day, I try to be the same," Albies said. "I settled myself down and just kept my head up and I came today with my mindset of being ready to hit."
During a November conference call, in which Braves general manager John Coppolella announced that Gold Glove-winning shortstop Andrelton Simmons had been shipped to the Angels, he threw out a notion that seemed potentially absurd.
Albies, who at the time was still 18 and had yet to play above Single-A Rome, could make his MLB debut this season.
"(He'll) tell us when he's ready," Coppolella said that night. "There's a shot, at some point in 2016."
By mid May, it's not looking that crazy anymore, especially with Albies a trip down I-85 from Turner Field. Mention the proximity, and Albies can't help but smile.
"(I'll be) so excited and happy to make my debut quickly," Albies said. "Hopefully the end of this year."
Team president of baseball operations John Hart wasn't optimistic about that happening during an appearance in the FOX Sports Southeast broadcast booth on Tuesday night to discuss Fredi Gonzalez's firing, but is preaching patience.
"The two young kids that we have -- Albies and (Dansby) Swanson -- which I've seen both of them play several times this year, promoted both of those guys quickly ... they're playing great," Hart said. "It would be easy to say 'OK, let's bring these guys up.' They're just not ready. I think it would be a disservice at this particular stage to bring them up. We hope to see them at some point in 2016, but right now it's just not the right time."
The question, though, is with the Braves off to a 9-29 start, worse than the 1962 Mets (who were 12-26 at this point in setting the modern-day record with 120 losses), when is the right time?
Hart saying Albies and Swanson, the team's No. 1 prospect, are "just not ready" would be in line with what the Cubs were stating in delaying Kris Bryant's arrival last season. Basically, they can avoid starting the possibility of two of their presumed center pieces for years to come earning Super Two status if they wait until mid-June.
The Braves, though, have already brought up center fielder Mallex Smith from Triple-A, and while that move was forced by Ender Inciarte's hamstring injury, Smith continues to be a key piece in the lineup.
Atlanta is last in scoring (3.24 per game) and slugging percentage (.313), 29th in batting average (.233). Shortstop Erick Aybar has the worst WAR in the game at minus-1.4 and, as a whole, the team is hitting .184 at that position with Aybar (.180) and Daniel Castro (.202), whose WAR sits at minus-0.4.
Albies could provide another spark, both at a position where the Braves have below replacement level play, and, potentially atop the order, where Atlanta is 24th, carrying a .247. average.
"Last year at this time he was at Low-A and (now) he's in Triple-A making the routine plays and getting ready for the next step for him, whether it's in a month or the next couple of weeks, "Jenkins said.
Albies' age shouldn't be a factor. During Wednesday's game, Durham's Carlos Corporan slid past second base as Albies was turning a double play and hit the shortstop, the Bulls catcher's spikes tearing holes in Albies' pants. After the game he ran his fingers over a few marks on his right knee.
Albies and Corporan exchanged words, but kept their cool. The next inning, when Albies came to the plate, the catcher put his hand on the shortstop's shoulder.
"That's OK, It's baseball ... He told me when I went to hit that it was not his idea (to hit me)," Albies said. "(He just told me) it was an awkward slide."
There's maturity about Albies, in his game, and his approach.
"He's so young at the Triple-A level and we have to take a step back and realize that," said John Moses, the team's hitting coach who was serving his second game as interim manager "... He's a great athlete and he has a lot going for him. He's a smart kid."
Since the Braves moved to Atlanta, the youngest player to make his MLB debut was pitcher Charlie Vaughan (18 years, 332 days), who came up on Sept. 3, 1966. The most recent teen to break in was infielder Wilson Betemit on Sept. 18, 2001 at 19 years, 320 days. At 19 years, 132 days and counting, Albies may have a chance at being the franchise's youngest to debut since Doc Bass -- 19 years, 237 days -- played in the first of two career games on July 29, 1918 for the Boston Braves.
A teen hasn't broken into the majors in nearly four years, the Rangers' Jurickson Profar the last to do it at 19 years, 195 on Sept. 2, 2012. Albies isn't pressing the issue -- "I don't know. I'm just here to play ball and do things like I always do," he said of a plan for his Atlanta arrival -- but Jenkins is seeing something different.
"Him making the routine plays like he's a six-year vet, him making the Derek Jeter jump throws in the hole, whatever it may be, I think he's getting better every day," he said.
Follow Cory McCartney on Twitter @coryjmccartney and Facebook. His book, 'Tales from the Atlanta Braves Dugout: A Collection of the Greatest Braves Stories Ever Told,' is out now, and 'The Heisman Trophy: The Story of an American Icon and Its Winners' will be released Nov. 1, 2016.
---
---