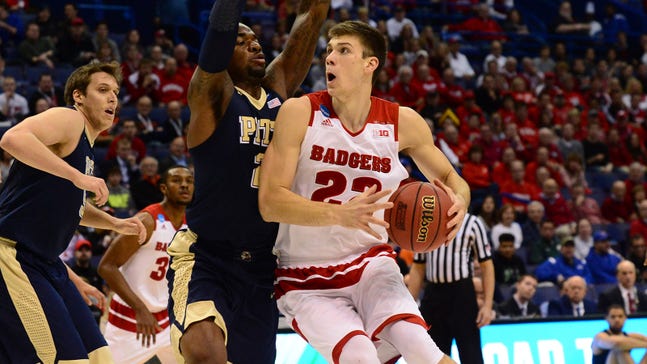 Wisconsin wins a low-scoring affair against Pitt, 47-43
Published
Mar. 18, 2016 9:56 p.m. ET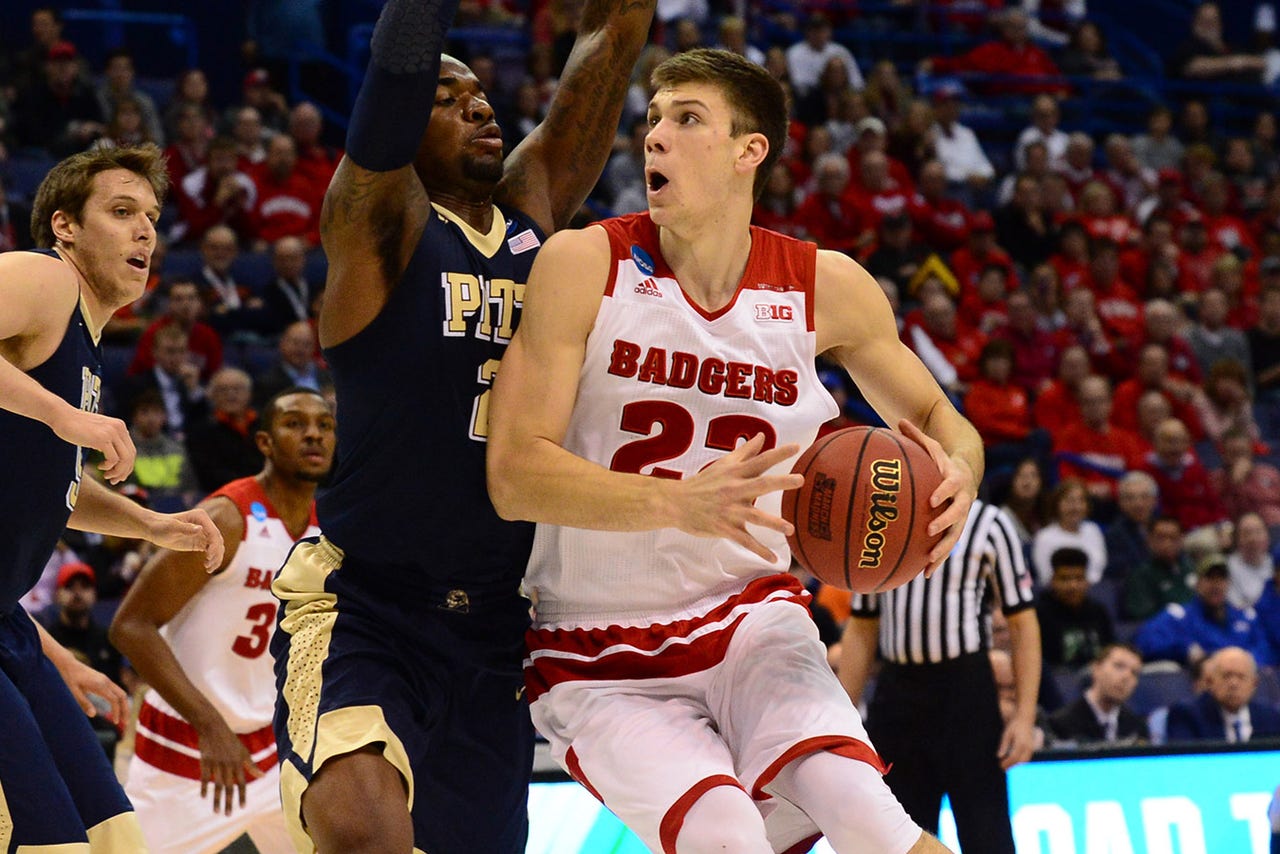 ST. LOUIS -- Nigel Hayes has been to back-to-back Final Fours with Wisconsin, so he was the obvious choice when freshman forward Ethan Happ asked for some advice before his own NCAA Tournament debut.
"I said, 'It's probably going to be the easiest game of the year for you,'" Hayes recalled later, "'because this is the game you look forward to as a kid. You're on the big stage and you go out there and you do great if you just have fun playing.'"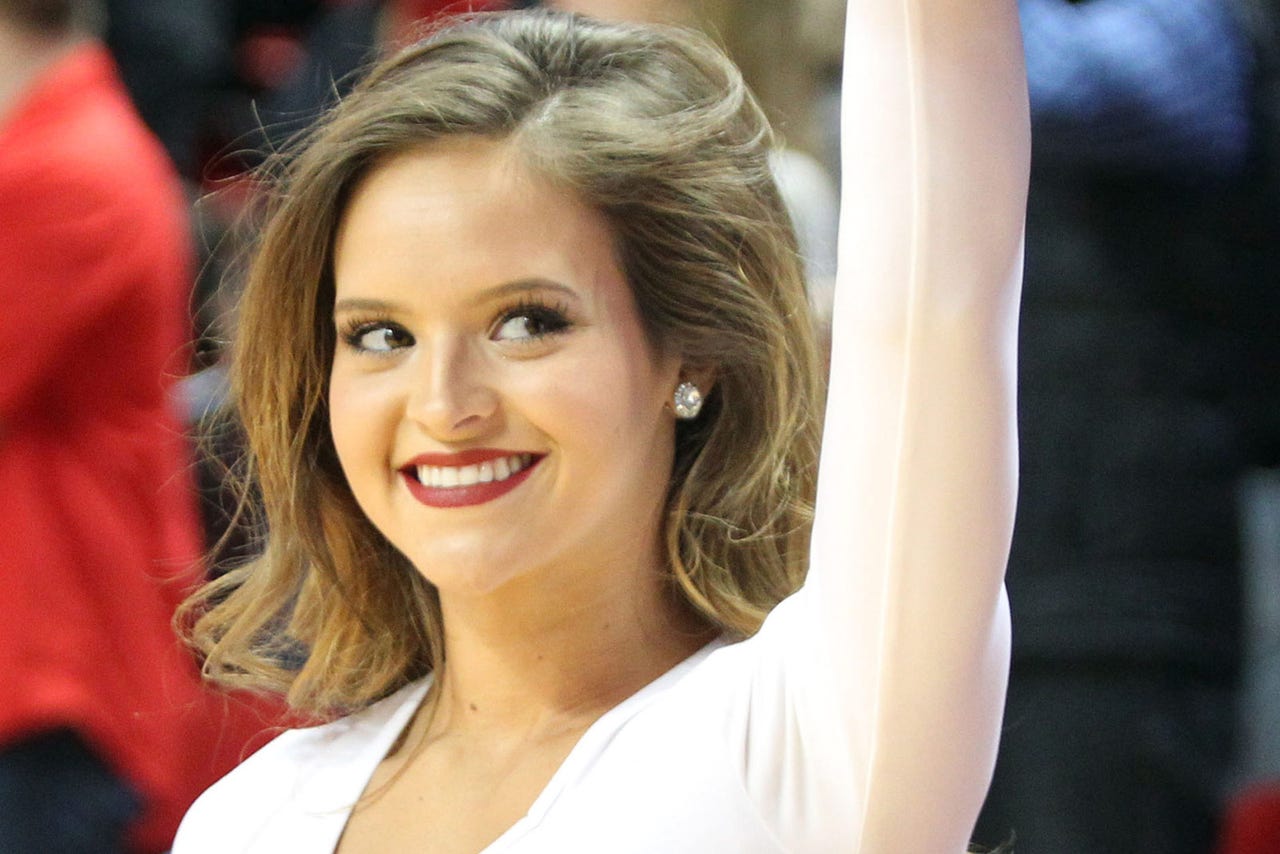 Check out our gallery of NCAA hoops cheerleaders.
Happ took the advice to heart, scoring 15 points and pulling down nine rebounds -- none bigger than the one he grabbed in the closing seconds -- to help the seventh-seeded Badgers edge No. 10 seed Pittsburgh 47-43 in their first-round matchup Friday night.
"Defense won the game for us," said the Badgers' Bronson Koenig. "We got a couple different guys who had some really big rebounds for us and we got the ball inside and they converted."
Hayes finished with 12 points and Vitto Brown had 11 for the Badgers (21-12), who advanced despite an abhorrent shooting night. Hayes was just 3 for 17 from the field, Koenig failed to hit a 3-pointer for the first time in 44 games and Wisconsin finished 4 of 19 from beyond the arc.
It was still enough to reach the next round against No. 2 seed Xavier, which beat No. 15 seed Weber State.
Pittsburgh (21-12) had a chance to take the lead in the closing seconds when Hayes missed a 3 and James Robinson took the rebound the other way. But his wild layup surrounded by defenders bounced off the rim, Happ corralled the loose ball and the Badgers put the game away with three free throws.
"Got the rebound. It was about 2 seconds on the clock. Just tried to get a good shot," Robinson said, "and I just ran into my own teammate."
Jamel Artis led the Panthers with 13 points. Leading scorer Michael Young was held to six.
"A lot of teams lost today. A lot of good teams had great seasons and they won't be in Sweet 16," Pittsburgh coach Jamie Dixon said. "You can be as good as you want, but you've got to win two in the first weekend and you've got to make some plays. But certainly we were in position."
Wisconsin scored the fewest points by a winning team in an NCAA Tournament game since Butler beat Mississippi State 47-46 in 2003, according to STATS. And the teams combined for the fewest points in a game since Southwest Missouri State beat -- surprise! -- the Badgers 43-32 in the 1999 tournament.
This bunch of Badgers looks a lot more like that team than last year's Final Four group, the one led by Frank Kaminsky and Sam Dekker that seemed to score at will. They may struggle offensively for stretches, or even entire games, but they can usually lean on their defense when things are going poorly.
That was the case most of the way against Pittsburgh.
Wisconsin missed 13 of its first 15 shots, despite everything newly minted coach Greg Gard drew up, and the Badgers didn't hit double-digits scoring until there was just over 4 minutes left. It took a 3-pointer by Brown in the final minute just to get within 22-16 at the break.
Happ finally got Wisconsin going early in the second half, scoring seven quick points to help his team to a 25-24 lead. Then, after the Panthers responded with an 8-2 run, Hayes scored a couple of quick baskets and Brown hit his second 3-pointer to give the Badgers a 38-36 advantage with 5:30 left.
That set up a back-and-forth struggle to the finish.
Robinson gave Pittsburgh the lead back from the foul line, and Brown knocked down another 3 to retake it for Wisconsin. Happ scored a couple minutes later while getting fouled to make it a two-possession game, but Artis answered with his third 3-pointer to make it 44-43 with 40.6 seconds left.
Dixon called timeout and instructed his guys to play defense, and they executed perfectly on that end of the floor. Robinson simply couldn't come through in front of his own bench.
"I talked to the team afterward and really addressed James and his importance," Dixon said. "We can't say enough. I think our players know it, and they feel it. I think they really wanted to win for him and the other three seniors more than anybody."
TIP-INS
Pittsburgh: Robinson finished with seven points on 3-for-15 shooting. ... The Panthers had only six assists. ... The ACC's second-best rebounding team was beaten 37-36 on the boards.
Wisconsin: Koenig had two points on 1-for-8 shooting, missing both of his 3s. ... The Badgers are trying to reach their third straight Final Four. ... Wisconsin has won nine of its last 10 NCAA openers.
UP NEXT
The Badgers play Xavier on Sunday.
---