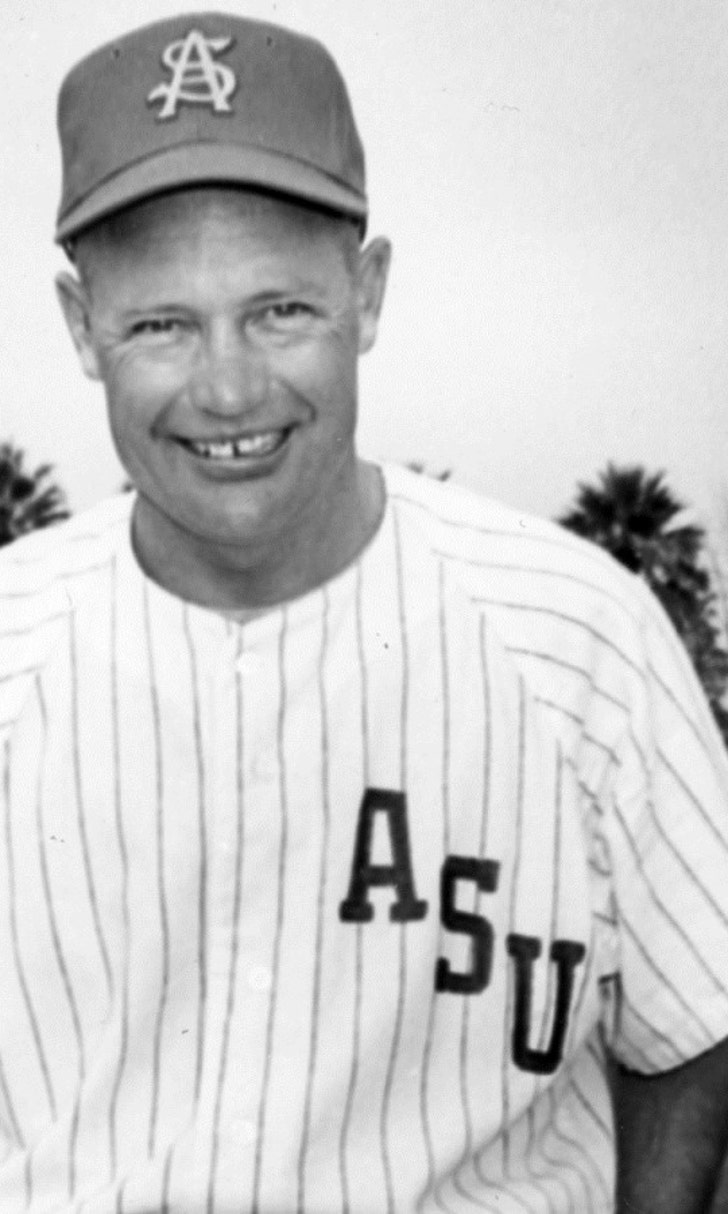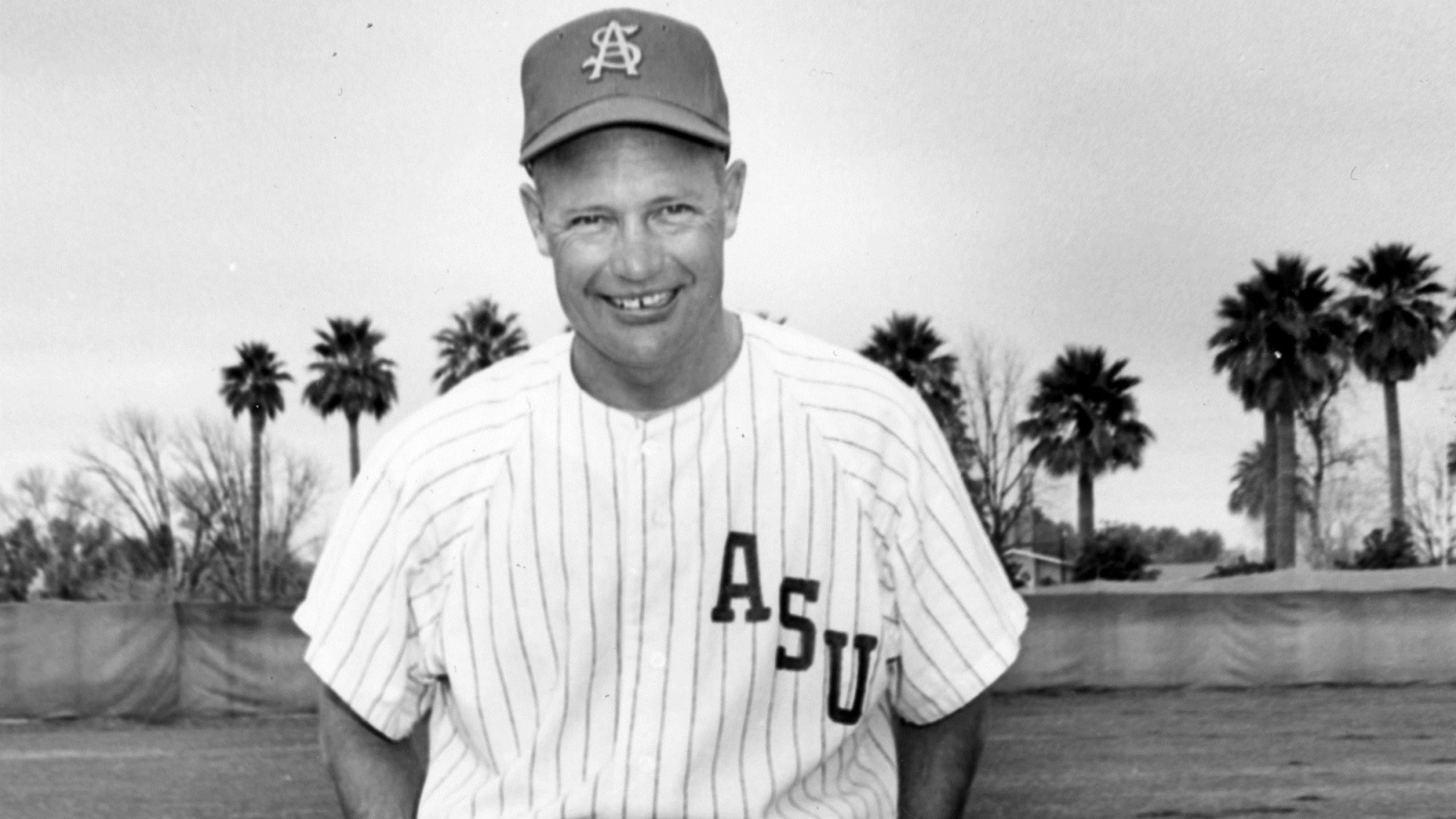 Winkles nurtured great talents, put ASU baseball on map
BY foxsports • December 12, 2014
PHOENIX -- Early one morning in September 1958, a young Bobby Winkles stepped onto Arizona State University's campus for the first time as the newly hired varsity baseball coach. It was just after sunrise, and Winkles walked the entire campus looking for the practice field.
Everything had gone perfectly with the move. Athletic Director Clyde B. Smith hired him, brought him to Arizona and arranged temporary housing for Winkles, his wife and their baby daughter so he could start as soon as possible.
There was just one problem, Winkles recalled.
"I went into (Smith's) office when he got there, 'cause I was there before hardly daylight, and I said, 'Mr. Smith, I have not been able to find the baseball field.' And Mr. Smith said to me, 'Bobby, I forgot to tell you: We don't have one.'"
For a $6,200 starting salary, the Arkansas-born Winkles not only quit Triple-A baseball to be a head coach but arranged for the construction ASU's first baseball field.
The hiring of Bobby Winkles ushered in a new era of Sun Devil baseball. He joined Frank Kush (football), Ned Wulk (basketball) and Baldy Castillo (track and field) to develop one of the most successful athletic programs west of the Mississippi.
In Winkles' 11 years at ASU, the Sun Devils boasted a 524-173 (.751) record and won their first national championship in 1965. He also developed future Major League stars like Sal Bando and Reggie Jackson.
"I think about those guys every day," Winkles said in a telephone interview from his home in La Quinta, California, near Palm Springs. "We've lost Baldy and we've lost Ned Wulk. Frank and I were younger than they were, and it was just such a pleasure to be with them."
At 28 years old, Winkles was the youngest of the four legendary coaches when he started, but players like Sal Bando took his teachings to heart when he played for him in the 1960s.
"He was very young, very energized, very positive, yet he was a disciplinarian," said Bando, who later played third base for the Kansas City and Oakland Athletics and the Milwaukee Brewers. "He wanted you to enjoy the game, enjoy your time, but within the parameters he set down."
After Winkles' first championship season, ASU remained a national power, winning the College World Series again in 1967 and 1969, all during a time when the West Coast powerhouse schools were in clear control.
"UofA was the school for baseball in Arizona and the West," Bando said. "UofA, USC and Santa Clara. Coach Winkles took ASU and built a reputation and a program that was second to none."
Those who knew him as Coach Winkles said he managed his team with an iron-clad rule book and true discipline. After every practice, Winkles would take his team down the third base line into left field and make the players ran because he wanted them in better shape than the track team.
For games, Winkles set down rules that were foreign to some players.
"You could not argue with umpires," Bando said. "You could not argue or talk with the opposing team.
"You were there to play baseball and to win," he added.
But Winkles said he made sure to use the most important coaching trait of all: love.
"I never just disciplined," he said. "The people that are positive and the people that want to build a program good, you have the throw love in. You can't just beat 'em on the head and expect them to respect you."
Winkles said his key to success was recruiting. He only recruited students who were in the upper half of their classes and said he never lost a player to grades.
But Winkles' emphasis on discipline is what he remembers most about contacting players and parents.
"I told every parent, 'I'm going to take good care of your son, and if there's anything that he pulls that's not worthy of the university, you will be the first person to know,' and when I told the players and showed 'em that letter, we didn't have any trouble," he said.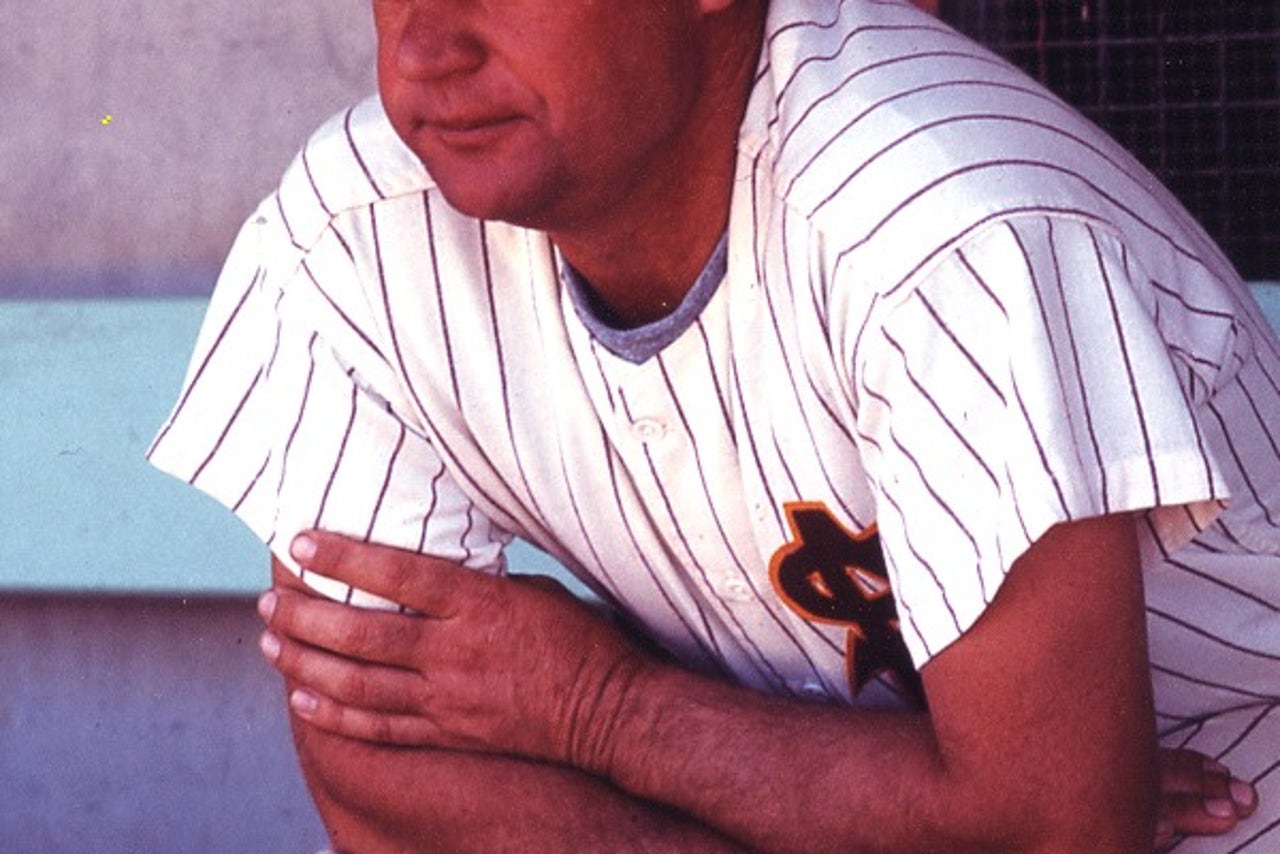 In Winkles' 11 years at ASU, the Sun Devils boasted a 524-173 (.751) record and won their first national championship in 1965.
And efforts like those earned Winkles the attention of promising future stars like Bando, Reggie Jackson and Rick Monday.
Fresh out of high school in 1963, Monday played in an invitational game organized by the Los Angeles Dodgers to evaluate talent. Bobby Winkles was in the stands, talking with Monday's mother, and made an immediate impression on both as someone who cared about those who were going to be in his program, he said.
That commitment continued when Monday joined Winkles at ASU. Whether or not someone became a professional player, Winkles made sure his players learned responsibility and got an education.
"Thank God that man was in my life," said Monday, who spent 18 years in the majors with the Oakland Athletics, Chicago Cubs and Los Angeles Dodgers.
"For some of us, he was also the father that maybe we didn't know, that we hadn't had," Monday said. "And that father figure, and someone who promised our parents that he was going to look after their son when they left home to attend Arizona State. He said it with all the sincerity in the world, and that man followed through 100 percent with it."
Winkles said that's just the way he was raised.
"My father always told me, 'Son, if a job is worth doing, it's worth doing it right,'" he said.
After leaving ASU, Winkles spent time in the major leagues as a manager for the California Angels (1973-1974) and the Oakland Athletics (1977-1978), later working with the Montreal Expos in player development. In 2006, Winkles was inducted into the College Baseball Hall of Fame.
His players remember what they consider a fatherly mixture of discipline and love, but Winkles said he couldn't have been successful without them.
"I can't tell you enough, if I've told you five, 10 times: They made me," he said.
---