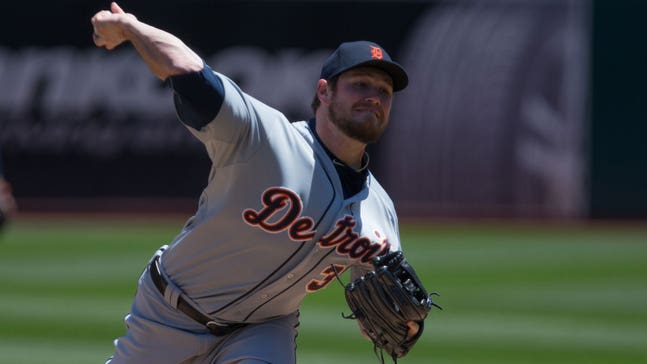 Wilson has been bright spot for Tigers despite slump
Published
May. 31, 2015 1:09 a.m. ET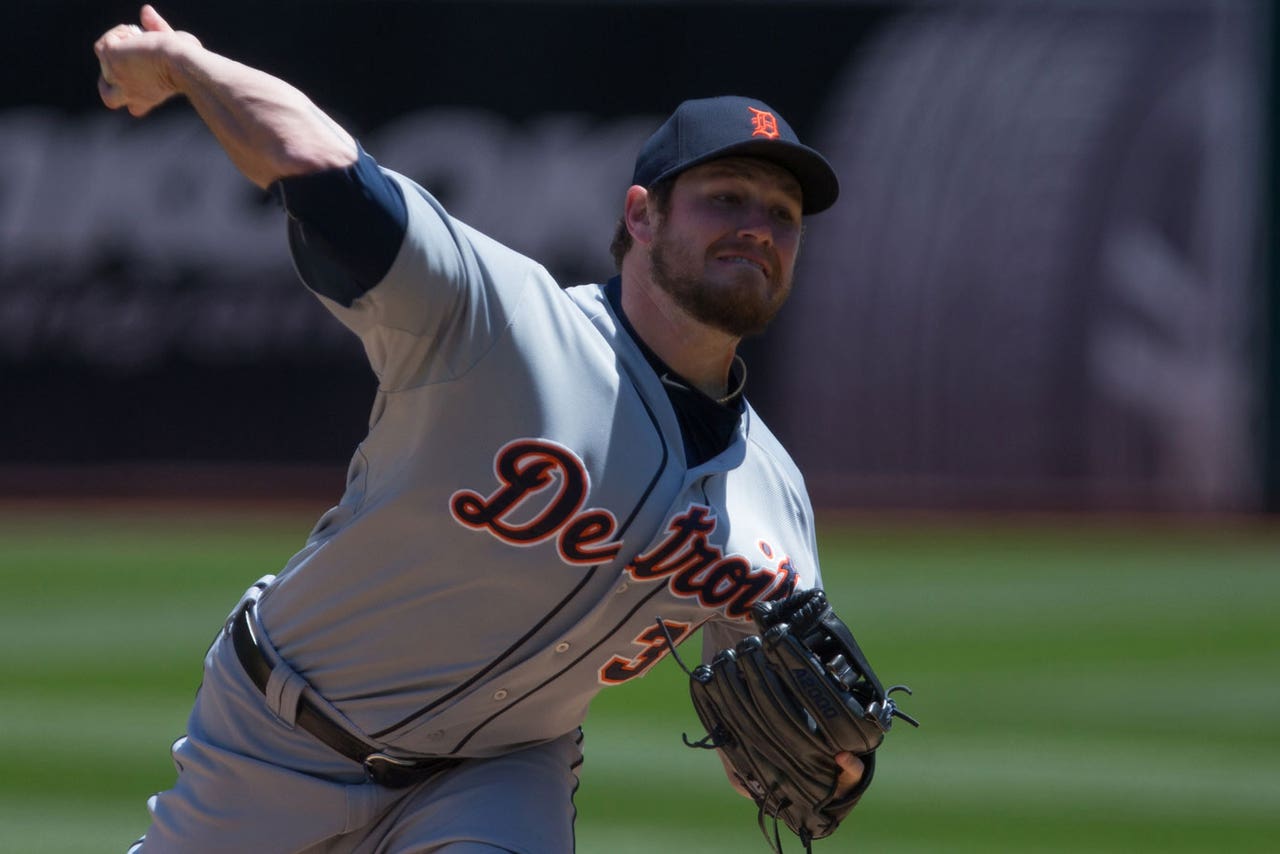 The Tigers have not found consistent, reliable offense quite yet, but there's no question they've found a solid, often spectacular reliever in Alex Wilson.
Wilson, 28, is the player few people remember when mentioning the trade the Tigers made in sending Rick Porcello to the Boston Red Sox for Yoenis Cespedes.
Wilson came to the Tigers as part of that deal, along with Gabe Speier, a 20-year-old left-hander who is currently with the West Michigan (Single-A) Whitecaps.
With the Red Sox in 2014, Wilson appeared in 18 games in four separate stints, going 1-0 with a 1.91 ERA, 0.88 WHIP and 19 strikeouts.
But in spring training this year, Wilson was nowhere near that level.
In seven games, Wilson was 1-2 with an 8.10 ERA and 1.95 WHIP.
When he was sent down to Triple-A Toledo, Wilson fixed a flaw in his mechanics and was soon 1-0 with a 0.00 ERA in four appearances with the Mud Hens.
The Tigers called up Wilson on April 22 and he has become perhaps the team's best reliever not named Joakim Soria.
On Saturday night in Los Angeles against the Angels, Shane Greene had an absolutely disastrous start, giving up seven runs on five home runs in just 1 2/3 innings, which eventually turned into an 8-6 loss.
According to Elias Sports, Greene is the first pitcher since 1900 to give up give home runs in less than two innings.
"I think he was just up middle," Tigers manager Brad Ausmus told FOX Sports Detroit's John Keating. "When things go bad for him, the fastball's up, it doesn't sink as much and you don't usually see home runs like that as a result. They might string together some hits but I don't know that I've seen home runs like that happen that quickly."
Wilson came in and calmed things right down.
"When the phone rings in the first or second inning, everybody is immediately on edge," Wilson told Keating. "I had an idea it was going to be me, obviously, and just took the ball when it was my turn and tried to get some quick outs and let our offense work."
Wilson pitched 3 2/3 innings and did not allow a hit or a walk, retiring all 11 batters he faced and lowering his ERA to 1.71.
Although the Tigers weren't able to complete the comeback, Wilson at least gave them the opportunity to do so.
"He was outstanding, Blaine Hardy was outstanding," Ausmus said. "Wilson's done an excellent job since he's gotten here."
What Wilson is doing is reminiscent of what Hardy did last season when he joined the team in the middle of June.
In Hardy's first 14 appearances in 2014, he was 1-1 with a 2.51 ERA and 1.33 WHIP. He walked eight and struck out 14 in 14 1/3 innings.
In Wilson's first 14 appearances this year, he's 1-1 with a 1.71 ERA and 0.61 WHIP. He has walked three and struck out 16 in 26 1/3 innings.
Wilson even had to make a spot start this past Wednesday when Alfredo Simon had to leave the team suddenly because of the death of his father.
Wilson threw three hitless innings against the Oakland A's before giving way to Kyle Ryan, who arrived just before the game started.
In May, Wilson has allowed just two earned runs in 21 innings while walking three and striking out 16.
Opponents are batting just .119 against Wilson in May.
"He pounds the strike zone," FOX Sports Detroit analyst Craig Monroe said. "He's not afraid. He gets guys to chase pitches out of the strike zone and he likes to pitch to contact. He's just keeping them off-balance. Hitters are not comfortable in the batter's box and they're not able to center the baseball. That's what Alex Wilson has done all season long is flat-out get it done."
Perhaps the only thing that Wilson has not succeeded at with the Tigers is milking a cow.
Before Friday night's game in Anaheim, Wilson was the Tigers participant in a cow milking contest.
The Angels had reliever Alfredo Marte as their contestant.
Wilson told MLB.com that he grew up working on a farm and had milked a cow before but not since he was a kid.
Wilson was about even with Marte until they had to switch cows and the second cow decided to leave in the middle of the contest.
By the time Wilson got the cow back in position, he had lost too much time and milk.
No matter.
Wilson doesn't need to milk cows with the way he's been pitching.
"It's all about finding a niche and I feel like I've found a good one here in the 'pen and kind of doing a little bit of everything," Wilson said. "I like the way things look right now and I think (Saturday night) we played with some urgency for the first time in a little while and I think it's going to be a good turning point for us."
---