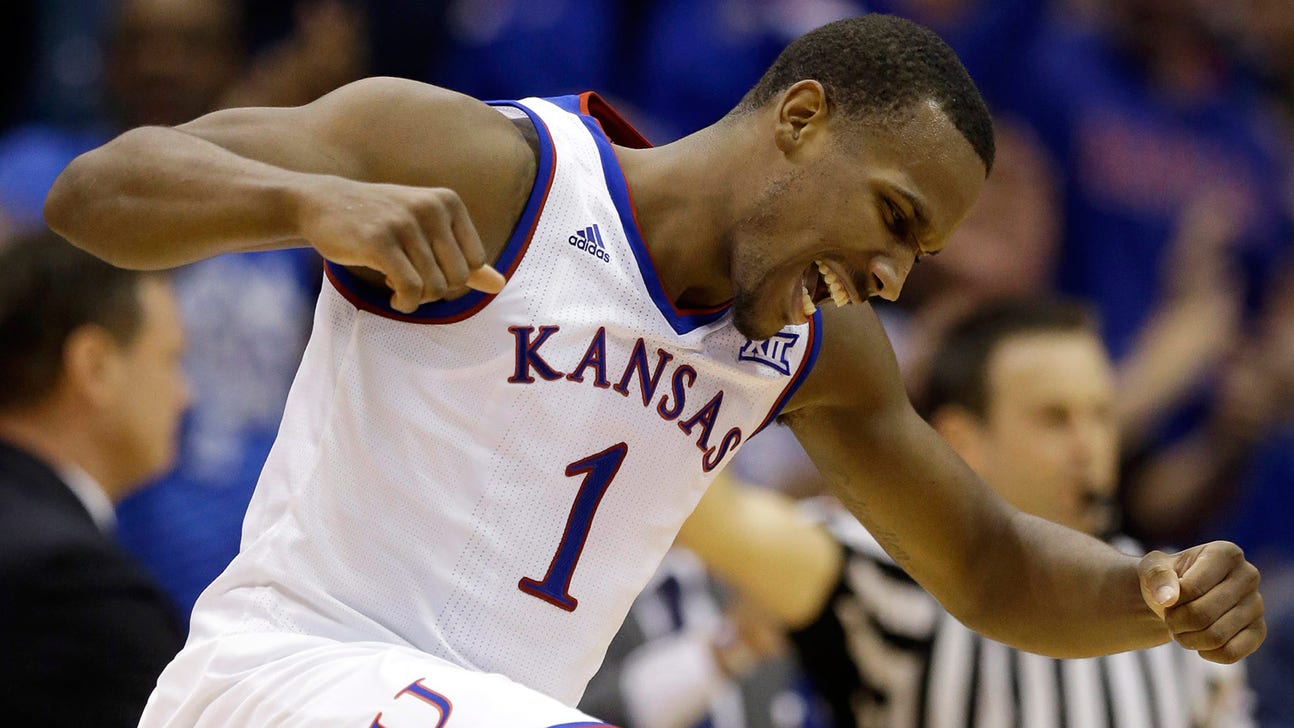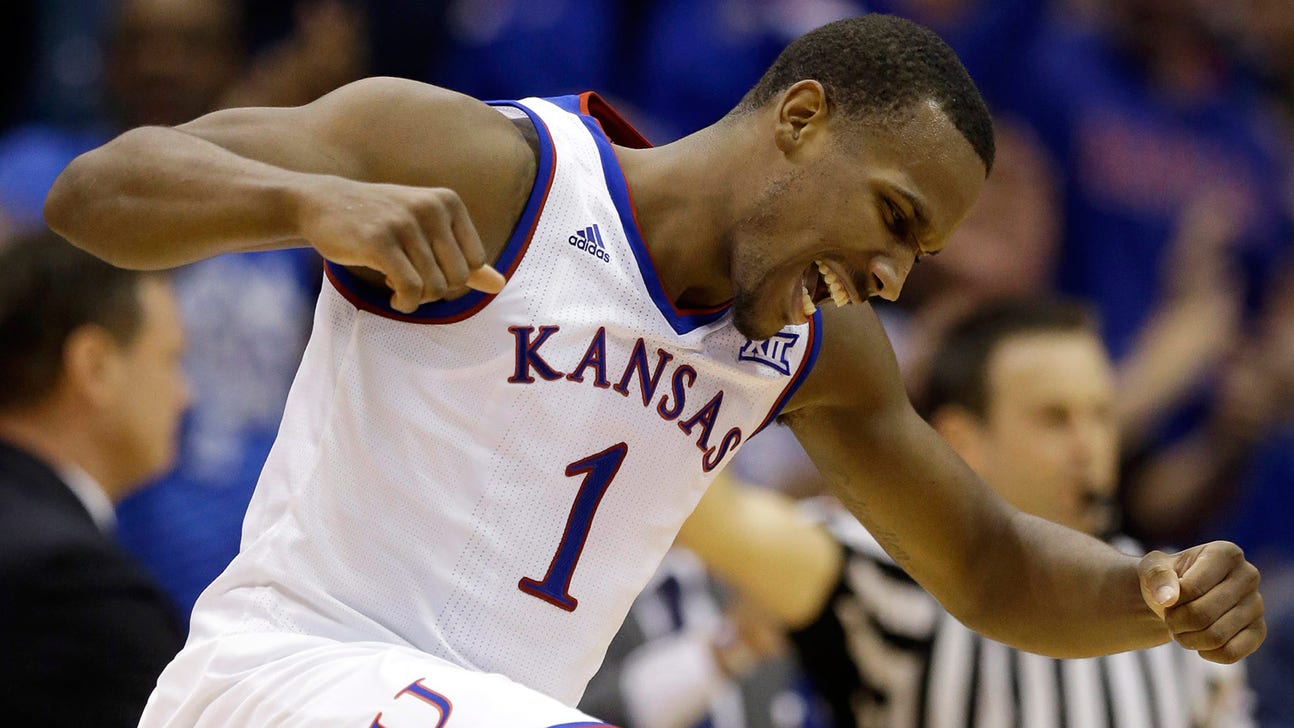 When Wayne's World embraces the 3-pointer, it's party time for KU
Published
Feb. 3, 2015 1:10 a.m. ET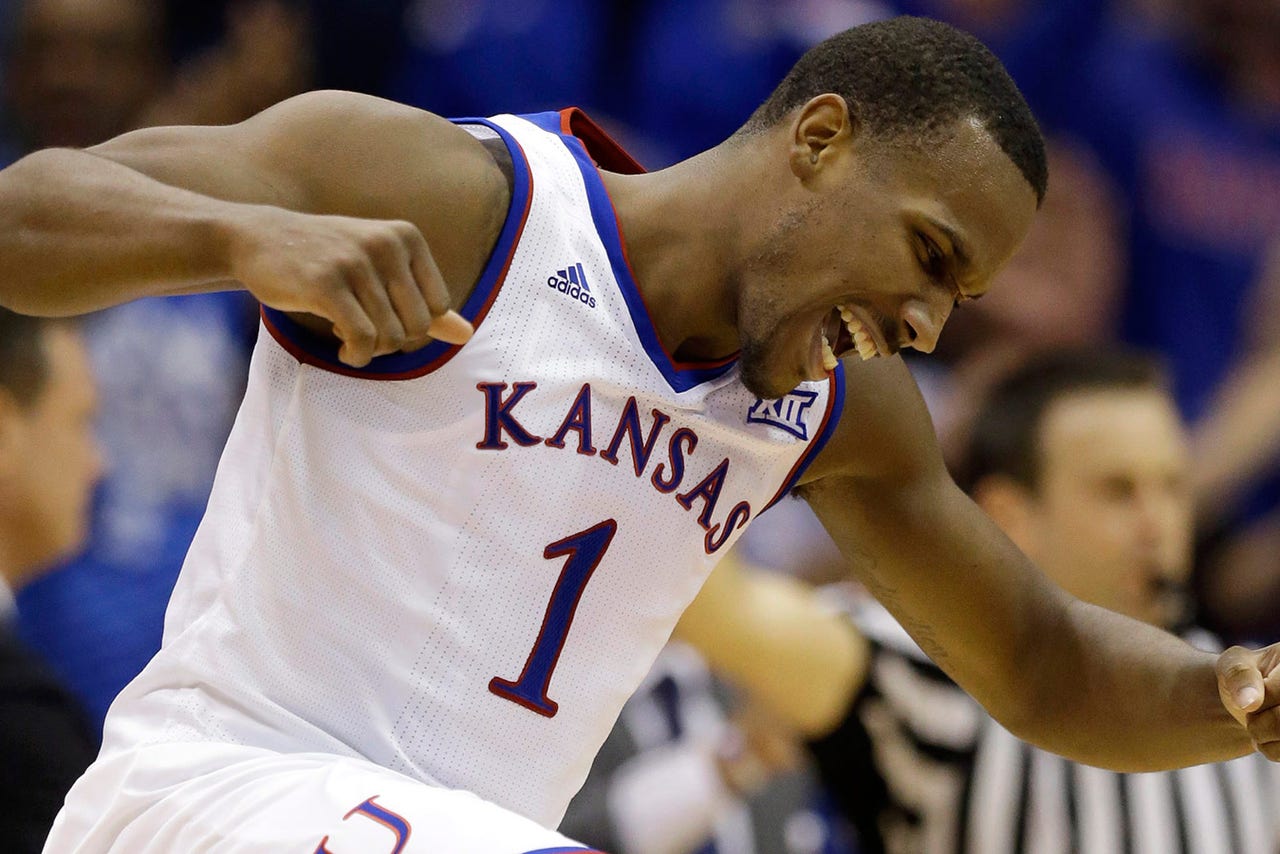 LAWRENCE, Kan. -- So we pulled out Hoop-Math.com Monday night and found a statistic that will shock almost no one, and exactly no one who happens to live in Lawrence:
Wayne Selden Jr.'s field-goal percentage at the rim to start the week: A cool 40.0.
If you're curious, among the top nine Kansas players in coach Bill Self's rotation, that's the second-worst finishing rate of the lot. In fact -- and this is interesting, too -- the only percentage below Selden's? Brannen Greene: 33.3.
Sense a trend here?
Greene is what he is and, to date, has embraced the role. Instant offense off the bench. Crush zones. Make magic happen from long range. Let fly. Don't be what you aren't. It worked again Monday, as his seven first-half points lit the pilot light in a 89-76 thrashing of the Big 12-title chasing Iowa State Cyclones. If Frank Mason III is the Jayhawks' surprise MVP to date, Greene just might be the MVP of league play, perhaps the single-biggest reason why KU (19-3, 8-1 Big 12) is in the driver's seat for an 11th straight league crown.
And then there's Wayne.
Wayne, our Wayne, is a curious case. He's skilled enough to play the point (3.04 assists per game), tall enough to post people up (6-foot-5), and athletic and quick enough to create chaos from just about any spot on the floor. He's built like a prototype wing, plays his tail off -- endearing himself to Self and a few season-ticket holders last winter by frequently diving into the crowd for loose balls -- and is blessed with the kind of wingspan and hops to make life hell for off-guards (16 blocks).
But the rim, man.
The rim just doesn't like him. It hates him. Passionately. Which is a bit weird, given that Selden was finishing at a 69.1 percent clip a year ago. Was it something he said?
"I try to remain confident through ups and downs," Selden said after dropping 20 points -- his best scoring night in nearly two months -- on the No. 11 Cyclones (16-5, 6-3), with 15 of those points coming on 3-pointers. "It wasn't necessarily a surge in confidence."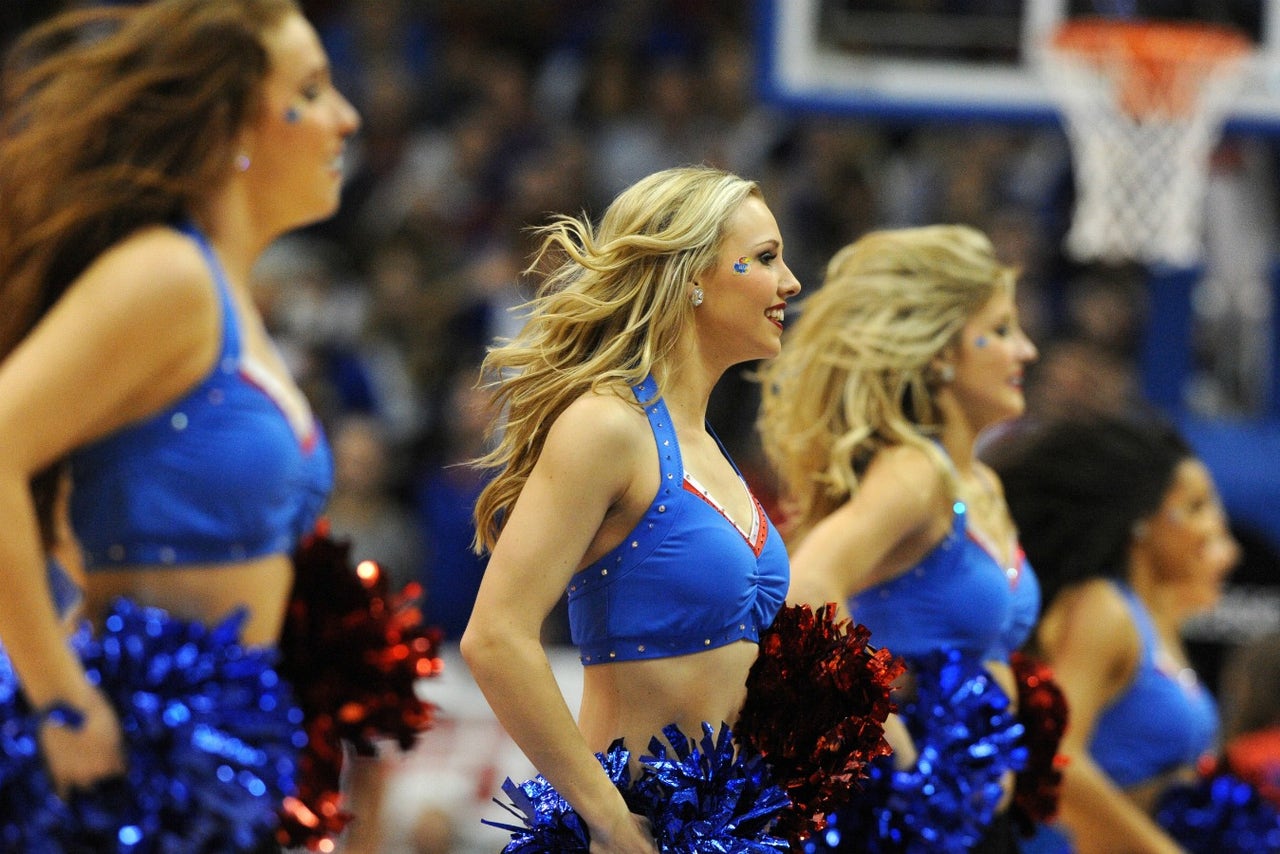 Lookin' good! Check out our gallery of NCAA hoops cheerleaders.
No, but it was a surge in sticking to the wings. See that arc? That arc is your friend, dude.
At this point, Wayne, our Wayne, has two choices. He can keep doing what he's doing in this offense -- some up, some down, some good days, some bad -- or he can pick and choose his forays into the lane more, shall we say, judiciously.
And given a career 3-point percentage of 34.4 percent and a career free-throw clip of 62.3 going into Monday evening, we might humbly suggest that Wayne's first option should be to spot up, and his second should be to spot up, and his third should be the paint.
Because imagine how good, how freaky, scary, insanely good, this KU offense could look if No. 1 is as efficient -- and open -- as he was against the Cyclones.
"Oh, man, we're so much better," Jayhawks forward Perry Ellis said, barely suppressing a grin. "I mean, even his defensive presence ... and (when) he's knocking down shots, I mean, it's just a big plus for the whole team."
With 14 points over the weekend against Kansas State tacked on to Monday's effort, it's the first time Selden has scored at least 14 in back-to-back games since Jan. 8-11 of last year. Coincidence?
"Wayne is such a key," Self said. "When you've got Wayne, Brannen and the way Kelly (Oubre has) played, and Frank (Mason), you've got four really good perimeter players and that makes us really hard to guard."
Especially when the other guy decides to not really guard Selden at all. Iowa State is a fun team to watch, a matchup nightmare with Elite Eight upside, but defense is neither its forte nor strong point. The Cyclones often elected to chase Mason or Oubre or Ellis into the paint in the second half, frequently sending Selden's man in to help with the cause, freeing up Wayne, our Wayne, for all kinds of open looks.
Big mistake.
"He was great, you have to take your hat off to him," offered Iowa State coach Fred Hoiberg, who knows a thing or three about shooting himself. "He hit some tough shots. (And) he hit a couple where I didn't think our urgency was good enough."
Monday wasn't the Jayhawks' A game. But it was at least an A-minus, the aggravation from their Jan. 17 setback in Ames -- the host Cyclones netted 21 points off the break to KU's 10 that night -- still burning in the back of several minds.
"And I thought for guys here, the talk (in) the media and whatnot (about) the league race, but that was never mentioned once," Self said. "It was just us getting a chance to play a team that whipped us the first time we played.
"I think our guys have a very unique respect for Iowa State. It's a healthy, competitive deal."
With no Mizzou in the picture, one of the upsides is the elevation of the KU-Iowa State tilt on a national stage. Some locals have even placed the Cyclones -- or tried to -- in the Tigers' position of "team you love most to hate." Or choose most to hate. Taking 49 of the last 54 against Kansas State tends to leave that particular spot among the fandom open by default.
Winning two of the last three helps stoke the fire, too, as well as being one of the five league members to have won at the Phog during Self's lockdown tenure here. It's a backhanded compliment -- accent on the backhand -- to what Hoiberg has built over the last five seasons.
"Right now, the way it is, K-State would be our biggest rival," Self continued. "But you could make a case that Iowa State has emerged as our other rival -- certainly the last couple years, without question."
Bonus: Of the past 10 meetings between KU and Iowa State, five have been decided by nine points or less, and two went to overtime. The Cyclones are like the Black Knight in Monty Python and the Holy Grail: You can cut off the arms, the legs, the whole damn thing, and they're going to keep swinging. Part of the fun. Part of the package.
Come to think of it, you could probably write the same verse about Selden, with all that talent, all those NBA expectations, still searching for his equilibrium in Year 2, still searching for his happy place.
"Just staying positive is the biggest thing," he said. "It's going to come around. And I just stay positive, and my teammates help me stay positive."
"When you get (almost) 20 in a half against good players," Self said, "it's going to help your confidence."
Selden on 2-pointers, Saturday and Monday: four for 12.
Selden on treys, Saturday and Monday: eight for 13.
See that arc? Don't fight it, brother. Embrace it.
You can follow Sean Keeler on Twitter at @SeanKeeler or email him at seanmkeeler@gmail.com.
---