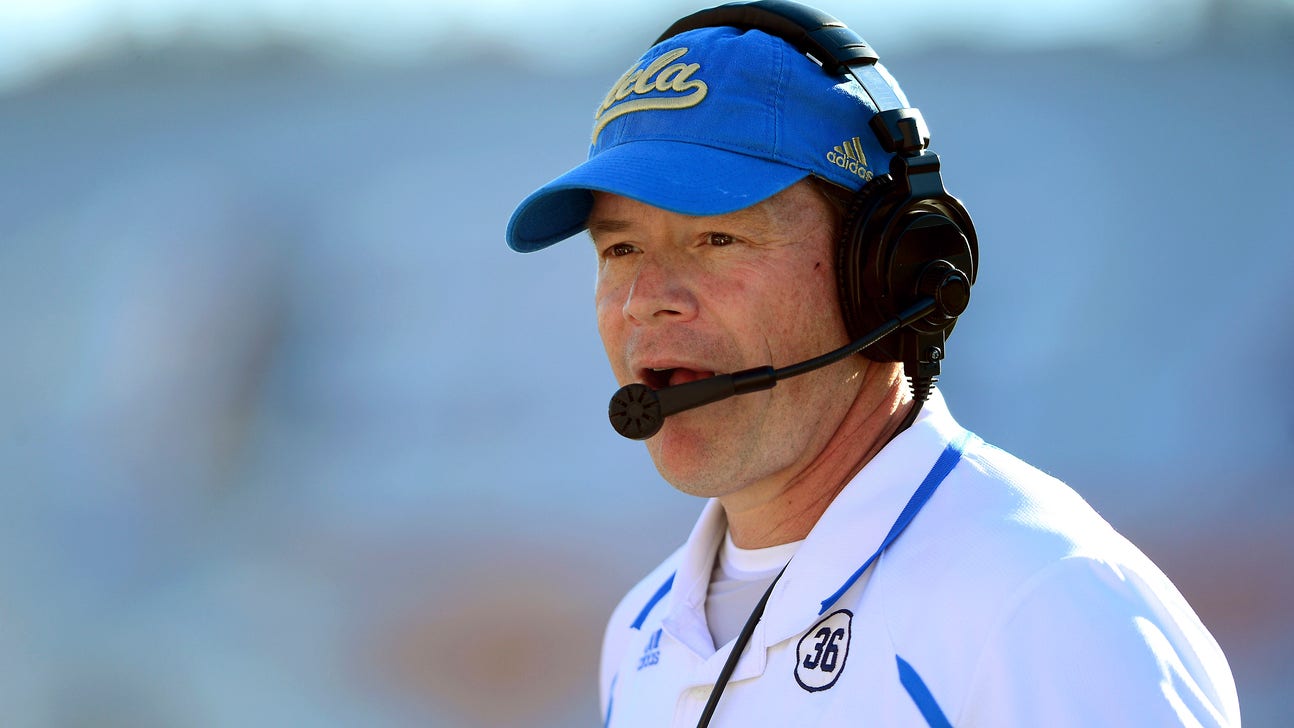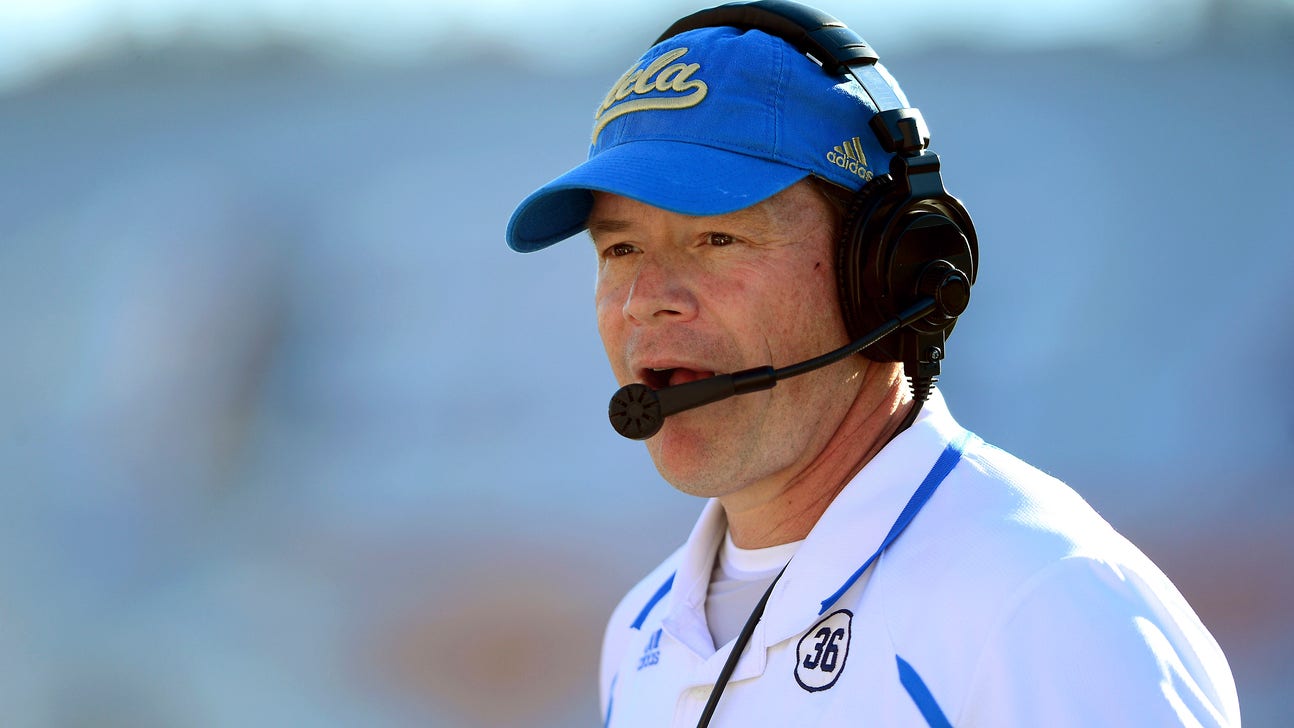 What to watch for: Second half of UCLA's San Bernardino camp
Published
Aug. 12, 2014 11:41 a.m. ET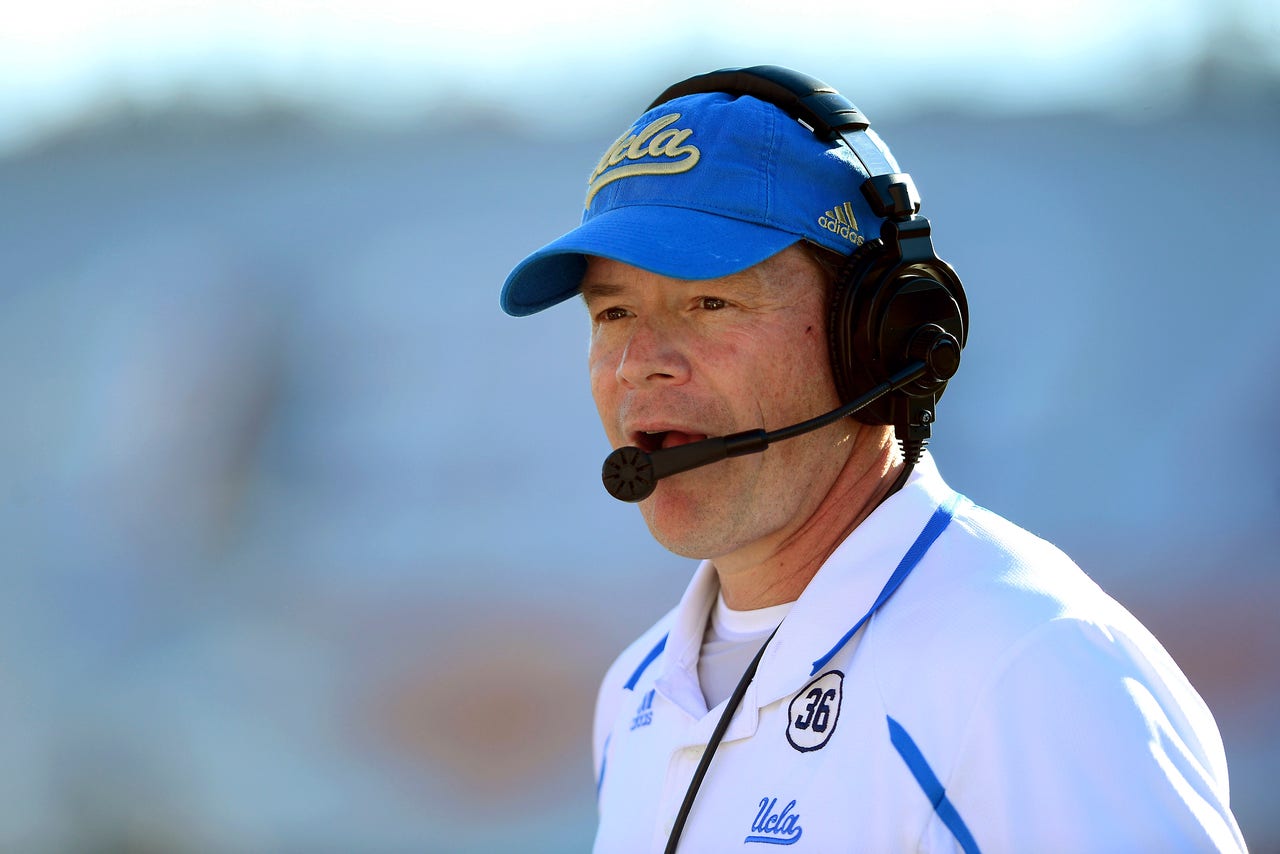 No. 7 UCLA began Week 2 of the infamous San Bernardino training camp Monday with their second two-a-day practice. 
But it wasn't necessarily the effort that head coach Jim Mora was looking for.
"We got good work done but I didn't like the way it started and I didn't like the way it ended," said the Bruins' third-year head coach. "A game is about starting fast and finishing strong and we didn't demonstrate that today."
Week 2, he said, is going to be about getting everybody on the same page. 
Injury bug
Mora doesn't like to use the word 'suspend', but that's essentially what he did on day one, as he deemed three players unfit for training camp. Some recent injuries have opened the door for them to come back, as Mora wanted to keep the roster at 105 participants in order to maximize the benefits of full squad practices.
Quarterback Aaron Sharp is expected back Tuesday, while wide receiver Jordan Lasley and linebacker Dwight Williams all returned Monday. They will need to go through the same five-day acclimation period that the rest of the team went through, putting all three in full pads by the end of the week. 
The three were sent away from San Bernardino after camp opened last week. Mora said they would not be allowed to practice with the team until after the season-opener at Virginia. 
"It was something that I've been thinking about for a couple days," Mora said. "With bodies going down and being able to have 105, we gave it a lot of thought as a staff and thought it was time to let them come in and start competing."
Linebacker Cameron Griffin (shoulder) and offensive tackle Simon Goines (ankle) will sit out for the foreseeable future and wide receiver Sam Handler (ACL) out for the season.
The running backs
Offensive coordinator Noel Mazzone has always coveted defensive players, often seen walking off the field with his arm draped over the shoulders of a linebacker or defensive back, trying to convince them to come take some reps with the offense. 
He finally got his wish when freshman cornerback Adarius Pickett switched to tailback. 
It was an unexpected move as Pickett was one of the most sought after prep defensive backs in the country, and he worked out with the DBs throughout the spring as an early entry. With the depth in the secondary and Pickett's natural talent, the move makes sense.
He took his first reps Monday night and the result was as expected: Raw speed but raw smarts.
"He runs hard and he kind of can find a crease," Mora said. "It's all so new to him but he's really got some promise there. He's a heavy runner, he's only 190 pounds but he runs kind of heavy and you can feel it when he runs ...
"Some guys run like feathers -- they look really pretty and they run really fast but they can't hit it up in there and bring it, bring any oomph. He brings some oomph and we need that."
Pickett spent the off day on Sunday studying the offensive playbook on his own, and Mora is impressed with his commitment to getting on the field. 
Defensive depth
The move of Pickett to running back should be all you need to know. The defense is loaded right now and, for the most part, has stayed relatively healthy in camp.
Fabian Moreau has emerged as a force at cornerback and safety Tahaan Goodman is pushing for more time as well. The biggest thing Randall Goforth has on mind is his mother's Samoan injury remedies, and Anthony Jefferson is expected to once again anchor the defensive backfield.
Freshman linebacker Kenny Young might be relatively unknown on the West Coast, having come from Louisiana, but that could change very soon. Young worked out Monday with the first team and, although the depth on the depth chart is considerable, Young managed to seal a spot there for the time being.
"Kenny has a presence to him," Mora said. "He was playing in an extremely competitive environment in Louisiana, and excelling. Playing against some of the great players in the country and excelling. And he's come here and he hasn't disappointed." 
---