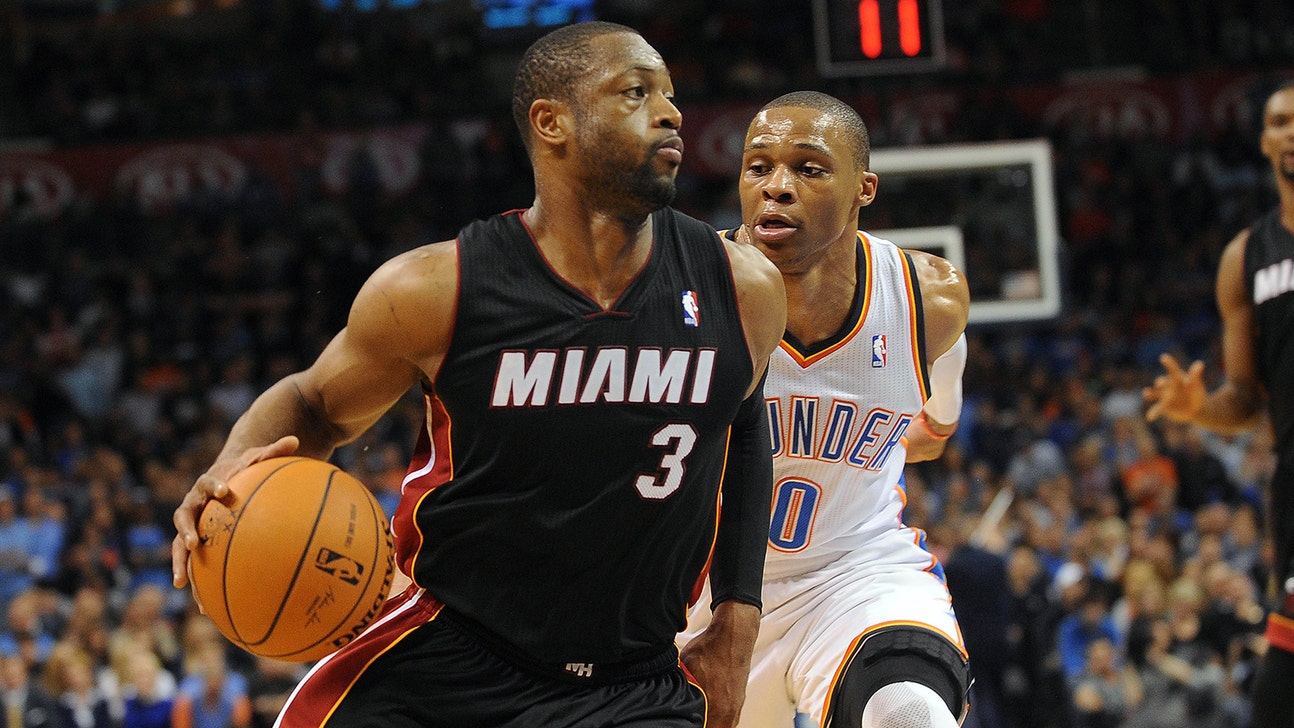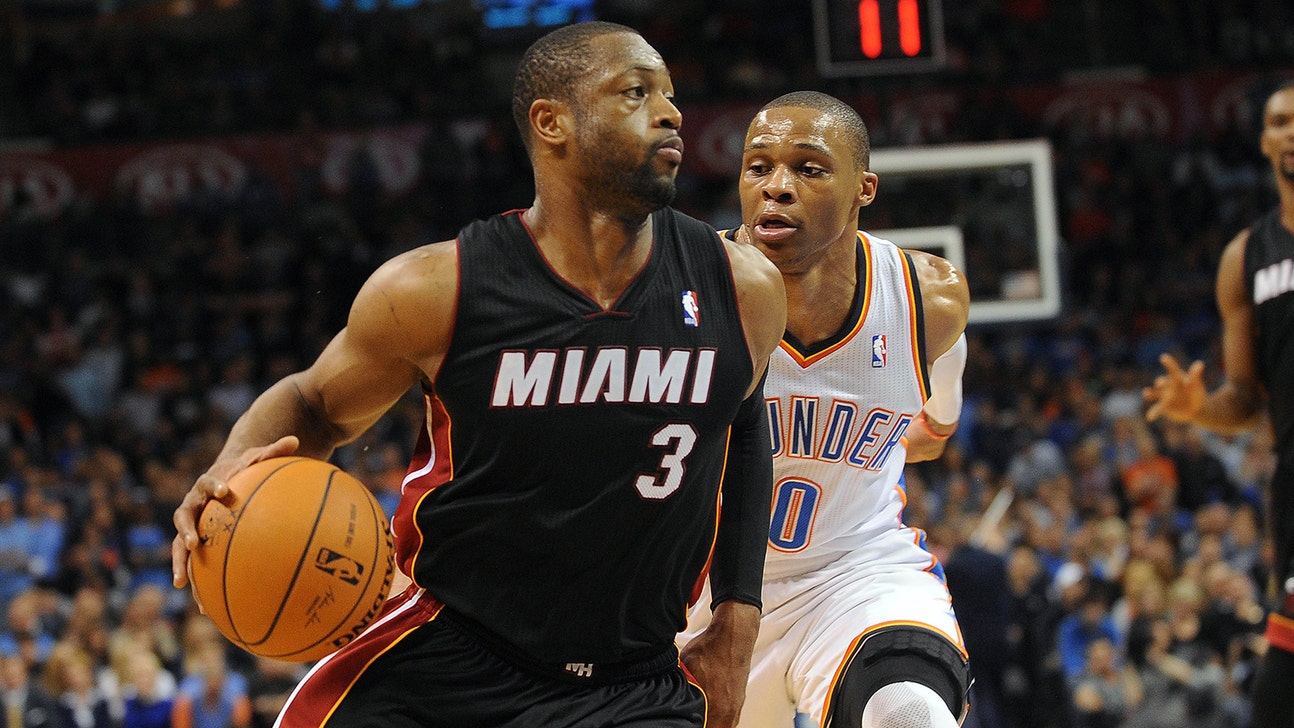 Westbrook returns, but Thunder can't overcome Heat
Published
Feb. 20, 2014 11:12 p.m. ET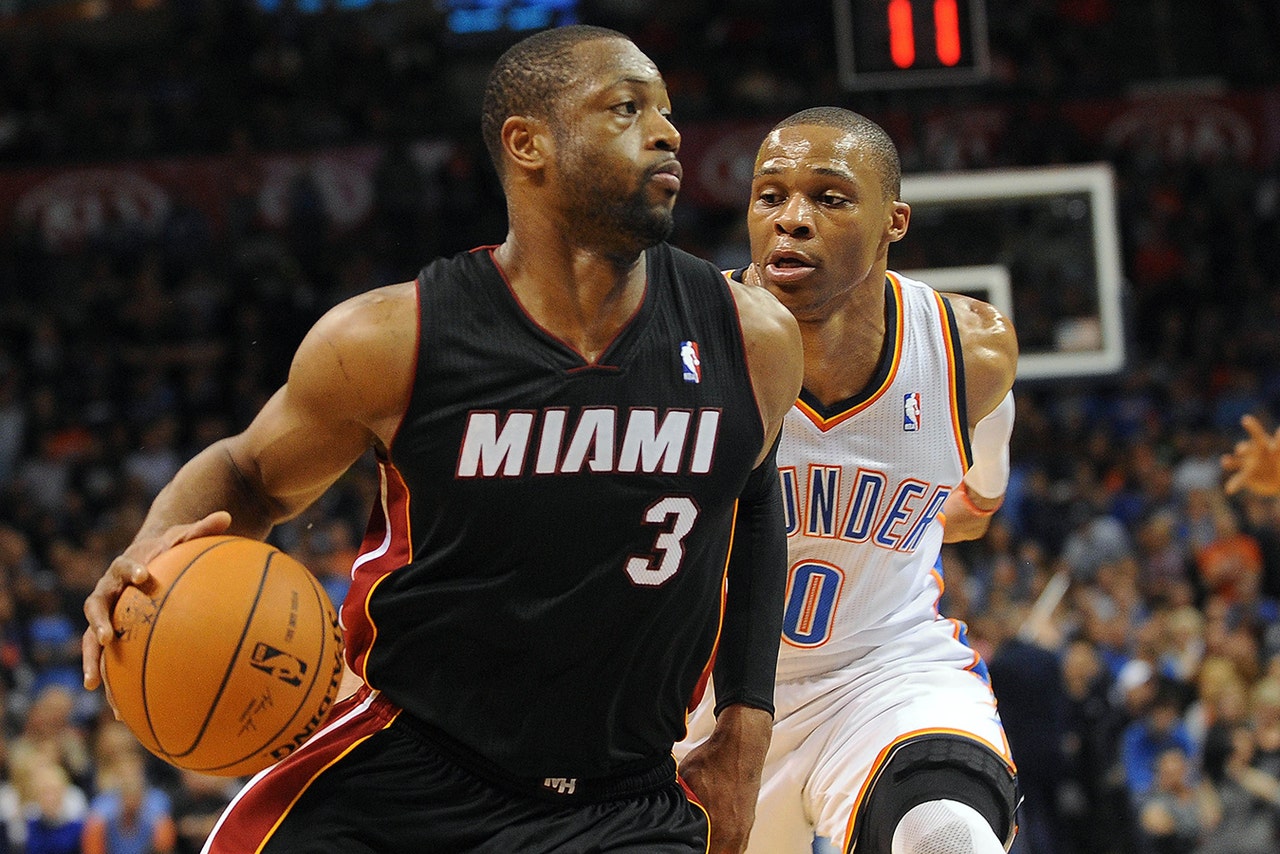 OKLAHOMA CITY - All of the incentive and all of the motivation went to the Thunder Thursday night.
Buzzing with the news Russell Westbrook would make his latest debut the crowd was louder than usual and Christmas Eve excited. There was also a subplot, intriguing and compelling, as Durant and James went head-to-head.
And this: Oklahoma City, not Miami, has been the better team, even without Westbrook for a good part of the season, and has a win in Miami to prove it, too.
All that lasted until just after tipoff.
Now what?
Thursday wasn't a step back for the Thunder. It's a regular-season game in February, but Thursday certainly wasn't a move in the right direction, either. It was – for the most part – a lifeless 103-81 loss where James started fast and Durant didn't play with the savage intensity that he had when he ruled January.
We may never know if Westbrook was really completely ready for Thursday night's game against Miami, his first game since Christmas Day.
Knee might have been gimpy. The rust might have been too much to shake off. Maybe too much, too soon?
And we may never know how much pressure was on Durant.
Huge first-half of the season. Prolific MVP talk as he has looked dangerously close to being the most-flawless player in the league.
But what we do know LeBron James played Thursday night like he was personally offended. With smugness and attitude, James dominated. No statement needed. James didn't need to prove anything, he just played like he did.
This was supposed to be the fantastic remix of Durant and Westbrook, together again. That never came off because James went off – 16 points in the first quarter, including the first 10 of the game, finishing with 33.
This was supposed to be the younger, hungrier Thunder with something to prove and a lot to gain. That never came off, either.
"We didn't play well," coach Scott Brooks said. "Offensively we were out of sync. We didn't have a good rhythm."
They were sure supposed to. This was the Heat, their only visit to OKC this year, so the lack of intensity at the beginning (nine first-quarter turnovers), the lack of defense throughout (Miami shot 54 percent for the game and 76 percent in the first quarter) is troublesome because it's not typical.
Durant had 28 points on 10-of-22 shooting, but he didn't match James in effectiveness, energy or efficiency. James was 15-for-22, snarling and staring like the calendar said June.
James didn't talk after the game. He was dealing with a swollen nose after getting it bloodied in the fourth quarter, but really it was the Thunder hurting the most.
"We didn't have the energy that it takes to beat a great team," Brooks said. "We're going to come back. This is one game. This is not the last game of the season."
No, but Brooks has some issues to deal with starting with Westbrook's acclimation back into the lineup and finishing with trying to figure out how and why his team didn't play well and what it will take to get some edge back.
"We gave too many easy points," Durant said. "You just can't give it to them like that."
Brooks wouldn't say how many minutes Westbrook would be limited to in the near future, but before the game Westbrook guessed he would be playing about 25-26 minutes. He played almost 24, a season-low, but it was disjointed and choppy. He went 4-of-12 with four turnovers. Westbrook had a pair of dunks, but looked out of sorts. Not sharp.
"He's going to continue to get better," Miami guard Dwyane Wade said. "It's going to come. Anybody who has missed that long is going to have a little rust."
Perhaps it was the distraction of Westbrook returning, or the long layoff over the All-Star break. Possible blame to the Durant-LeBron head-to-head talk we've been saturated with most of the past month, too.
"You can make up a lot of things," Brooks said. "One thing we will not tdo is make excuses. We're not happy. We're going to figure out how to get better. Our players won't make excuses. Not happy with that. Not happy at all."
"Probably just trying to figure things out," said Reggie Jackson, who moved from the starting lineup back to the bench. "We got a leader back, lineup changes, just trying to get more familiar with everyone. I think we we had a week off, but you can't really use that as an excuse. It's going to take some time to get things back to normal."
Disturbingly, all the storylines aside, Miami was the better team. The Thunder had 20 turnovers. The Heat scored 34 first-quarter points and although the lead was just seven at half and then 11 at the end of three quarters, there was never any real run in the Thunder. They made just 2-of-20 3-pointers.
What's next?
Well, it won't be talk and anticipation or KD vs. LeBron. The Thunder would do plenty well to just worry about getting a win.
Follow Andrew Gilman on Twitter: @andrewgilmanOK
---