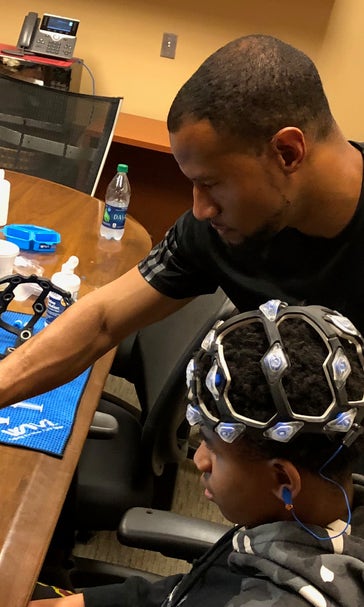 WAVi scans help JSerra football take step forward in concussion prevention, education
August 15, 2018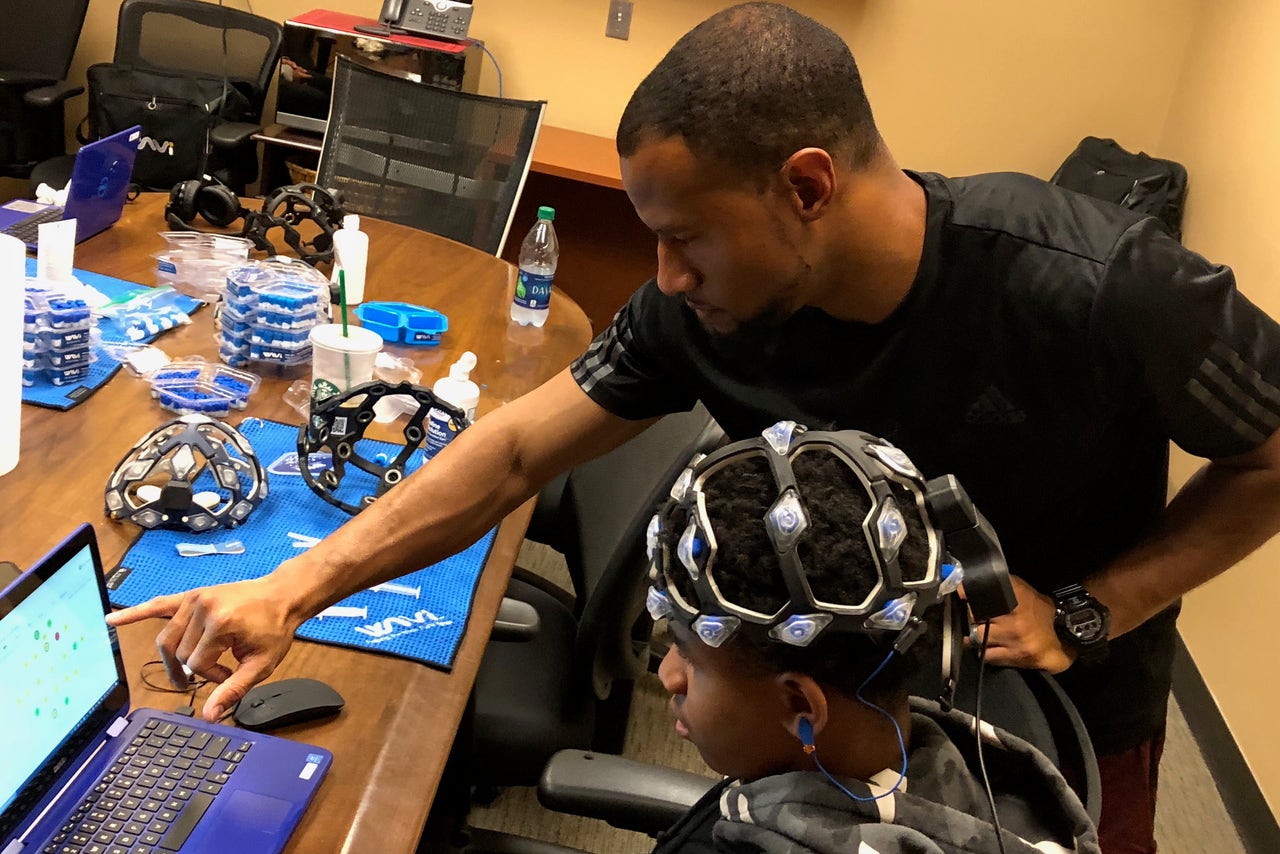 "I got knocked out completely cold in a game against the Cleveland Browns. I was only out for a couple of seconds, got up and played the next play. When I played, it wasn't something that was really talked about or looked at. You just kept playing."

-- JSerra football coach Pat Harlow

 

There is no more time for hiding behind the phrase 'you just got your bell rung.'

One simply doesn't get 'dinged.'

While that may be the 'old school' mentality many in sports grew up with, the ever-evolving medical research displays just how severe any hit to the head, big or small, can affect one's brain. Oftentimes concussions are unpreventable—an inevitable part of playing any sport, whether it be football or golf— and while there may not be a cure-all to the problem, there are steps that can be taken to help those who suffer from them.

JSerra High School in San Juan Capistrano is diving head first into a field no other high school in has gone before.

"As an ex-coach, I have a specific story of a female soccer player that I coached that got a concussion, was played back in, the return-to-play protocol was good, and then everything started going backward again," JSerra athletic director Chris Ledyard recalled. "She was out of sports for six or seven months."

In an effort to make sure fewer kids experience similar setbacks, Ledyard made the decision to implement WAVi scans for JSerra student-athletes beginning with this year's football season.

WAVi is an EEG scan which can be used as a baseline test to monitor a subject's brain activity in real-time while they react to noises.

For further simplification, JSerra's director of athletic training Kayla Gradillas explains.

"Think of a hollow skull cap. We use saline as a conduction that goes on their head and they sit in front of a portable computer. They can see their brainwaves that are active. It's pretty cool because they can look around, blink their eyes and see how the brain waves change," Gradillas said. "Then we ask them to do a 4-minute test where they close their eyes and they have a headset on where they're listening to sounds and their brain reacts to those noises. It's recording how quickly and at what voltage the brain is reacting to those sounds. Then we're also getting a finger reaction time after they hear an odd sound. It will be something like beep, beep, beeeeeeeeeep—an off-beat sound. Then they click when they hear the off-beat and we get a reaction time."

After the school administered a pilot testing on eight student-athletes, it was apparent this was the right thing to do.

"We did a brain scan on a kid a little bit ago and his mother was in the room," Ledyard recounted. "When we finished the brain scan, the people who were running it, they were doing an assessment of the scan and turned to the mother and said, 'Things are healthy regarding the concussion, but I do want to tell you, your son probably suffers pretty severely with ADD.' She said I already knew that, but what I saw from that was that's pretty awesome. If that mother didn't know that, that would have been a great thing for her to know from a scientific perspective, not a subjective perspective.

"It confirmed what she already knew, which showed the accuracy of the test."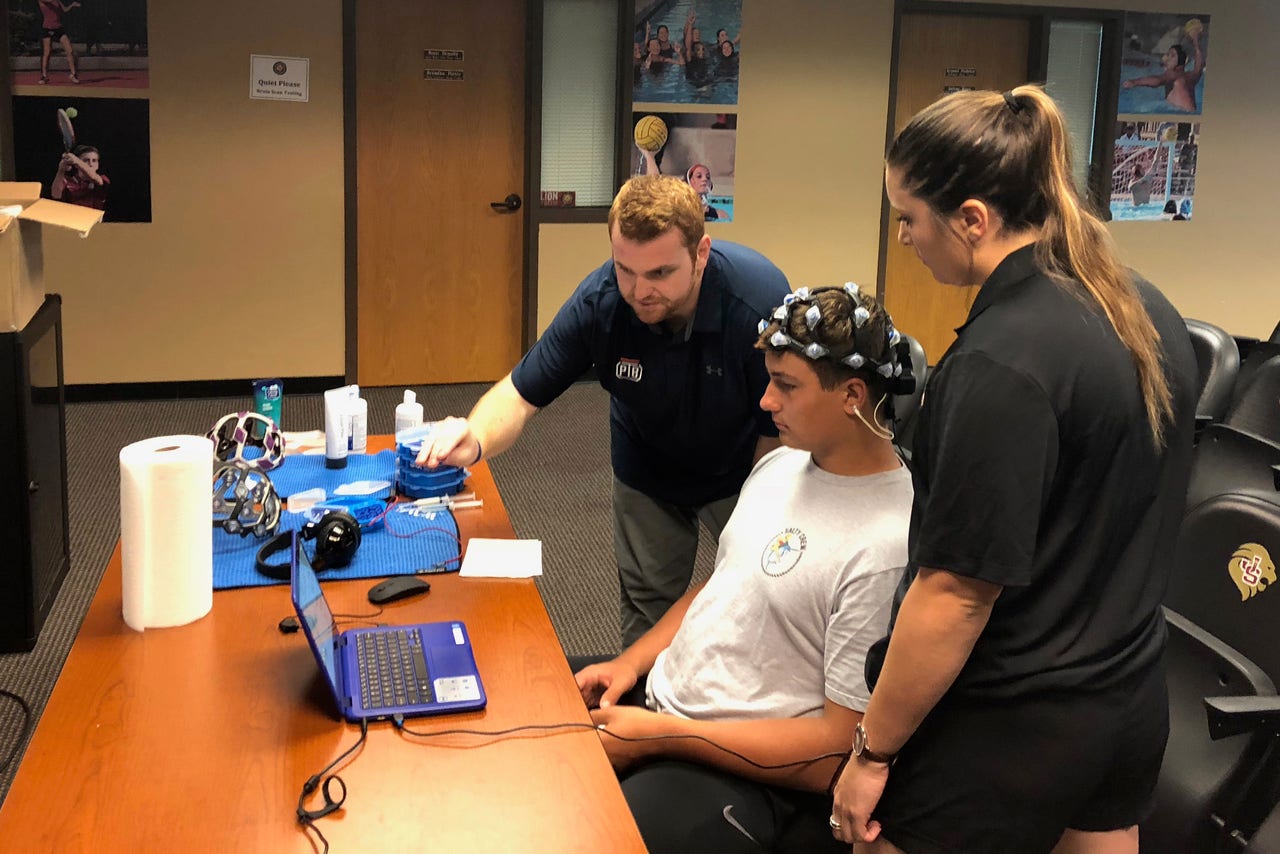 The WAVi scan was developed by researchers at the University of Colorado over the past decade with its main focus on brain wellness: Detecting Alzheimer's, anxiety, depression, etc. However, after conducting blind studies with the Colorado football and soccer teams, a revelation came about.

"They did a preseason and postseason scan and if [the student-athletes] were suspected of a concussion, they gave them a scan during the season and measured it," said Jeff Wadstrom, the founder and president of Baslyne—the company that distributes WAVi scans. "What they found is when someone had a concussion, it shut down the voltage in the brain by 30-50 percent but when it heals, it shot right back up to baseline. What we found was a high percentage of [student-athletes] were being returned to play before they were fully healed."

While most baseline tests currently being used are similarly conducted on a computer and measure reaction time, memory capacity and speed of mental processing; however, the recording of vital signs is what separates WAVi from the rest.

Additionally, many symptoms of a concussion (i.e. headaches, nausea, ringing of the ears) are also symptoms of other injuries often suffered in contact sports such as whiplash, strained necks and dehydration. Whereas it can typically be difficult for a physician to correctly differentiate between these injuries, the WAVi voltage measurements will now allow them to more definitively diagnose because non-concussive injuries have not been proven to reduce brain activity.

With this testing completed prior to the start of the season, JSerra's training staff will have results on the brain function of each student-athlete at an ordinary level, depicted by the firing of certain parts of the brain. Then, if an athlete suffers a blow to the head, the staff will be able to administer the test and compare the results to the original brain scan, providing a much more accurate representation of the athlete's health.

https://www.foxsports.com/west/story/cif-southern-section-2018-2019-tv-prep-zone-streaming-schedule-080818

Ledyard, who spent nearly two decades as an AD at the Division-III collegiate level, was in awe after learning of a test of this magnitude.

"This test is more comprehensive than anything I've seen period," Ledyard said emphatically. "Having been in this field for a long time, there's always a certain level of subjectivity when you're measuring concussions. However, what this did is go right back to the brain scan."

While JSerra is implementing the testing with the football team, the goal is to have every student-athlete tested prior to the start of their season this school year. With initial priority put on athletes competing in collision and contact sports, Gradillas says there's no reason to limit testing to only students on the field.

"I would love to have it offered to anyone that wants it on campus," she said on the verge of starting her 10th year with the school. "Make it mandatory for all my athletes, but allow it for anyone that wants it because kids are kids. They go skateboarding and they may hit their heads and not be one of my athletes or get in a car accident."

Wadstrom echoed this opinion, stating this very idea of creating a device available to the masses was the fundamental heart of the project to begin with: "The concept was to make a cost-effective EEG scanning system that is the gold standard for under $100."

Ledyard said JSerra's testing will come out to about $50 per test.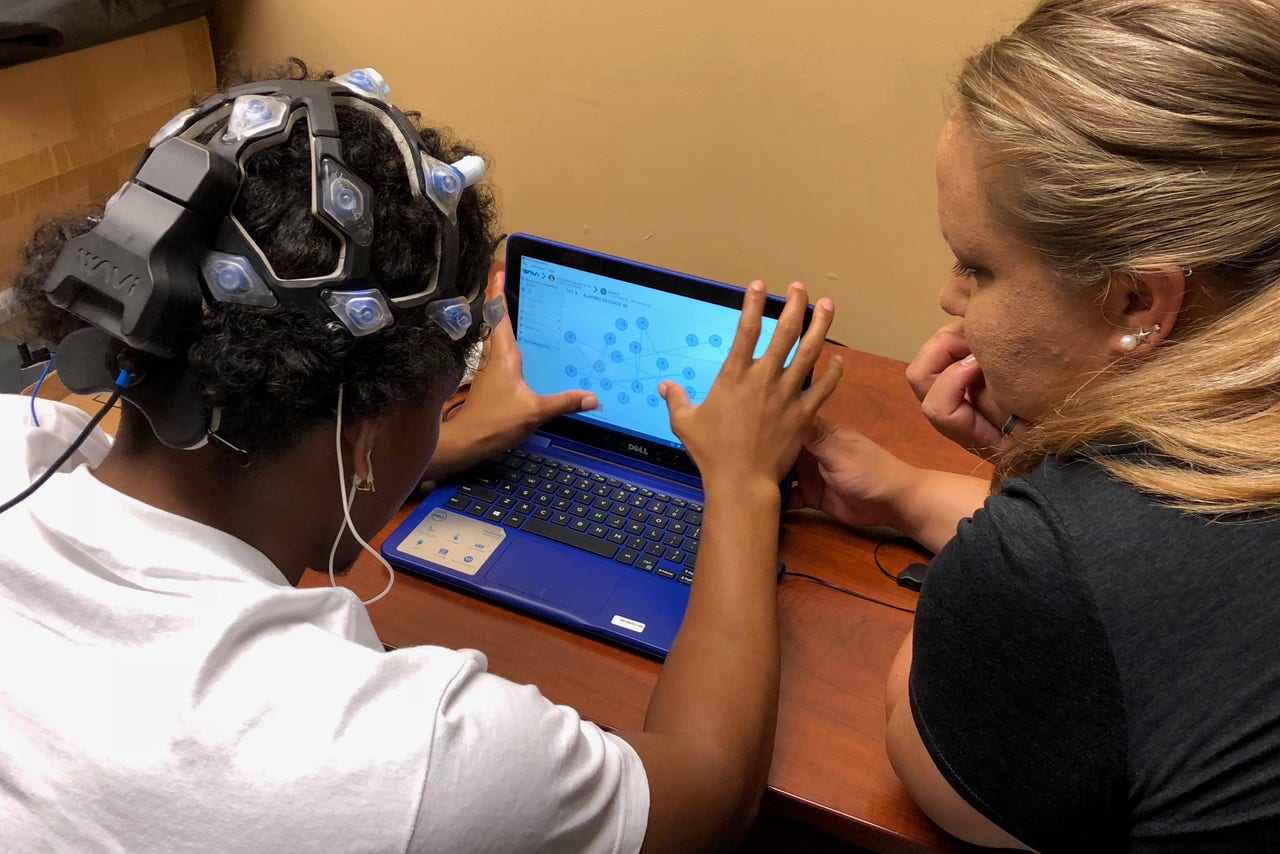 JSerra football coach Pat Harlow understands a healthy future far outweighs the joy of one victory and that begins with teaching measures which will help avoid repeated WAVi scans all together.

"I've lost some friends to ALS and stuff they think was concussion related. When I played, we didn't have concussions, we just got dinged," Harlow said. "I'd love to say that we'd be able to eliminate concussions -- it's never going to happen in football. It's just a violent collision sport."

"They are going to happen, but I think the way we teach it now was much different than the way I was taught. We try to keep our heads out of tackles, keep our heads up and all those things that we teach from Day One."

The gruesome tale of being knocked unconscious only to return the following snap is just one of many Harlow can tell from his own experiences. The 49-year-old started 94 games on the offensive line over an eight-year career in the NFL and admits he's 'had plenty' of concussions throughout the years.

Once seen as taboo and swept under the rug, Harlow places the utmost importance on discussing the potential dangers of a concussion with his players from the start: "If you don't talk about it, you're setting yourself up for something bad to happen."

While concussions remain a prominent injury across all sports -- Gradillas says JSerra had 26-28 diagnoses during a slow year last year – the hits that go undiagnosed, and the stigma surrounding how athletes deal with trainers, are a few of the larger issues her staff encounters.

"Traditionally people look at the athletic trainer as you're trying to pull me out of my sport," Gradillas said. "I have to develop a relationship with them so that they know I actually want you out there playing and when I'm pulling you, I'm doing it because I want to prevent something. I want you to be OK later on in life as well."

While the brain scan is a productive resource for rehabilitation purposes, it still leaves the game-time action up in the air. To counter this, JSerra uses sensors implanted in helmets that register when a player may have suffered a concussive hit and alerts the training staff. While these are invaluable measurements, Gradillas emphasizes human connection remains critical.

"The biggest thing that helps me with potentially thinking there may be a concussion is the fact that I know my players before they become my patients," Gradillas reasoned. "I know what their normal is, I know what they normally look like, I know how they normally move, I know how they normally act and that is a big, huge piece."

While JSerra is at the forefront of implementing this testing as an added level of precaution at the high school level, Wadstrom says fellow CIF schools St. John Bosco (Bellflower) and Loyola High School (Los Angeles) will be following in its footsteps in the near future.

While there is still much to do in order to make sports safer, JSerra is at least pointing its head in the right direction to keep their student-athletes healthy.

https://www.youtube.com/watch?v=Yo723GD9Wag
---