Vikings sign DB Crocker, activate Sendejo off PUP list
Published
Aug. 4, 2014 5:00 p.m. ET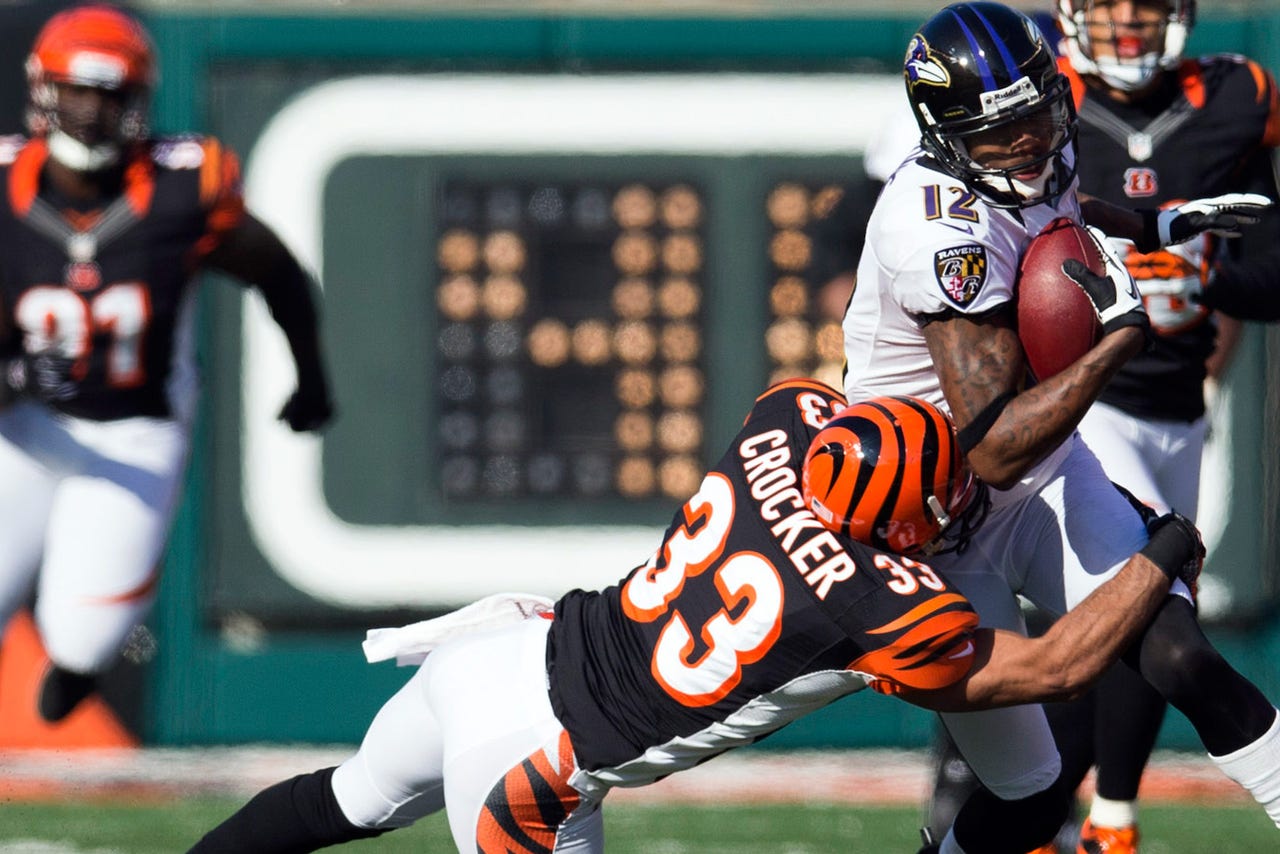 MANKATO, Minn. – The competition for the starting safety spot next to Harrison Smith in the Minnesota Vikings' defense took an interesting turn Monday.
Minnesota signed veteran defensive back Chris Crocker on Monday and released defensive end Rakim Cox. Crocker played the past six years for Vikings coach Mike Zimmer in Cincinnati and also was with Zimmer in Atlanta in 2007. Crocker started 70 games when Zimmer was a defensive coordinator in Atlanta and Cincinnati.
In 12 games last season and three starts, Crocker had 37 tackles, 1.5 sacks, seven pass deflections and two interceptions.
"I never retired," Crocker said after his first practice on Monday afternoon. "You always are kind of ready, especially when you've got a guy like Zim that you can play for. We have rapport and we talk often, and at this point in my career, I really didn't want to go anywhere else. I'm not starting over. I wanted to come down here and play for a guy who, he's meant a lot to my career and I've given him everything I have. Just empty the gas tank and we'll see where this goes."
Zimmer is still looking to settle the second starting safety spot next to Smith. Third-year player Robert Blanton had gained an edge, according to Zimmer, but then suffered a hamstring injury and has been out of practice since July 28.
Without Blanton, who had taken most of the first-team repetitions throughout the summer, Minnesota has been mixing in veterans Jamarca Sanford, Mistral Raymond, Kurt Coleman with the first-team defense. Rookie Antone Exum and first-year player Brandon Bishop are also in the mix.
Sanford started much of the past two seasons for previous coach Leslie Frazier, but he was held out of much of the offseason program with an injury.
Coleman was signed in the offseason from Philadelphia, where he had started 29 games over four seasons. Raymond was drafted by the Vikings in the sixth round in 2011 and has started 10 games.
"He was just telling me about what he has as far as the roster and how young they are," Crocker said of his conversation with Zimmer prior to signing. "Just (that) I could be helpful and I could help these guys get better, come in and also be a playmaker. I've done the same thing that everybody else is doing in the offseason, working out and getting ready and I spent a lot of time with my family."
Crocker, 34, said he had been working out and been in contact with Zimmer since last season ended. He started every game in which he played for Zimmer from 2009-11, and has 554 career tackles and 15 interceptions in his 11-year career.
"Obviously there's a little dust, I haven't played football since the playoff game," Crocker said. "From a mental standpoint, I'll be fine. Obviously you're going to have camp legs. I work out just like everybody else, but it's different once you put 20 pounds (of pads) on you. I'll get out there, get my reps and try to be as good as possible, not overdo it and just take the lead from the coach. Whatever they want me to do, I'll do."
The Vikings also got safety Andrew Sendejo back on the field Monday. Sendejo, who was dealing with back and ankle injuries, was activated from the physically unable to perform list and was able to practice for the first time since Zimmer was named the team's coach.
Zimmer wasn't sure if Sendejo was going to participate in full team drills on Monday. He later participated in some team drills, taking part at safety with Crocker.
"We're going to watch him as he goes and be careful with him," Zimmer said. "But I need to see him."
Asked if he felt some urgency to get back on the field, Sendejo replied: "I always have a sense of urgency."
Sendejo, also a core special teams player, made 10 starts last season while Harrison Smith was out and had 84 tackles with one interception.
"It is a little different than being out there with live bullets," Sendejo said of taking mental reps instead of practicing. "Even when you start fresh, it always takes a couple of days to kind of knock the rust off. I'm looking forward to getting that out of the way and getting back to my normal self."
Zimmer said Blanton is unlikely to play in the team's first preseason game on Friday.
Other injuries: Linebacker Brandon Watts sat out Saturday's evening practice and Zimmer said he was dealing with a strained hamstring. Watts returned to practice on Monday afternoon.
Tight end AC Leonard is still out and Zimmer said he's still going through tests. Zimmer said Leonard dealt with a headache when he left practice last week.
Zimmer said he hasn't been told Leonard has a concussion.
"Well, he's going through some of the tests, but from what I understand, it wasn't," Zimmer said. "So, I don't know. He's had headaches and it was basically just the one day."
Tight end Chase Ford, on the physically unable to perform list after foot surgery, was out of his walking boot and attended his practice wearing just athletic shoes. Offensive tackle Tiny Richardson left practice and went to the medical tent, but Zimmer was unavailable to update Richardson's status.
Follow Brian Hall on Twitter
---