Vikings' 2015 draft brings substance if not splash of past years
Published
May. 4, 2015 12:43 p.m. ET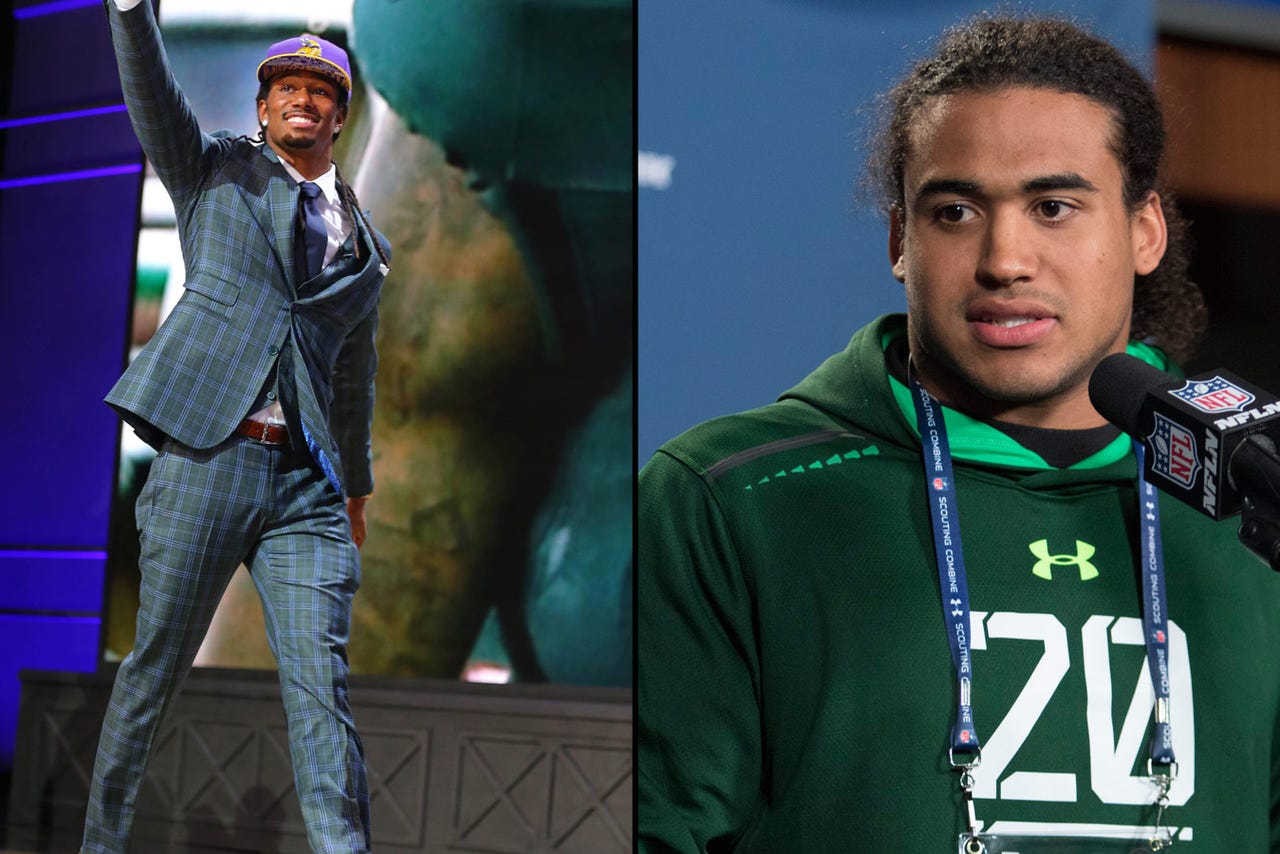 Known for their flash, Rick Spielman and the Minnesota Vikings were more substance than style in this year's NFL Draft.
Although Spielman, Minnesota's general manager, expressed interest in playing the draft and moving around as he's done the past few seasons, this year's Vikings draft wasn't about making a splash. There were no dramatic first-round moves. Minnesota saw the player it wanted, which typically filled a need, and didn't get fancy.
Michigan State cornerback Trae Waynes, considered by many the top defensive back in the draft, was there at No. 11. Spielman had offers to trade back. Instead, there was no tinkering. Waynes is the latest cornerback project for Vikings coach Mike Zimmer.
"We had Trae Waynes very high on our draft board and some of the offers that we potentially had to trade down, we didn't feel that the value was there," Spielman said after selecting Waynes. "So, as much as you like to do some movement and things like that, when there is a player there that you covet, and figuring how far you can move down and potentially losing that player, it's not always worth it just to make a trade to make a trade."
If the past three years were about Spielman's draft strategy, 2015 might most represent Zimmer.
There was no sizzle, no spectacle -- just adding talent and upside in key spots.
A day after Waynes was added to Zimmer's secondary, No. 45 came along and UCLA linebacker Eric Kendricks was there for the Vikings. Again, there was no overthinking the process. Minnesota had a need at linebacker, and Kendricks was the best available player. The instincts, the athleticism, the versatility all fit Zimmer's defense.
Versatility was an important factor.
"Anytime you can get guys that maybe or potentially can play multiple positions or do multiple things with, it just gives coaches that many more tools to work with and that many more opportunities to tweak things within the scheme," Spielman said. "Coach Zimmer and the staff are great at identifying strengths of each player, and then trying to adjust the scheme according to what these guys can and can't do. We value it very highly."
Kendricks, according to Spielman, can play middle and weakside linebacker. Waynes is strictly a cornerback but adds another speedy player with length at the position to pair with Xavier Rhodes. Even staying at cornerback, Waynes allows Zimmer to vary his schemes.
"When you don't have to worry too much about the corners -- these guys got them covered -- you don't have to give them much help, you don't have to cheat the coverages, you can do numerous things that allow you to attack offenses," Zimmer said after drafting Waynes. "But when you have to help a guy or protect a guy, use some more of your guys than you really would like to, then it makes it more difficult."
Waynes and Kendricks were strong additions to Zimmer's defense, and the Vikings simply stayed put and took what came to them. Through two drafts with the combo of Zimmer and Spielman, 12 of the 20 selections have been on the defensive side. Before a third-day run on offensive linemen, a tight end and receiver, 10 of Minnesota's first 13 draft picks under Zimmer were on defense.
Nothing fancy, just adding where the Vikings needed the most help. Along with linebacker Anthony Barr, last year's first-round pick, Waynes and Kendricks should be foundational pieces for Zimmer on defense.
Even third-round pick Danielle Hunter shows the Zimmer approach. Not overly productive at LSU and small for a 4-3 defensive end (he's just 252 pounds), Hunter has the tools to develop. Spielman described Hunter as an "Anthony Barr-type" athlete.
Spielman made a few minor moves. Hunter was drafted after Minnesota dropped down twice in the third round. Spielman still ended up with his preferred 10 selections for the third time in four years.
"They're pretty prolific up there," Zimmer said of Spielman and the team's scouting and personnel staff.
Value led to a run of offensive linemen on the third day. Minnesota had a need to add more along the offensive line, and potentially a starting left guard. With the defense addressed, Spielman could go to work on the offense.
Pittsburgh tackle T.J. Clemmings was seen by some as a possible first-round pick if not for a foot injury discovered at the combine. Spielman and the Vikings didn't have to move around. Clemmings was their first pick of the fourth round. Oklahoma tackle Tyrus Thompson and Alabama tackle Austin Shepherd -- who will figure in at guard for the Vikings -- added more competition along the offensive line.
A productive, athletic tight end, another receiver, and some more defensive help -- check, check, check.
This time around, Spielman and the Vikings didn't need to get elaborate to help themselves.
Follow Brian Hall on Twitter
---