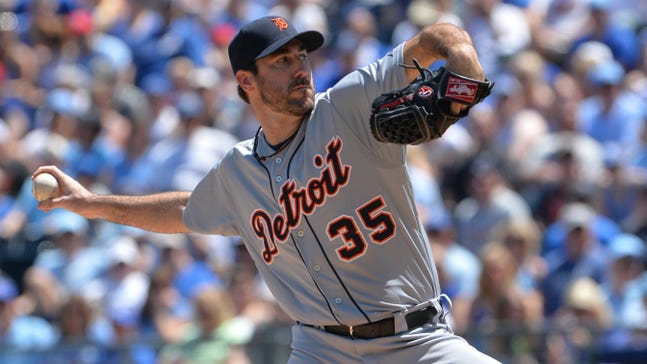 Verlander wins fourth straight, leads Tigers over Royals
Updated
Mar. 4, 2020 5:56 p.m. EST

KANSAS CITY, Mo. (AP) -- It was little surprise that Billy Butler broke up Justin Verlander's no-hit bid Sunday.
The Detroit ace was cruising until Butler's two-out single in the sixth inning of Tigers' 9-4 win over the Kansas City Royals on Sunday.
Butler singled cleanly to right on a 1-2 pitch, leaving him with a .432 career average in 74 at-bats against Verlander.
"I didn't make a good pitch," Verlander said. "It was a fastball. I didn't throw a good one."
Kansas City's only runners before the single were Nori Aoki, who walked three times, and Alex Gordon, who walked once.
"You're never not aware of a no-hitter," Butler said.
Verlander won his fourth straight decision and the Tigers extended their winning streak to a season-high five games. He pitched no-hitters against Milwaukee in June 2007 and versus Toronto in May 2011.
"It always enters early on," he said. "But at the same time, there's a long way to go. It's going to be on your mind a little bit, but you can't let it be there too much. Because we've seen it a 100 times where a guy gives up a base hit in a tight ball game and they've got a no-hitter going and give it from there."
Verlander (4-1) allowed three runs, four hits and four walks in seven innings with seven strikeouts. Jarrod Dyson hit a two-run triple in the seventh and scored on a sacrifice fly by Aoki.
"There are ups and downs. Hopefully we'll get over it soon," Dyson said. "They swung the bats, and we didn't. We've just got to bring our 'A' game. It wasn't there all series."
Backed with a 7-0 lead, Verlander improved to 17-5 against the Royals, the best winning percentage (.773) among active pitchers with 10 decisions or more.
"We caught a team on fire," Butler said.
Nick Castellanos and Alex Avila homered for the Tigers, who had 16 hits, and Torii Hunter had three hits and three RBIs, extending his hitting streak to 11 games.
Rajai Davis and Andrew Romine also had three hits each. Davis raised his average to .337, scored three runs and stole two bases, raising his total to 11. Romine's three hits matched his career high.
Detroit is 5-0 against the Royals this year and has won seven of eight overall. Kansas City, outscored 26-8 in the series, is 0-4 this month after going 8-20 last May.
"I don't think it matters who is in first on May fourth," Butler said. "I'll just leave it at that."
Jason Vargas (2-1) gave up seven runs and 11 hits in five innings -- he's allowed 12 runs and 21 hits over 11 1-3 innings in his last two starts.
"We were patient and made adjustments," Hunter said. "Vargas is a guy that keeps you off balance with his good changeup and his fastball is kind of sneaky. Usually he's a thorn in our side. We just made some adjustments as a team and we prevailed."
NOTES: The Royals walked Victor Martinez intentionally twice Sunday and twice Saturday. ... Kansas City optioned RHP Aaron Brooks to Triple-A Omaha, a day after he gave up six runs and seven hits in two innings in his major league debut. The Royals activated LHP Tim Collins from the DL. ... Scherzer, the reigning AL Cy Young Award winner, is to start Monday against Houston as the Tigers open a seven-game homestand. ... The Royals begin a seven-game trip Monday at San Diego, where they are 0-6.
---