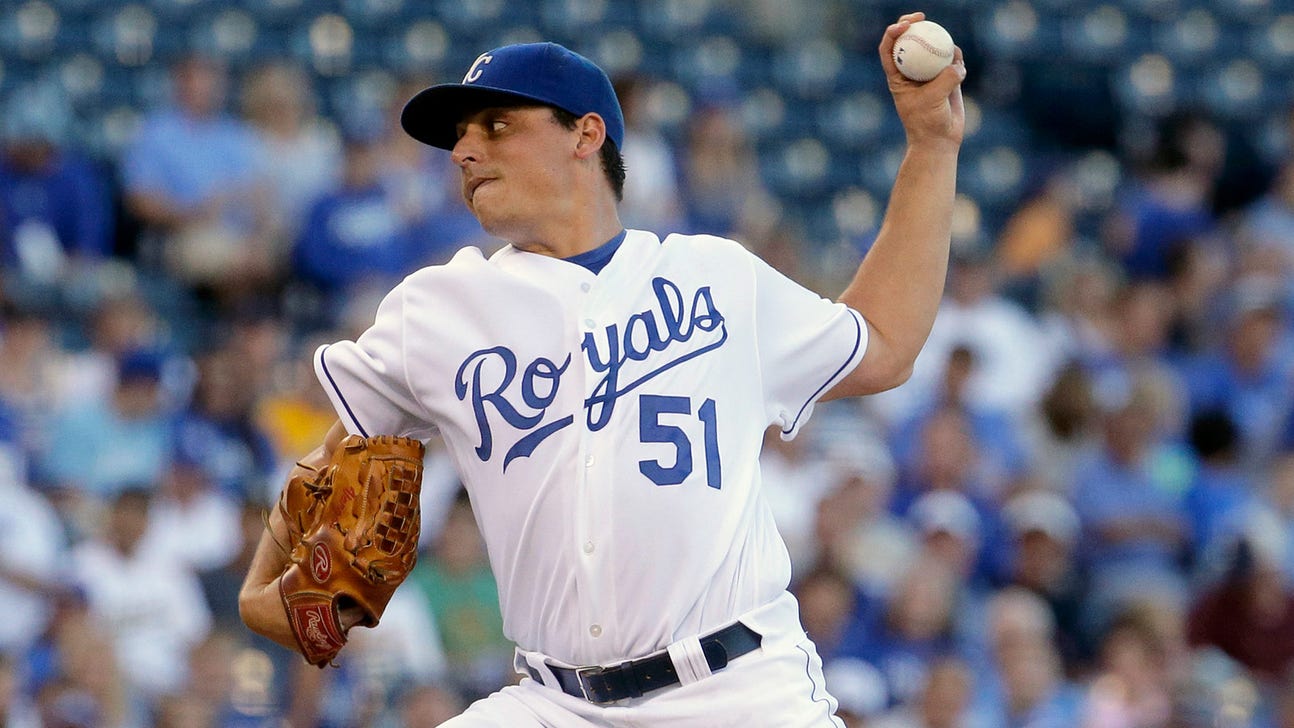 Vargas tosses three-hitter as Royals beat A's 3-0
Published
Aug. 13, 2014 10:36 p.m. ET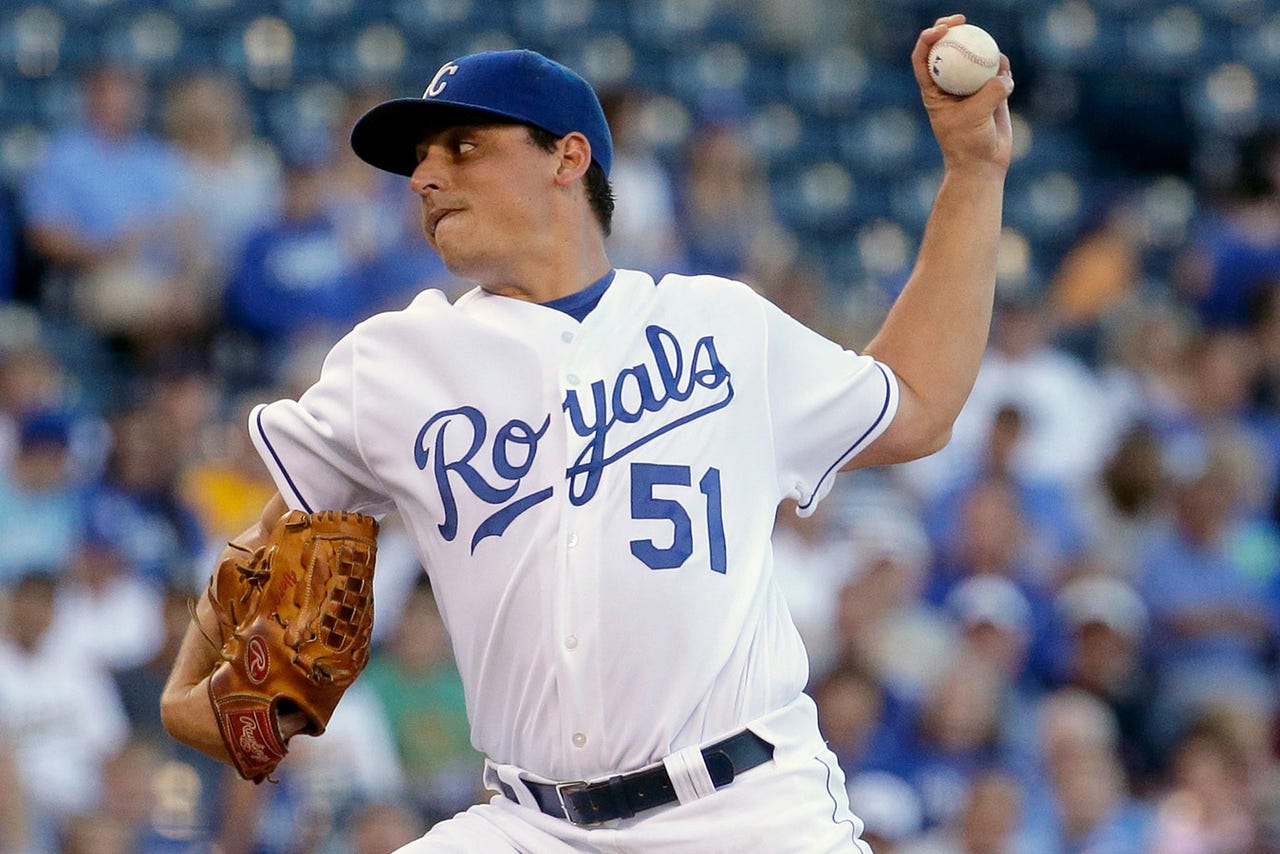 KANSAS CITY, Mo. -- The crowd roared as Jason Vargas emerged from the dugout for the ninth inning, the Kansas City Royals trying to hold onto a 3-0 lead over the Oakland Athletics in a matchup of playoff hopefuls.
Five pitches later, the crowd roared even louder.
Vargas finished off his three-hitter with a flourish, breezing through the A's for his sixth career shutout. It was the second shutout by Kansas City starters in the past week and the third complete game over that stretch, a big reason why the Royals are leading the AL Central.
"That's what we want to do if we want to keep playing," said Vargas, who was making just his third start since going on the disabled list for an emergency appendectomy.
Vargas (9-5) retired the final 23 batters he faced, helping the Royals bounce back from having an eight-game winning streak snapped. They maintained their half-game lead over Detroit.
"If it's the first pitch or sixth pitch, you've got to be ready for contact for a pitch to show up in your area," said Josh Donaldson, who had one of the A's three hits. "He did a good job of keeping us off balance all night."
Omar Infante hit a two-run homer and Salvador Perez drove in the other run off Scott Kazmir (13-5), who lost to Kansas City for the second time in 10 days.
Vargas allowed four runs over 4 1/3 innings against Oakland in his first start off the disabled list, and two runs over five innings against San Francisco his last time out. But on a mild evening at the K, he looked like the dominant left-hander of earlier this season.
Mixing his pitches and catching the corners, Vargas wiggled out of a jam in the first inning and gave up a single leading off the second before muzzling Oakland the rest of the way.
Vargas needed only 92 pitches over eight innings, so manager Ned Yost sent him out for the ninth rather than turn it over to All-Star closer Greg Holland. Five pitches later, he had his first shutout since last September, when he beat Oakland 3-0 as a member of the Angels.
"He got back to being how he was," Yost said.
Meanwhile, the Royals were giving Vargas more than enough offense.
After leaving runners on the corners in the first, Kansas City broke through in the third when Nori Aoki cracked a one-out single and Infante sent a 2-0 pitch into the left-field bullpen. It was his sixth homer of the season and his first since June 27.
The Royals left another runner on third in the fourth, but managed to manufacture a run in the fifth. Christian Colon led off with a single, Aoki laid down a sacrifice bunt and Infante managed to beat the throw on an infield single before Perez hit a lazy sacrifice fly to right field.
Kazmir wound up allowing seven hits and a walk over seven innings.
"You just have to keep after it," A's manager Bob Melvin said. "At times, you're going to get well-pitched games against you and today was one of those. I don't think our approach was any worse today than it was yesterday. It was counteracted by a guy that pitched a great game."
TURN OUT THE LIGHTS
The game lasted 2 hours, 6 minutes, the shortest for Kansas City since Sept. 10, 2011.
LEFTY HUNTER
Aoki went 2 for 3 against Kazmir, raising his average to .358 against left-handers this season. Kansas City is also 29-9 in games in which he scores.
A'S SHUTOUTS
Oakland has been shut out six times this season, twice by the Royals. The Rangers' Martin Perez and the Tigers' Rick Porcello have thrown shutouts.
TRAINER'S ROOM
Athletics: SS Jed Lowrie remained in the lineup despite a fractured right index finger. ... 1B Kyle Blanks (calf strain) planned to play at Triple-A Sacramento on Wednesday as he rehabs.
Royals: 1B Eric Hosmer will have an X-ray Thursday on the broken bone in his right hand to determine whether he is ready to start rehabbing it. He's been out since July 31.
UP NEXT
Athletics: Jeff Samardzija makes his second career appearance against Kansas City, the first a relief appearance in a 3-2 loss on Jun 25, 2011, when he was still with the Cubs.
Royals: James Shields is coming off his first shutout with the Royals, a 5-0 win over San Francisco. He carried a shutout into the sixth in a win over Oakland on Aug. 3.
---