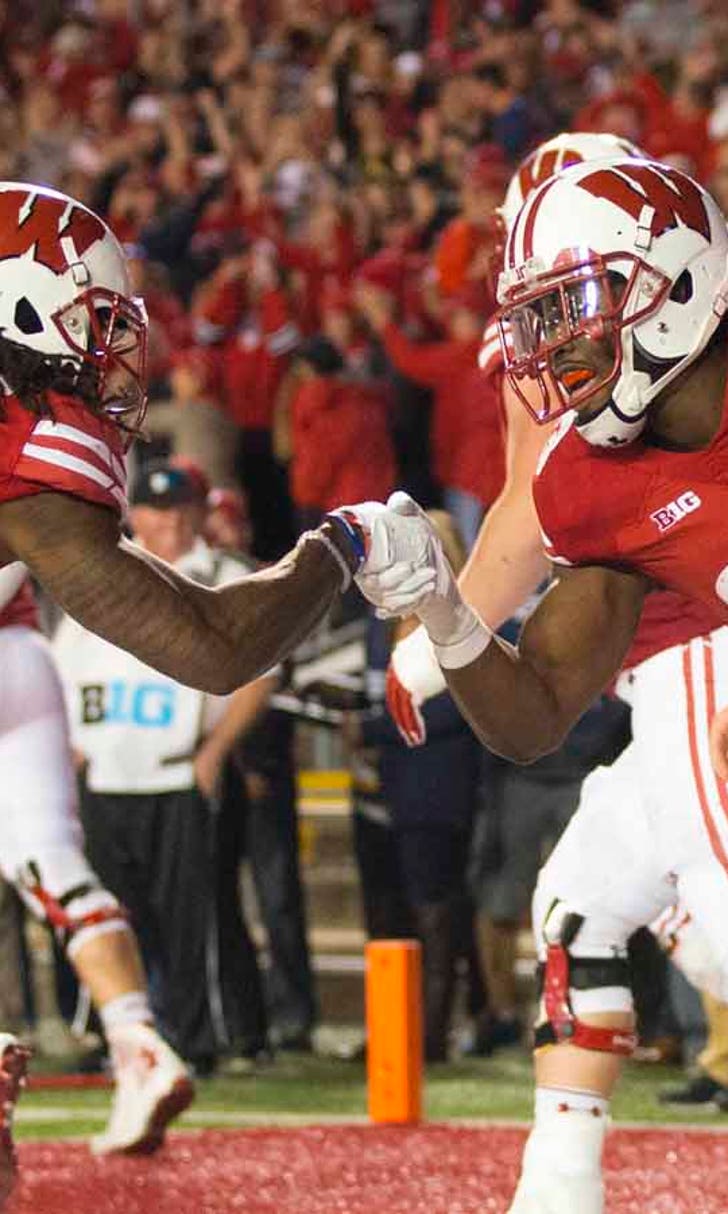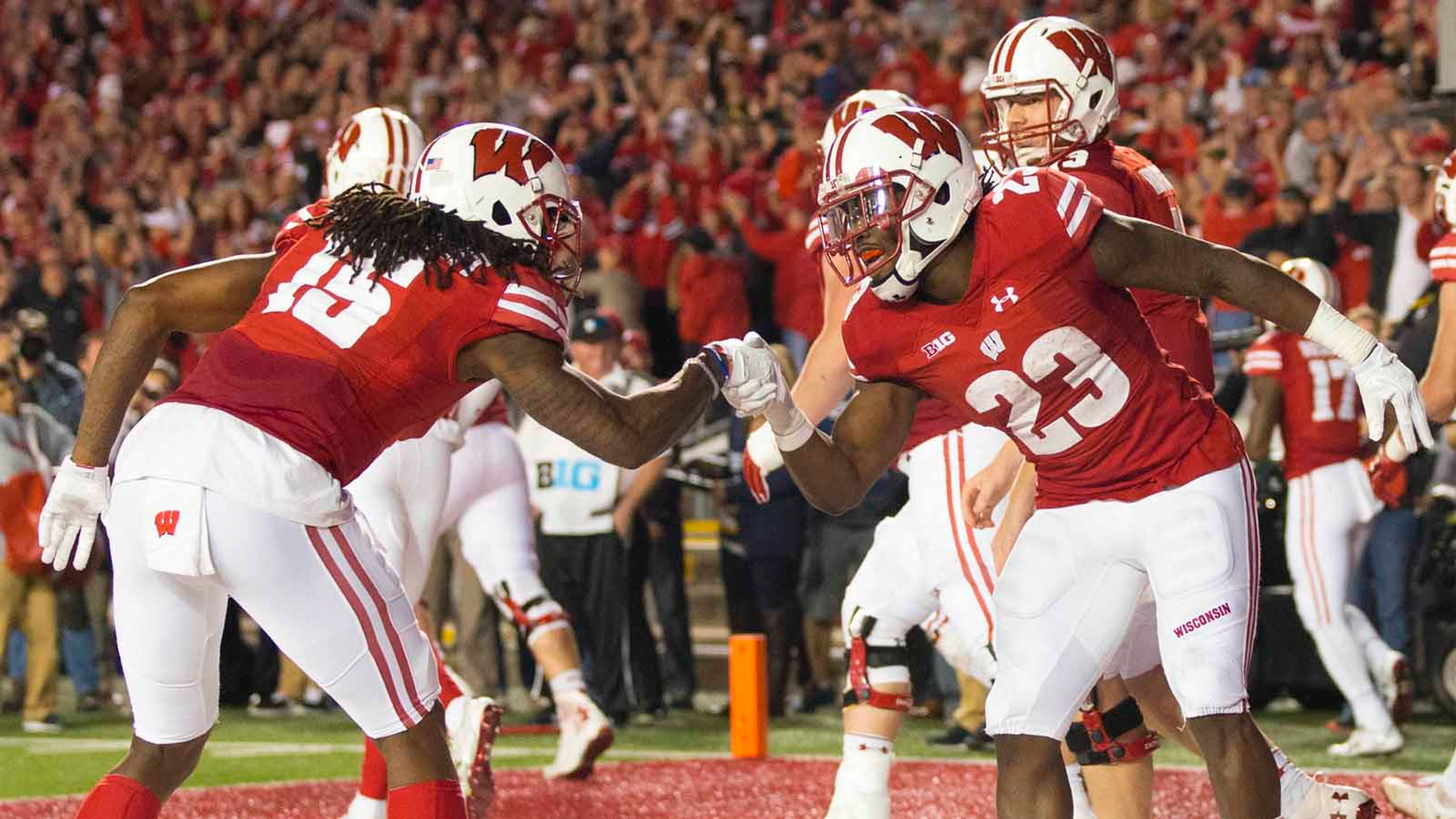 Upon further review: Wisconsin vs. Nebraska
BY foxsports • November 15, 2016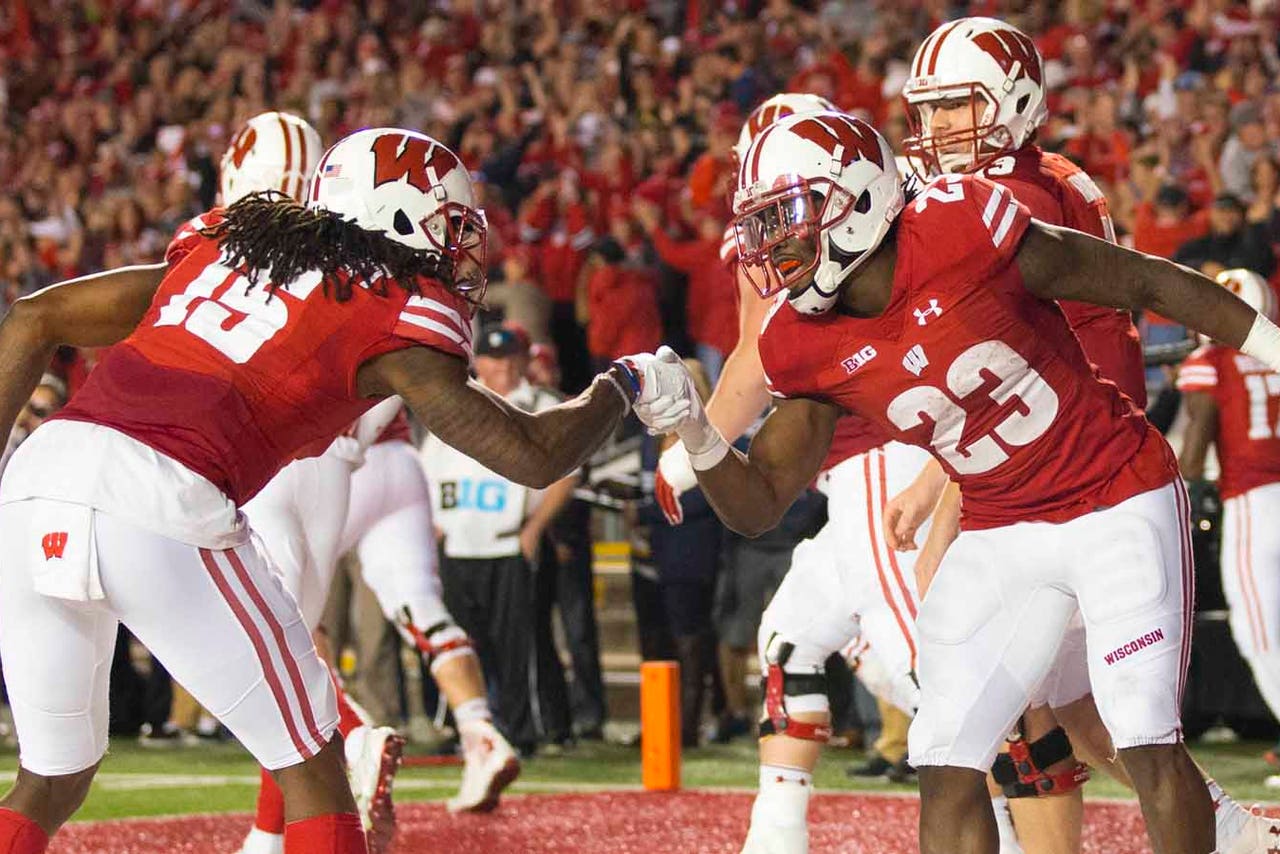 At one point, Wisconsin didn't deserve to beat Nebraska.
The 11th-ranked Badgers made a litany of mistakes and poor decisions late in the third quarter and in the fourth quarter in blowing a lead to No. 7 Nebraska, which was able to send the game into overtime.
The Badgers might not be built better for OT than the Cornhuskers, who have a mobile quarterback and a proven kicker, but Wisconsin was able to win in the first overtime, 23-17, thanks to getting back to what it does best: running the ball and making big plays on defense.
A recap of Saturday's game:
CLASS LESSONS
-- While Corey Clement had trouble for much of the game trying to gain yards on the ground, Dare Ogunbowale had a lot of success. Why? Head coach Paul Chryst noted that Wisconsin hadn't run out of its three wide receiver set this year. The surprising move worked against Nebraska, obviously.
-- Well, here we go again. Alex Hornibrook started at quarterback but after five drives which produced a touchdown but four three-and-outs, Bart Houston entered. Houston conducted the next two drives: seven plays resulting in a field goal and nine plays before a punt. Hornibrook started to open the second half and led Wisconsin on an impressive 13-play, 73-yard TD drive. But his next two drives were a three-and-out and then he was intercepted following a poor decision and throw. Houston re-entered and he, too, made a poor decision and throw which was picked off. But Houston remained in for the final drive of regulation (five plays, 49 yards) and was the choice to lead the Badgers in overtime, although he didn't throw a pass after the interception.
-- The Badgers' defense has been all over the field this season, especially good at flowing to the ball on run plays. Against Nebraska, Wisconsin's pass defense stood out. The team had 10 pass break ups -- the most for UW since Sept. 10, 2011 against Oregon State -- and none was bigger than the final play of the game. Tommy Armstrong Jr. lofted a pass to Stanley Morgan Jr., who had gotten by Sojourn Shelton, in the end zone, but safety D'Cota Dixon ran over and knocked the pass away to salvage the victory.
-- On Ogunbowale's touchdown in overtime, Michael Deiter had a great pulling block and Ogunbowale cut through the ensuing hole and into the end zone.
-- Speaking of overtime, what exactly was Nebraska's plan? They had trouble running inside all game and have a mobile quarterback, which can be trouble for defenses near the red zone, yet the Huskers decided to run inside on each of their first two plays in OT. Bad move.
-- Corey Clement was Wisconsin's punt returner on Nebraska's first three punts with mixed results. While Clement did have a good 24-yard return, helping set up Wisconsin's first touchdown, he also had a sketchy fair catch at UW's 10. After that last one, Jazz Peavy was the Badgers' punt returner the rest of the game.
-- Nebraska tried to mount a scoring drive to end the first half but Garret Dooley snuffed that out with a sack. The play was Wisconsin's first tackle for loss in the game.
-- Wisconsin went conservative late in the fourth quarter. After Clement finally busted one loose for 41 yards to get into Nebraska territory, the Badgers kept it on the ground and couldn't get a first down, forcing inexperienced Andrew Endicott to attempt a 45-yard field goal, which he pushed left, no good.
-- Endicott also missed what could have been a crucial extra point in overtime. How's his confidence? We'll have to wait and see. Wisconsin does have redshirt freshman Zach Hintze on the roster, but there's never been talk of using him (yet).
-- Troy Fumagalli had a drop on third down on Wisconsin's first series, but Hornibrook showed confidence in the tight end with a 30-yard completion to Fumagalli on Wisconsin's first play on its next drive.
-- Bradrick Shaw had a 21-yard touchdown run on Wisconsin's second series of the game then got just one more carry. Have to wonder what Shaw needs to do to get more carries.
DULY NOTED
-- There were 15 combined drives in the first half, only three of which lasted three minutes or longer, with a long of 3:22.
-- Although Conor Sheehy started, freshman Garrett Rand appeared to get more playing time with Olive Sagapolu sidelined. Rand finished with two tackles.
-- Rob Wheelwright's touchdown reception was the first by a Badgers wide receiver not named Jazz Peavy.
-- Wisconsin had just one accepted penalty for 5 yards; Nebraska had two for 10. The refs made a point early in the game that they were going to let the teams play when they ignored potential taunting and pass interference penalties on Nebraska.
-- Leon Jacobs, who began the year at fullback and had just nine tackles this season entering the game, had 11 tackles.
-- Wisconsin's last overtime win at Camp Randall Stadium was Sept. 12, 2009 against Fresno State. The Badgers' last OT win was vs. Auburn in the Outback Bowl on Jan. 1, 2015.
WHAT IT MEANT
Wisconsin proved it could win a big game, and one in overtime at that. In the big picture, the Badgers remain alive for the Big Ten West title -- UW will need to win out and have Nebraska lose (the Huskers play at Ohio State, vs. Minnesota, vs. Maryland and at Iowa). And if you are holding out hope for Wisconsin making the college playoff, well, no matter how slim the chances, there is still chance. Now, about that quarterback situation . . .
PLAYER OF THE GAME
We mentioned above why Dare Ogunbowale might have had some success against Nebraska, but that wasn't the only reason. Ogunbowale has struggled some this season, but against the Huskers he showed his best vision running the ball all year. He showed good burst through the line -- especially on his touchdown run in overtime -- and made some good cuts in finishing with 120 yards on 11 carries. That total is his second-best at Wisconsin. Last year he had 155 yards against Minnesota, although that came on 33 carries.
DON'T FORGET ABOUT ME
With Jack Cichy out for the season and Chris Orr already lost way back in the opening game, Ryan Connelly got his chance to start at inside linebacker. Connelly had an opportunity earlier this year when he got a lot of playing time vs. LSU with T.J. Edwards out and Orr hurt. He did well in that game, but that even paled in comparison to his performance against Nebraska. Connelly had a game-high 11 tackles (tied with Leon Jacobs for the most) with two of Wisconsin's three tackles for loss and two pass breakups. Not bad for a junior former walk-on who had 27 total tackles at Wisconsin entering this game.
THAT MOMENT
Wisconsin was in a precarious position in overtime, facing a Nebraska team with a mobile quarterback and a solid kicker. Thus, the Badgers really needed to prevent a touchdown. On second down, Connelly broke though the line untouched and stopped Terrell Newby for a 1-yard loss. With the Huskers facing third-and-8, they were forced to resort to passing the ball -- just the strategy Wisconsin wanted with an erratic quarterback like Armstrong.
THIS NUMBER
3 -- number of wins for Wisconsin against top-10 teams (at the time of the game) this season, the most in any season in school history. Paul Chryst also has the same amount of wins against top-10 teams with the Badgers than Bret Bielema (3-7) and Gary Andersen (0-3) combined.
THEY SAID IT
"I thought with what we might need he gave us the best chance. But really both could have gone in, just kind of stayed with him rather than picking one over the other." -- head coach Paul Chryst
"We were in the same predicament two weeks ago, we know how to finish it out." -- cornerback Sojourn Shelton
"We knew we had to get it done. This was a big game for us, a big night. The fans being great energy for us, it was time for us to bring great energy." -- running back Dare Ogunbowale
WHAT'S NEXT
Wisconsin plays at Northwestern, where the Badgers haven't won since 1999. Wisconsin has played in Evanston, Ill., just four times since that last victory, but in each of those games the Badgers were ranked. The Wildcats are 4-4 but 3-1 in their last four and are coming off a close loss at Ohio State.
Dave Heller is the author of the upcoming book Ken Williams: A Slugger in Ruth's Shadow as well as Facing Ted Williams Players from the Golden Age of Baseball Recall the Greatest Hitter Who Ever Lived and As Good As It Got: The 1944 St. Louis Browns
---
---