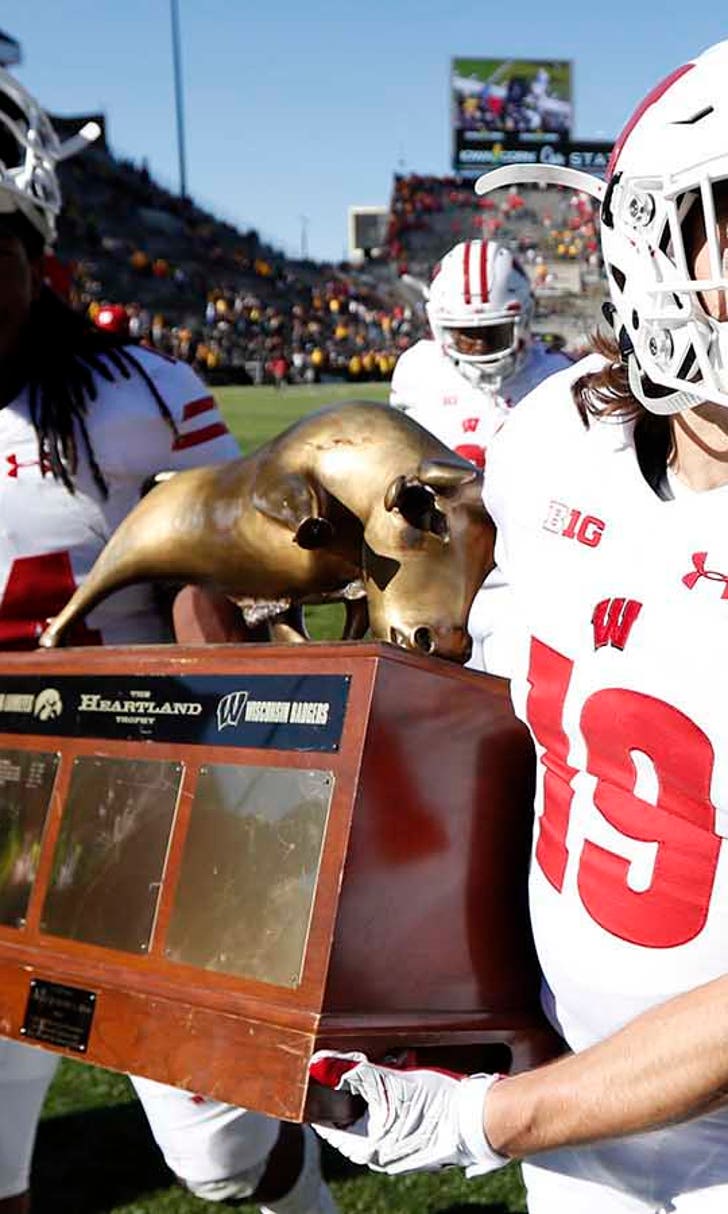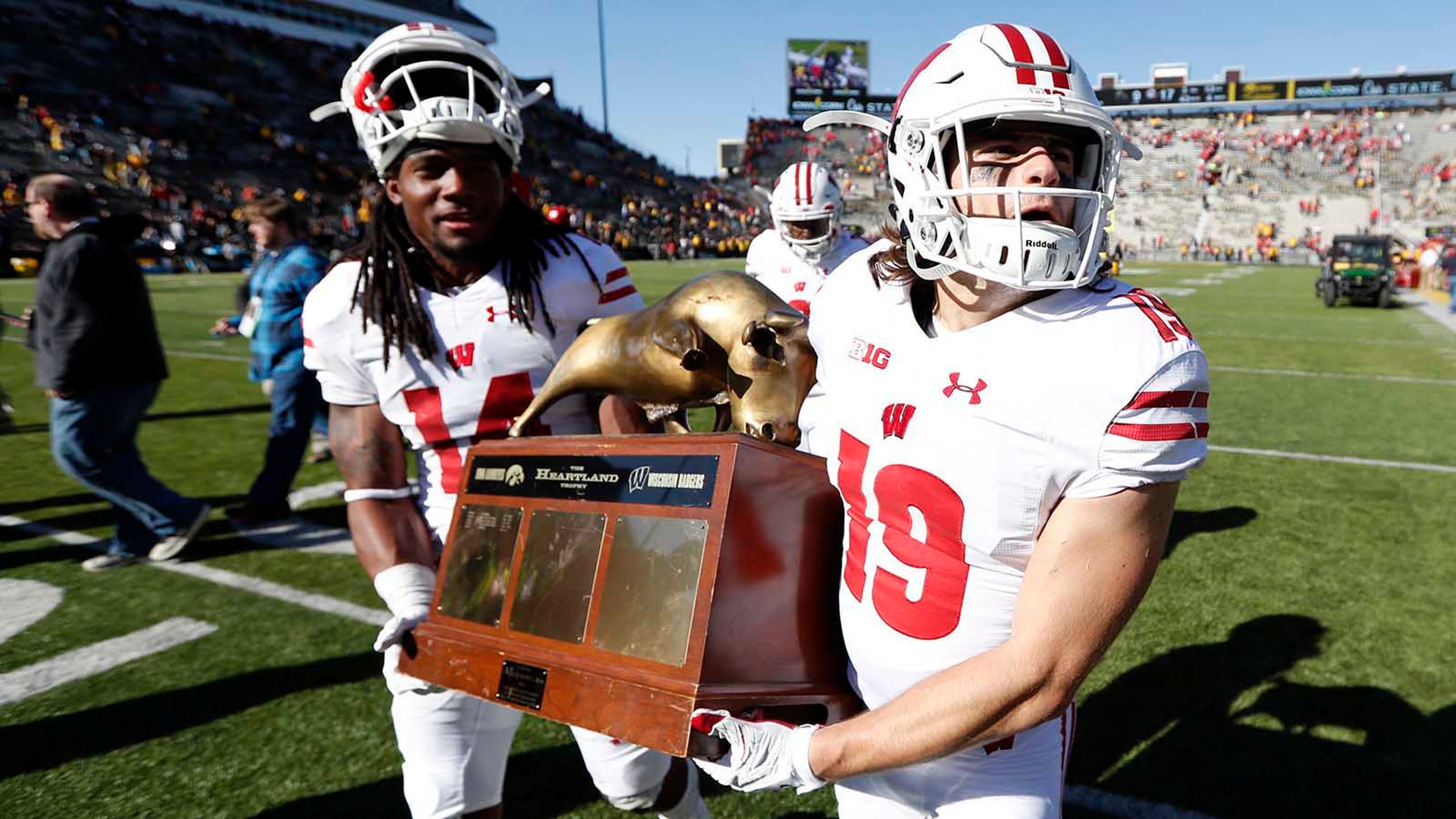 Upon Further Review: Wisconsin at Iowa
BY foxsports • October 23, 2016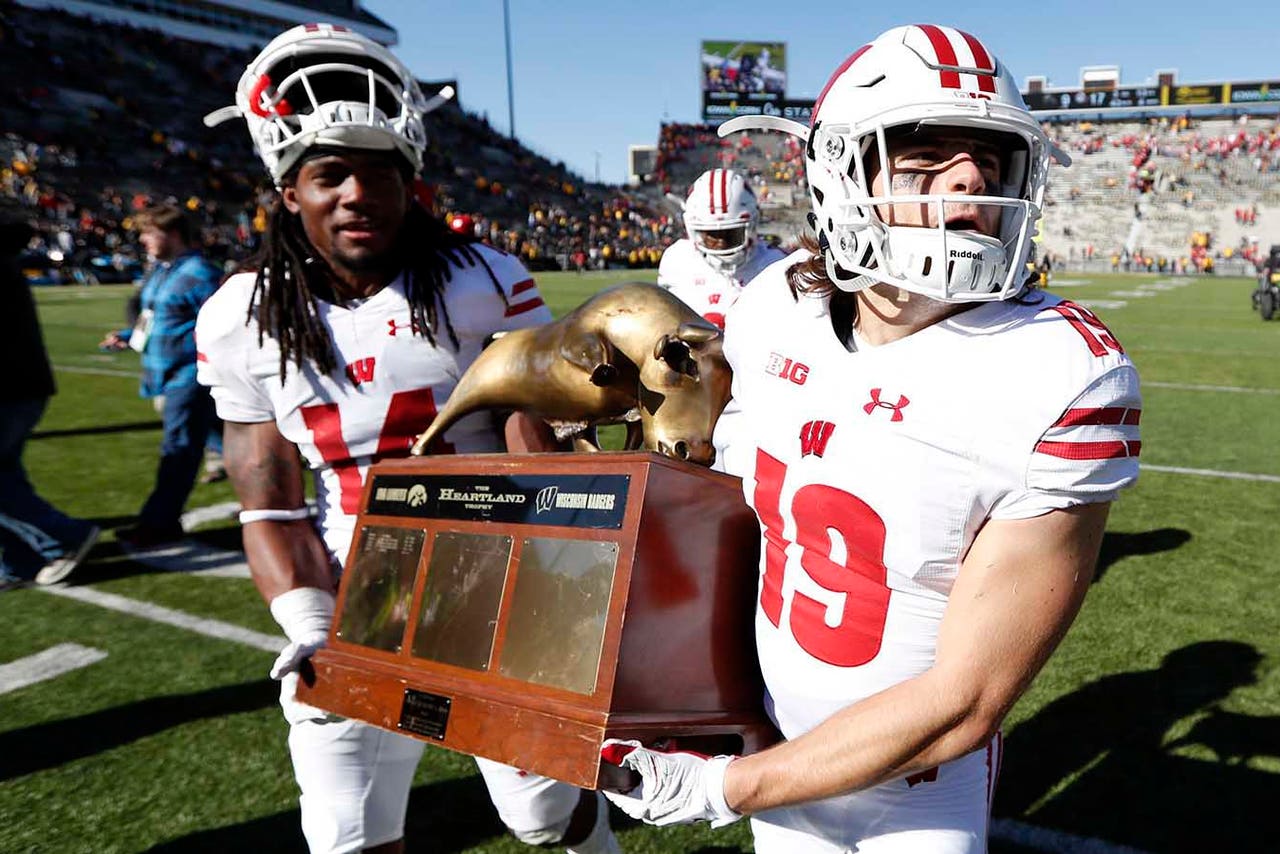 Wisconsin-Iowa was expected to be a low-scoring, physical game. We got that.
What we didn't expect was that the Badgers would use two quarterbacks -- willingly.
Wisconsin's defense turned in another stellar effort, perhaps its best of the season, Corey Clement rushed for 134 yards -- mostly in small bursts -- and Alex Hornibrook and Bart Houston combined to throw for 256 yards without turning the ball over in beating the Hawkeyes 17-9 in Iowa City.
It wasn't a perfect effort by the Badgers. UW dominated the stat sheet but two missed field-goal attempts and a fumble by the goal line kept this one close.
This was a much-needed win for Wisconsin, which had lost two straight and is still on course for a strong finish.
A recap of Saturday's game:
CLASS LESSONS
-- In a very talked-about move, Houston entered the game for the first series of the second quarter -- a planned move, according to head coach Paul Chryst -- and promptly led Wisconsin to a touchdown, connecting with Troy Fumagalli, who made a great effort in completing the 19-yard score. Houston completed all three of his passes on that series and would get another chance in the fourth quarter, driving Wisconsin from its 20 to the Iowa 43 before the Badgers had to punt. Chryst indicated in his postgame press conference that this would not be a one-game thing.
-- Quarterback wasn't the only position where Wisconsin made in-game changes. Once again, the Badgers rotated their offensive line. Jon Dietzen didn't start, but saw a lot of time at left guard. Michael Deiter, who started at left guard would move to center. Right guard and right tackle were constantly in flux, with Beau Benzschawel and Micah Kapoi splitting time in the interior and Jake Maxwell and David Edwards on the outside. As with the QBs, Chryst indicated this will continue as Wisconsin mixes and matches for the right combination in different situations.
-- Besides the two quarterbacks, Wisconsin also unveiled Clement in the wildcat. He only gained 3 yards and took a hard hit on the play
-- In past games, Wisconsin's quarterbacks have had a tendency to get locked in on a couple of receivers, usually Jazz Peavy, Robert Wheelwright and/or Fumagalli. Against Iowa, eight different Badgers caught a pass with running back Dare Ogunbowale leading with four receptions.
-- A defender who takes risks can pay the price. After Kyle Penniston made his first reception since the Akron game, Desmond King went for the strip and missed, allowing Penniston to run scot free down the field for 54 yards, Wisconsin's longest pass play of the season.
-- Hornibrook has been pegged as not having as good an arm as Houston, but he dropped in a nice deep ball to Quintez Cephus for a 57-yard gain (quickly usurping Penniston for longest reception).
-- Clement tried to reach the ball over the goal line and fumbled, clearly a bad move since he lost the ball. It was made even worse by the fact Iowa was able to drive down the field and make a field goal (a 10-point swing), plus Jack Cichy was injured on a play tackling QB C.J. Beathard. Cichy had nine tackles at the half and was basically useless in the second half trying to play with a brace on his shoulder.
-- Anthony Lotti had a good punt on a short field, pinning Iowa at its 7. But otherwise, Wisconsin's punting game left a lot to be desired.
-- The Badgers pretty much had the game in hand at 17-6 with roughly 1:30 left, but then made the questionable decision to kick the ball short -- every other P.J. Rosowski kickoff was a touchback -- and King took it from the goal line all the way to the Wisconsin 23, giving Iowa some life.
DULY NOTED
-- Clement's 35 carries are the most for a Badgers running back since Montee Ball had 39 against Ohio State on Nov. 17, 2012.
-- Clement had back-to-back 100-yard rushing games for the first time since his first two collegiate games, Aug 31-Sept. 6, 2013.
-- Just how good is Wisconsin's defense? These next few notes might help answer that question. First, Wisconsin's defense has now allowed zero or one touchdown in four of seven games.
-- Iowa started in Wisconsin territory three times and got just six points out of it. The Badgers' best starting field position was their own 46 after Iowa's onsides kick. UW had four starting positions from its own 34-42 and had a scoring opportunity on each drive (two touchdowns, two missed field-goal attempts).
-- Iowa had three drives of more than 20 yards: 31 (punt), 51 (field goal) and 60 (missed field goal). Wisconsin had eight drives of more than 20 yards.
WHAT IT MEANT
Wisconsin beat a longtime rival, claimed some trophy with a pig on it or something and perhaps most importantly remains in contention for the Big Ten West title.
PLAYER OF THE GAME
If there was ever a team effort this might have been it. While that might make it tougher to pick an MVP, we're not going to cop out and just give it to the team or defense. With that out of the way, the (tough) choice is linebacker Garret Dooley, who perhaps epitomized the defense. Back as a substitute with Biegel, back Dooley nevertheless got his share of snaps and recorded seven tackles, tied for second most on the team, with 2.5 tackles for loss and .5 sacks. Wisconsin had no tackles for loss until the third quarter, when Dooley wasn't fooled by a trick play and tackled wide receiver Riley McCarron for a 5-yard loss. Late in the quarter he stuffed LeShon Daniels for a 3-yard loss on a third-and-1 play and in the fourth quarter he and T.J. Watt shared a sack. Dooley, a junior, has finally been given a chance and is making the most of it.
DON'T FORGET ABOUT ME
Staying along the line of opportunity, Lubern Figaro certainly stepped up. A starter as a freshman and benched as a sophomore, it would be easy for Figaro to be down or have transferred. But when the opportunity presented itself against Iowa, Figaro was more than up to the task. After Derrick Tindal left with an injury, Figaro was pressed into service. And Iowa knew he was in the game as Beathard tried to test Figaro by throwing often in his direction. But Figaro played well and didn't allow any big receptions as he finished with four tackles, a pass broken up, forced fumble and quarterback hurry. All in all an impressive effort in an emergency role.
THAT MOMENT
Up 14-6 late in the fourth quarter, Wisconsin was facing third-and-1 on its own 29-yard line. Don't get the first down and the Badgers would have to punt -- which hadn't gone well all day, meaning Iowa likely would have had decent field position to try and tie the score. But Corey Clement, who had been grinding out yards at just a 3.0 average, broke a tackle behind the line of scrimmage and busted loose for a 34-yard gain. That big run accomplished a lot: It got Wisconsin into Iowa territory and allowed the Badgers to run out a lot of clock and force Iowa to use all three of its timeouts. Oh, and the Badgers added a field goal to make it a two-possession game with just 1:24 left, essentially icing things (although it would get a little more interesting than Wisconsin would have liked).
THIS NUMBER
3.9 -- yards per play for Iowa. Wisconsin has allowed fewer total yards in a game this season, but this was easily the Badgers' best effort when it came to average yards per play. The previous best for Wisconsin this season was 4.6 yards per play against Michigan State.
THEY SAID IT
'That position - those two guys - got to do all they can for this team. And there's great examples around them, of guys doing that, of being unselfish and putting everything they have into it. I'm all right putting that on both those guys because they both can give us good stuff." -- head coach Paul Chryst on the two quarterback situation
"It's the Big Ten, two pretty big powerhouse football teams. We're going to play smashmouth football offensively and defensively. It was a battle in the trenches all day long and I think we got it done." -- linebacker T.J. Watt
WHAT'S NEXT
Next week ends what many thought before the season was as formidable a five-game stretch of any team in the country as Wisconsin hosts Nebraska in a 6 p.m. kickoff. This game will not only be another top-10 battle for the Badgers, but a key contest in deciding the Big Ten West.
Dave Heller is the author of the upcoming book Ken Williams: A Slugger in Ruth's Shadow as well as Facing Ted Williams Players From the Golden Age of Baseball Recall the Greatest Hitter Who Ever Lived and As Good As It Got: The 1944 St. Louis Browns
---
---