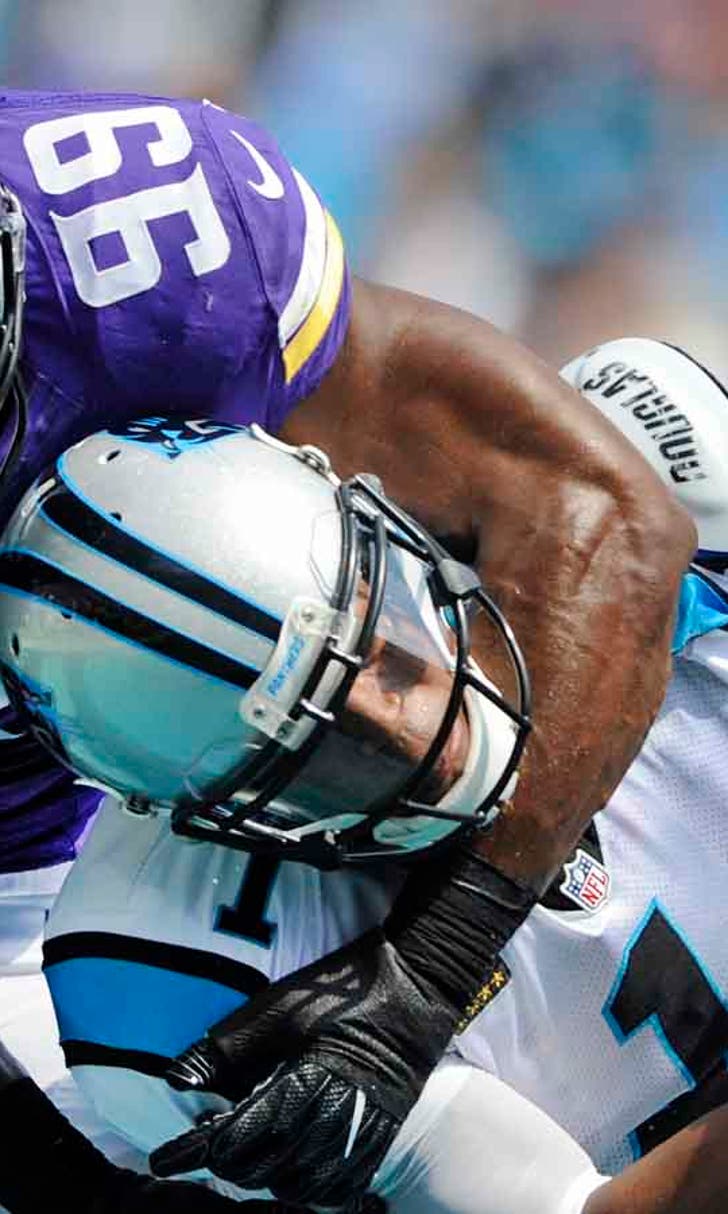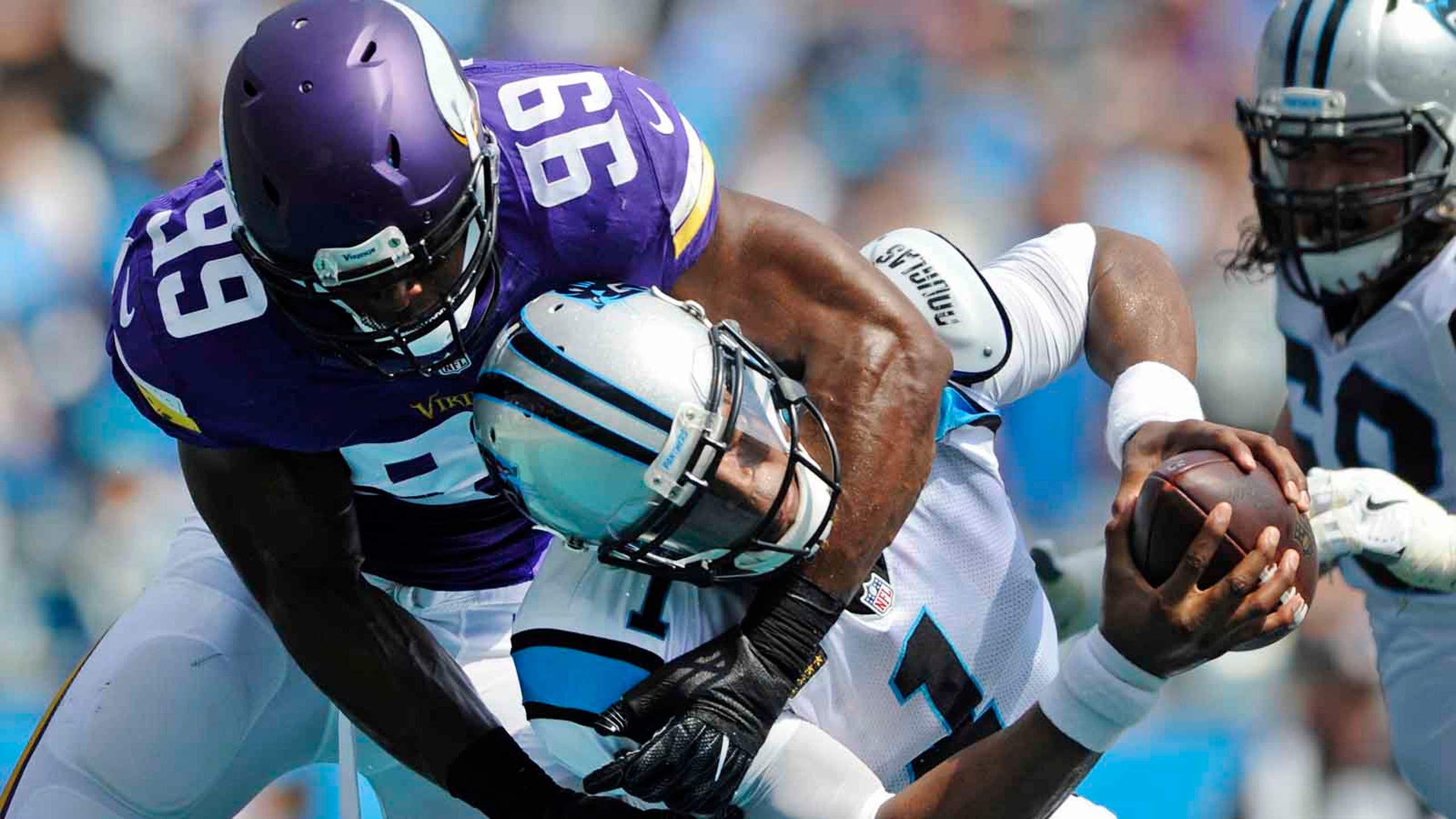 Upon Further Review: Vikings pummel Newton, Panthers
BY foxsports • September 26, 2016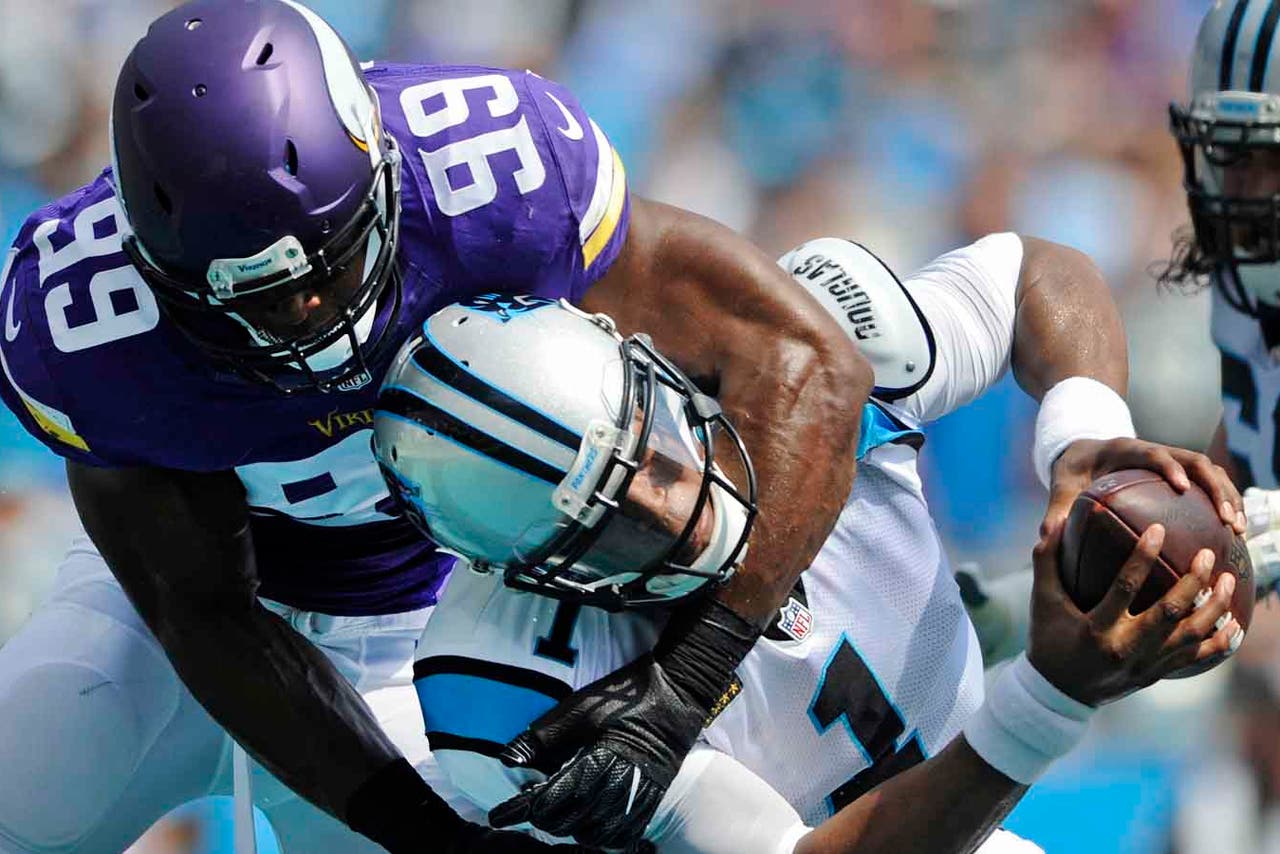 "Purple People Eaters" is taken, but Minnesota Vikings head coach Mike Zimmer's defense may need its own nickname soon.
Zimmer guided the Vikings to their third win of the season on Sunday, harassing reigning MVP Cam Newton into one of the worst performances of his young career, en route to a 22-10 win over the Carolina Panthers.
The flashy Panthers star looked the part in the first quarter on Sunday, completing his first eight passes and powering Carolina to a 10-0 lead.
Things went downhill for Newton and the Panthers pretty quickly after that.
Linebacker Anthony Barr did his own version of Newton's "Superman" celebration, cornerback Xavier Rhodes made top target Kelvin Benjamin a nonfactor and defensive end Everson Griffen racked up three of the Vikings' eight sacks on a huge day for the Vikings' defense.
Quarterback Sam Bradford, receiver Stefon Diggs and the Vikings' offense were solid if unspectacular in their first game without running back Adrian Peterson, while running back Jerick McKinnon filled in efficiently.
However, while Bradford and Diggs dominated the headlines in Week 2, it was all about the defense on Sunday.
SUNDAY SCHOOL
-- The pass rush was rolling, as six different players registered a sack.
-- Newton finished the game with a 47.6 passer rating, the fourth-lowest such mark of his career, and his worst rating since 2014.
-- Kicker Blair Walsh connected for a pair of field goals in the fourth quarter, but missed on extra point on his first kick of the day.
-- Sunday's win was just the fourth time tight end Kyle Rudolph has had at least 10 targets in a single game. He caught seven passes for 70 yards and a touchdown for the third-most productive game of his career.
-- Rudolph led the Vikings in receiving yards, as Bradford threw for 171 yards and a touchdown.
-- Newton targeted receiver Benjamin just once on Sunday. It was the first time Benjamin has been held without a catch in his career after he logged 199 yards and three touchdowns to start the season.
-- In what was likely just a bit of off-field gamesmanship by Zimmer and offensive coordinator Norv Turner, Matt Asiata was listed as the Vikings' starting running back on Sunday, but it was Jerick McKinnon who logged most of the carries. McKinnon had 16 carries to just six for Asiata.
-- Receiver Adam Thielen continues to impress. He hauled in a spectacular one-handed catch on third down in the fourth quarter, before being hit with a five-yard penalty for delay of game after spiking the ball.
-- Cordarrelle Patterson looked good on special teams, but was targeted just once in the passing game on an eight-yard screen.
DULY NOTED
-- The Vikings have allowed just 40 points on the season, the third-lowest total in the NFL through three games despite facing a pair of offensive units that have had tons of success in recent years. The Panthers led the league in points per-game last season (31.3), while the Packers held that title in 2014 (30.4).
-- First-round pick Laquon Treadwell was inactive once again, but after another lackluster showing from Charles Johnson he could find his way into the lineup again soon. Johnson was targeted just twice and dropped a sure reception on third-and-2.
-- Cornerback Marcus Sherels holds the team record with four career punt-return touchdowns after running back another score on Sunday. He's tied with Philadelphia Eagles running back Darren Sproles for the league lead since 2012, the year he recorded his first.
-- Bradford and his replacement in Philadelphia -- rookie Carson Wentz -- are the only undefeated quarterbacks in the NFC through three weeks.
WHAT IT MEANT
Sunday's win should alleviate any remaining concerns about the Vikings' ability to hang with the best teams in the NFC. The Vikings have manhandled two of the league's top quarterbacks so far this season, allowing a combined three touchdowns, to Newton and Rodgers, while forcing four interceptions and 13 sacks. Bradford was efficient if unspectacular, while McKinnon and Asiata moved the ball effectively on the ground.
PLAYER OF THE GAME
Griffen dropped Newton three times Sunday, powering through an illness to lead the Vikings' defense to a big win. Griffen helped ice the game late in the fourth quarter, hitting Newton and forcing an errant throw that was scooped up by Tom Johnson for the Vikings' third interception of the game.
DON'T FORGET ABOUT ME
Rudolph is experiencing the offensive breakout fans and coaches have long predicted. Bradford continues to make effective use of Rudolph's 6-foot-6 frame, and found him in the end zone again on Sunday. Bradford lofted a pass to the corner of the end zone, as Rudolph reached up and over Panthers linebacker Shaq Thompson for his second touchdown of the season.
THAT MOMENT
Carolina was rolling after kicking things off with a pair of impressive scoring drives in the first quarter, but second-year defensive end Danielle Hunter brought their momentum to a halt on the Panthers' third possession. Hunter overpowered offensive tackle Michael Oher at the line, before shrugging off center Ryan Kalil to sack Newton in the end zone for a safety and the Vikings' first score of the game.
THIS NUMBER
8 -- The Vikings' pass rushers piled on against the Panthers, swarming Newton eight times. There were standout performances in the secondary and in an number of individual matchups as well, but much of the Vikings' defensive success stemmed from their ability to put pressure on Newton.
THEY SAID IT
"I think our team believes. No one else believes, but I think our team believes." -- Mike Zimmer
"We have a great team, the best team I've been a part of." -- Everson Griffen
"Once we clicked and found that rhythm it was good for the rest of the day." -- Sam Bradford
"[Rudolph]'s a pretty good friend of a quarterback." -- Sam Bradford
WHAT'S NEXT
The Vikings will look to hold one of the NFL's most effective receiving corps in check in Week 4 when they host the Giants. New York ranks third in the NFL with 893 passing yards, while Odell Beckham Jr., Sterling Shephard and Victor Cruz are all averaging more than 50 receiving yards per game. 
Follow Ryan Lund on Twitter
---
---