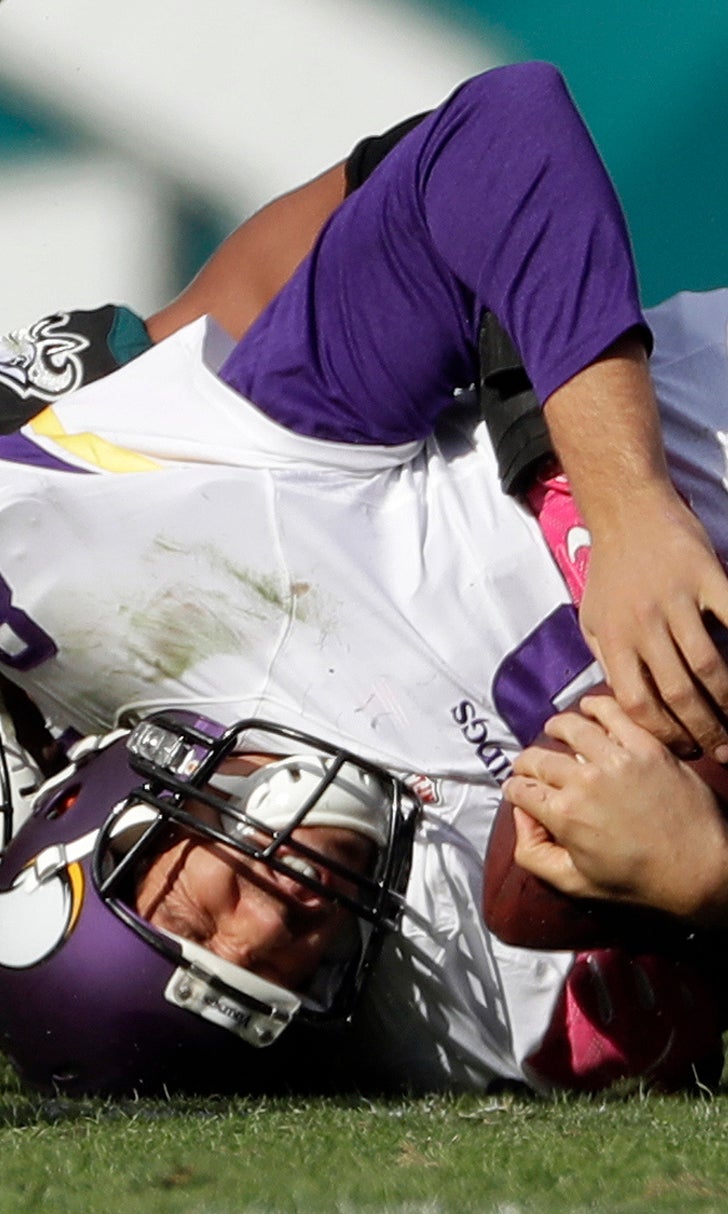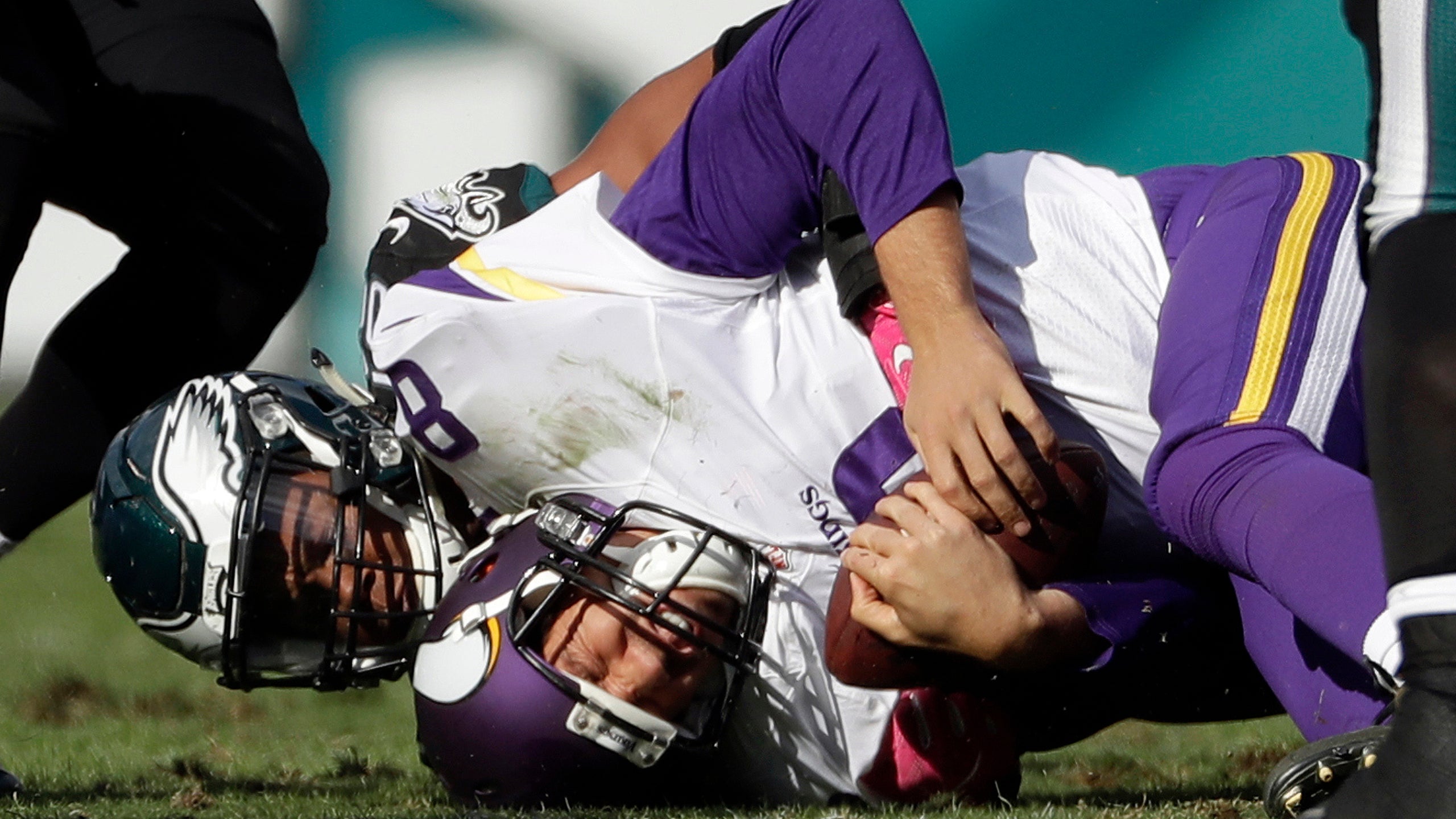 Upon Further Review: Offensive line falters in Vikings' first loss
BY foxsports • October 24, 2016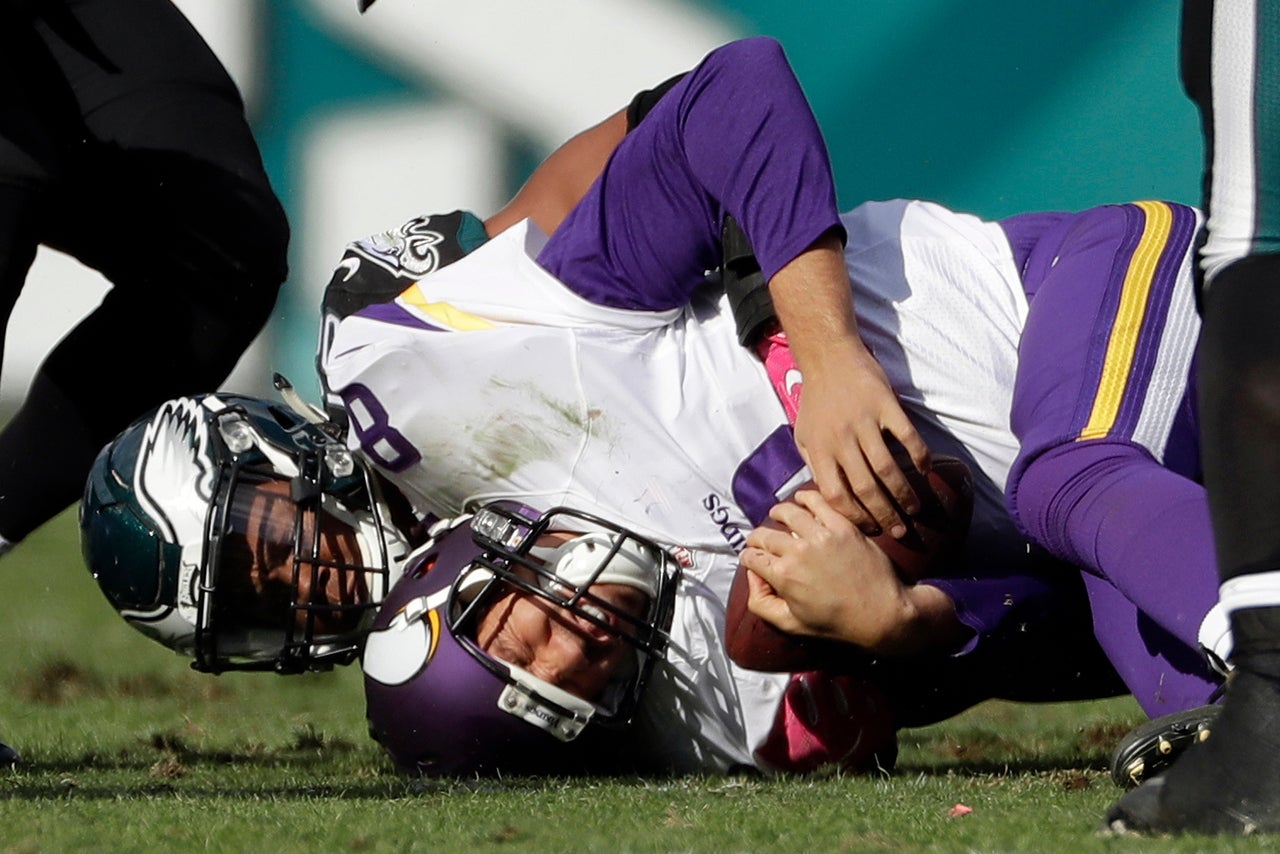 The Minnesota Vikings rolled through injury after injury en route to their undefeated record, suffering setbacks that would have hindered plenty of teams and derailed others completely.
Their luck was bound to run out eventually.
On Sunday, it did.
The Vikings were overwhelmed by the Philadelphia Eagles' defense, coughing up turnover after turnover and falling 21-10, a loss that was more lopsided than it appeared thanks to a garbage-time touchdown.
Sam Bradford's former team went to work, battering the Vikings' patchwork offensive line and forcing him into a series of fumbles and hurried throws.
Head coach Mike Zimmer was their harshest critic in his postgame press conference, calling it an embarrassing performance.
With that, let's recap what went right and what went so very wrong in the Vikings' only loss of the season so far:
SUNDAY SCHOOL
-- Bradford had his worst day as a Viking, completing just 24 of 41 passes for 224 yards, two fumbles, an interception and a late touchdown.
-- His two fumbles, as well as his red-zone interception, were his first three turnovers of the season.
-- Bradford came up limping but otherwise appeared to escape Philadelphia healthy despite taking six sacks, two of which resulted in fumbles. He was hit 11 times on the day.
-- Zimmer called his offensive line "soft" in his postgame comments, and it's an apt description. Left tackle Jake Long was overwhelmed in his first start for the Vikings, with both strip-sacks coming from his side.
-- Bradford may have held up, but Jerick McKinnon didn't. He left the game with an apparent ankle injury, but later returned.
-- The Vikings' offense was dismal, but their defense knocked Wentz around, picking the rookie twice.
-- Zimmer's defense recovered a fumble with less than five minutes to play and the game out of reach, leading to Bradford's lone touchdown pass at the other end.
-- Running back Ronnie Hillman made his first appearance as a Viking, playing just four offensive snaps.
DULY NOTED
-- Stefon Diggs had his worst game of the season with just receptions for 18 yards, 14 of which came on one play. Patterson, Adam Thielen and Kyle Rudolph had more. He hasn't had more than 50 receiving yards since his 182-yard explosion against the Packers, and has gone three games without a touchdown.
-- Cordarrelle Patterson's 14-yard touchdown catch was his second score in as many games. It's the first time he's scored in back-to-back games since Week 13 and Week 14 of the 2013 season, his rookie year.
-- Matt Asiata led the Vikings on the ground with McKinnon hobbled, picking up 55 yards on 12 carries. Most of his production came on a 29-yard scamper in the third quarter. He finished second on the team with six catches, picking up 25 yards.
WHAT IT MEANT
The Vikings' offensive line was porous on Sunday, a major concern for Zimmer and co. as they move forward. Long struggled at left tackle, while the rest of the line wilted when faced with an impressive Eagles pass rush. With just $50,000 in cap space to work with and missing their 2017 first-round pick following the Bradford trade, GM Rick Spielman likely doesn't have the flexibility to swing another blockbuster deal.
PLAYER OF THE GAME
Xavier Rhodes has quietly emerged as one of the best cornerbacks in the NFL. Wentz was just 2-for-5 for 18 yards while throwing towards Rhodes on Sunday, good enough for a measly 10.8 passer rating. Rhodes intercepted Wentz to finish off a wild sequence of five turnovers in the first quarter. More on that later.
DON'T FORGET ABOUT ME
Patterson's Vikings career appeared to be on the ropes when they declined to pick up his fifth-year contract option, but his contributions on both offense and special teams have been impossible to ignore this season. He was the Vikings' leading receiver with 67 yards and a touchdown on seven receptions, and once again impressed as a gunner on special teams.
THAT MOMENT
The Vikings and the Eagles took their defensive licks early, combining for a mind-boggling five consecutive turnovers in the first quarter. Not just five turnovers, but back-to-back-to-back-to-back-to-back turnovers. Andrew Sendejo kicked things off on the Eagles' second series of the game, intercepting Wentz and taking the ball all the way to their two-yard line. Bradford was intercepted in the end zone just three plays later. Anthony Barr then recovered a Wentz fumble, before a Bradford fumble was returned for a touchdown. The touchdown was called back, Bradford immediately fumbled again, and Rhodes snagged the interception that eventually led to a Vikings punt. Whew.
THIS NUMBER
4 -- The Vikings turned the ball over four times against the Eagles. Sam Bradford was responsible for three, while Marcus Sherels dropped another one on a routine punt return. It's the first time since Week 2 of the 2014 season that the Vikings have had at least four turnovers in a single game.
THEY SAID IT
"Embarrassing really is the word, in at least two of the phases, and I'm very disappointed in the performance we gave today." -- Head coach Mike Zimmer
"They played aggressively, they were blitzing a lot. I mean, I would too. We didn't pick up anybody." -- Head coach Mike Zimmer
"We shot ourselves in the foot a lot today. We got turnovers and then we turned the ball over." -- Defensive end Brian Robison
"We've got to go look at this tape and just keep getting better." -- Wide receiver Adam Thielen
"It's not the end of the world, but it's a loss and we have to treat it that way." -- linebacker Chad Greenway
WHAT'S NEXT
The Vikings have eight days to regroup before their matchup with the Chicago Bears on Monday, Oct. 31. The Bears are in turmoil following an injury to backup quarterback Brian Hoyer, who was filling in for starter Jay Cutler. Third-stringer Matt Barkley looked suspect in relief, and is on track to start if Cutler is held out again with a lingering thumb injury. If there's a cure for whatever ails the Vikings and their top-ranked defense, it's a date with the Barkley-led Bears.
---
---