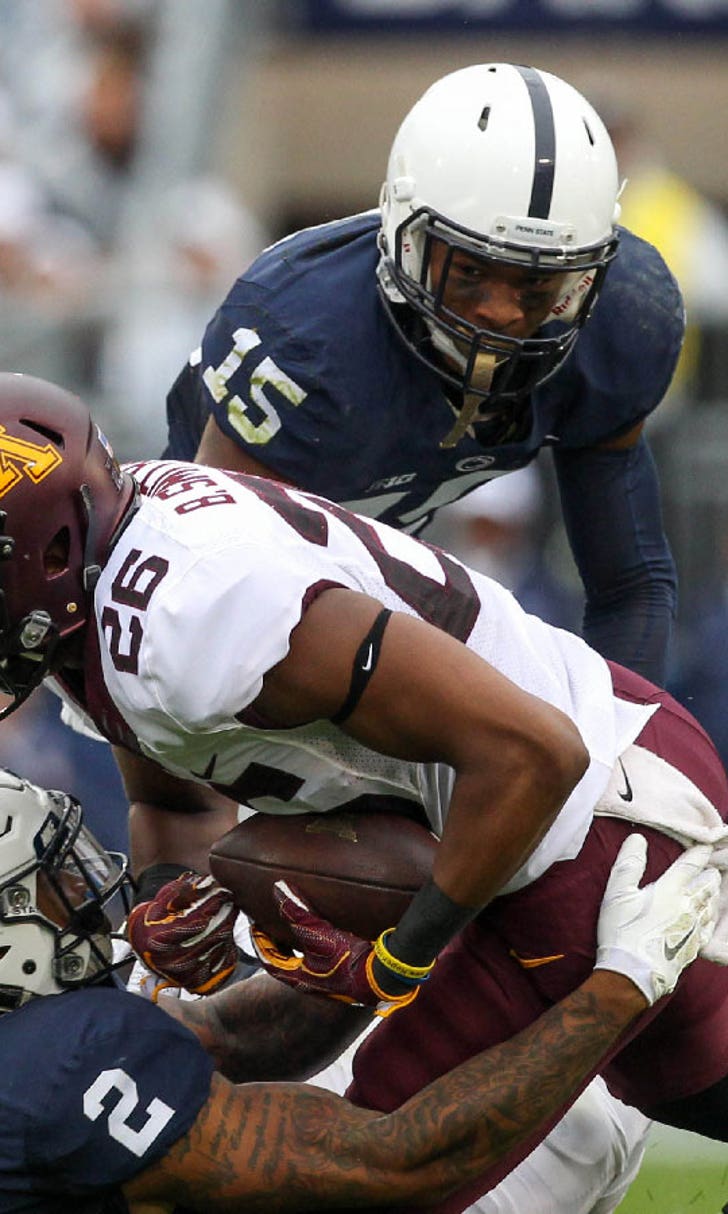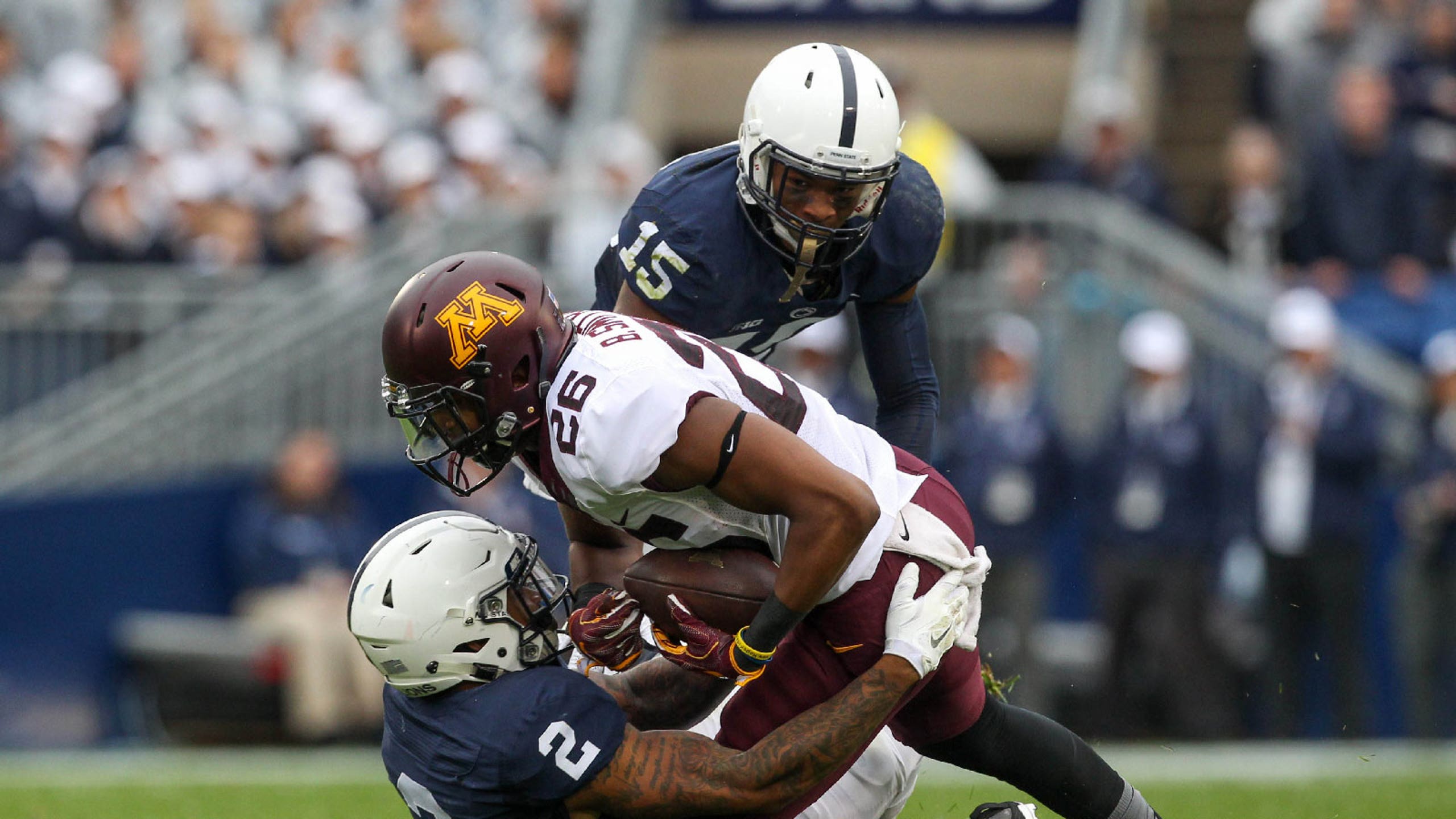 Upon further review: Minnesota at Penn State
BY foxsports • October 2, 2016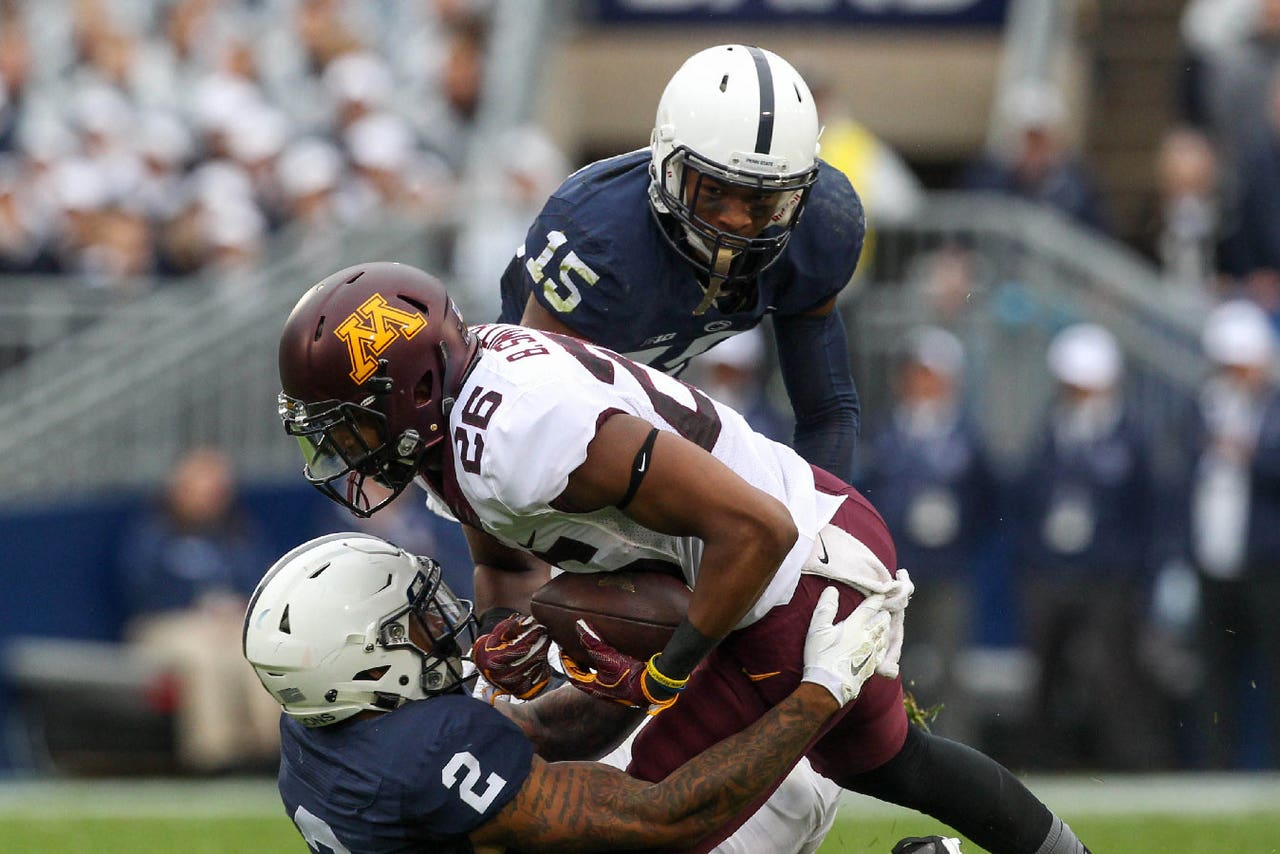 The Minnesota Gophers were 54 seconds from a 4-0 record Saturday, after kicker Emmitt Carpenter hit a 37-yard field goal to put them up 23-20 over Penn State.
The Nittany Lions did not let that happen, however, tying the game with a last-second field goal and winning with an overtime touchdown.
Penn State running back Saquon Barkley scored on a 25-yard rush on his team's first overtime play, leading the Nittany Lions (3-2, 1-1 Big Ten) to a 29-26 win over the Gophers (3-1, 0-1 Big Ten).
Gophers quarterback Mitch Leidner was 24 for 40 passing for 241 yards, one touchdown and one interception, while running backs Rodney Smith and Shannon Brooks combined for 204 rushing yards and a touchdown. Wide receiver Brian Smith caught seven passes for 101 yards, and Drew Wolitarsky added seven catches for 69 yards and one score.
A recap of Saturday's game:
CLASS LESSONS
-- Neither Minnesota nor Penn State scored on their first two drives, with the Gophers stopping the Nittany Lions on their own 28-yard line to end Penn State's second drive. Minnesota marched 10 plays for a 37-yard Emmit Carpenter field goal late in the first quarter, a drive keyed by a 25-yard pass from Leidner to Smith. Leidner scrambled to his right on the play, keeping his eyes down field after the Gophers' protection broke down, and made arguably his best throw of the day. He finished the first quarter 4 for 10 passing for 62 yards.
-- Minnesota took a 10-3 lead with 2:06 remaining in the first half on a nine-yard touchdown pass from Leidner to Wolitarsky. The score capped a nine-play, 63-yard drive and was the first third-down conversion on the day by either team. Minnesota benefitted from a Penn State pass interference penalty on the drive and also converted on a fourth-and-one from the Penn State 31-yard line.
-- The Gophers took a 13-3 lead into halftime, thanks to a nine-play 70-yard drive in the final minute of the second quarter that culminated in a 35-yard Carpenter field goal. Leidner was 4 for 5 passing on the drive, and Smith rushed for 31 yards and drew a Penn State facemask penalty. Minnesota finished the half with 258 net yards, including 70 rushing yards by Smith and 143 passing yards by Leidner. Penn State did not convert a single third down in the half.
-- The teams traded punts to open the third quarter before Penn State scored its first touchdown, an 80-yard reception by Irvin Charles from quarterback Trace McSorley. Charles caught the ball in the middle of the field and wiggled away from Gophers cornerback Adekunle Ayinde, who appeared to give minimal effort on the play. Charles ran into the end zone untouched, cutting Minnesota's lead to 13-10.
-- Penn State tied the game with a field goal after a Gophers three-and-out, thanks in large part to a 36-yard pass from McSorley to Chris Godwin. The Nittany Lions took a 20-13 lead later in the quarter on a six-yard rushing touchdown from McSorley, set up by a 53-yard pass to Mike Gesicki. McSorley finished the quarter with 172 passing yards on four completions.
-- The Gophers responded with an eight-play, 87-yard drive of their own, which Brooks capped with a 37-yard touchdown rush on third-and-4. Minnesota subsequently drove into the red zone after a Penn State three-and-out, but the Nittany Lions' Jordan Smith intercepted a poorly thrown Mitch Leinder pass in the end zone.
-- The Gophers drove 58 yards on 11 plays midway through the fourth quarter, aided by a Penn State fasemask penalty on second-and-long, setting up 37-yard field-goal attempt by Carpenter. He nailed it with 54 seconds remaining to give Minnesota a 23-20 lead.
-- Penn State responded with a field goal of its own, set up by a 20-yard catch by Godwin and a 26-yard scramble by McSorley. Carpenter hit a 46-yard field goal in overtime after a Gophers three-and-out, and Barkely scored on a 25-yard rush to win the game for Penn State.
DULY NOTED
-- Thomas Barber, a freshman linebacker from Plymouth, made first career tackle on the Gophers' first punt. It came after a drive in which freshman wide receiver Tyler Johnson dropped a pass that would have gone for a first down.
-- The Gophers extended Penn State's first drive with a 15-yard personal foul penalty on fourth down by Nick Rallis. They forced the Nittany Lions to punt three plays later, thanks to a shoestring tackle by linebacker Cody Poock on third-and-10. Poock did not play in the second half because of an injury.
-- Gophers safety Duke McGhee and linebacker Jonathan Celestin stopped an 11-play, 54-yard Penn State drive in the second quarter by tackling Barkley for no gain on fourth-and-two. Celestin also combined with Gaelin Elmore to stop McSorley on third-and-goal in the second quarter, forcing Penn State to kick a field goal.
-- Penn State's Curtis Cothran was ejected on a roughing the passer penalty midway through the third quarter. Minnesota's Jaylen Waters was ejected for unsportsmanlike conduct, after hitting Penn State kicker Joey Julius.
-- Minnesota limited Penn State on its first two drives of the fourth quarter thanks to strong tackling. Senior safety Damarius Travis forced a punt by tackling Penn State's Gesicki a yard short of the first-down marker early in the quarter. Freshman cornerback Antoine Winfield Jr. made a four-yard tackle for a loss later in the quarter, leading to a Penn State punt. He finished with eight tackles.
-- Each of Minnesota's three running backs, Smith, Brooks and McCrary had a carry of at least 10 yards. Smith rushed 23 times for 104 yards, Brooks rushed 14 times for 100 yards and McCrary had four rushes for 18 yards.
WHAT IT MEANT
The game was a disappointing start to the Big Ten for a Gophers team that entered the season hoping it could challenge for a west division title. The team lost ground on Nebraska in the division, after the Cornhuskers beat Illinois.
PLAYER OF THE GAME
Barkley scored the game-winning touchdown for Penn State, so he gets the honor. He finished the game with 63 yards on 20 carries, a nod to how well the Gophers run defense played.
DON'T FORGET ABOUT ME
Brooks displayed good patience and speed in his second game back from injury, averaging more than 7.1 yards per carry. He and Smith continue to complement each other well in the backfield.
THAT MOMENT
The game was destined for overtime after McSorley rushed for 26 yards on third-and-3 with less than 30 seconds remaining, going out of bounds at the Minnesota 22-yard line. It led to a 40-yard field goal two plays later to tie the game.
THIS NUMBER
Four. McSorley had 222 of his 335 passing yards on four plays. Take out those four, and he was just 15 for 36 passing for 113 yards.
THEY SAID IT
"We played a hell of a game except for the third quarter." -- Gophers head coach Tracy Claeys
"You got to be able to bounce back. We got a game next week. . . . I think that's the mentality we have here." -- Leidner
"We didn't finish drives, I feel like. I can't remember specifically the third quarter, but I don't think we scored in the third quarter. They kept us out of the end zone, and that's the quarter we lost. We couldn't get points on the board and we let the score a few touchdowns and they got momentum." -- Rodney Smith
WHAT'S NEXT
Minnesota hosts Iowa (3-2, 0-1 Big Ten) next Saturday at TCF Bank Stadium. The Hawkeyes lost 38-31 to Northwestern this week, a week after eking out a 14-7 win over Rutgers and two weeks after losing to North Dakota State at home.
Follow Nate Gotlieb on Twitter
---
---