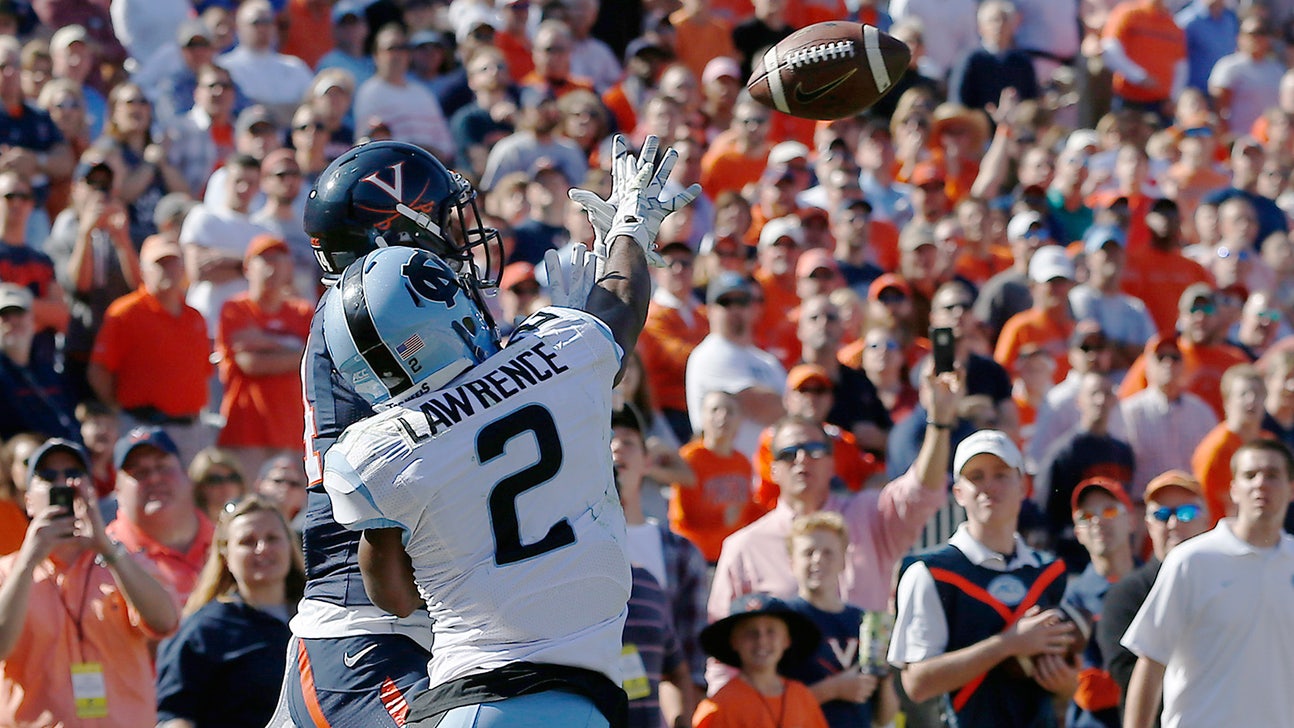 UNC's comeback win over Virginia provides Coastal Division clarity
Published
Oct. 25, 2014 4:35 p.m. ET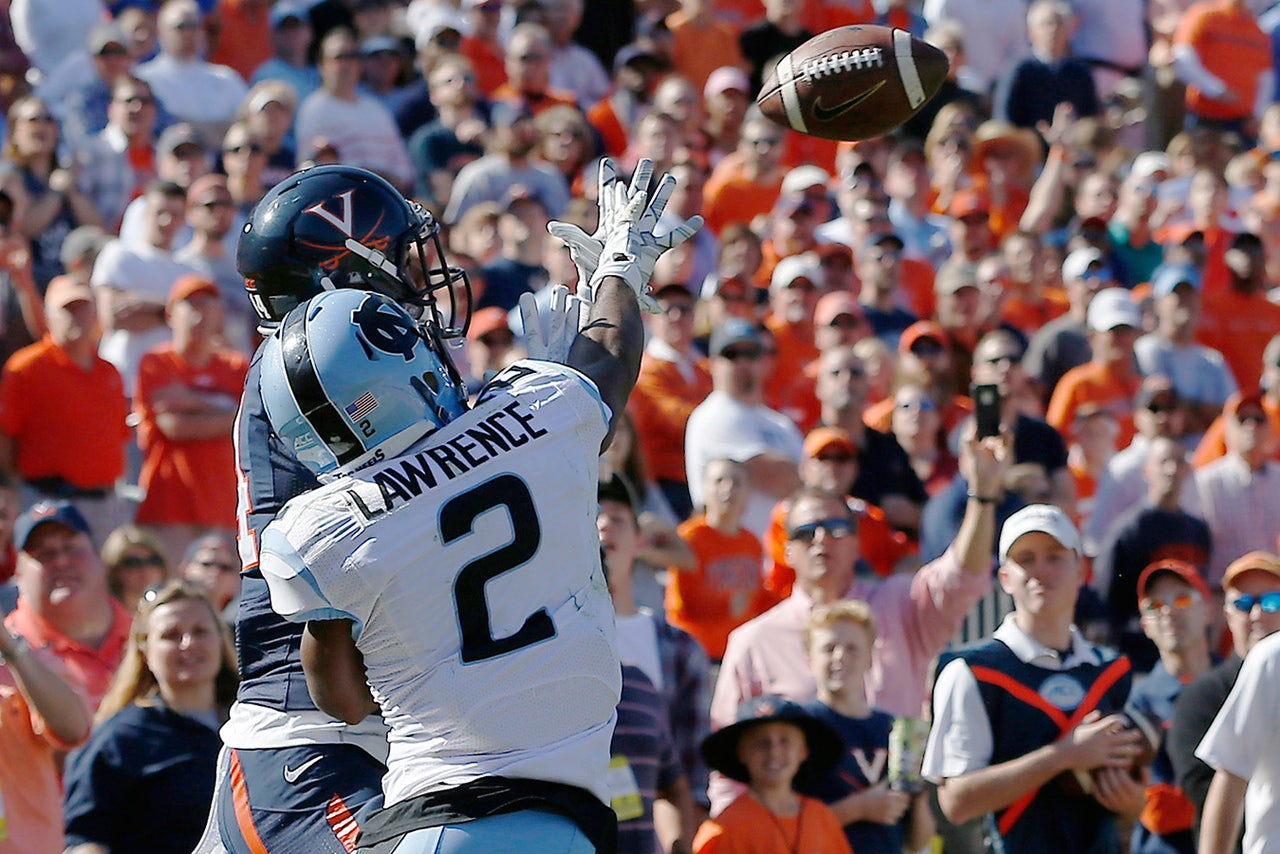 With a backup quarterback's throw and a gutsy onside kick, the North Carolina Tar Heels completed a fourth-quarter comeback and provided the ACC's Coastal Division with its latest example of unpredictability.
Following a disappointing loss to the Duke Blue Devils last weekend, the Virginia Cavaliers still found themselves in a three-way tie at the top of the strange Coastal Division (though Duke, obviously, owned the head-to-head tiebreaker) and played host to one of the most disappointing teams in the country: the defense-optional Tar Heels. UNC's offense has posed some problems for opponents at times this season, but Virginia boasted a defense that was holding ACC opponents to 20 points per game and with starting quarterback Greyson Lambert returning to the fold for the Cavaliers this quickly became a missed opportunity for coach Mike London's team.
North Carolina wasn't perfect, either. The defense tackled poorly, particularly in the first half, dynamic QB Marquise Williams played through injuries for a good portion of the game and kicker Nick Weiler missed two field goals to help keep Virginia in the lead 27-21 heading into the fourth quarter. The problem: UNC started coming up with stops and takeaways after halftime and was able to muster one final scoring drive, ending the game on back-to-back improbable plays.
With six minutes remaining following a Lambert interception, Williams drove the Tar Heels into the redzone. But when Virginia's Eli Harold came up with a sack at the 16-yard line, Williams lost his helmet and had to leave the field. Redshirt freshman Mitch Trubisky, who has played plenty this season thanks to a two-QB rotation employed by UNC coach Larry Fedora, entered for his first play of the game ... and immediately threw what proved to be the game-winning touchdown. Trubisky found wideout T.J. Thorpe for 16 yards to give the Tar Heels the 28-27 lead.
The problem, especially for this North Carolina team? There were still four minutes left.
Instead of putting the game into the hands of the nation's 127th-ranked scoring defense, Fedora opted for the onside kick leading by one point with four minutes remaining. The ensuing recovery and game-ending drive (assisted by a substitution penalty out of a timeout by Virginia) handed London's team its first bad loss of the season.
(Side note: The recovery was made by Mack Hollins. The Tar Heels receiver is enjoying somewhat of a breakout season in a vareity of roles, drawing rave reviews from former Tar Heel stars along the way. The Cavaliers found that out the hard way. The 6-foot-3 sophomore caught just two passes on the day, but finished with 120 receiving yards and two touchdowns on the day. The onside recovery, which drew some questions as to whether the kick went the required 10 yards, capped what was a game MVP-like day for Hollins.)
Why did Fedora do the onsides kick? "Because it was there all day. It was a great time to do it," he tells @JonesAngell

— InsideCarolina (@InsideCarolina) October 25, 2014
The Virginia loss, coupled with Georgia Tech's first-quarter demolition of Pitt, leaves Duke as the Coastal's unquestioned favorite.
That's the worst aspect of this win for the Tar Heels: it ultimately opens the division door a little wider for its bitter rival.
Virginia will join North Carolina, Miami and (probably) Pittsburgh at 2-2 with one-time Coastal power Virginia Tech bringing up the rear. For a Cavaliers team that had an opportunity to make this division race into a two-team event -- after already beating Pitt and facing Georgia Tech next weekend -- bowl eligibility is now up in the air. Thanks to a difficult non-conference schedule, Virginia (4-4) needs to find two wins in the final four games, three of which come on the road: Georgia Tech, No. 2 Florida State, Miami and Virginia Tech. There's not a single "guaranteed" win in there, especially for an offense that could only score 27 points against UNC, tying a season-low for Tar Heels opponents. (Even Liberty scored 29 points.)
The Blue Devils already own wins over Georgia Tech and Virginia, with a relatively easy slate ahead. A five-game stretch against Pitt, Syracuse, Virginia Tech, North Carolina and Wake Forest -- that's arguably four of the seven worst teams in the 14-team league -- gives David Cutcliffe's program a strong chance to win back-to-back division titles, and earn a potential rematch with Florida State in Charlotte.
Thanks to a backup quarterback's lone play and a surprise special teams highlight on a day full of gaffes, Virginia's loss is Duke's gain.
Messy as it remains, the result in Charlottesville provides some clarity at the top of the Coastal Division.
---