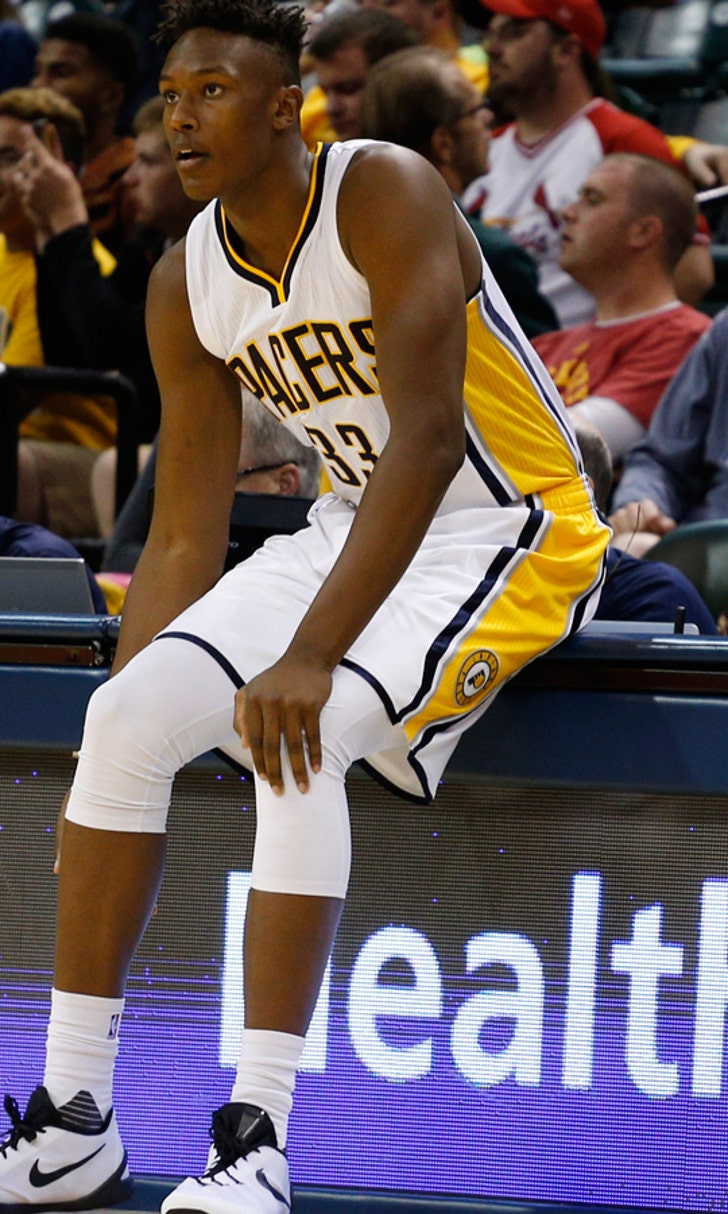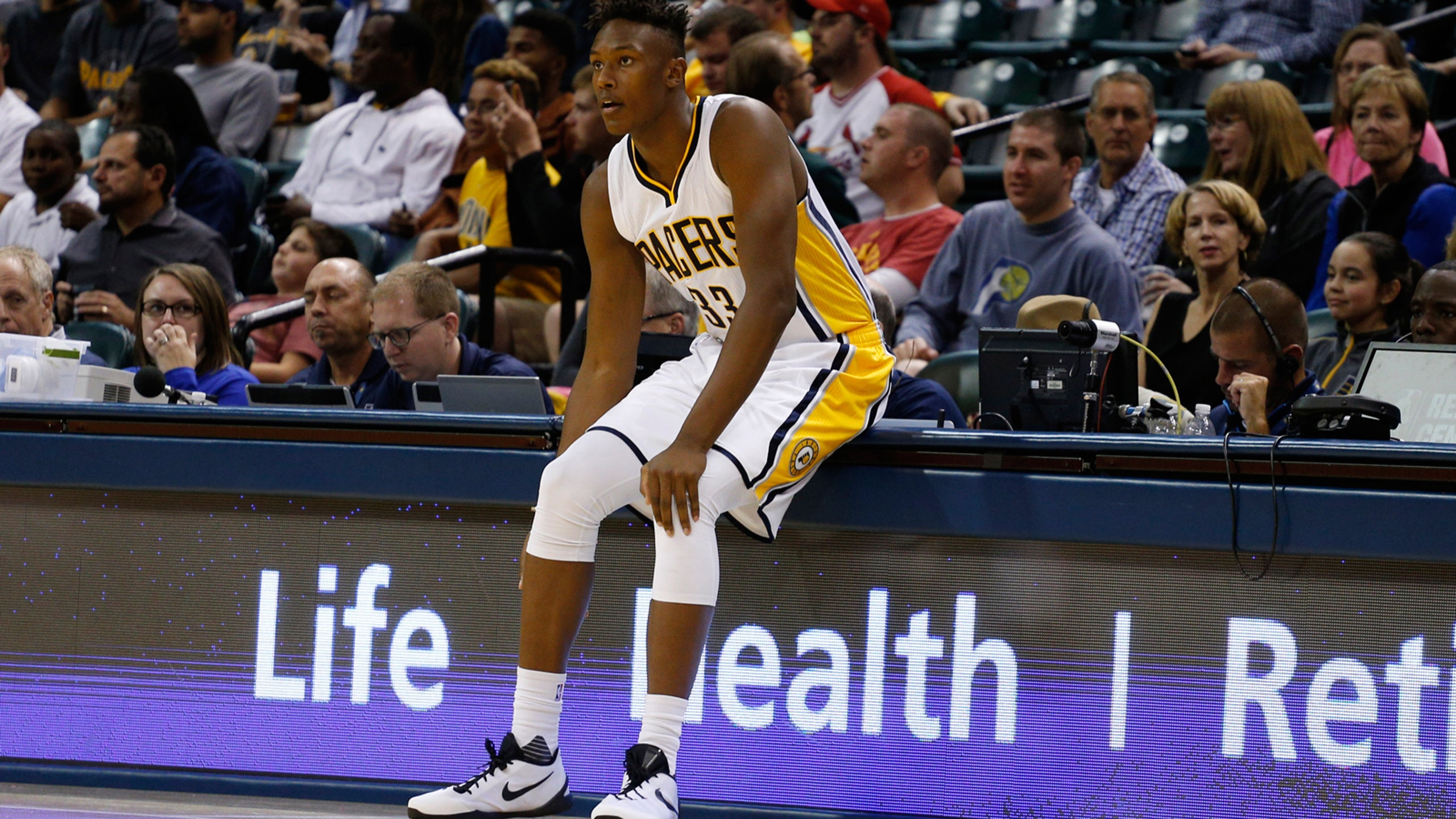 Turner, Pacers look to bury Nuggets
BY foxsports • January 29, 2016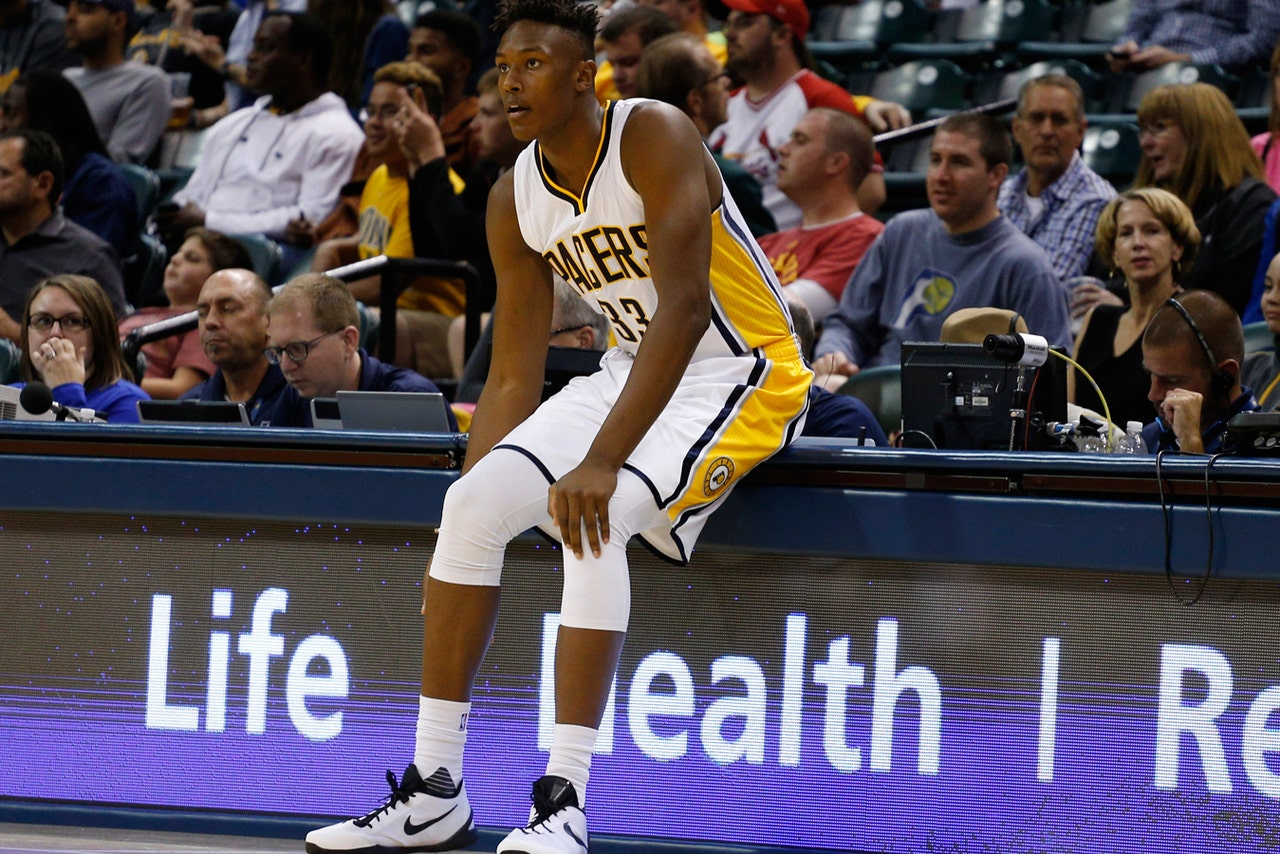 Indiana's Myles Turner delivered his first breakout performance off the bench at Denver earlier this month.
The Nuggets will see the surging rookie center from the start Saturday night as they try to complete a season sweep of the Pacers, who are looking to win two straight for the first time in three weeks.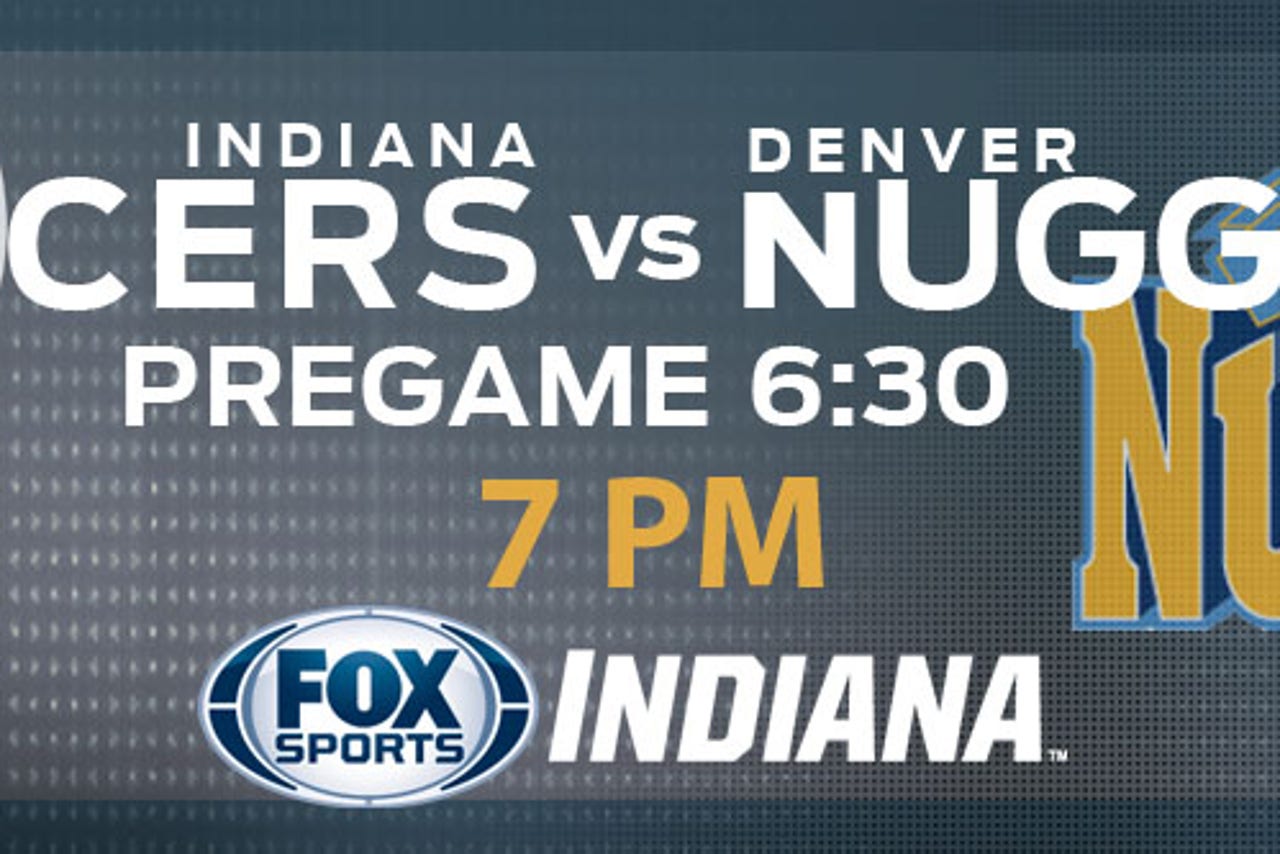 A loser of three in a row and six of seven, Indiana (24-22) needed a lift and Turner provided one Thursday in his first career start with 20 points over 26 minutes in a 111-92 win over Atlanta.
"My role on this team is to provide energy and bring a spark and that's what I did out there," said the 11th overall pick, who turns 20 in March. "It's all about opportunity. (This) was a big (opportunity) for me."
Turner has played only 24 games and never posted more than 10 points until doing so in each of the past six games, averaging 19.7 points on 62.2 percent shooting along with 6.2 rebounds and 2.5 blocks. That stretch began with 25 points and seven rebounds in a 129-126 loss at Denver (18-29) on Jan. 17. Turner scored a career-high 31 in a loss at Golden State five days later.
"He's a 19-year-old, but he's a mature 19-year-old and you don't find that very often," teammate George Hill told the Pacers' official website. "We didn't have to tell him anything, just go out and play his game like he's been doing."
With his team reeling, coach Frank Vogel felt Thursday was finally the time to insert Turner into the starting lineup alongside fellow 6-foot-11 teammate Ian Mahinmi.
"If it's a colossal failure, we'll go away from it sooner than later," Vogel said.
"This is the lineup, when I look at it, I see Ian and Myles Turner and the rim protection there is as good as any in the NBA."
Turner's effort seemed to rub off on his teammates. The Pacers had a 49-32 rebounding advantage, held the Southeast Division-leading Hawks to 39.8 percent from the field and finished the game on a 23-2 run.
"We just imposed our will. We got tired of losing," said Vogel, whose club hasn't won two in a row since Jan. 6-8.
Monta Ellis had 25 points on 7-of-11 shooting, and his only other game with more than 20 this month came in Denver as he scored 24. The Pacers shot a season-high 58.5 percent but failed to hold a 15-point lead, suffering their eighth loss in the past nine meetings.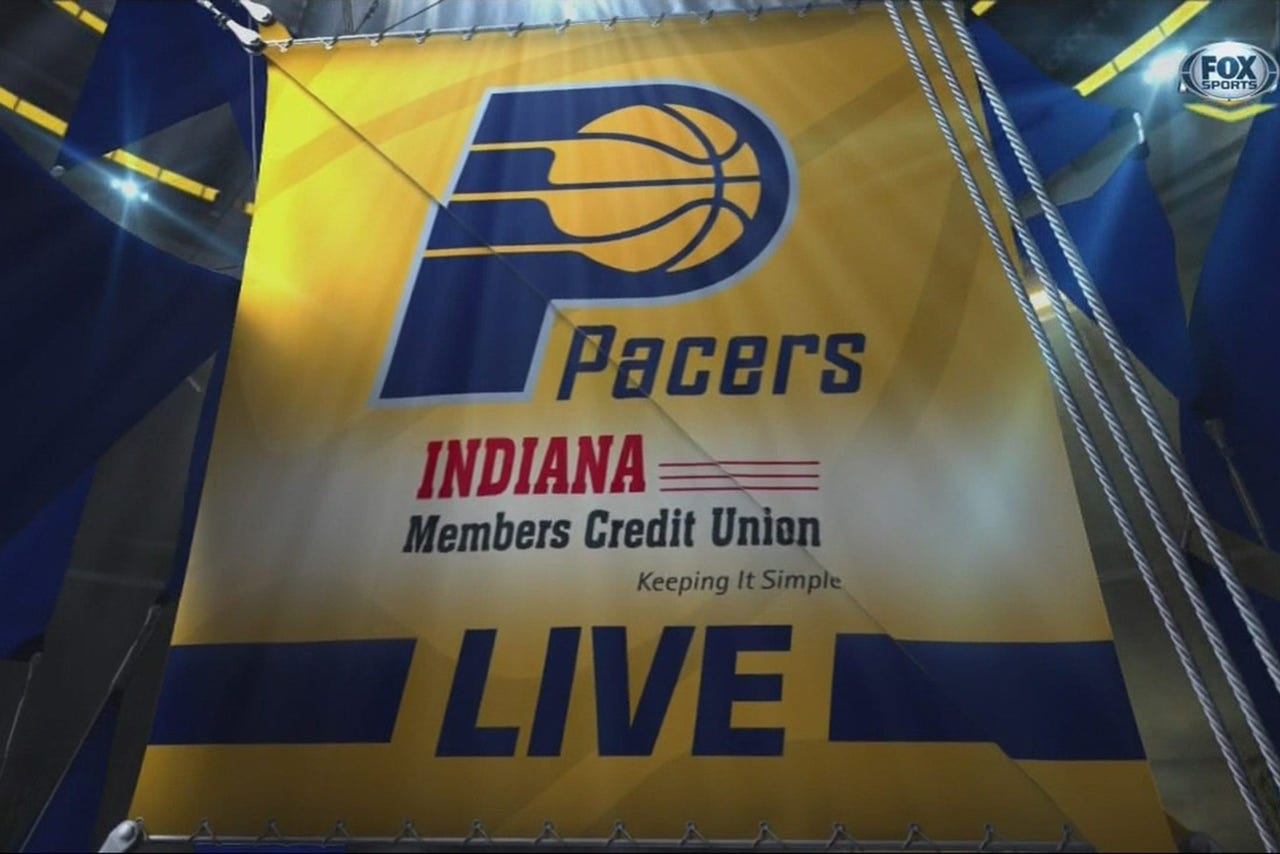 Watch the Pacers Live pregame and postgame shows before and after every Indiana Pacers game on FOX Sports Indiana.
That matchup marks each team's highest-scoring effort this season. The Nuggets scored 45 of their 75 second-half points in a final period highlighted by Randy Foye's go-ahead 3-pointer with 21 seconds remaining.
Denver had lost four of five since that game before winning 117-113 at Washington on Thursday. Danilo Gallinari scored 26, rookie Emmanuel Mudiay had 20 and Nikola Jokic added 15 with 10 rebounds as the Nuggets shot 50.6 percent -- their best performance since Dec. 15.
Denver, however, has allowed an average of 111.7 points in its last seven games.
"Overall, better job than the last couple of games," coach Michael Malone said. "We'll take the win. ... But never accept in a victory what you wouldn't accept in a defeat."
Gallinari scored 23 against Indiana and has averaged 23.5 in 14 games this month.
Indianapolis area native Gary Harris had 20 points against the Pacers, one off his career high.
---
---