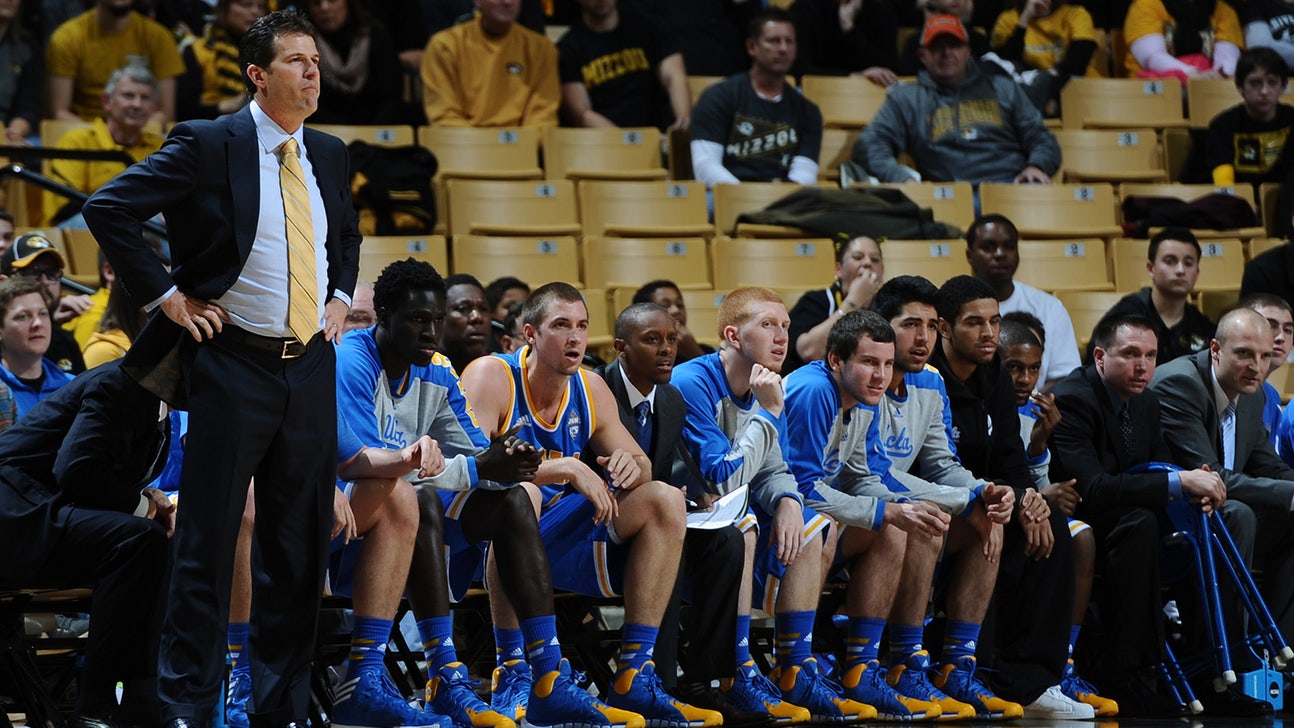 Tulsa-UCLA preview: 3 things to watch
Updated
Mar. 4, 2020 12:55 p.m. ET

SAN DIEGO, Calif. -- With the NCAA Tournament now fully underway and brackets already sufficiently busted, No. 4 seed UCLA took to the court for the first time Thursday afternoon at Viejas Arena in San Diego in preparation for its second-round game against 13th-seeded Tulsa. 
While still an assistant at Kansas, Tulsa head coach Danny Manning and the Jayhawks faced the Bruins in San Jose in the 2007 Tournament. Knowing that San Jose and Los Angeles are not close, he didn't think anything of it at first. 
Manning learned his lesson and warned his team this year.
"It was a home game for UCLA," Manning said. "So I definitely shared that with our guys. in our minds, this is a road game and we're just playing UCLA a few hours away from their campus and we know there are going to be a lot of UCLA chants and tee shirt and a lot of things of that nature.
"We're prepared for that."
UCLA may have a distinct advantage in the stands and in the standings, but so did Cincinnati. 
James Woodard
An uptempo team with an aggressive, athletic defense, sophomore guard James Woodard is the name to know on the Golden Hurricane. Their leading scorer and rebounder, Woodard, was named the Conference USA Tournament MVP after his record-breaking performance. Woodard has been reliable, starting every game of the season and scoring in double digits in every game but four.
"He's very quick, a lot like (Chasson) Randle from Stanford," Alford said. "He can score in a lot of different ways. He can drive it, he can shoot it, and he can create for others. He is really good in transition. The scouting report probably starts with him."
Tulsa comes in riding an 11-game winning streak and Woodard has averaged 18.2 points and 8.3 rebounds per game while on that streak. Young, healthy and riding a hot streak, look for the Bruins to key in on Woodard.
Alford's time to snap the streak
Prior to coming to UCLA, he wasn't known as a postseason coach. He's never led a team past the Sweet 16 and the last time he did that was in 1999, his last year at the helm of Southwest Missouri State.
Last season, New Mexico was touted as a Final Four team before being defeated in its opening game by Harvard - the same team who upset Cincinnati Thursday. It's a new team, a new program and Alford thinks much has been made out of nothing.
"We talked last year, that New Mexico team and I hate the word 'overachieving,' but that team was one year out and now you're seeing it this year," Alford said. "(Advancing) is important. You're not at UCLA if it's not important to advance in the NCAA Tournament. So with that said, these guys have done some really good things this year and we are playing well."
Culture change
It was a bumpy ride in the beginning as Alford did not receive the most warm of welcomes from the Westwood faithful but as the season got underway and the Bruins started winning, much of the early talk about his postseason resume and his past handling of head coaching situations quieted. 
Last season, the team limped to the finish and entered the postseason under far different circumstances.
"It's a different team," said guard Kyle Anderson. "We're coming in full strength this year, no injuries, we're grateful to have the full team. We had everybody all year. We are ready to go."
The upset of Arizona was the begging. There's more to come, whether it's in San Diego this week, Memphis next or even next season back in Los Angeles. The culture at UCLA has been changed.
"We're laying a foundation," Alford said. "I love what we're trying to do, from style of play, to how we'll like to play offensively and defensively and the uptempo... They're so far ahead of where we projected because you look at their numbers and it's just a fun and exciting team to coach."
---