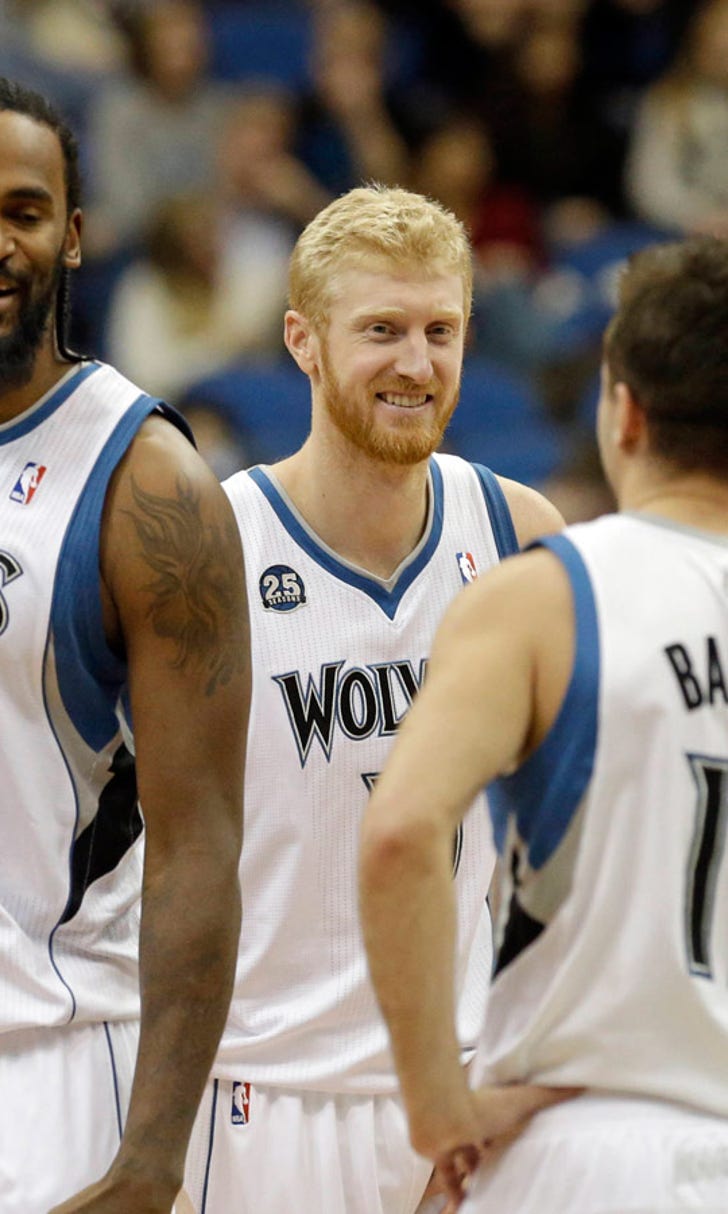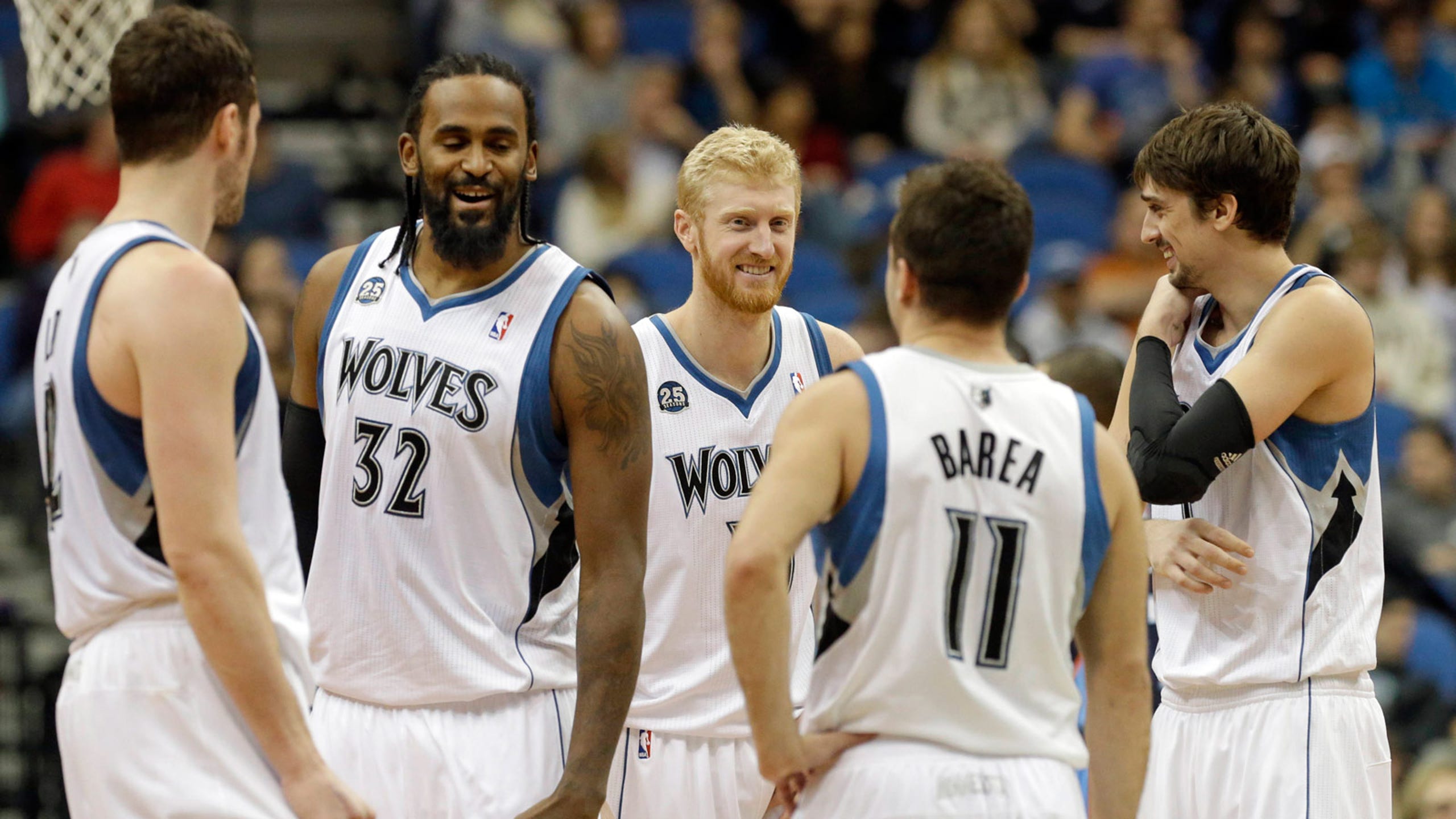 Trade deadline passes and all Wolves players 'still here'
BY foxsports • February 20, 2014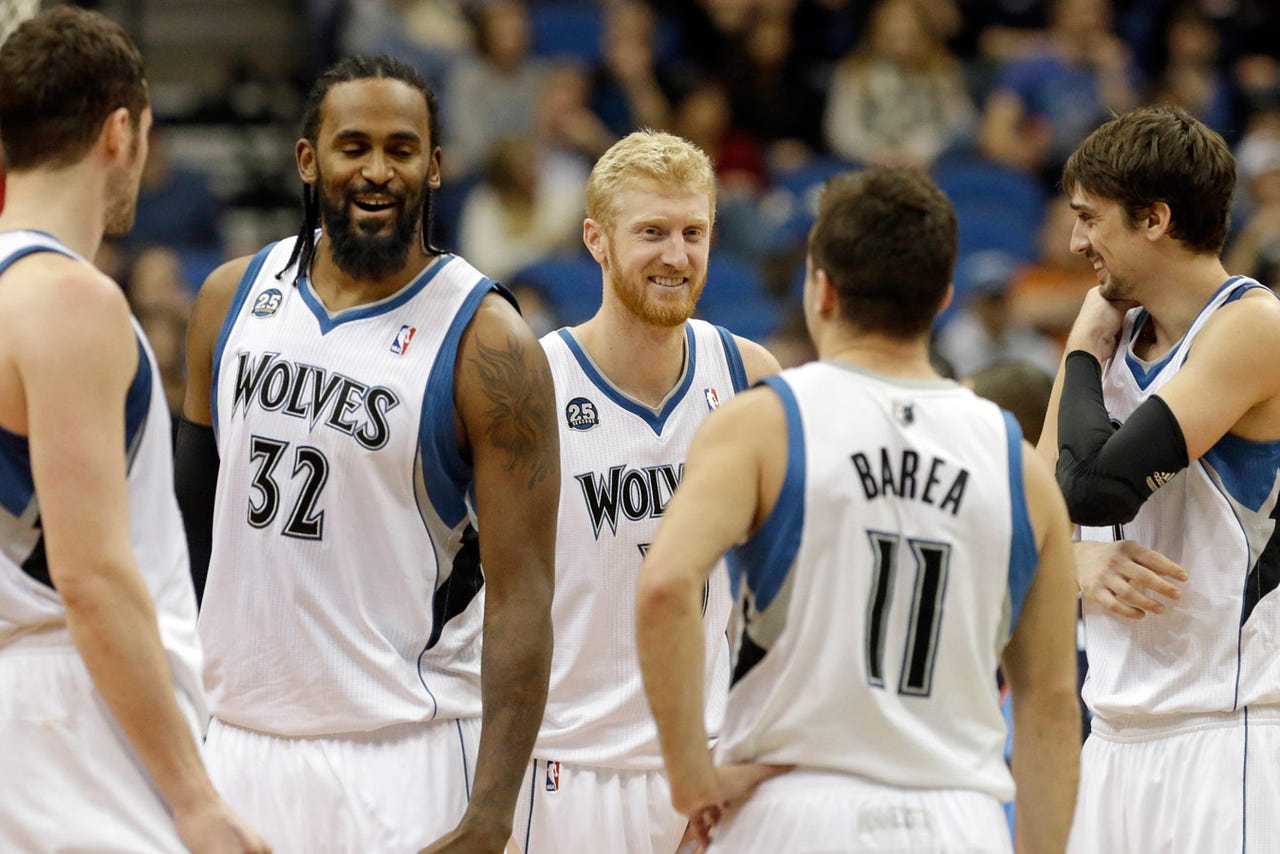 MINNEAPOLIS -- The quips flew back and forth as soon as the Timberwolves convened for practice Thursday.
The running line: "You're still here."
"We walk into the locker room today, and we're jawing at each other, saying 'oh, you're still here,'" Love said. "We have fun with it."
Technically, any one of them could've been dealt after Minnesota wrapped up a light workout around 1 p.m. inside the Target Center Lifetime Fitness Center practice facility.
But the NBA's 2 p.m. trading deadline came and went, and the Timberwolves roster hadn't been altered.
J.J. Barea will stick around. Chase Budinger, too. Love's perceived desire to get out of town -- which he says is bogus -- went unassuaged.
Barring a surprise free-agent pickup, this is the group coach Rick Adelman will try and direct to the greatest post-All-Star break run in franchise history. It'll take as much for the Timberwolves to climb into playoff contention.
Shortly before the deadline, Love vehemently denied a Twitter report by longtime New York sports columnist Peter Vescey claiming the power forward had told president of basketball operations Flip Saunders he planned to opt out of his contract after next season. Vescey told his 23,300 followers to expect Love to be traded by the deadline or during the upcoming offseason.
The latter could still happen, but Love said the alleged conversation never took place and insists he's happy here.
"It's a media-driven story; I just, for the past couple years, can't believe some of the stuff that's come out," Love said. "Our foundation right now and our team is better than a lot of the teams that you guys and Peter Vescey or whoever the hell else says I'm going to."
Barea says he likes the Great White North just fine, too. The meatiest trade rumor -- reported by multiple national outlets -- had him and Budinger bound for Memphis in exchange for Tayshaun Prince and, possibly, Tony Allen.
But neither side agreed to the deal, which would've bolstered the Timberwolves' defense but sent away two of their secondary scorers. In addition to landing Allen on top of Prince, making salaries match would've been difficult -- Barea is owed $4.5 million for next year, Budinger $5 million, while Prince's contract calls for $7.7 million and Allen is set to make $5 million each of the next four seasons.
To complete the trade, Minnesota likely would've needed to dump another contract at some point in order to avoid the luxury tax. Its total payroll of $68.5 million exceeds the salary cap by about $10 million (allowable because of exceptions), and owner Glen Taylor is already on the hook for $66 million in player salaries next season.
The foiled Minnesota-Memphis plans also limited the possibility of the Timberwolves landing Andre Miller, another reported trade target. Minnesota and Denver -- which basically banned the point guard after his dispute with coach Brian Shaw -- were reportedly in discussions, but the Timberwolves were highly unlikely to pick up another point guard without first sending Barea away, whether to Denver, Memphis or somewhere else.
That's fine with the energetic Puerto Rican, who's been here since 2011 as Ricky Rubio's backup.
"I'm happy where I'm at," Barea said earlier this week. "Minnesota's the one that gave me my contract."
Miller was eventually sent to Washington in a three-team deal that also involved the 76ers.
USA Today's Sam Amick mentioned Dante Cunningham and Alexey Shved as possible trade bait earlier this week, but no deadline-pushing reports involving either of them surfaced.
It was a fairly quiet week throughout the NBA, as only 11 trades took place Wednesday and Thursday. Pretty much all of them involved supporting-cast help rather than a bona fide superstar.
The Timberwolves weren't out looking for that -- just for someone who could perhaps help them win 20 or more games the rest of the way and make up a 5 ½-game deficit behind the Western Conference's eighth and final playoff position.
But Saunders, general manager Milt Newton and the rest of Minnesota's personnel staff weren't able to strike such an accord.
If injured Nikola Pekovic, Kevin Martin and now Ronny Turiaf can heal up relatively soon, the chances of doing so increase. There can be no counting on a season-changing swap after Thursday.
"I have to feel positive, because that's the team we have," Adelman said. "There's nothing else that's gonna happen, so we have to play better as a group, and we have to get our injured guys back, then we'll deal with it."
Follow Phil Ervin on Twitter
---