Miami Marlins
Miami Marlins
Tom Koehler, defense propel Marlins to win over Yankees
Published
Jun. 15, 2015 10:02 p.m. ET

MIAMI (AP) -- Making his first start of the season, Miami Marlins infielder Derek Dietrich doubled for his first hit of the year, and then hit his first homer.
No wonder he wore his first postgame grin after a 2-1 win over the New York Yankees on Monday night.
"I'm going to be really tired tonight," Dietrich said. "I was jazzed up. It feels awesome."
Dietrich helped spoil a homecoming for Alex Rodriguez, who flied out as a pinch-hitter to end the game. Tom Koehler pitched seven innings for Miami and was helped by acrobatic defense.
Dietrich, recalled from the minors last week, started at third base as a replacement for Martin Prado, who hurt his right shoulder Sunday. Dietrich doubled and scored to make it 1-all in the second inning, and hit a leadoff homer in the seventh against Masahiro Tanaka.
"Dietrich -- wow," manager Dan Jennings said. "What a big outing for him. The one thing we always talk about with Derek is his power."
Dietrich was the Marlins' opening day second baseman in 2014, but difficulties on defense led to a demotion to the minors. The Marlins called him back up after he showed improved glove work in Triple-A this year.
"It's great to see him work out through that," Jennings said. "It's a bat we've always liked."
The hitter the fans came to see was Rodriguez, and when he emerged from the dugout to pinch-hit with two out in the ninth, the resulting roar gave Marlins closer A.J. Ramos a boost of adrenaline.
"That was the loudest I've heard in this stadium," Ramos said. "I kind of took it in. You've got to take those moments in. I was like, `Man, this is really cool.'"
Rodriguez, who batted for Stephen Drew with a runner at first, said the last time he received such a rousing ovation as a visiting player might have been in high school in Miami. He lofted a 1-1 slider to right field and remained five hits shy of 3,000.
"It was an incredible moment," Rodriguez said, "an absolute awesome situation to be in. Fun. Exciting. I had a good pitch to hit and just popped it straight up."
Playing in his hometown for the first time since 2009, Rodriguez didn't start because there was no DH for the interleague game. Rodriguez is not expected to start in the Yankees' final game in Miami on Tuesday either.
The crowd of 33,961 -- Miami's largest since opening day -- included a busload of Rodriguez's family and friends, as he described it. Fans seemed evenly divided in their support of the Marlins and the Yankees.
Mark Teixeira hit his 18th homer for the Yankees in the second inning. That was the only run allowed by Koehler (5-4), who limited the AL East leaders to three hits thanks to his teammates.
Shortstop Adeiny Hechavarria had two leaping catches of line drives to rob Chase Headley of hits, and second baseman Dee Gordon also contributed two nifty stops.
"Hech made two great plays, and Dee didn't want to be outdone," Koehler said.
The Yankees tied a season low with three hits.
The Marlins' Ichiro Suzuki had two hits against former teammate Tanaka (4-2) in an all-Japanese matchup. The game was televised in Japan.
Miami's Carter Capps struck out the side in the eighth and topped out at 100 mph. Ramos pitched around a leadoff walk in the ninth for his ninth save in 12 chances.
"It's probably the coolest save I've gotten so far," Ramos said. "Hopefully I get cooler ones, but as of right now this is probably the best one."
Giancarlo Stanton, who leads the majors in homers and RBIs, went 1 for 3. Stanton, who suffered a season-ending beaning last September, was hit in the lower back by Jose Ramirez in the eighth inning but stayed in the game.
TRAINER'S ROOM
Prado is at least a day or two away from trying to throw, and a stint on the disabled list hasn't been ruled out.
UP NEXT
Yankees RHP Nathan Eovaldi (5-1, 4.13) and Marlins RHP David Phelps (3-3, 4.11) swapped teams as part of a five-player trade in December, and they're scheduled to start against each other Tuesday.
"It would work out that way," Phelps said.
Eovaldi went 6-14 at Marlins Park with Miami.
---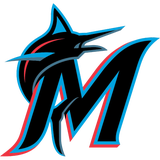 Get more from Miami Marlins
Follow your favorites to get information about games, news and more
---