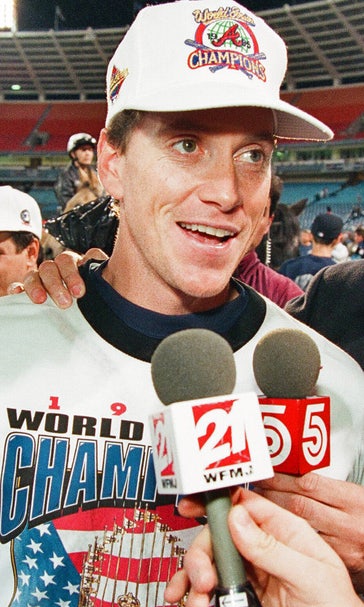 Tom Glavine, the Atlanta Braves, and winning the World Series
October 30, 2015

Tom Glavine shakes his head at how quickly the years have passed. It's already been 20 Octobers since the Atlanta Braves won their only world championship, and did it by taking down the mighty Indians, whom Glavine called "by far the best team I've ever pitched against."
It was a stunning triumph, considering the Tribe had gone 100-44 in a strike-shortened 1995 season, finishing a whopping 30 games ahead of the second-place Royals. They led the American League in runs, home runs, slugging percentage and OPS; Glavine wasn't exaggerating when he said, "Top to bottom, there was a threat in every spot in the lineup."
The Tribe was Monsters, Inc. Albert Belle blasted 50 homers, and 23-year-old Manny Ramirez added 31 homers with 107 RBIs. Jim Thome drove in 113 runs, Carlos Baerga (.314 batting average) was in his prime, and even 39-year-old Eddie Murray batted .323 and swatted 21 homers.
That's why the Braves' family has forever cherished its conquest of the Indians, and why Glavine's performance in the clinching Game 6 stands among the greatest in postseason history. He allowed just one hit over eight innings, creating just enough breathing room for a 1-0 victory.
To call it a miniature classic barely does justice to Glavine's ability to contain the Indians offense. He walked three, struck out eight and didn't allow a runner to reach third. It's probably true that Glavine benefitted from a generous pre-QuesTec strike zone, but he insists he would've found a way to beat Cleveland even with today's tighter interpretation of the zone.
"I always had the ability to expand the strike zone and get guys to chase," Glavine said. "Whether it was east-to-west or, in the latter part of my career, north to south. I managed to figure it out."
But it wasn't just a wide zone that doomed the Indians, it was the way Glavine disguised his changeup and controlled the Indians' hitters bat-speed. Think of Gulliver being tied down by the Lilliputians, and you begin to understand the effect of Glavine's illusory delivery. No one could square up on him.
He ended up giving the franchise the greatest gift of all – a championship, after losses in the 1991 and 1992 World Series to the Twins and Blue Jays, then being ousted by the Phillies in the 1993 NLCS.
The Braves finally shed their label as baseball's Buffalo Bills. Still, Glavine disagrees with the notion that theirs was any less of a dynasty because of one title in 11 consecutive postseason appearances between 1991 and 2002.
"There's no doubt we were disappointed, but you could also make the argument that with all the division titles and to go to the postseason every year, that will never be done again," Glavine said.
"Most guys will tell you they'd rather have a chance to win every year and win one, than to win one within two or three years and then be awful, like the Marlins."
Of course, as redemptive as it was to finally prevail in '95, Atlanta had no clue the spigot would immediately be shut again. In 1996, the Braves held a 2-0 Series lead against the Yankees, only to lose the next four straight. And in 1999, against mostly those same Yankees, the Braves got swept altogether.
Glavine remembers, ruefully.
"That '96 Series, that's the one we let get away," he said. "To win two games on the road at Yankee Stadium, then to come home and not finish it off ... most of us look back and say we should've won that."
And in 1999? "We had so many injuries that year, the prevailing feeling was, 'How are we even here?'" Glavine said. "We just got beat."
Still, the fact that the Braves held onto their Hall of Fame starting rotation for so long is a source of satisfaction. Between Glavine, Greg Maddux and John Smoltz, "we had three guys that, today, economically, would've never stayed together," Glavine said. "The closest any other team got was (the A's) with Zito, Mulder, and Hudson, and even they couldn't do it. I think that's what made the Braves unique."
And that's why the 1995 conquest stands as a reminder of the time-honored axiom: good, smart pitching always prevails against super-human offense. Despite the Indians' fearsome lineup, in six games they scored just 19 runs and batted .179.
And as for the clincher – Glavine's tour de force – he can still replay it batter by batter, pitch by pitch.
"I had everything working that night, but that's not the only time that happened," Glavine said. "I mean, I might've pitched that well on a Sunday in August when it was 100 degrees and no one wanted to be out there. But never, I guess, on that kind of stage. In terms of timing, it was my best game.
"I remember warming up really well, although I wasn't going to assume I was going to have that in the game," Glavine continued. "To me, the whole focus of beating the Indians was getting Kenny Lofton out and keeping him off the bases. So when I threw a 1-2-3 first inning, that's when I said to myself, "OK, what I had in the bullpen is working."
Glavine feathered the corners, changed speeds, and never gave the Indians the same pitch or location twice in a row. He drove them crazy while taking a no-hitter into the sixth before Tony Peña finally rapped a leadoff single to right-center.
The Indians never took advantage, however, and were in trouble when David Justice homered in the bottom half of the inning.
With a one-run lead and nine outs to go, Glavine almost made it to the finish line – almost. He lasted through the eighth; lucky, he said, to have preserved the shutout.
"Warming up before (the eighth) was the first time I hadn't been as loose as I'd been throughout the game," he said. "I was fortunate because I made some mistakes and got away with them. Thome flied out to the warning track; had he pulled the ball it would've been a tie game. Even though it was a 1-2-3 inning, I knew I was done."
Mark Wohlers closed it out, and the Braves celebrated like the world was theirs. It was, even if their reign lasted just one season.
"Looking back, I do think about it," Glavine said. "There's no question it was the high point of my career."
---
---