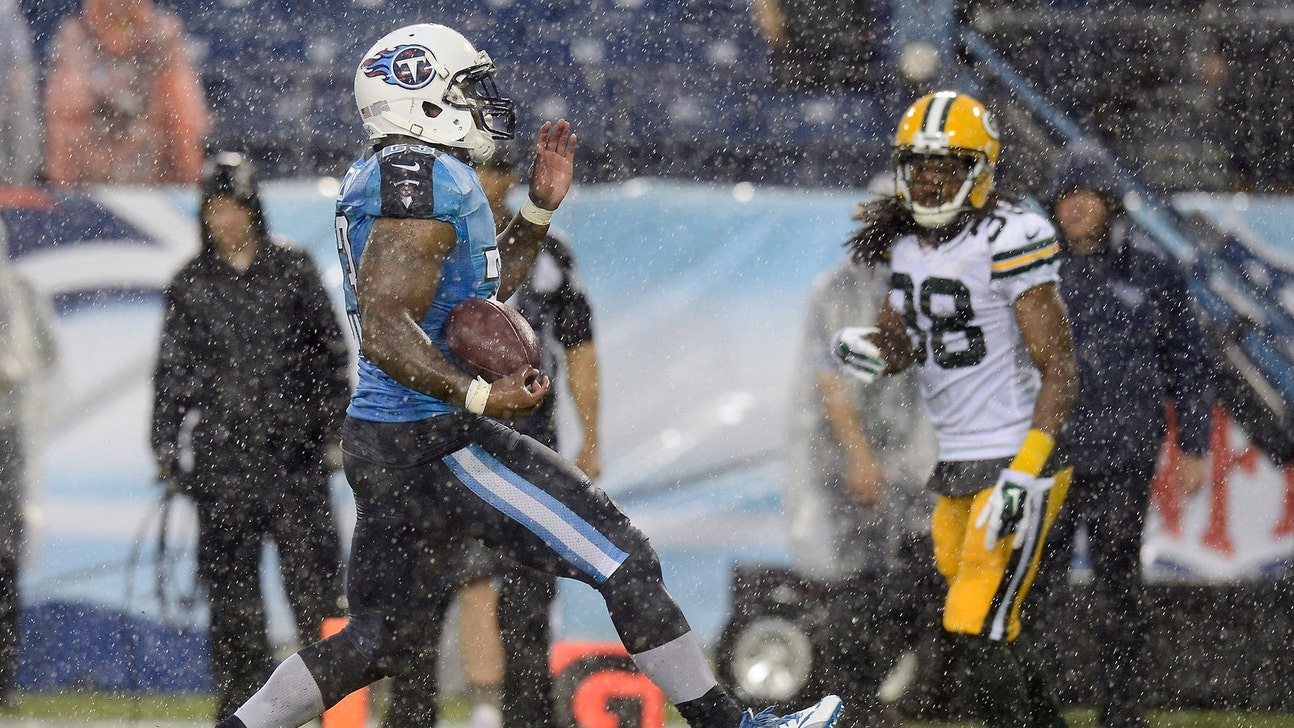 Titans outlast Packers, 20-16
Published
Aug. 9, 2014 11:18 p.m. ET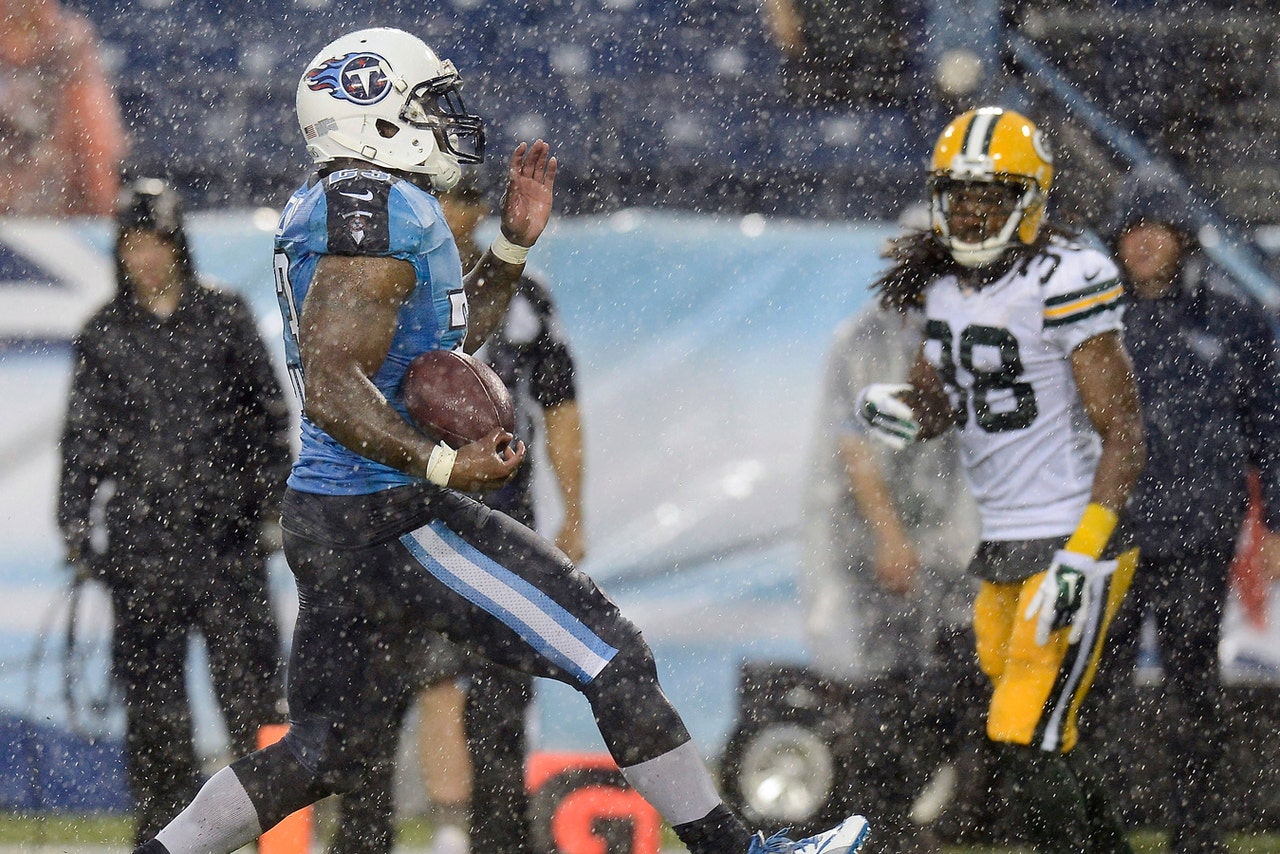 NASHVILLE, Tenn.  -- The Titans made Ken Whisenhunt a winner in his coaching debut in Tennessee in a wet, sloppy game where the best decision might have been Packers coach Mike McCarthy scratching Aaron Rodgers before kickoff.
Jackie Battle scored on a 7-yard touchdown run with 5:02 left, and the Titans rallied to beat Green Bay 20-16 on Saturday night in the preseason opener for both teams.
Rookie Zach Mettenberger made up for two turnovers in the fourth quarter by completing all three passes for 71 yards to set up Battle's go-ahead touchdown for Tennessee's first lead in a preseason opener played mostly in a pouring rain. Whisenhunt said it was the worst weather he's coached in, though he once played in uglier conditions.
"A lot of things we had planned went out the window with the rain, so for nothing else it was a good opportunity to work on that," Whisenhunt said. "We learned a lot about ourselves and what we have to do to prepare for that. Those aren't conditions you generally replicate or practice."
With quarterbacks having trouble holding onto the ball, McCarthy had to feel good about his pregame decision to scratch not only Rodgers, but also Eddie Lacy along with eight other Packers. McCarthy said he just wanted to get his other three quarterbacks work in a game Rodgers would have played only a series in anyway.
The Packers fumbled five times, losing only one. Tennessee lost one of three fumbles.
"We probably didn't do quite as good as we'd like there with the number of times we had the ball on the ground and with the drops," McCarthy said. "To play in this environment was an incredible experience for our team."
Not so much for the fans. The biggest cheer of the game came early in the second quarter, when rain finally eased up for the first time in nearly two hours. But heavy rain returned late in the first half and stuck around most of the third quarter.
Davante Adams fumbled a punt in the first quarter that led to the Titans' first touchdown, a 13-yard run by Shonn Greene, who's had two arthroscopic surgeries in the past year on his right knee. Rookie Bishop Sankey caught a 5-yard TD pass from Charlie Whitehurst.
Matt Flynn started for Rodgers and was 5 of 10 for 49 yards playing most of the first half. He left with the Packers leading 7-6 thanks to James Starks' TD capping the opening drive. Starks played only the first series in place of Lacy, and he finished with six carries for 49 yards.
"Physically it's just one of those weird games," Flynn said. "You can't really go back and critique your mechanics, and receivers can't really critique their routes too much because it was a sloppy game."
Whisenhunt brought in defensive coordinator Ray Horton, who's using a hybrid 3-4 scheme, and he couldn't be too happy even with the sloppy conditions. The Titans, who pulled their defensive starters after the Packers' second offensive series, allowed 90 yards rushing in the first half.
Jake Locker played only the first quarter and was 1 of 2 for 5 yards. He bobbled a snap, though he recovered. He could have left with the score tied except Maikon Bonani missed the 33-yard extra point after Greene's 13-yard TD run. Whisenhunt wanted to see Locker do more work in the pocket before finally deciding to pull him.
"I never played in a rain like this," Locker said. "This is definitely the hardest rain I've played in to this point."
Whitehurst took over for the first series of the second quarter with rookie Taylor Lewan, the No. 11 draft pick overall, taking over at left tackle for veteran Michael Roos. Whitehurst was 10 of 15 for 94 yards.
Scott Tolzien simply lost the ball out of his hand trying to pass midway through the third quarter, then he grabbed the jersey of Titans linebacker Brandon Copeland holding until he could recover his fumble. Tolzien then found Chris Harper for a 38-yard pass, and rookie Rajion Neal, who played at the University of Tennessee, capped the drive with a 12-yard TD run early in the fourth quarter.
The sloppiness wasn't limited to players on the field.
After Neal's touchdown run was reviewed, the Packers sent the offense out a 2-point conversion pass that failed. The TD was taken off the scoreboard with some thinking the TD had been overturned.
---