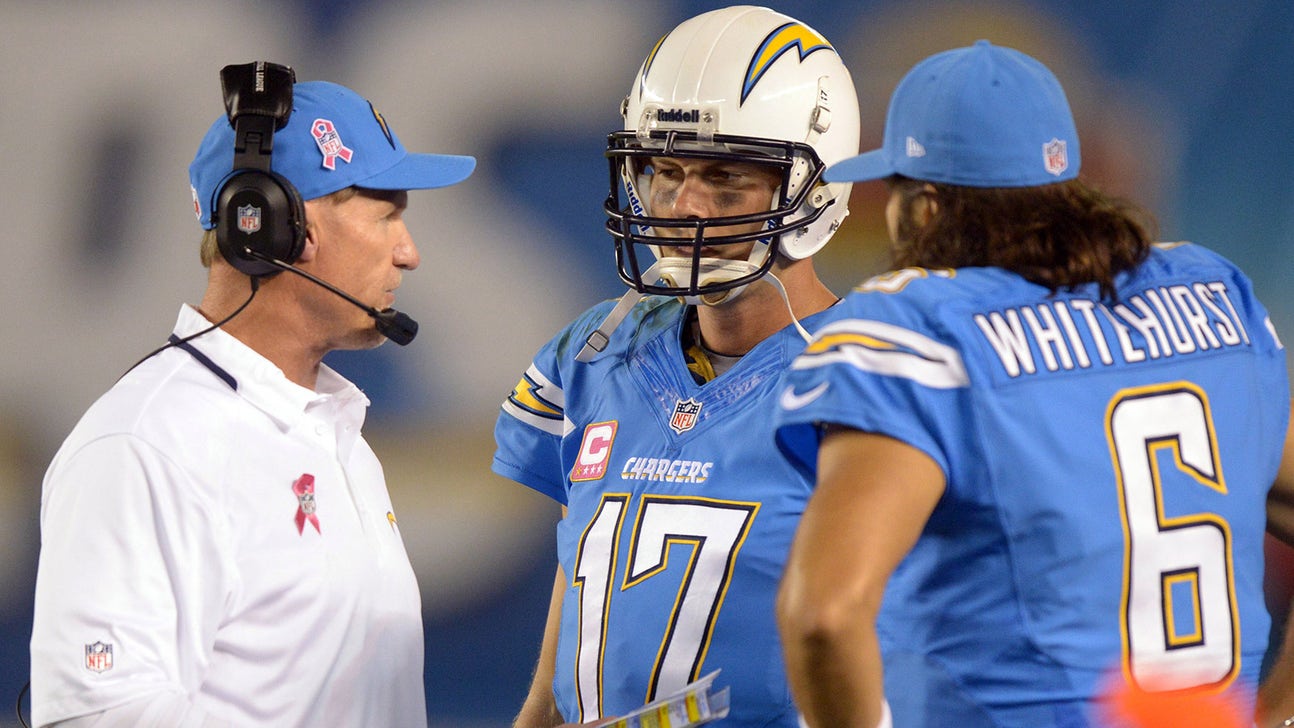 Titans additions have previous ties to Whisenhunt vision
Published
Mar. 14, 2014 4:49 p.m. ET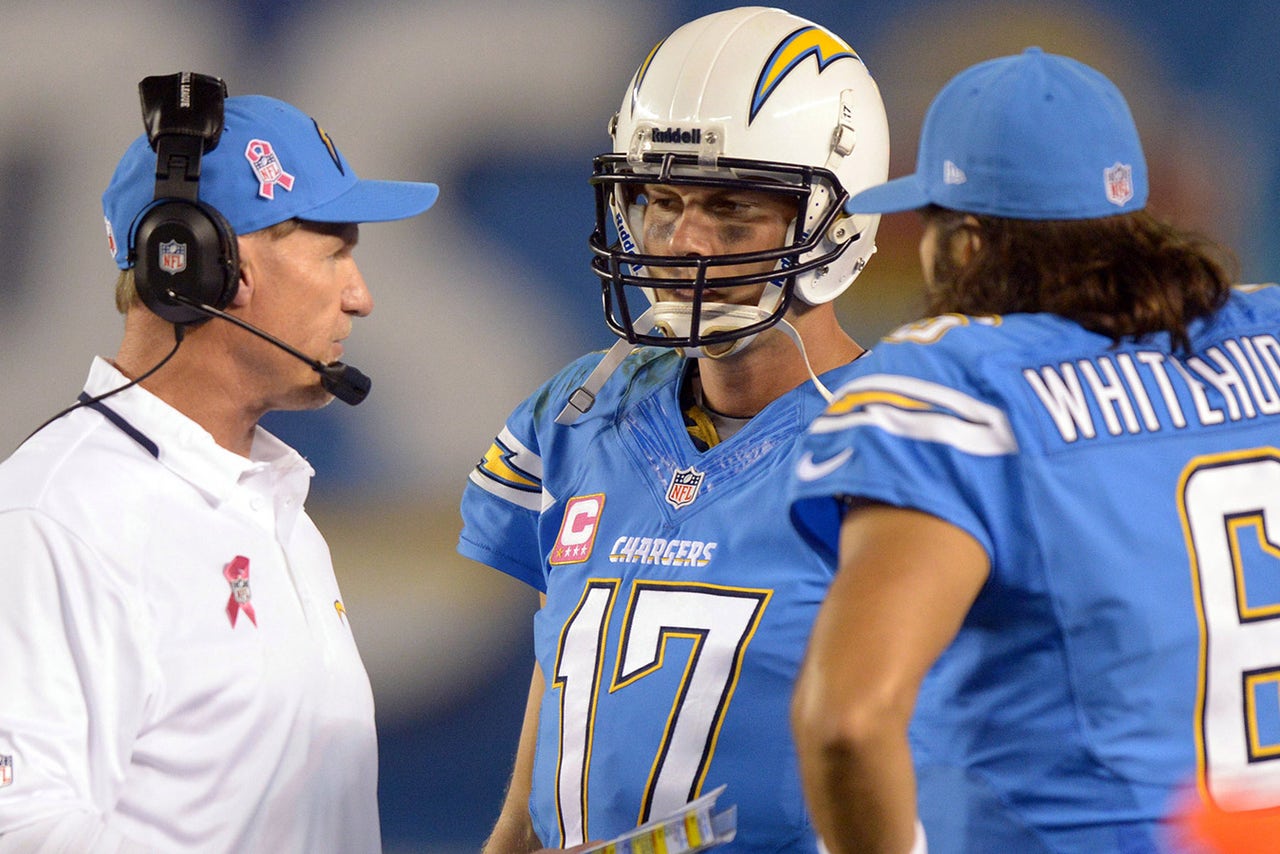 NASHVILLE, Tenn. -- Jake Locker will have a new face behind him as the Titans backup quarterback.
On Friday, one day after signing eight-year veteran Charlie Whitehurst, they released Ryan Fitzpatrick, who started nine games last year for the injured Locker.
The signing of Whitehurst allowed the Titans to cut Fitzpatrick, a nine-year veteran, before he was due a $500,000 roster bonus on Saturday. Whitehurst was the backup last season for the Chargers and former offensive coordinator Ken Whisenhunt, the new Titans head coach.
The Titans also dipped back into the free agency pool today with the signing of five-year Ravens offensive tackle Michael Oher and six-year Broncos middle linebacker Wesley Woodyard.
Woodyard is expected to play one of two inside linebacker slots in the team's new 3-4 defensive alignment, while Oher will apparently take over at right tackle. Earlier this week, the Titans released nine-year right tackle David Stewart, who had started there the past eight seasons.
Whitehurst signed a two-year contract worth up to $8 million with $2 million guaranteed. He'll make $4 million in base salaries the next two seasons with another $4 million in incentives.
Fitzpatrick was due $2.75 million this year. He replaced former Titans backup Matt Hasselbeck after spending four seasons as Bills starter.
"Glad to be able to get a deal done with Charlie," Whisenhunt said. "He brings a familiarity with the offense we are installing. He will be a great resource for Jake and the entire offense, and as a player, he understands what we want to get done."
A third-round draft pick of San Diego in 2006 out of Clemson, Whitehurst spent four seasons with the Chargers before being traded to the Seahawks in 2010 for two seasons. He started four games in 2010, including a NFC West-clinching win in Week 17. He has been with the Chargers the last two seasons as backup to Philip Rivers and hasn't played in six seasons with the team.
"Charlie is a player who comes here with a great knowledge of coach Whisenhunt's offense," Titans general manager Ruston Webster said, "and as a player, he has been around some outstanding NFL quarterbacks. He is a smart guy with a good arm, and he will add to our offensive group as a veteran quarterback."
Last season, Fitzpatrick completed 217 of 350 passes (62 percent) for 2,454 yards with 14 touchdowns and 12 interception. The Titans went 3-6 with Fitzpatrick starting.
Also on the roster is second-year quarterback Tyler Wilson, a 2011 second-draft pick by the Raiders. Four-year Titans third-string quarterback Rusty Smith became a free agent Tuesday.
According to reports, Oher signed a four-deal worth $20 million with $9.5 million guaranteed. The Raven's first-round draft pick in 2009, Oher hails from Memphis, Tenn., and played at Ole Miss. He was the subject of the movie "The Blind Side."
"Michael is a big, strong, durable player," Webster said of Oher, who had started all 85 games the past five seasons. "Like we have said with a number of players we added this week, he has versatility with experience playing both left and right tackle during his NFL career. We are excited to have Michael as part of the Titans family."
Woodyard spent the past six seasons with the Broncos, leading them in tackles in 2012 and finishing second last year in their Super Bowl. The team captain started at middle linebacker the last two seasons, posting 197 tackles, seven sacks, four interceptions and three forced fumbles.
Woodyard signed with the Broncos in 2008 as an undrafted free agent out of Kentucky, where his defensive coordinator was Titans assistant secondary coach Steve Brown. His Titans deal is worth $16 million over four years.
"Wesley is a player who has experience playing in both 3-4 and 4-3 systems," Webster said, "and in our new scheme, he fits as one of the inside linebackers. He is smart and fast. He also brings the leadership qualities and intangible that we look for in a player, which makes him a good fit for us."
The Titans have two veteran middle linebackers -- Moise Fokou and Colin McCarthy -- on the roster with starting experience. But it will be determined whether they fit into the defensive schemes being installed by new coordinator Ray Horton.
Earlier this week, the Titans signed former Chiefs wide receiver and return specialist Dexter McCluster to a three-year deal worth $12 million with $4.5 million guaranteed. He made the Pro Bowl last year and has spent four seasons with Kansas City since being a 2010 second-draft pick out of Ole Miss.
McCluster is expected to play various positions in Whisenhunt's offense similar to that of Chargers receiver Danny Woodhead last season.
"What's been good for me and what's been working is my versatility, being able to line up at the receiver, line up at the running back, go return punts and kicks or whatever it may be," McCluster said. "It keeps guys guessing. Defensive coordinators, if they don't know, if they have to guess, you've got one step above them. "Whatever position the coaches puts me at, that's what I am going to play." 
The Titans have also signed defensive tackle Al Woods, who started 16 games last year and 12 in 2012 for the Steelers. He was a 2010 fourth-round draft pick of the Saints, who released him before the season. He was on the Bucs' active roster before signing with the Steelers. The Titans retained four players -- strong safety Bernard Pollard, defensive end Ropati Pitoitua, returner Leon Washington and running back/special teams Jackie Battle -- before they became free agents on Tuesday. They also released nine-year veteran offensive tackle David Stewart, who started the past eight seasons but recently failed a physical after battling injuries the past two seasons. 
The Titans are reportedly trying to trade veteran running back Chris Johnson, who is due to make $8 million this coming season and $10 million in 2015. Johnson has steadfastly said he will not renegotiate his contract, and the Titans are apparently unwilling to pay him that amount after he rushed for 1,077 yard last season.
---