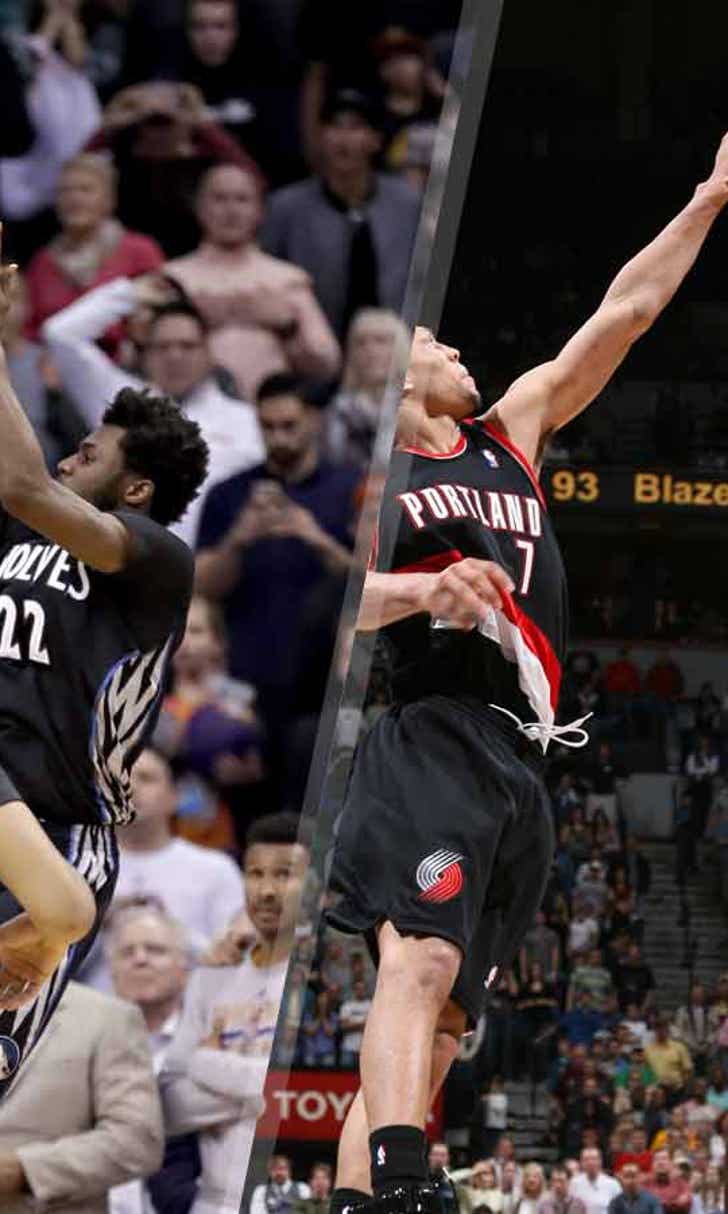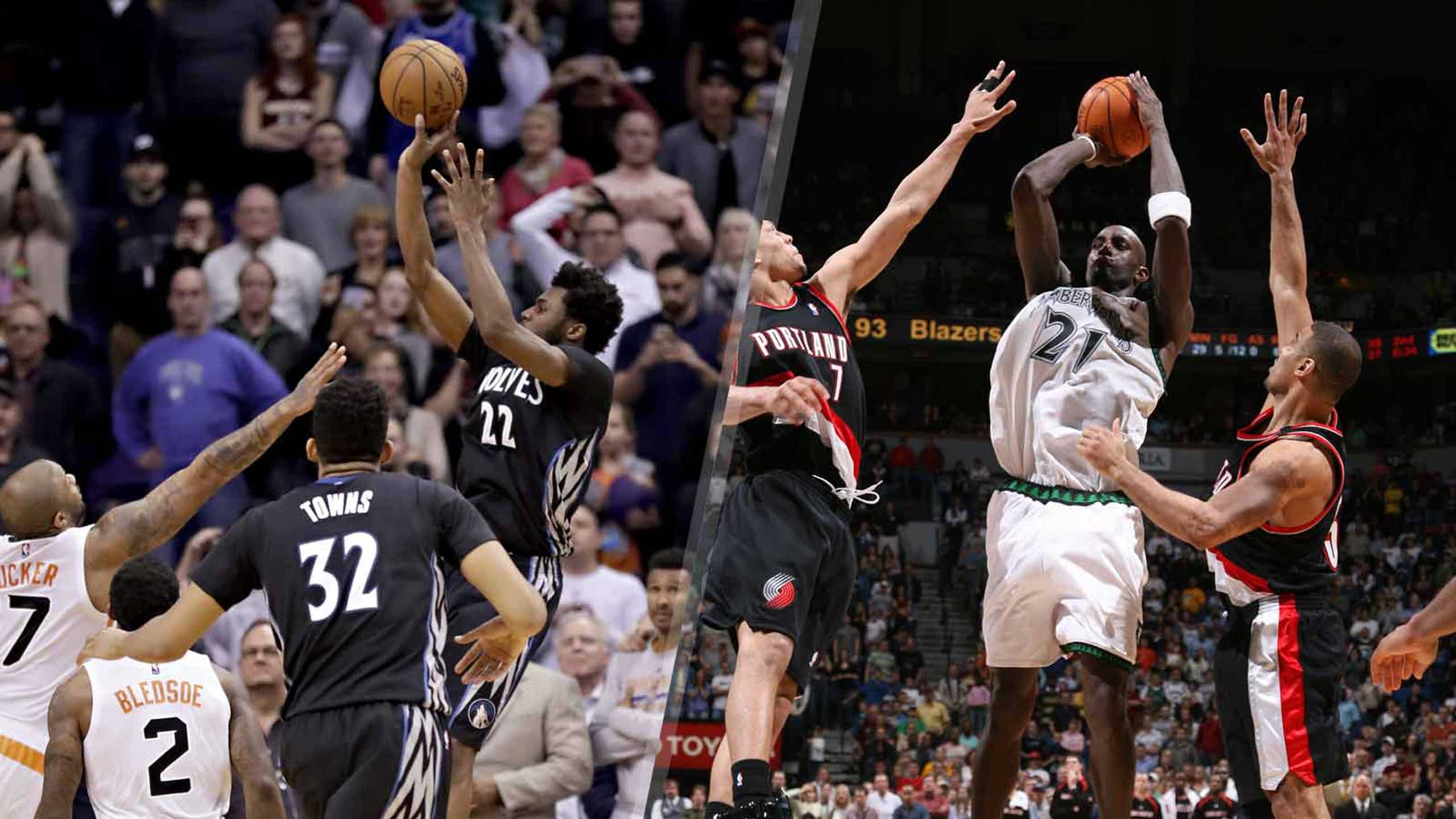 Timberwolves buzzer-beaters, a history
January 25, 2017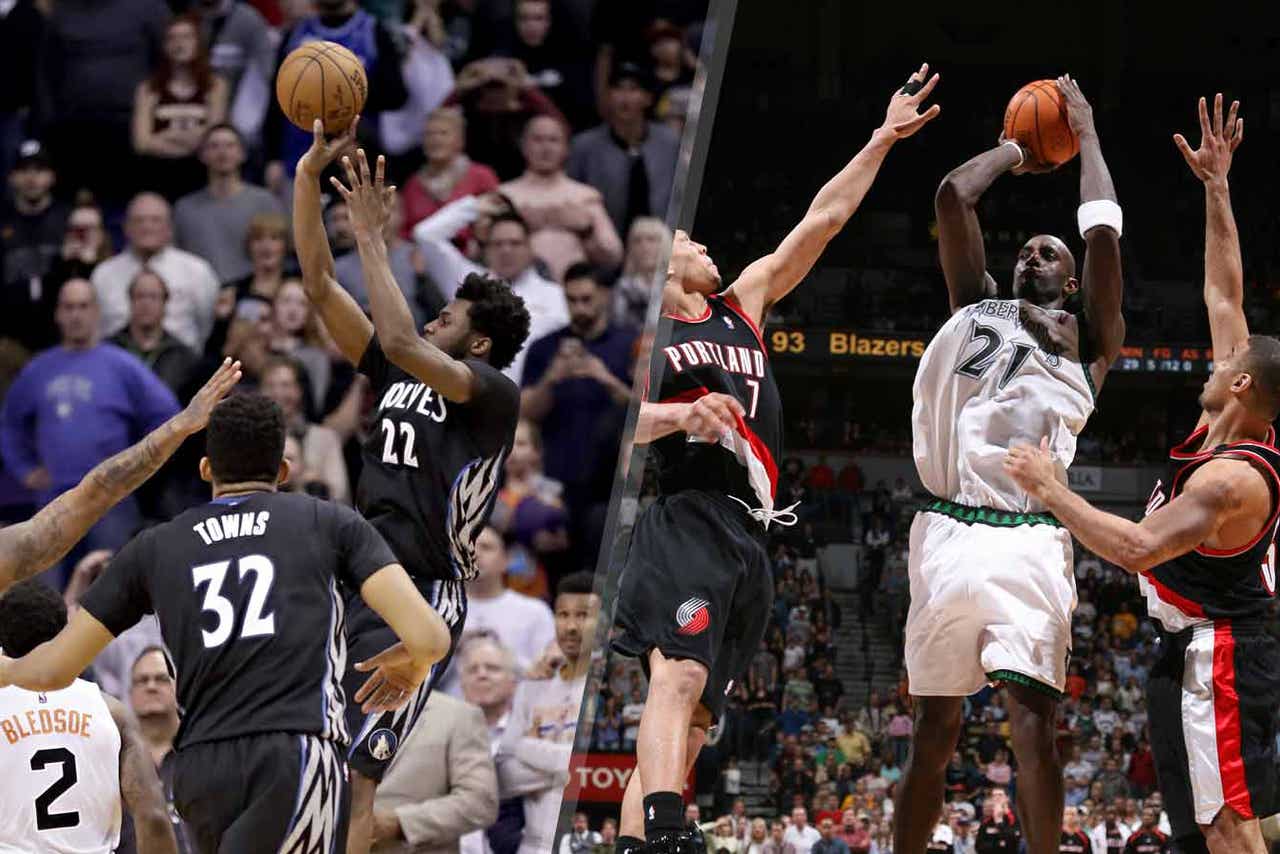 Andrew Wiggins has had many memorable moments in his young career with the Minnesota Timberwolves. His game-winning shot at the buzzer at Phoenix on Tuesday night will likely be remembered for a long time.

Wiggins became just the 11th Wolves player to hit a buzzer-beater in franchise history. Overall it was the 15th such shot.

Here's the complete list followed by details of each game-winner:





















































































































| | | | | |
| --- | --- | --- | --- | --- |
| Player | Date | Opponent | Final | Shot |
| Andrew Wiggins | 1/24/17 | at Phoenix | 112-111 | 18-ft jumper |
| Luke Ridnour | 2/22/12 | Utah | 100-98 | 8-ft jumper |
| Kevin Love | 1/20/12 | at LAC | 101-98 | 3-pointer |
| Damien Wilkins | 10/28/09 | New Jersey | 95-93 | Putback |
| Kevin Garnett | 3/25/07 | Portland | 94-93 | 15-ft jumper |
| Kevin Garnett | 1/5/07 | Philadelphia | 104-102 (OT) | 15-ft jumper |
| Kevin Garnett | 12/7/03 | at LAC | 96-94 | 21-ft jumper |
| Wally Szczerbiak | 2/11/03 | Dallas | 100-98 | 17-ft jumper |
| Kevin Garnett | 4/10/00 | Detroit | 102-100 | 12-ft jumper |
| Malik Sealy | 1/17/00 | Indiana | 101-100 | 3-pointer |
| Malik Sealy | 12/27/99 | at Orlando | 107-105 | Tip-in |
| Tom Hammonds | 4/18/98 | at Milwaukee | 111-109 | 18-ft jumper |
| Pooh Richardson | 2/13/92 | at Detroit | 96-93 | 3-pointer |
| Tony Campbell | 4/21/91 | at Washington | 89-87 | 17-ft jumper |
| Sam Mitchell | 3/30/90 | at Dallas | 84-82 | Putback |


Sam Mitchell: Wins on the road were rare for the expansion Timberwolves, so any victories were big. Perhaps none more so than when Mitchell rebounded a missed 3-point attempt by Tony Campbell and banked in an off-balance shot as the buzzer sounded.

Tony Campbell: Campbell would get his chance for a buzzer-beater the following year. Minnesota would erase a 20-point deficit -- a common theme in Wolves buzzer-beaters -- capped by Campbell hitting a 15-foot shot from the baseline as time expired.

Pooh Richardson: Minnesota's point guard and initial first-round pick nailed a tightly contested 3 while being guarded by Darrell Walker. "The shot wasn't easy," Richardson said after the game. "Walker was right on me. In fact, he was totally on me. We were trying to work the ball in to Tony (Campbell). Tony was doubled with about three seconds left. So the ball came to me and I took the shot. That was all there was. When you play hard, good things happen."

Tom Hammonds: In the final regular-season game, Hammonds hit a turnaround, fadeaway shot on the baseline from 18 feet, causing Milwaukee guard Ray Allen to later say "I don't think he even saw the bucket."

Malik Sealy I: After Kevin Garnett missed a shot, the ball got batted about and finally tipped right to Sealy, who hit the game-winner. "I didn't know who was going to get it,'' Sealy said. ``I just saw it get tipped around, and I wanted to get one final shot up.''

Sealy II: The original plan was for Sam Mitchell to be the shooter, but as Mitchell had just entered the game, Sealy thought the forward might be rusty. So Sealy said he'd take the shot and Mitchell, instead of Sealy, would inbounds. Sealy banked in a 3 and the Wolves won. "I got it up high, and I certainly didn't call 'glass,"' Sealy said. "I don't remember much else, except that after a while it was hard to breathe."

Kevin Garnett I: In a wild, foul-plagued game in which Minnesota head coach Flip Saunders would throw his jacket in the stands and be ejected, Garnett hit a 10-footer at the buzzer to give the Wolves an emotional win. The Associated Press recap noted that "after the buzzer-beater, Garnett ran around the court with his arms out like a little kid pretending he was an airplane."

Wally Szczerbiak: Szczerbiak saved a potential embarrassing loss -- Minnesota led by as many as 17 points -- by hitting a corner J. "That's the shot Wally always makes,'' said teammate Anthony Peeler.

Garnett II: Minnesota trailed by 15 points with just over 8 minutes remaining and won when Garnett went over Elton Brand on the left wing from 20 feet out. "I got a pretty good look," Garnett said. "I looked at Sam (Cassell), Sam had (Marko) Jaric all over him. I just waved him off. I went to a move -- made it. I just told myself to get my eyes up. I just did."

Garnett III: Garnett had a chance to give Minnesota a buzzer-beating win in regulation, but missed a shot as time expired. He got a second chance in overtime and made a 15-footer at the buzzer for the victory.

Garnett IV: Another 15-footer at the buzzer for Garnett, this time a fadeway. "I really couldn't see over the hands, so I sorted of faded back a little bit, got it up, and it went in,'' he said.

Damien Wilkins: Wilkins spent just one season in Minnesota and averaged just 5.6 points per game. But in his first game with the Timberwolves -- the team's season opener -- he got a rebound near the left baseline and hit a shot by banking it off the glass as time expired. Minnesota had been down 19 points at one point and trailed by 16 with 7 minutes remaining.

Kevin Love: The UCLA product finished off a 15-point comeback with a wide-open 3 from the top of the key off an inbounds play, the buzzer sounding in mid-flight. "Coach set up a great play for us. How I was that open, I don't really know, but I got a good look at it and I hit it," Love said. "I tried to hold up my hands as soon as I shot it, because it felt great when it left my hands. I knew it was in. For us to do that, especially out here in L.A., it's a big deal.

Luke Ridnour: Stop me if you've heard this before, but Minnesota trailed big -- trailing by 16 points -- but won it when Ridnour hit a floater in the lane over Al Jefferson. "Yeah, I thought it was going in," Ridnour said. "To see it go in was a good feeling."
---
---