Miguel Cabrera
Miguel Cabrera
Tigers offseason remains quiet heading into Tigers Fest
Published
Jan. 19, 2017 6:23 p.m. ET
DETROIT (AP) -- Justin Verlander sat in the middle of the Tiger Den, the lounge at Comerica Park where he and his teammates were available to reporters before heading out on their winter caravan.

An offseason that began with so much uncertainty is beginning to wind down now and the core of the Detroit Tigers remains intact.

"It's nice to have the band back together," Verlander said. "Obviously, the offseason's not over yet, but it seems like we're going to keep most of the pieces."

A couple months ago, it looked like the Tigers could be major sellers after missing the postseason the past two years. General manager Al Avila said Detroit would have an open mind about anyone on the roster -- and with expensive players like Verlander, Miguel Cabrera, Ian Kinsler and J.D. Martinez still capable of helping any team, the Tigers were an obvious candidate to trade stars for prospects and reduce their payroll.

It didn't happen.

"I heard `fire sale' -- I heard that Cabrera and Verlander, we're shopping them around. That never happened," Avila said. "We did receive calls and we did talk about several players, but it was never a fire sale. It was never like we were pushing, pushing, pushing."

The most significant trade the Tigers made this offseason was dealing outfielder Cameron Maybin to the Los Angeles Angels in November. Verlander and Cabrera -- both of whom have long-term deals with Detroit -- are still with the Tigers. So are Kinsler and Martinez, even though they could both be free agents next offseason. Kinsler has a team option for 2018, and Martinez is entering the second season of a two-year contract.

"Obviously, you don't want to be traded," Kinsler said. "I wanted to stay in Detroit. I like it here. I've been playing good here. It's fun to play in front of the fans here."

Detroit's roster will eventually need a makeover, but that process could turn out to be a gradual one. Verlander, for one, is in no rush to start any major rebuilding effort.

"I don't have time to be part of that. It's a long process," he said. "It's not easy. It's not like, OK, flip the switch and we're right back. You have to make the right moves. It's not as easy as people make it sound."

Manager Brad Ausmus said the talk of a major overhaul was overblown.

"When Al made the comments about, everyone was available, I think it was more about due diligence. We weren't trying to unload money. There's a winning tradition here," Ausmus said. "We still wanted to win. I think what he was doing was basically investigating if we could make a good baseball trade, and we'll potentially trade anyone if it makes the Detroit Tigers' organization better. That being said, at no point did I think we were going to lose a bunch of guys."

What made standing pat a bit more palatable for the Tigers was the fact that they won 86 games last year behind a resurgent Verlander and a fine season from American League Rookie of the Year Michael Fulmer. Detroit missed out on a wild card in 2016, but the Tigers could certainly be in the mix again for a postseason spot, especially if they can stay healthy.

"We still have a chance to win. Let's give it a shot. Let's move forward, and let's see what this season brings us, and we'll make adjustments as we go," Avila said. "We do feel that we can compete. We feel we have a good team. We feel we have a chance to get to the playoffs and make something happen."
---
---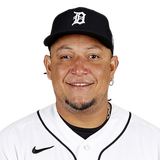 Get more from Miguel Cabrera
Follow your favorites to get information about games, news and more
---