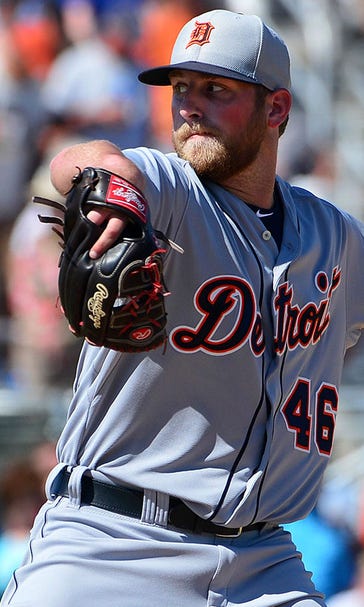 Tigers Notes: Reliever Ian Krol heading to rehab assignment
BY foxsports • July 3, 2014
DETROIT -- Detroit Tigers left-handed reliever Ian Krol said he will join the Class A Michigan Whitecaps for two pitching rehabilitation assignments this weekend in Fort Wayne, Ind.
Krol said he will pitch in Friday and Sunday games, and play light catch on Saturday. Krol expected to be activated Tuesday, when Detroit hosts the Los Angeles Dodgers in the first of two games. He's been on the 15-day disabled list with left shoulder inflammation, but said all three of his bullpen sessions have convinced him that his shoulder is fine.
"I had my best bullpen yet (on Wedenesday)," Krol said before Thursday night's game with the Tampa Bay Rays. "I'm eager to come back."
Krol has a 4.32 ERA with eight walks and 20 strikeouts in 25 innings pitched. His 35 appearances are second on the team, and he had become the go-to southpaw in the bullpen. However, in his absence, lefty Phil Coke has had seven consecutive scoreless appearances during which he regained pitch command.
The Tigers likely will return one of two left-handed relievers recalled in recent weeks to Toledo when activating Krol. Though, both Blaine Hardy (2.61 ERA with four walks and 11 strikeouts in 10 1/3 innings) and Patrick McCoy (2.70 with two walks and two strikeouts in 3 1/3 innings) have shown promise in their first major league outings.
NOTEBOOK:
Ausmus said Friday night starter Drew Smyly has improved since making his last start with an illness. "He feels a lot better," Ausmus said. "But he still has a bit of a raspy voice."
Ausmus said he will keep the rotation in order after Monday's off day. That means the likely pitching matchups will be Justin Verlander vs. Hyun-Jin Ryu (9-4, 3.08) on Tuesday night and Max Scherzer vs. Zack Greinke (10-4, 2.78) on Wednesday afternoon.  Two-time Cy Young Award winner Clayton Kershaw (9-2, 2.04 ERA) gets his next start Friday, but won't start in Detroit unless Dodgers manager Don Mattingly skips Ryu or Greinke after their Monday off day. That isn't likely.
Detroit's three starters against Oakland -- Anibal Sanchez, Rick Porcello and Verlander -- combined to pitch 22 innings with zero walks against the A's in a three-game sweep that concluded Wednesday. The last time Tigers starters accomplished three consecutive starts without one walk was April 30-May 2, 2010, when Porcello, Jeremy Bonderman and Verlander did it against the Los Angeles Angels.
---