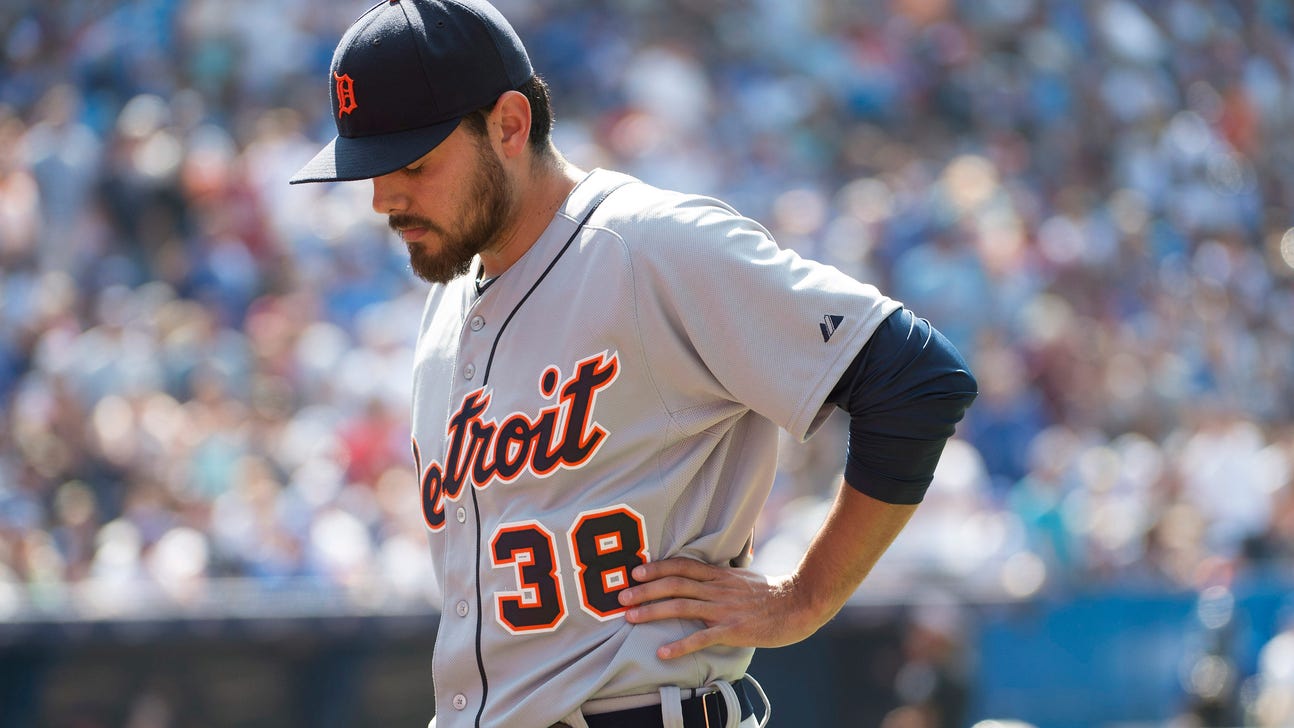 Tigers bow late lead, lose 3-2 to Blue Jays
Published
Aug. 9, 2014 4:18 p.m. ET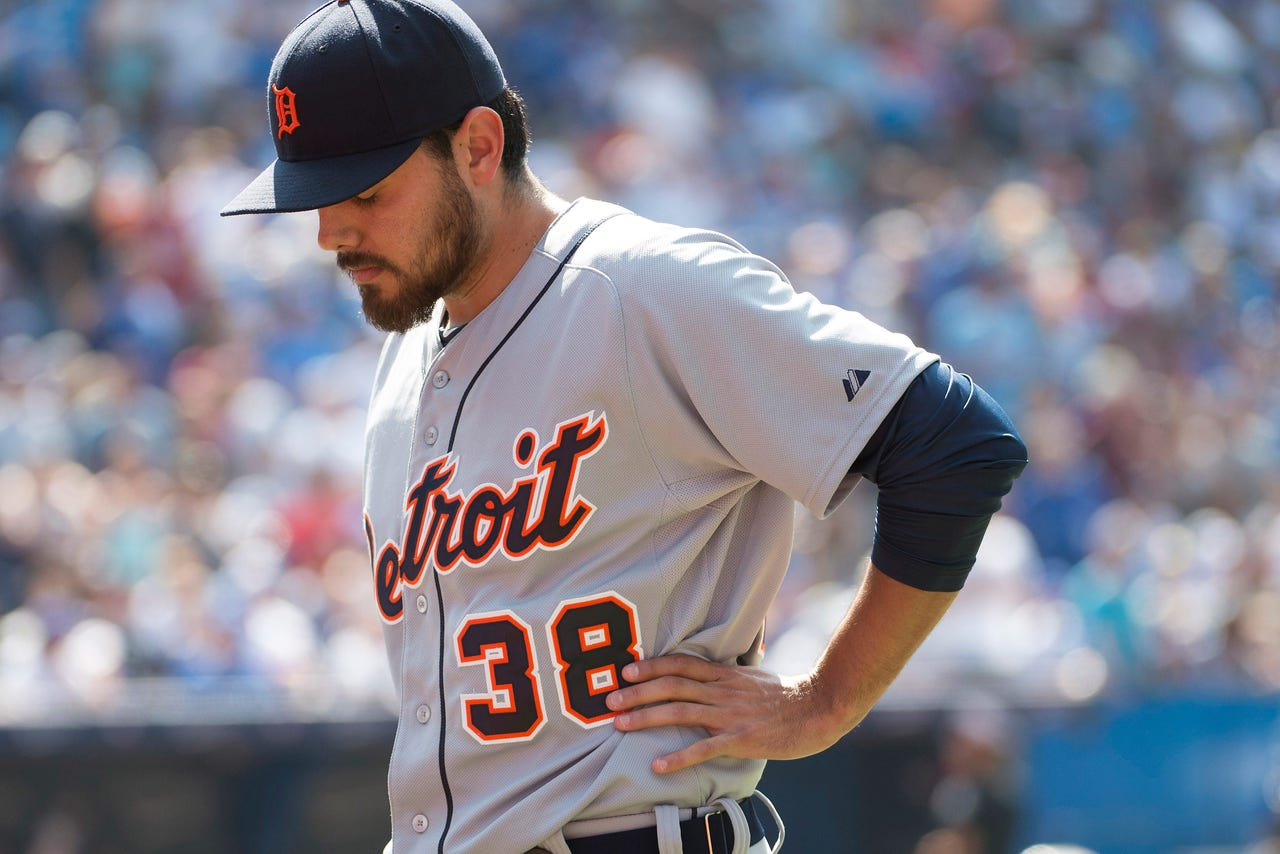 TORONTO (AP) -- Max Scherzer tossed eight strong innings to put himself on the brink of an AL-leading 14th win, but Detroit's bullpen couldn't seal the deal.
Nolan Reimold hit a game-winning double in the 10th inning and the Toronto Blue Jays rallied past the Tigers 3-2 Saturday, spoiling Scherzer's bid to become baseball's third 14-game winner. St. Louis' Adam Wainwright and Milwaukee's Wily Peralta both have 14 wins.
Scherzer allowed one run and four hits in eight innings. He walked none and struck out 11, two shy of his season high. The right-hander struck out pinch-hitters Danny Valencia and Reimold on six pitches to end the eighth, fanning Reimold with a 97 mile per hour fastball.
"He was done at that point," Tigers manager Brad Ausmus said. "He kind of emptied the tank on that last hitter."
Scherzer had no interest in stirring controversy over Ausmus' decision to replace him with Joe Nathan.
"I'm not going to sit here and play second-guess-the-manager," he said. "I was done."
Jose Reyes singled off Nathan to begin the ninth, then stole second before advancing to third on Melky Cabrera's fly to right. Jose Bautista was intentionally walked to bring up Dioner Navarro, who grounded a tying single past a diving Miguel Cabrera at first base.
"He got the ground ball we needed for the double play," Ausmus said of Nathan. "It was just between first and second in a spot where no one was standing."
A wild pitch moved the runners to second and third before Colby Rasmus walked to load the bases, bringing Soria out of the bullpen to replace Nathan, who blew his sixth save in 30 chances. Ausmus said he'll stick with Nathan as his closer.
Soria sent it to extra innings by getting Juan Francisco to pop up on the first pitch, then retiring Munenori Kawasaki on a ground ball.
Chamberlain (1-5) came on to start the 10th after Soria strained a muscle in his left side while warming up before the inning.
"We're not sure how bad it is," Ausmus said of Soria. "We won't know until tomorrow."
Valencia singled off Chamberlain to begin the 10th and Reimold followed with a double to the wall as Valencia scored without a play.
"I was happy I got the chance to come through," Reimold said. "The whole team played a great game."
Blue Jays rookie right-hander Marcus Stroman rallied after allowing a season-high five runs in a loss at Houston last week. Stroman allowed two runs and four hits in a career-high nine innings. He walked three and struck out four.
Aaron Loup (4-3) worked one inning for the victory.
Detroit took a 2-0 lead in the sixth on a two-out double by Victor Martinez, but Toronto cut the deficit to one in the bottom half on a two-out double by Cabrera.
TRAINER'S ROOM
Blue Jays: First baseman Edwin Encarnacion (right quadriceps) will begin a rehab assignment Saturday night with Class-A Dunedin, manager John Gibbons said, while first baseman Adam Lind (right foot) is scheduled to rejoin the team Monday in Seattle.
Tigers: Right-hander Luke Putkonen (elbow) threw a 25-pitch bullpen session Friday at Detroit's spring training facility in Florida. It was the first time Putkonen had thrown from the mound since undergoing surgery in June.
ON DECK
Left-hander David Price makes his second start for the Tigers Sunday in a battle of southpaws, going up against Toronto's Mark Buehrle. Price struck out 10 in 8 2-3 innings to win his Detroit debut last week. Buehrle is 1-7 with a 4.73 ERA since June 7.
CABRERA CONTAINED
Miguel Cabrera went 0 for 3 with a walk and is 1 for 18 over his past five games. He's 2 for 30 in his past eight games against Toronto.
MACHINE MALFUNCTION
A group of students from a suburban Toronto high school built a robot that was intended to throw out the first pitch to Blue Jays catcher Josh Thole. Unfortunately, the robot misfired, and the pitch only traveled a few feet before rolling to a stop in front of the mound.
---