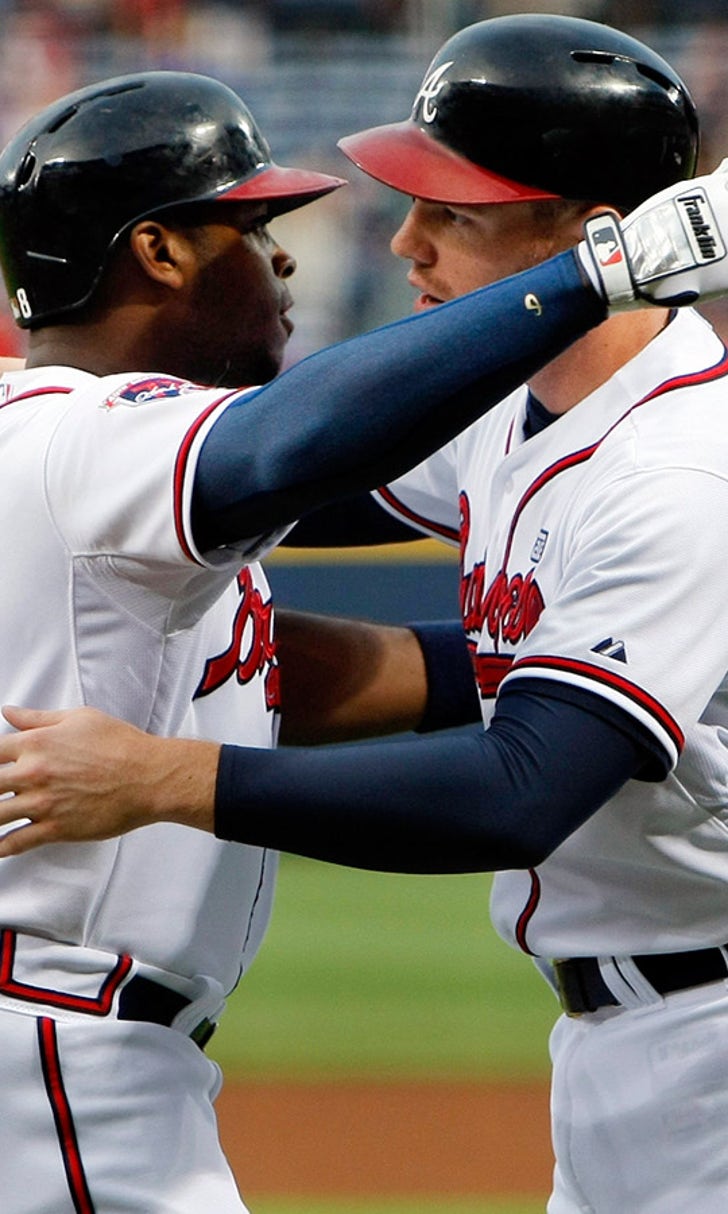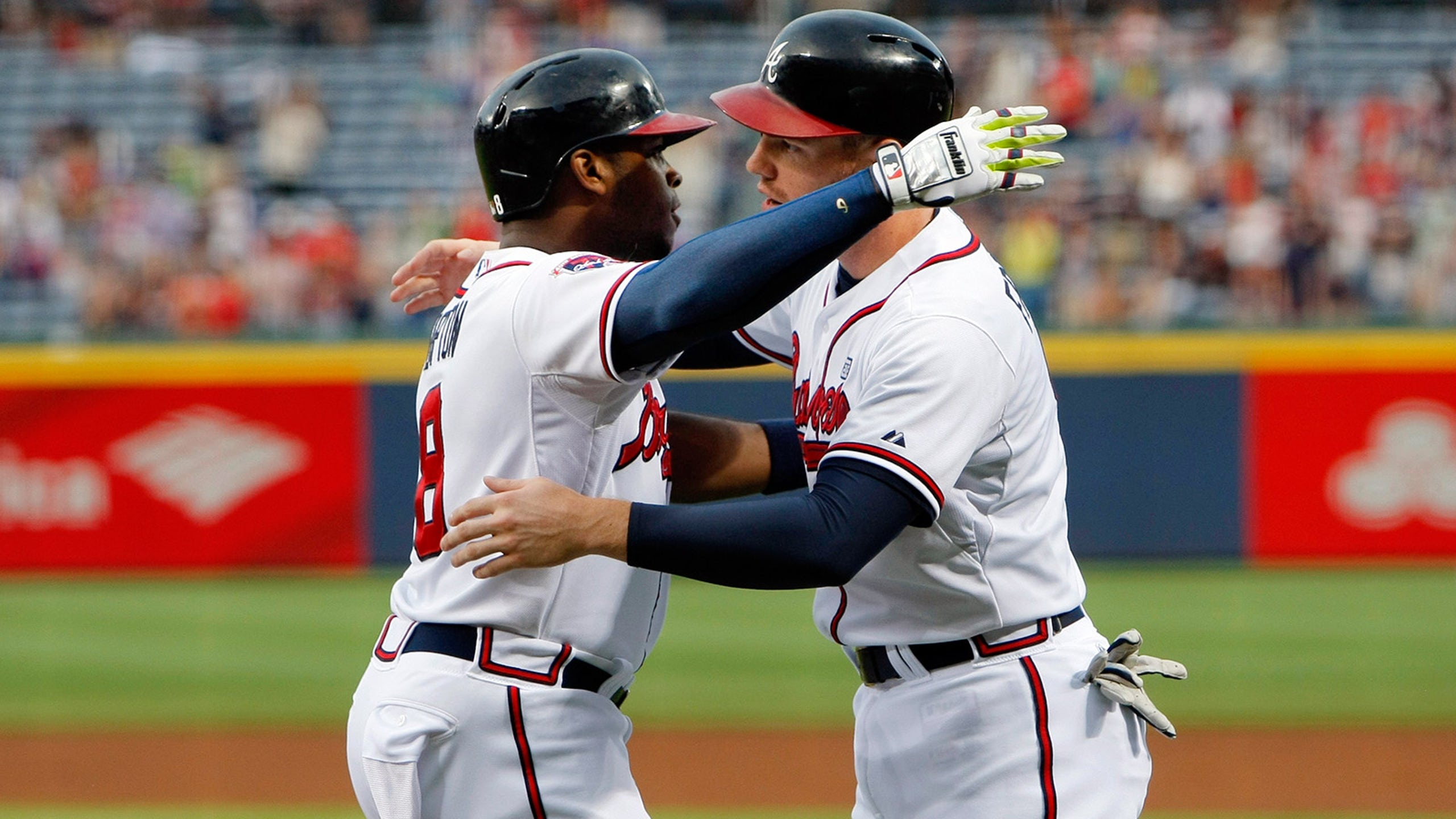 Three Cuts: Braves jump on Nationals' Strasburg, then hold on to end skid
BY Cory McCartney • August 8, 2014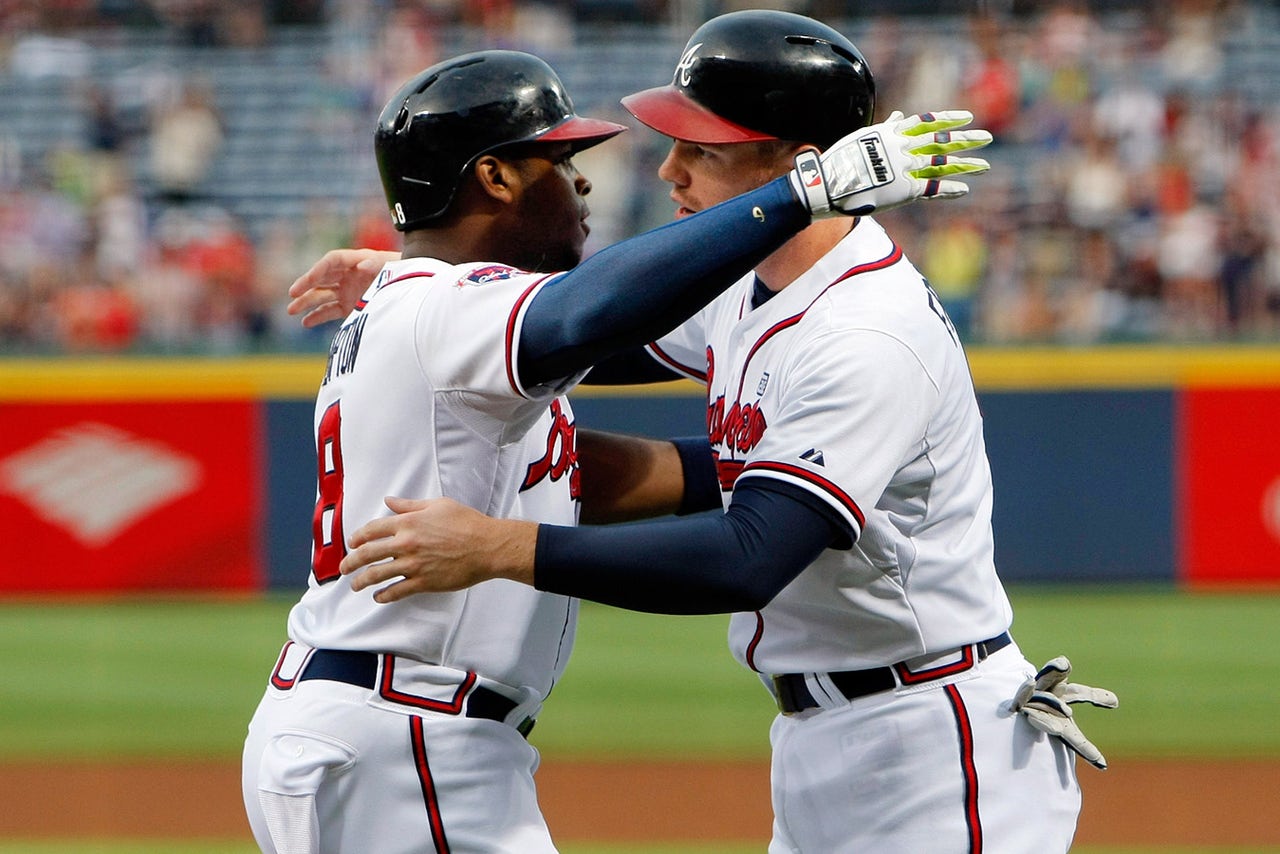 ATLANTA -- All the Braves' bats needed was a change of scenery. Well, that and a date with Stephen Strasburg and the Nationals.
Losers of eight straight, Atlanta broke out early, and then held on to edge National League East-leading Washington 7-6 Friday night in a game delayed 1 hour, 11 minutes by rain.
"We came out swinging, hit the ball hard multiple times and it was a great way to start the ball game," Braves first baseman Freddie Freeman said. "They made a little run at the end, but not enough."
The Braves hit four home runs -- three of them two run shots, including a pair of history-making blasts from B.J. and Justin Upton -- in the first two frames, and got five dominant innings (and one rocky one) from Ervin Santana to take the series opener.
Atlanta, which came into the night down 4 1/2 games in the division, has now won eight of their last 11 meetings and 21 of 30 dating back to last season.
"It kind of felt like you had to remind yourself that we had lost eight in a row, because we hadn't played that bad of baseball," said Braves manager Fredi Gonzalez. "We just hadn't scored that many runs. Today we did a nice job scoring runs and then holding on."
Here are three thoughts from Turner Field:
The Nationals ace is a different pitcher on the road and against the Braves, his struggles are of nightmarish proportions.
He gave up three two-run home runs through the first two innings -- one each by Justin Upton, B.J. Upton and Freddie Freeman -- amplifying his struggles against at Turner Field.
"He's got great stuff and the mistakes that he makes, for whatever reason, we're able to hit them," Freeman said. "That's what he did tonight, he left some pitches out over and we were able to jump on him early today."
Strasburg has always had trouble with Atlanta, against which he is 3-5 with a 4.04 ERA in 14 starts and it gets even worse at Turner Field, where he has a 5.79 ERA in six outings. Dig into this season's line and he has been roughed up for seven runs and 17 hits in two previous meetings.
The National League leader in strikeouts heading into Friday, Strasburg started things off with B.J. Upton left looking at a third-strike fastball. But after a Tommy La Stella ground out, the wheels started to come off.
Strasburg walked Freeman on seven pitches before giving up Justin Upton's homer. Then, after walking Jason Heyward he threw away a pickoff attempt.
Add in a second inning that saw B.J. Upton and Freeman's home runs and singles by Ramiro Pena and Tommy La Stella and seven of the 11 batters after that initial strikeout reached safely.
He appeared to get back on track through a perfect third and fourth inning in which he had four strikeouts. But the Braves did damage again in the fifth inning as Tommy La Stella led off with a solo home run -- the first of his career -- and Jason Heyward doubled.
The inning would be Strasburg's last as he gave up seven runs on seven hits with nine strikeouts. That tied his season-high for runs and he allowed as many home runs (four) has he did in his last seven starts combined.
Justin Upton hit a two-run home run in the first inning, then in the second, his older brother B.J. followed with one of his own, giving the Braves' siblings a place in baseball history.
It marked the second time they had homered in the same game this season and the record-breaking fifth time they had done it overall. That broke the mark they previous shared with Jeremy and Jason Giambi and Vladimir and Wilton Guerrero.
Justin Upton sent a 94-mph fastball to dead-center field, a distance of more than 400 feet for his 20th HR of the season, while B.J. connected on an 81-mph curveball, taking it left for his eighth homer.
The last time the Uptons had homered in the same game this year was June 24 against the Astros. With both arriving in Atlanta prior to the 2013 season, they needed just 286 games together to set the record.
Ervin Santana's slider has long been his best pitch. In 2008, when he made his only All-Star Game appearance and finished sixth in the American League Cy Young voting, he had 25.9 slider runs above average.
Over the last five years he's never dipped below 11.3 in that department, including a 22.0 in '11.
This season's 8.6 is Santana's lowest since '07 (minus-2.0), but there's no denying its worth. That figure is the seventh-best in MLB and fourth in the NL behind only Clayton Kershaw (16.9), Tyson Ross (16.2) and Kyle Lohse (9.9).
Santana put his on display against the Nationals, fanning Anthony Rendon with it in the first, Adam LaRoche and Bryce Harper in the second and then LaRoche again in the fourth. Only one of the Nationals' four hits came on the pitch, Denard Span's fourth-inning single.
After allowing one hit through five shutout innings Santana found his way into trouble in the sixth, giving up three hits including an RBI single to Asdrubal Cabrera and a Rendon homer.
The last of those hits, Rendon's HR, cost Santana his 16th quality start of the season and his day was over with the rain delay.
Santana didn't get much help from replacement Anthony Varvaro saw the Nationals plate two runs -- a solo homer to Wilson Ramos and a sacrifice fly by Cabrera -- in 2/3 of an inning in the seventh. But Jordan Walden came on to pitch 1 1/3 perfect innings and Craig Kimbrel earned his 33rd save, giving Santana (11-6) his fourth win in five starts.
---