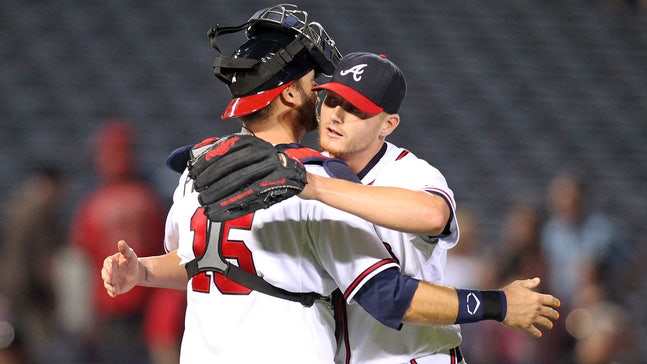 Three Cuts: Braves jump on Billingsley early and often, put 9 on scoreboard in win
Published
May. 5, 2015 11:49 p.m. ET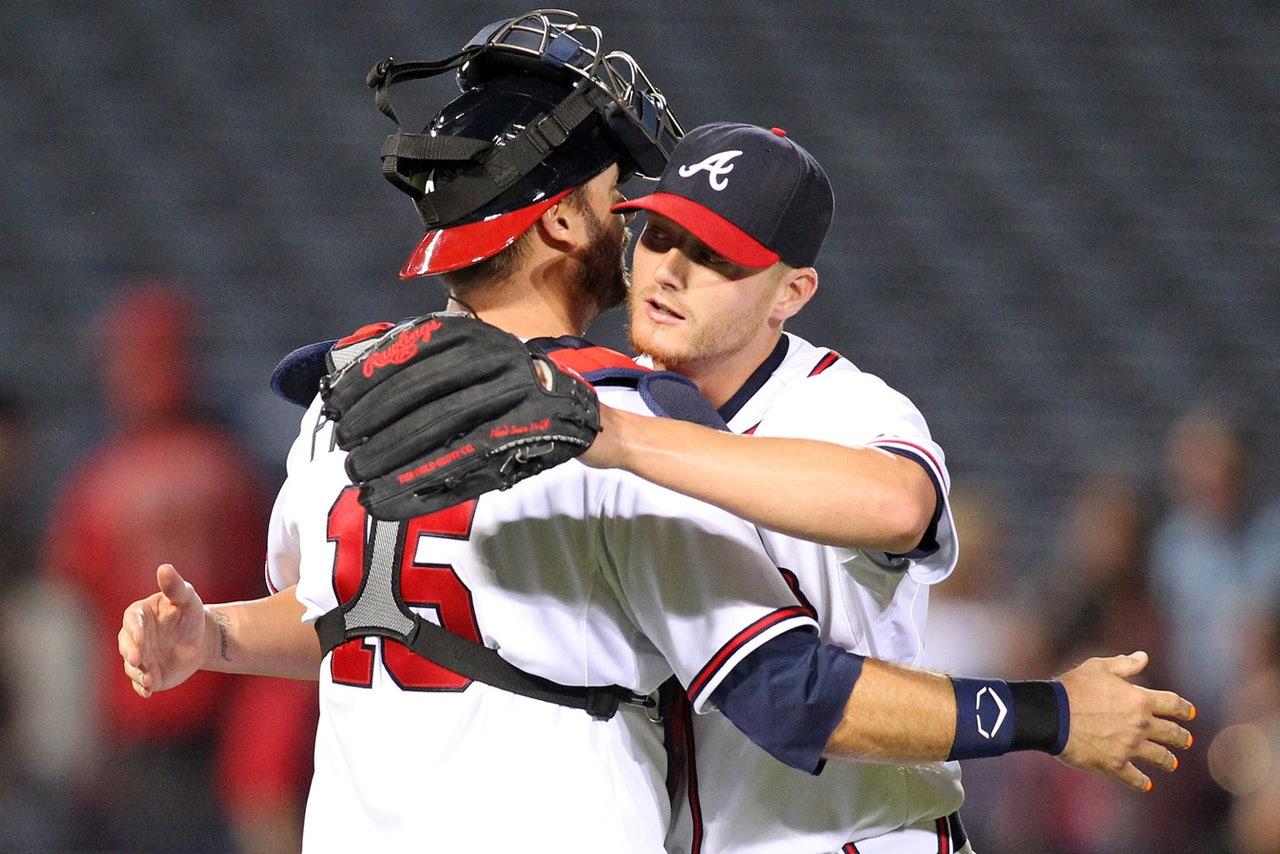 ATLANTA -- The Atlanta Braves got nine shutout innings from starting pitcher Shelby Miller and played a little longball with Phillies starter Chad Billingsley as both Kelly Johnson and Freddie Freeman launched home runs and gave Miller all the run support he needed.
Here are three observations from Atlanta's 9-0 win over Philadelphia Wednesday night:
When Miller joined the Braves' pitching staff during the offseason, he landed behind two established young starters in the pecking order of the rotation. Both Julio Teheran and Alex Wood were front-of-the-order pitchers, and Miller joined the crew and its third man.
Wood has struggled a bit to a 1-2 record with a 4.32 ERA, and Teheran is 3-1 with a 3.82 ERA. Neither is a light's-out as their 2014 season, but there have been flashes of brilliance from both.
Miller joined the Braves looking to bounce back from a decent 2014 where he was 10-9 with a 3.74 ERA. But he'd fallen off from his rookie campaign. The change of scenery from St. Louis to Atlanta seems to have helped.
Miller's three-hit, complete-game shutout pushed his record to 4-1 and lowered his ERA to 1.66. It was possibly one of his most efficient outings of his career.
It took Miller 25 pitches to make it through three innings, 31 to finish six and completed the sixth inning on his 64th pitch. He finished the game having thrown only 99 pitches, and almost as important as hurling as dominantly as he did, he also gave the bullpen a much needed night of rest.
"You dream about going out there and trying to throw a complete game and stuff like that," said Miller. "Especially against a team like Philly, obviously they have some guys in that lineup who have some power like Howard and [they have] a lot of tough outs.
"A.J. called a great game. Defense played great and made a lot of big plays that were the key to going deeper into the game. And the offense obviously did a great job of putting up runs and kept giving me a cushion out there, it seemed like almost every inning."
Through six starts with the Braves Miller has only allowed 24 hits, and never more than six in any start. He's given up two earned runs or fewer in all six starts. And if you look back at his final seven starts of the 2014 season -- the moment when he realized his sinker could be a very effective pitch -- his last 13 outings have been remarkable.
In those 13 starts combining two seasons, Miller is 6-1 with a 1.88 ERA and a 63-to-21 strikeout-to-walk ratio. Miller's sinker can't be the only reason his success has rate has risen, but it's added to his arsenal.
"It just makes the hitters think about more pitches," said catcher A.J. Pierzynski. "When you only have a couple of pitches to worry about as a hitter you can really start eliminating things. When you have three or four things going through your head, 'He might throw this he might throw that,' it changes your demeanor as a hitter. He's done a great job of doing that and continuing to get better."
Miller struck out eight batters, which is not only impressive because he reached that figure with only 99 pitches thrown, but he also didn't strike out his first batter until the fifth inning. A large number of first-pitch strikes benefitted Miller on Wednesday, as did his ability to live in the strike one and not get hurt.
"It felt like we were having some quick innings, but there were some times when we got out of some jams," Miller said. "Howard with the leadoff double and we got out of that. They had some innings where they came out and got some guys on, we just did a really good job of getting out of it."
Prior to first pitch, Johnson was the Braves' leader in home runs with five. If you're thinking that's a huge number for a guy like Johnson, you're not mistaking.
Johnson hit seven home runs last season in 297 plate appearances for an average of one homer in every 42.4 times to the plate. For his career he's hitting a home run in every 33.1 plate appearances. If Johnson continues at this pace -- that's not likely, he's on pace for 34 bombs -- he'll surely bring the frequency in which he launches homers down farther.
Freeman shortly tied Johnson at five dingers when he went yard in the first inning. But that tie was only in place for three innings because Johnson hit his sixth home run of the year in the fourth inning. As happy as Johnson was with the long ball, a more important base hit happened in the sixth.
On a 2-1 fastball in the sixth, Johnson laced the 1,000th base hit of his career to center field. The pitcher was Elvis Araujo, which is significant because Johnson remembers milestones.
Johnson was able to recall his first major league hit in great detail after Wednesday's 1,000th hit. It was an eight-inning single off Pittsburgh pitcher Kip Wells that rolled to second base. Johnson credits teammate Pete Orr for the base hit, as he wouldn't have made it to first had Orr not been on base already (a single in the at-bat prior) and moving to second on Johnson's hit.
"If the ball jumps into the seats or it's a swinging bunt, I don't care," said Johnson comparing his recent warning-track power to some of the singles in his career. "I just really want to stay consistent with what I'm doing."
There aren't too many hitters on the planet that are hitting as well as Freeman right now.
Freeman went 3 for 4 on Wednesday with a walk, a home run, two RBI and three runs scored. He was a one-man wrecking crew. And he's been hot over his last 10 games.
Since April 26, Freeman has hit six doubles, one home run, driven in six runs and is batting .436 (17 for 39). But he's not the only hitter destroying opposing pitching right now. There are three other players with hot streaks of their own.
Johnson, who got his 1,000th career hit on Wednesday and blasted his sixth home run in 2015, is hitting .300 over his last nine games with four home runs and 13 RBI.
Jace Peterson went 2 for 4 against the Phillies with an RBI, and is hitting .394 (13 for 33) in his last 10 games with five runs driven in.
Cameron Maybin is now 7 for 15 (.467) in his last six games (five starts) with a home run and five RBI. he went 2 for 4 on Wednesday with a bases-loaded single in the seventh that plated a run.
Freeman is the hottest -- and most recognizable -- of the hot Braves hitters. But he's not alone in creating runs and scoring opportunities for Atlanta over the last week and half or so.
---